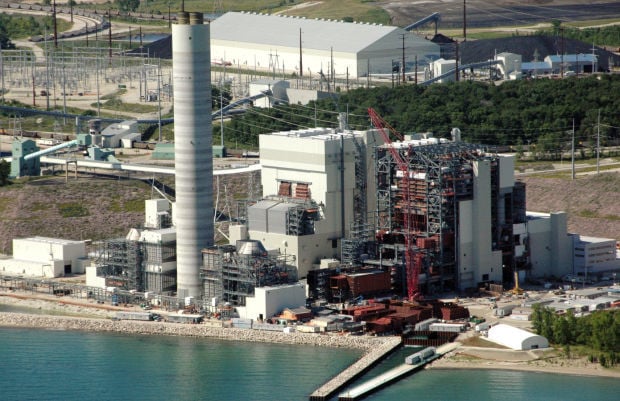 A new report suggests it costs more to operate four of Wisconsin's seven largest coal-fired electricity plants than it would to replace them with wind and solar power.
The findings are from a study released Monday by Energy Innovation, a California nonprofit that advances policies to reduce greenhouse gas emissions, with help from the renewable energy forecasting firm Vibrant Clean Energy.
The study found that, in theory, wind and solar could today replace nearly three-quarters of the nation's coal plants at an immediate saving. Those include plants in Oak Creek, Genoa, and Wausau with a combined capacity of nearly 3,000 megawatts.
By 2025, the study found, renewables will be more than 25 percent cheaper than every coal plant in Wisconsin except We Energies' Elm Road Generating Station, which was built in this decade.
And it could be done on usable land within 35 miles of each plant.
"That really makes it a conservative analysis," said Michael O'Boyle, director of electricity policy for Energy Innovation. "The best wind and solar resources are often much farther away."
That could have big ramifications for Wisconsin, which generates more than half of its electricity from coal.
But of course there are caveats.
You have free articles remaining.
Wind and solar can replace the output of coal plants on an annual basis but can't match it hour by hour, which would be necessary to operate the grid reliably. That would require additional technology like batteries, demand management and "smart grids."
"I don't think it's a pure one-to-one substitution," said Paul Meier, an energy analyst and founder of the Madison consulting firm Juicebox. "Regardless, I do think those renewables would drop the market price for power during much of the year and therefore make those coal plants increasingly uneconomic."
O'Boyle concedes there are practical limitations and that the numbers will vary from plant to plant.
"This is really a conversation starter," he said.
And just because a coal plant costs more to operate doesn't mean it isn't making money for investor-owned utilities, which are guaranteed a roughly 10 percent return on the investment.
Most of the major utilities have pledged to cut 80 percent of carbon emissions by 2050, although a panel of U.N. scientists released a report last fall saying greenhouse gas emissions need to drop 45 percent in the next decade and fall to near zero by 2050 in order to minimize the risk of catastrophic climate change.
But those companies have invested nearly $3 billion in new coal plants this century and sunk another $2.5 billion into pollution controls — which don't capture carbon — to keep older plants running.
The question will be who bears the costs if those assets are retired early — shareholders or ratepayers.
Policymakers will need to come up with creative ways to satisfy both, said Tom Content, executive director of the Citizens Utility Board, which represents Wisconsin consumers.
"If you go to get a more efficient car you stop making payments on the inefficient car," Content said. "In this case, we're being asked to pay for both."