Wisconsin regulators have allowed a Canadian pipeline company to put a hold on its request for the authority to take private land in order to reroute an oil pipeline around a Native American reservation in northern Wisconsin.
Enbridge Energy says it hopes to negotiate for the land it needs in Ashland and Iron counties and if successful will withdraw its application for eminent domain powers.
The company asked the Public Service Commission to stay the proceedings so it would not have to respond to numerous challenges and requests for a hearing before a judge, which would be unnecessary if Enbridge withdraws its application.
The PSC voted unanimously Thursday without discussion to grant the request, giving Enbridge until July 31 to withdraw. If Enbridge decides to go ahead with the eminent domain request, it will have until Aug. 7 to respond to challenges.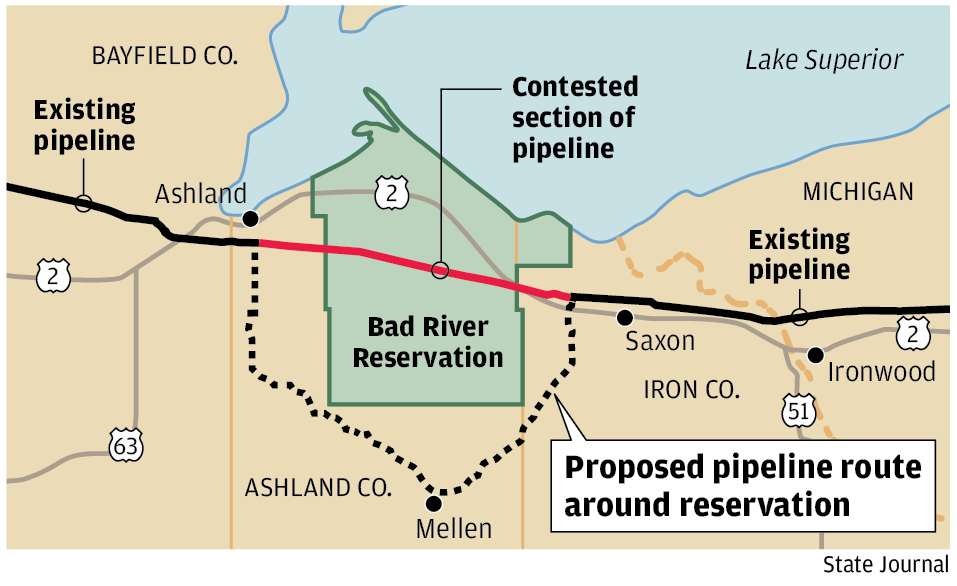 As a result of a lawsuit filed by the Bad River Band of Lake Superior Chippewa Tribe, Enbridge is planning to remove a 12-mile segment of its Line 5 pipeline from the Bad River Reservation and bypass the reservation with about 42 miles of new pipe.
The Sierra Club, Honor the Earth, the League of Women Voters, the Superior Rivers Watershed Association and 350 Madison, along with landowners who oppose the line, have sought a contested case hearing on the eminent domain request. Other groups, including Clean Wisconsin and the Wisconsin Industrial Energy Group, have sought to intervene in the proceedings.
The company says the line, which transports an average of 540,000 barrels a day between Superior and southwestern Ontario, is a key piece of energy infrastructure.
According to Enbridge, the line delivers liquefied natural gas to a Plains Midstream Canada terminal in Rapid River, Michigan, that supplies propane to dealers in Michigan and Wisconsin.
Opponents point to dozens of spills on Enbridge pipelines over the past 20 years, including a 2010 rupture in Michigan that cost $1.2 billion to clean up.
The Department of Natural Resources will hold a public hearing on July 1 on the scope of the environmental review for the project and Enbridge's applications for permits to cross dozens of public waterways.
A Michigan judge ordered a temporary shutdown of Line 5 Thursday while the company investigates damage to a support of the pipeline beneath the Straits of Mackinac, according to the Detroit Free Press.
Enbridge notified the state on Thursday that it had stopped transporting petroleum through the line after an anchor support on the east leg sustained "significant damage" but resumed operations on the west leg Sunday without discussing it with state officials.
Michigan Attorney General Dana Nessel has called for the line to be shut down permanently.