High levels of a radioactive metal have turned up again in one of Madison's wells.
In a sample taken in August, the radium concentration was above the federal drinking water standard in Well 19 near Picnic Point, the primary water source for most of the UW-Madison campus, including the American Family Children's Hospital.
The Madison Water Utility reported the 5.9 picocuries per liter reading in an Oct. 10 message to City Council members.
While above the Environmental Protection Agency's maximum contaminant level of 5 pCi/l, the reading does not constitute a violation, which would be issued only if the average reading over four consecutive quarters exceeded the limit.
Radium levels in Well 19, which serves at least some water to much of the Near West Side, have ranged between 3.3 and 4.9 pCi/liter in the past three rounds of quarterly testing. The last time it was over the limit was in February 2015.
Water utility spokeswoman Amy Barrilleaux said another sample was collected this month, and results should be available in mid-December.
The well had been scheduled to be taken offline for 10 days starting Wednesday so researchers can study whether intermittent pumping could be affecting the radium content.
"They've always had their eye on Well 19 and knew it could potentially be an issue," said Matt Ginder-Vogel, an associate professor of water science engineering at UW-Madison, who is overseeing the study. "The Madison water utility is super pro-active about this stuff."
You have free articles remaining.
A naturally occurring radioactive metal, radium is found at trace levels throughout the environment, though concentrations are higher in some areas. According to the EPA, chronic exposure to high levels of radium can result in an increased incidence of bone, liver or breast cancer.
Systemwide, Madison's water supply last year had a radium concentration of 2.9 picocuries per liter, according to the annual water quality report. The highest level was 4.9 pCi/L, in Well 19.
Well 27, a seasonal well near Camp Randall, has also had high radium concentrations and was over the federal limit in February 2016.
Most residents get water from more than one well. The utility publishes service area maps for each of its wells and also has a website where users can search by address.
The water utility has plans to install an $8.6 million filtration system at Well 19 in 2023. Though primarily designed to filter iron and manganese, it is also expected to reduce radium levels.
"If we can do something about naturally occurring iron and manganese and radium at the same time we think that would be a good idea," Barrilleaux said.
A heavy metal associated with steel production, chrome plating and ash from coal-burning power plants, hexavalent chromium, also known as chromium-6, has been linked to some forms of cancer.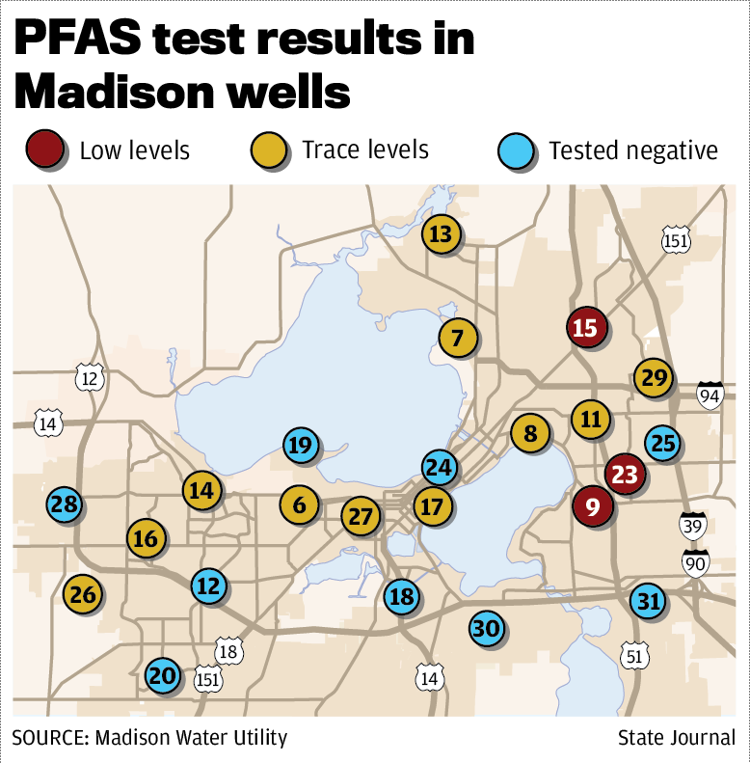 PFAS, which have been linked to cancer and other health problems, are not federally regulated contaminants, but the Department of Natural Resources is in the early stages of establishing water quality standards. The Department of Health Services has recommended a standard of 20 parts per trillion of two common compounds — PFOS and PFOA — that would be among the most restrictive in the nation.
None of Madison's wells have exceeded that threshold, though the utility has taken Well 15 on East Washington Avenue out of service while it evaluates treatment options.