Wisconsin regulators voted Thursday to deny a request from some Green County residents to stop construction of a controversial wind farm near Monroe.
The 65-megawatt Sugar River Wind project proposed by EDF Renewables would consist of 24 turbines in the town of Jefferson near the Illinois border.
A group of 56 people who live or own property within the 5,870-acre project area but don't have leases with the developer appealed the county's approval, arguing the county continued to gather information even after declaring the application complete and holding a public hearing.
The petitioners argue that deprived them of their due process by not giving them an opportunity to review and comment on that new information at the public hearing.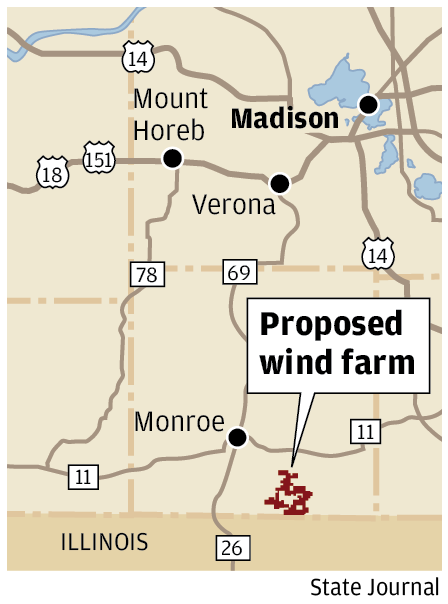 The county said it did "everything it was supposed to and more," including adopting a wind siting ordinance, which by law cannot be more restrictive than state standards, and retaining an engineer with experience in wind energy development to review the application.
It argued nothing in state law prohibits gathering additional information.
"Preserving an open flow of information is essential to good public administration and sound decision making," the county's attorney wrote. "The more meaningful information available to a political subdivision to consider, the more robust the governmental review, and the better off the county's citizens."
According to the developer, the project will generate about $250,000 a year in tax revenue for the town and county in addition to some $300,000 a year in rent for participating landowners.
The three-member Public Service Commission voted 3-0 to deny the petition with no discussion of the merits.
Commissioner Tyler Huebner, who was appointed this spring by Gov. Tony Evers, said his previous work with the renewable energy advocacy group Renew Wisconsin had no influence on his decision, adding he maintains no ties to the nonprofit group.
"I am wearing a new and very different hat," Huebner said. "As with every case I have reviewed this case independently."
PJ Saliterman, development director for EDF Renewables, called the decision "a fair result" and confirmed that Green County "did a thorough job of conducting the permitting process."
An attorney for the petitioners was not immediately available Thursday.
Saliterman said EDF is working to find a buyer for the finished wind farm or the output, roughly the electricity used by 20,000 typical Wisconsin homes.
The project is one of just a handful of wind farms under development in Wisconsin, which has only a fifth the wind energy capacity of Minnesota and has had only one utility-scale wind farm built since 2011. One of the others, the Highland Wind farm in St. Croix County, has faced nearly a decade of legal challenges.