Wisconsin regulators approved a 200-megawatt solar farm in Kenosha County that could include the state's first utility-scale battery.
The Public Service Commission voted unanimously Thursday to authorize construction of the Paris Solar Energy Center, a project of Chicago-based developer Invenergy.
"What we have in front of us is a very good project that enjoyed broad support," said PSC Chair Rebecca Valcq.
For an industry battered by unstable commodity prices, rising costs, market constraints and extreme weather, grassland farming represents a bright spot.
The commission approved the project as a merchant plant, meaning the costs will not be passed on to utility ratepayers. However, Invenergy spokeswoman Beth Conley said the company is looking for a buyer.
Construction is scheduled to begin next year, and the plant is expected to begin generating electricity in 2022.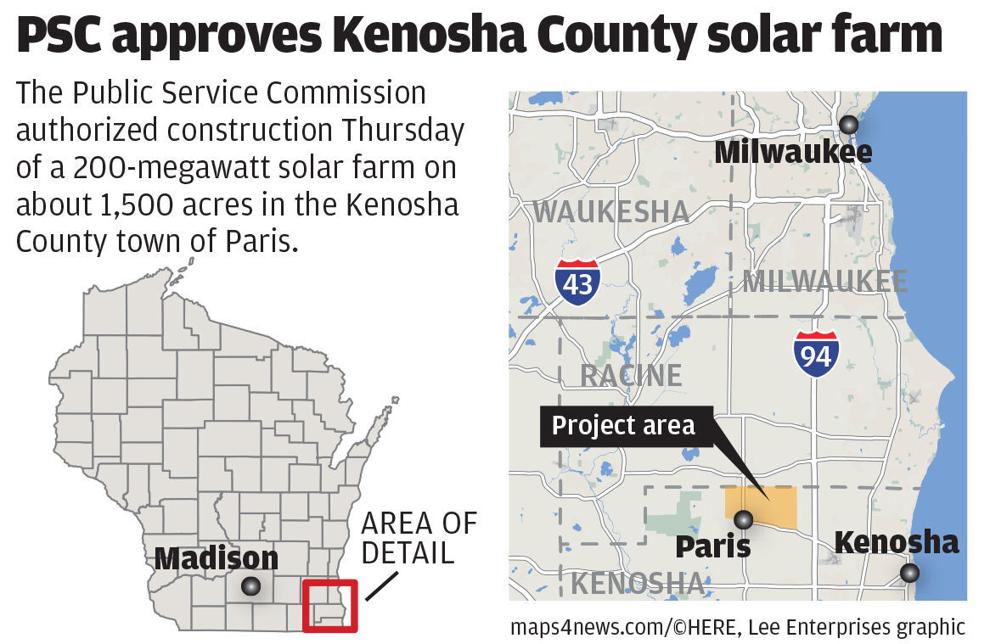 The panels would take up about 1,500 acres in the town of Paris, with another 1,200 acres reserved for alternative layouts. Under state law, the project would generate $800,000 in local tax revenue to be shared between the county and the town. Invenergy also agreed to reimburse local schools for lost property tax revenue.
The commission ordered Invenergy to avoid forested land and a 50-acre site where native people lived between 11,000 and 900 years ago, which archaeologists believe may have served as a base camp where mammoths were hunted.
The commission granted conditional approval for the concept but asked the developer to provide engineering plans for review before proceeding with construction.
"It's difficult for us to say OK if we don't know what it's going to look like," said Commissioner Ellen Nowak. "The concept I am 100% behind."
The project is the fifth solar plant approved by the PSC, which must sign off on any plant larger than 100 megawatts. The first, a 150-megawatt plant owned by MGE and Wisconsin Public Service Corp., began operating last month in Manitowoc County.
Paris Solar received widespread public support, including a letter from the American Lung Association, Wisconsin Asthma Coalition and more than a dozen health care providers who called it "an essential step forward" in the transition from fossil fuels.
"We are dedicated to advancing the health and welfare of our patients and our communities, and we recognize that air pollution makes that work less effective," the group wrote. "This solar farm will help reduce the disease burden children and adults in Wisconsin face as a result of burning fossil fuels and will help us build a healthier Wisconsin."
While directing Invenergy to work with neighboring landowners concerned about the project's impact on a private septic system, the commission noted the project's broad support and praised the developers for its public outreach efforts.
"When anything is put in the ground there is resistance," Nowak said. "A lot of that anxiety is based on just not knowing."
---