Wisconsin regulators unanimously approved construction Thursday of a 149-megawatt solar farm in Jefferson County to produce energy for Dairyland Power Cooperative.
Ranger Power plans to build and operate the Badger State solar farm on about 1,200 acres in the towns of Oakland and Jefferson, about 25 miles southeast of Madison. La Crosse-based Dairyland has a contract to purchase the power.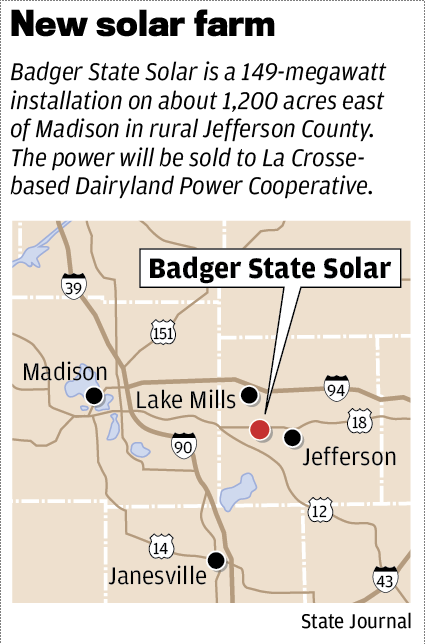 Local and state elected officials weighed in to support the project, as did Wisconsin Manufacturers and Commerce, which touted the private investment of more than $100 million and the revenue it will bring to local landowners and governments.
"Utility-scale solar now competes head-to-head with other options and Wisconsin is well-positioned to benefit," said Lane Ruhland, director of environment and energy policy for the state's main business lobbying group.
Dairyland CEO Barbara Nick is secretary of WMC's board of directors.
Some local residents voiced concerns over the loss of farmland and the project's potential impact on neighboring property value and aesthetics.
The commission praised Ranger Power for working with local communities to address concerns and minimize impacts.
The developers agreed to keep panels at least 150 feet from non-participating residences and at least 50 feet from the property line of any non-participating residents bordered on two or more sides.
"They did a good job," said Commissioner Ellen Nowak. "To be sure, there are people who aren't pleased. That's going to be the nature of every single case."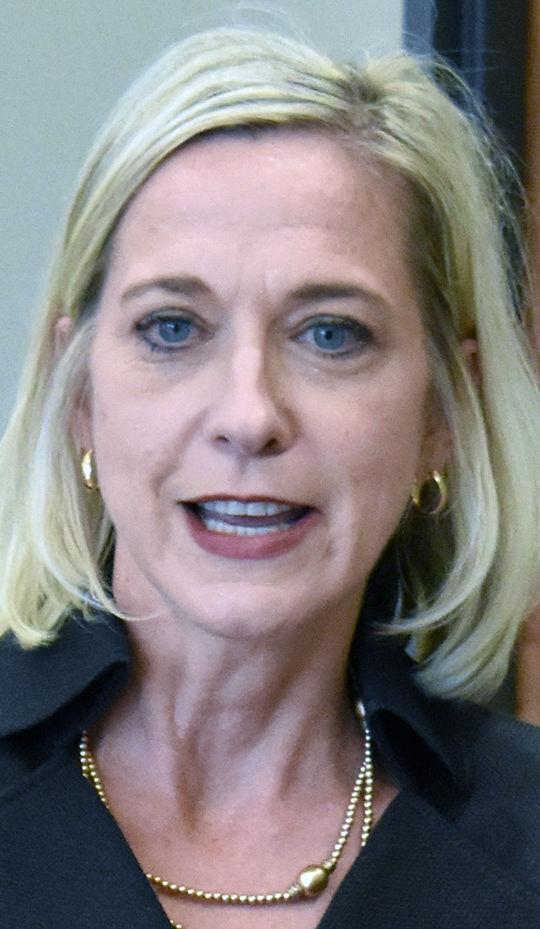 Dairyland, which last year generated about 72% of its electricity with coal, said both projects are part of a move toward a more sustainable resource base.
Spokeswoman Katie Thomson said the solar farm "will benefit consumers, the environment and local communities." Last week, Dairyland announced plans to retire one of its three coal-fired generators in 2021, a move that financial analytics firm Moody's predicted would improve Dairyland's credit standing.
"By reducing the amount of owned coal-fired generation, Dairyland is lowering its medium-term carbon transition risk and exposure to the cost pressure associated with potentially more stringent environmental regulations that would likely require expensive capital investments to reduce emissions," the Moody's analysis stated.
Badger State Solar is the fifth large-scale solar farm authorized in the state since April. Once completed, the new facilities will have a combined capacity of 750 megawatts, roughly six times the state's current total solar capacity.
In December, the PSC approved the 100-megawatt Point Beach Solar farm in Manitowoc County, which will provide power for Sun Prairie-based wholesale distributor WPPI.
In April, the commission authorized the first utility-scale solar projects, the 300-megawatt Badger Hollow farm in Iowa County and the 150-megawatt Two Creeks project, which is under construction on land adjacent to the Point Beach project.
The PSC is expected to receive applications this spring for projects in Grant, Wood and Kenosha counties that would account for another 549 megawatts.
Commissioner Mike Huebsch, who is leaving the PSC on Monday, reiterated his concerns about the loss of farmland. "We need to be cognizant of the fact that these consume a lot of land," he said.
Chairwoman Rebecca Valcq said she has asked PSC staff to work with natural resources and agriculture officials to gather soil quality maps to better inform future decisions.
"While the renewable energy that comes from these things is a good thing," Valcq said, "we can't be blinded to the fact that it does take up a lot of land."
Altogether, there are more than 30 large-scale solar farms being evaluated in Wisconsin, which if developed would have a combined capacity of nearly 5,400 megawatts.
Based on an average of 7 to 8 acres per megawatt, that would take up to 43,200 acres, or less than 0.5% of the state's cropland.
Tyler Huebner, executive director of the renewable energy group Renew Wisconsin, noted Wisconsin has more than twice that much land in federally subsidized conservation programs that pay farmers not to grow crops.