Madison Gas and Electric is seeking to build a $15.3 million solar farm to provide renewable energy to local city and school buildings.
The utility filed an application with the Public Service Commission Wednesday for the 8-megawatt plant to be built on about 53 acres owned by Hermsdorf Farms north of the Dane County landfill.
According to the application, the land was annexed Monday by the city of Madison from the town of Blooming Grove, though MGE previously received a conditional use permit from the county.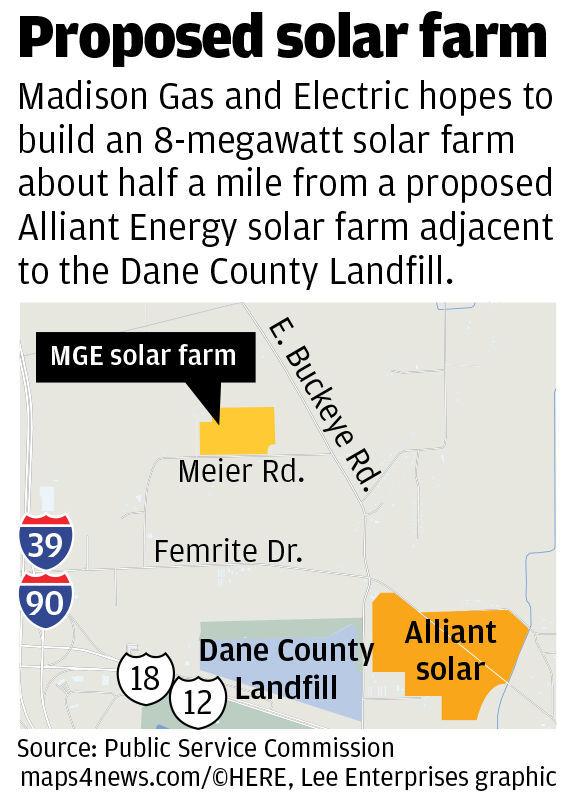 Energy from the project would be sold exclusively to the Madison School District and the city of Madison under MGE's renewable energy rider, which ensures the project costs aren't passed on to other ratepayers.
According to the application, the school district will purchase 37.5% of the output, with the city taking the balance, which the city estimates will supply almost one-fifth of its total energy needs.
With the Hermsdorf project, the city will have met almost three-quarters of its electricity needs with either renewable energy or renewable energy credits, said sustainability coordinator Stacie Reece.
The city has set a goal of meeting all its electricity needs with renewable energy by the end of this decade, while the school district plans to get there by 2040.
"Projects like these are critical to achieving that goal," Mayor Satya Rhodes-Conway said.
"We cannot do this alone, and we thank the City of Madison and MGE for their partnership, and for the opportunity to come together to work collaboratively in achieving a common goal, to mitigate climate change and ensure a healthier environment for our students and community," said Superintendent Carlton Jenkins.
If approved, construction would begin in April, and the plant would begin generating electricity by the end of 2021.
Those solar plants combined would represent about one quarter of MGE's current generation capacity, more than 40% of which is met with coal-fired generation. MGE has committed to carbon-neutral generation by 2050.
Fave 5: Reporter Chris Hubbuch's favorite stories of 2020