Despite elevated levels of radioactive material and hazardous fluorinated compounds, Madison's drinking water met all federal and state government standards in 2019.
The Madison Water Utility reported no violations in its annual water quality assessment, which was released this week and details levels of 18 pollutants and radionuclides, as well as some currently unregulated contaminants and disinfectants.
While not considered a violation, a sample taken in August showed radium concentrations exceeded the federal limit of 5 picocuries per liter in Well 19 near Picnic Point, the primary water source for most of the UW-Madison campus, including American Family Children's Hospital.
The utility reported the 5.9 pCi/L reading in an October message to City Council members.
Subsequent tests in November showed radium levels of 4.1 and 4.5 pCi/L. A sample taken in February showed a radium level of 3.4 pCi/L, according to the Department of Natural Resources water quality database.
Violations are issued only when the average reading over four consecutive quarters exceeds the limit.
Systemwide, median levels of four radionuclides associated with the decay of natural mineral deposits were below the maximum level allowed but above the ideal goal of zero.
Two substances were detected in at least one sample at levels above the zero goal but below the maximum contaminant level. Tetrachloroethylene (PCE), a substance used in factories, dry cleaners and auto shops, was found in seven wells, and trichloroethylene (TCE), used in metal degreasing, was found in Well 18.
PFAS, a group of synthetic compounds that have been linked to a variety of health problems, including cancer, were found in 14 of the city's 23 wells, although at levels below any current state standard.
The highest levels were found in East Side wells 15, which was taken out of service last year as a precautionary measure, and 23, which has not been used since 2017.
Two compounds — PFOS and PFOA — were present at levels of up to 12 parts per trillion in 12 of the wells, including Well 15, which had the highest level recorded.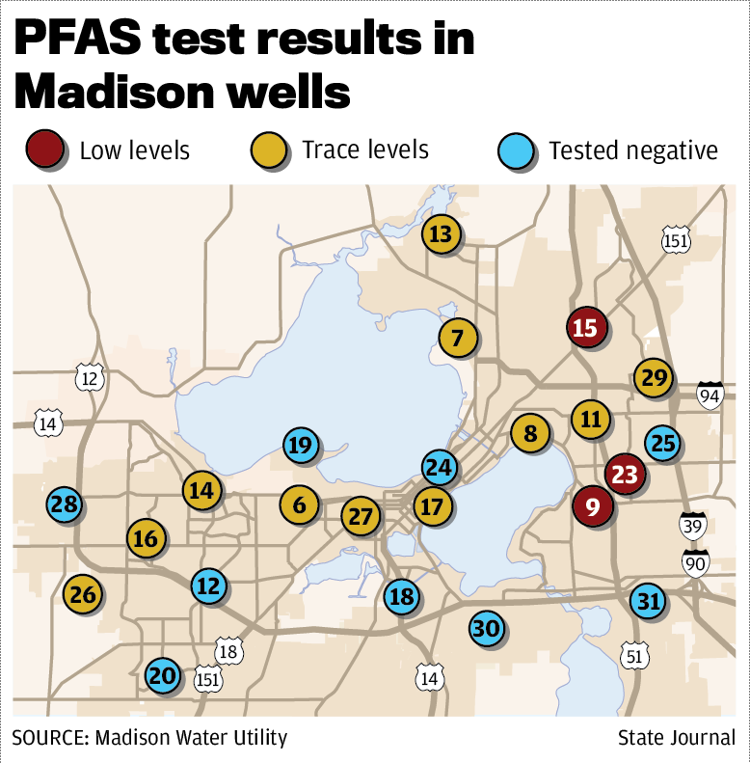 PFAS are not federally regulated contaminants, but the DNR is in the early stages of establishing state water quality standards for PFOA and PFOS. The Department of Health Services has recommended a standard of 20 ppt.
Chromium-6, another unregulated compound, was found at levels of up to 2 parts per billion in 13 wells in 2018.
The median value of 0.5 ppb is well below the 10 ppb limit set by California, the only state to regulate the compound made famous by the film "Erin Brockovich." But the nonprofit Environmental Working Group has long recommended 0.02 ppb as a safe level based on guidelines from a California Office of Environmental Health Hazard Assessment.
The utility says it performs more tests than required by either the Environmental Protection Agency or DNR on its system, which includes nearly 900 miles of water mains and 33 reservoirs.
The utility sent postcards to all customers with instructions on where to find the federally mandated water quality assessment on its website. To request a paper copy of the report, call (608) 261-9299.
Madison's water system includes nearly 900 miles of water mains and 33 reservoirs.
Madison's water system includes nearly 900 miles of water mains and 33 reservoirs.
Be the first to know
Get local news delivered to your inbox!