Utility customers in and around Madison could soon have new ways to power their homes and businesses with electricity from the sun.
Both Madison Gas & Electric and Alliant Energy are asking state regulators to approve new community solar programs, while Xcel Energy has completed its second solar garden in Wisconsin.
MGE on Wednesday applied to expand its popular "Shared Solar" program, which allows customers to subscribe up to half their monthly electricity use for a rate that's slightly higher than regular but guaranteed not to go up.
The utility is proposing to build a 5-megawatt solar garden at the Middleton airport that would be 10 times the size of MGE's current community solar garden. The project is expected to cost about $8.6 million and would generate enough electricity to power about 1,500 typical Madison homes.
MGE says it has already contracted 20 percent of the project to the Middleton-Cross Plains School District and 10 percent to the city of Middleton. The remaining 3.5 megawatts will be available to residential and commercial customers, including those who have been on a waiting list.
"We have significant customer interest in Shared Solar, and by proposing this expansion, we are meeting the needs of our customers who want affordable and locally sourced solar energy," MGE chairman and CEO Jeff Keebler said in a statement.
Alliant Energy, which serves about 470,000 customers in southern Wisconsin, has proposed building up to three 1-megawatt solar gardens where residential customers could subscribe to blocks of panels at $1,200 per kilowatt and the utility would buy back the electricity generated for at least 6.3 cents per kilowatt hour.
"The design is to allow it to go up but not down to give customers a little more certainty," said Alliant spokeswoman Annemarie Newman.
That's similar to a community solar program sponsored by Xcel Energy, which announced Tuesday that it has completed its second 1-megawatt solar garden near Cashton for its customers in western Wisconsin.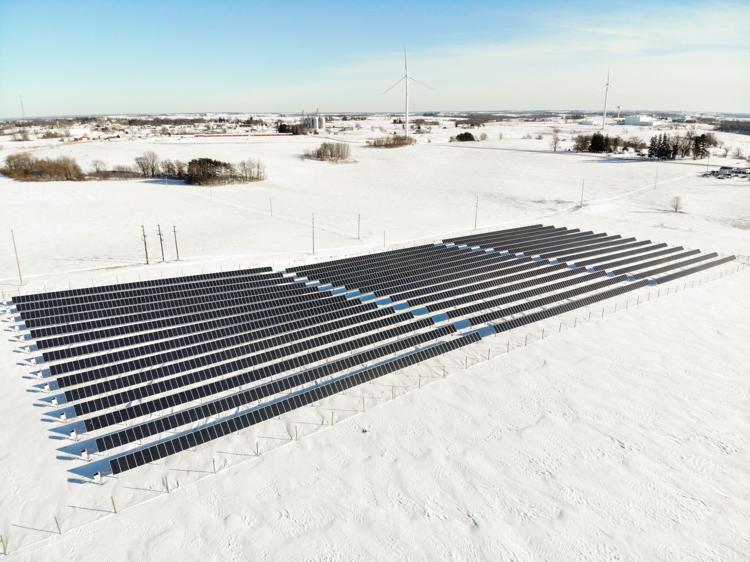 Both the MGE and Alliant programs require approval from the Wisconsin Public Service Commission.
While designs can differ, community solar is generally a way for customers to buy shares in a large facility. In return they get credit for the electricity generated or buy their electricity at a special rate.
That allows renters and people without roof space to get a piece of the action without investing the thousands of dollars needed to make a rooftop system economical.
"There is a tremendous difference in the up-front cost," said Michael Vickerman, policy director for Renew Wisconsin, which has supported such community solar programs in the past.
Vickerman estimates less than a quarter of all roofs are suitable for solar panels — either because of location or ownership.
The fine print
First introduced in 2016, MGE's Shared Solar program quickly sold out, with 285 customers volunteering to initially increase their monthly bills in order to support the utility's first foray into solar energy.
That resulted in the installation of solar panels on the roof of Middleton's public works Operations Center that generates roughly enough energy to power 100 typical Madison households.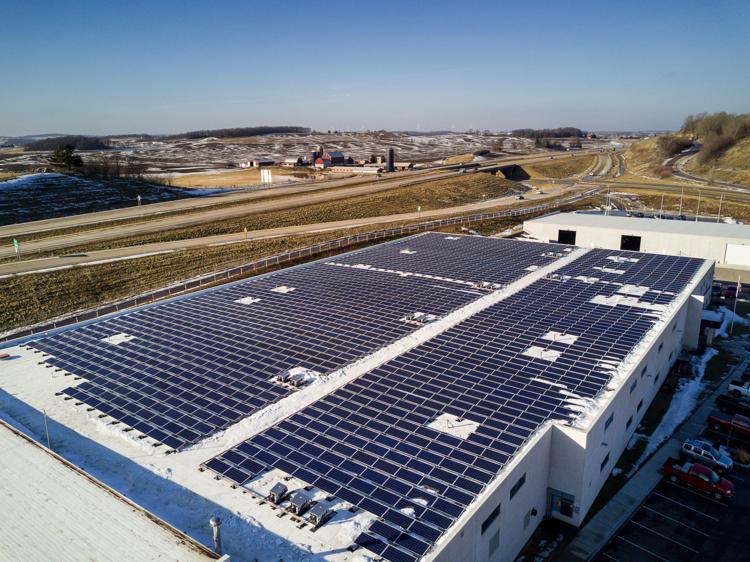 Under the proposed expansion, customers would pay an up-front fee of $145 per kilowatt and agree to pay 10.9 cents per kilowatt-hour of electricity. That's about a penny more than the current residential rate, but it's locked in for 25 years, providing users a hedge against rising rates.
Customers who bought into the original pilot at 12.8 cents per kilowatt-hour will automatically qualify for the lower rate.
Who benefits?
All MGE customers will likely get some solar-powered electricity starting in 2021 if the PSC approves the utility's proposal to buy 100 megawatts of panels in two large-scale solar gardens.
Under that scenario, MGE estimates about 22 percent of its energy will be generated from renewable sources.
Alliant, which generates about 13 percent of its Wisconsin load with renewables, has plans to build a 4- to 5-megawatt solar garden that will provide auxiliary power to its West Riverside natural gas plant under construction in Beloit.
Alliant recently received approval for a 150-megawatt wind farm, and Newman said the company is evaluating other opportunities for utility-scale renewables.
Both utilities have pledged to cut 80 percent of their carbon emissions by 2050, which would fall short of the target U.N. scientists say is needed to reduce the risk of catastrophic climate change.
Based on lifetime costs, utility-scale solar is now among the cheapest sources of new generation, according to an analysis by the investment firm Lazard. In its application to spend $135 million on parts of the two proposed solar farms, MGE argues it will ultimately save customers about $57 million over investing in natural gas.
While all customers will share the economic benefits of utility-scale solar, those who subscribe to community solar projects might reap more savings and could claim to get a larger portion of their electricity from the sun.
Watchful eyes
The Environmental Law & Policy Center questioned in 2016 whether MGE should be allowed to own and earn a profit on the solar farm, which the group warned could allow utilities to "box out" the private sector.
ELPC and Vote Solar also warned that the potential savings could be diminished if MGE raises its fixed monthly fees, which would mean customers pay more for the privilege of having service and less for the actual electricity they use.
In 2014, MGE proposed raising fixed charges to $69 a month, though the PSC ultimately approved $19, which represented an 82 percent increase.
ELPC attorney Bradley Klein said his group will closely examine proposals from MGE and Alliant.
"One of our priorities is making sure the programs are designed to enable access to all utility customers, including low and moderate-income customers," Klein said.