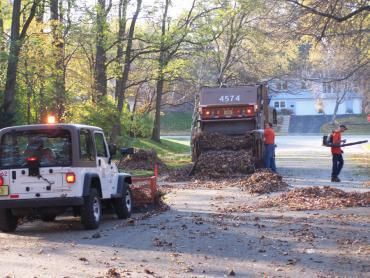 Madison officials on Wednesday urged residents to rake their leaves for collection by city crews as a way to reduce the amount of algae- and weed-spurring phosphorus that enters local lakes.
About 70% of the excess phosphorus that washes into Lakes Monona, Mendota and the rest of the Yahara water system comes from rural sources, mostly farming, and in large part, cow manure.
But city officials are emphasizing the leading urban source of the potent fertilizer that can lead to toxic algae blooms, more weed growth, low oxygen levels and green murky waters.
City crews use trucks and sweepers to collect leaves and other non-woody yard waste from the terrace, located between the sidewalk and curb, during the fall until it begins to snow. The material is later turned into compost by a city contractor.
Officials said raking leaves out of the street is also important, especially before rainstorms, which can carry leaves and phosphorus-rich "leaf tea" — the tan-hued liquid created when rainwater runs off leaf piles — into the storm sewers and to the lakes.
"We found that it's actually the leaves on the street that are causing the majority of the phosphorus transport," Phil Gaebler, a city engineer, said in a statement. "Even if the leaves stay on the street, the phosphorus leaves the leaves and flows into the lakes."
Mayor Satya Rhodes-Conway said a typical autumn has about eight storms, which translates into raking eight times.
"It takes all of us to work together, and when we do, our lakes will be a lot cleaner and our environment will be better," she said.
As part of an effort to improve leaf collection, the Streets Division is conducting a pilot project in the Vilas and Greenbush neighborhoods from Oct. 7 through Nov. 21, during which leaves and other yard debris will be collected every other week when weekly parking restrictions bar on-street parking, in an attempt to more easily collect compostable materials.
Streets Superintendent Charlie Romines also said the city made staffing changes during the spring and summer to boost the time crews spend sweeping streets by 25% a week, and that has led to "over 500 tons of additional material" collected between May 1 and the end of September.
Residents can also mulch leaves into their lawns, including by mowing leaves into smaller pieces with a mulching lawnmower.