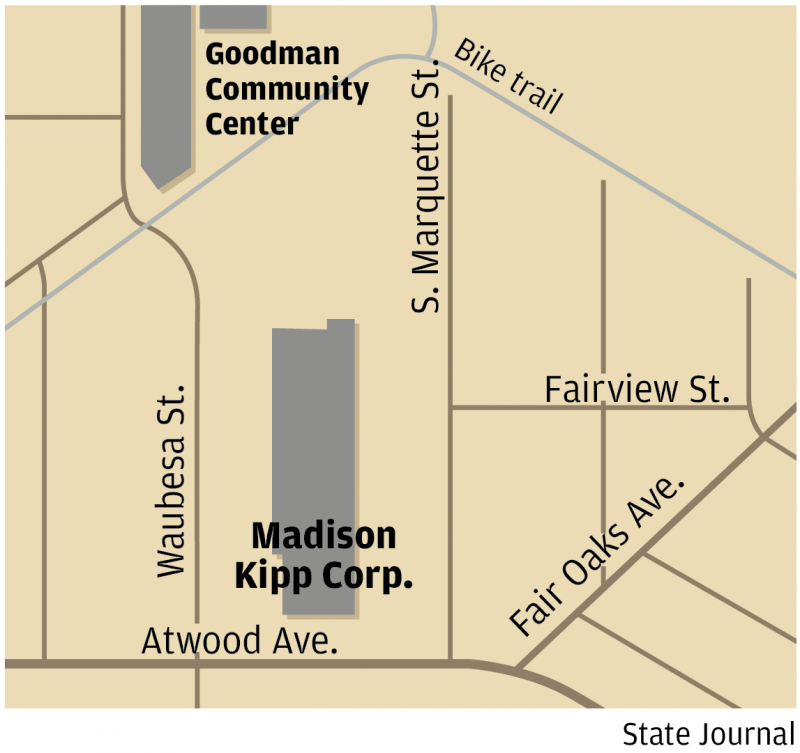 Neighbors of the contaminated Madison-Kipp property learned Saturday of the company's cleanup proposal but questioned whether it was comprehensive enough to ensure it is safe to live there.
Mike Schmoller, a state DNR hydrogeologist, spelled out a proposal to clean up contaminants from the soil, soil vapors and groundwater at and around Madison-Kipp from a chemical spill that occurred decades ago on three sites on the property.
He spoke to a crowd of more than 50 at the Goodman Community Center, located next to Madison-Kipp, 201 Waubesa St., a precision machine-parts manufacturer on the East Side. Among those attending were residents who have sent a letter saying they plan to file suit over the contamination. The letter gave Madison-Kipp until Wednesday to respond, Ald. Marsha Rummel, 6th District, said.
Also, last Monday, the DNR referred the matter to the Department of Justice for possible enforcement if the company fails to meet deadlines for compliance, said Eileen Pierce, DNR regional air and waste leader.
Soil tests show at least two homes that back up to Madison-Kipp on the Marquette Street side of the plant have enough tetrachloroethylene (also known as perchloroethylene, PCE) to warrant remedial action, which includes excavating and backfilling the top 12 inches of topsoil on the properties, Schmoller said.
Traces of PCE also were found in soil vapor coming from contaminated groundwater under five homes that back up to Madison-Kipp. Schmoller said the company proposes to control the contaminated vapors with in-home vapor mitigation systems and possibly a soil vapor extraction system on the grounds of the manufacturing plant. John Hausbeck, environmental health services supervisor for Public Health Madison and Dane County, said vapor is the biggest health threat.
"Initially they found the vapors outside the homes, but now tests show that the vapors are getting underneath people's homes, and one of the homes was above an action level that the state had set," Hausbeck said.
"What that tells me about the exposure is that it's still in the potential category. It's not at a level yet where people are likely to be getting ill from this. It's at a level where we need to do something so people don't get ill."
Several neighbors asked Schmoller why Madison-Kipp can't excavate all three contaminated sites and rid the property of the health threats. He said underground utilities and buildings built over the contaminated sites make complete excavation difficult.
"We might not be able to get in there and do it," Schmoller said.
State Rep. Chris Taylor, D-Madison, wasn't satisfied with that response.
"They're reluctant to excavate, and I'm not sure why that is," she said.
Taylor, who lives near the contaminated site, said Madison-Kipp needs to ease people's minds.
"We want to be able to know that our kids can dig up dirt in the backyard and not develop some sort of horrible disease," she said. "We all want that for our children. We as a community need to do all that we can to make sure we are safe and our families are safe here."
[Editor's note: This story was changed. Originally it incorrectly stated the acronym for the chemical contamination at the Madison-Kipp Corp. site. Tetrachloroethylene, also known as perchloroethylene, is referred to as PCE.]