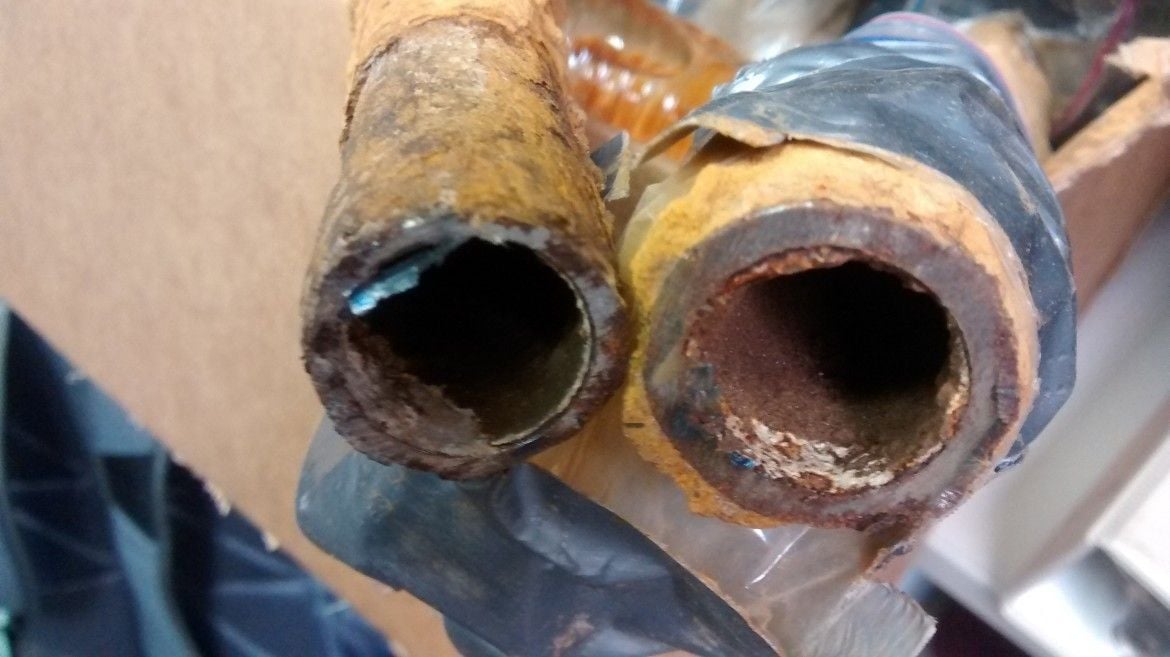 After lead-tainted drinking water in Flint, Michigan, exploded into a public health emergency last year, Lake Mills residents grew more vocal in their concerns about tests that have repeatedly found the toxic metal in their water.
Even small amounts can accumulate in the body to cause irreversible brain damage, slowed growth and, in rare cases, death, federal officials say. Children face the highest risk, and the U.S. Centers for Disease Control says there is no safe blood lead level in children.
Lake Mills plans to take new steps in its efforts to protect residents from lead after initially underestimating the number of lead water pipes buried in the ground, and exceeding federal lead limits more often than any other Wisconsin water system with ongoing problems.
The city of about 5,800 residents 30 miles east of Madison offers just one example of how the costly and difficult-to-solve problem of lead-tainted drinking water goes far beyond the extreme case of Flint, where the city's entire water system was declared unsafe.
An Associated Press analysis of Environmental Protection Agency data found that nearly 1,400 water systems serving 3.6 million Americans have exceeded the federal lead standard at least once since Jan. 1, 2013. The affected systems are large and small, public and private, and include 278 that are operated by schools and day care centers in 42 states.
In Wisconsin, 64 water systems exceeded limits in that period. The systems include municipal utilities in Stoughton, Neenah and Racine; schools such as Rock County Christian in Janesville, Woods in Lake Geneva, and THINK Academy charter near Wisconsin Rapids; and state facilities including prisons and the Veterans Home at King, the data show.
Lake Mills is one of nine water systems that last year found enough lead to exceed the federal action limit, the EPA data show.
To be under the limit, 90 percent of water samples must have lead concentrations under 15 parts per billion.
In Lake Mills, 90 percent with the lowest concentrations ranged higher than 10 times that much — 160 parts per billion. The worst of the samples, which were gathered from taps in 40 homes last fall, tested at 870 parts per billion, said water utility superintendent Paul Hermanson.
In February, the state Department of Natural Resources put the city on notice that the test results violated safe drinking water rules and ordered it to do more public education and take other steps designed to give residents greater opportunities to replace lead pipes.
Hermanson said the most significant action will be increased efforts to publicize recommendations aimed at reducing exposure — primarily running a tap for up to two minutes before drinking it or cooking with it.
The city will send a letter annually to water customers and may conduct a public meeting or place an announcement on the city television station or website, he said.
In the notice of violation, the DNR also told the city to give residents 45 days' notice before it replaces publicly owned lead water pipes so they have a better opportunity to decide if they want to pay from $1,800 to $3,300 to replace pipes on their property, Hermanson said.
But city manager Steve Wilke said he didn't believe the 45-day notice would make much difference based on how many property owners have chosen to do the work on the 29 occasions when the city tore up a street, found lead pipe and replaced the city-owned portion of it in recent years.
"I know of three that have replaced the service line on their property," said Wilke, who has been with the city since 2000. "Most of the time when we have given them the option they have not wanted to do it."
You have free articles remaining.
In one case when the city replaced its end of the pipe, but the resident didn't, the lead levels in the house spiked in tests taken shortly after the work was done, probably because the construction work shook loose corrosion that usually prevents water from coming in contact with the interior surface of the lead pipe, Wilke said.
Water systems like Lake Mills' add chemicals to water supplies to ensure the protective corrosion forms and flush water through pipes to remove material that can come loose and carry lead to the tap. Lead can leach from pipes and fittings in homes.
The DNR has required Lake Mills to replace about three lead pipes annually, Wilke said. The number is based on a rule requiring 7 percent of a community's lead pipes to be replaced each year if too much lead is reaching homes, Wilke said.
However, the 7 percent is being applied to an initial estimate that the city had 37 lead pipes among service lines for its roughly 3,800 customers. Wilke and Hermanson said the estimate was established before they worked for the city.
Homes built before the EPA banned lead pipes and solder in 1986 are most at risk. Hermanson said he didn't know how many Lake Mills homes were built before that year, but there are far more than 37.
In conjunction with road repair projects, the city is preparing to remove lead pipes that supply water to an estimated 150 homes in older neighborhoods at a cost that could reach $675,000 over the next four years. The city will be checking customers' water meters to find faulty ones over the next three years and will also look for lead pipes and fixtures, Hermanson said.
But there's no indication that the city will accelerate the costly replacement of the lead pipes it finds, he said.
"Nobody had been able to prove that it accomplishes what it is meant to accomplish if the residents don't do their portion of the pipe and their indoor fixtures," Hermanson said.
Madison pipes replaced
Madison may be the only community in the country that has eliminated its worst risks by replacing all lead service pipes. An 11-year, $15.5 million project replaced 8,000 lead service pipes.
The city provided grants to homeowners to help them cover the costs of mandatory removal of the portions of the pipes on their properties.
Madison officials said the cost was high but so was the benefit in terms of health, especially for children. In 2012, the Centers for Disease Control reduced by half its standard for lead levels in the blood that are considered high.
Abigail Cantor, a consultant whose tests sparked the Madison program, said the biology and chemistry of water in lakes, rivers and underground aquifers varies greatly.
The water's makeup is affected by different purification methods, storage time, temperature and materials that have accumulated in pipes for decades. The result can be great unpredictability about what comes out of the tap, including short-term spikes in lead in many systems, Cantor said.
Removal of lead pipes is a crucial first step everyone should take, Cantor said.
Flushing water mains is a good practice to remove manganese scales that can absorb and concentrate lead in water and then release it, sending it to the tap, Cantor said. But done incorrectly, flushing can cause lead spikes, she said.
She recommends that homeowners have their water tested if they are concerned about lead.
• Unsafe water found at U.S. schools. A7