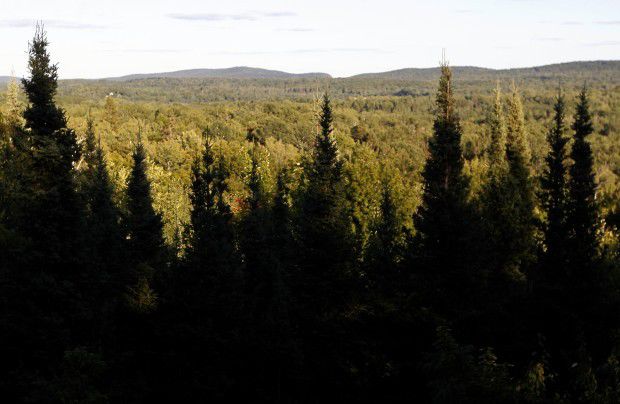 The footprint of a massive iron mine proposed for northern Wisconsin may be shrinking as Gogebic Taconite considers avoiding what it considers hostile territory.
An Ashland County mining ordinance and statements made by a county elected official have caused the company to consider leaving about a third of the roughly 4-mile-long ore deposit in the ground, spokesman Bob Seitz said Thursday.
The 2013 ordinance would require Gogebic Taconite to pay county costs of hiring scientists to evaluate the extensive environmental studies the company will submit when it applies for a county mining permit.
"We've let them know that the ordinance makes it not viable to mine there," Seitz said.
Seitz said there was no limit under the ordinance on the amount of money the company might be forced to pay.
But county administrator Jeff Beirl said the measure only allows payments for experts who would be brought in before a permit were issued.
The experts would give county leaders an unbiased explanation of the highly technical scientific studies, he said.
"I don't know if anybody would take anybody's word for anything these days" related to the controversial mine, Beirl said. "A lot of the northern counties aren't flush with money, and this money is going to be necessary to do our due diligence up front."
Decades of mining
The company has rights to 3,200 acres straddling Ashland and Iron counties. Preliminary plans call for open pit mining, a processing plant and storage of waste rock.
The dispute over the Ashland County ordinance is just the latest clash involving the mine project.
In 2013, Republicans who control state government enacted a law loosening regulation of iron mining, saying the changes would allow Gogebic Taconite to create badly needed jobs. Opponents say the $1.5 billion project could ruin the stream-studded Penokee Hills and downstream areas nearer to Lake Superior.
The company has been drilling out samples of rock, testing groundwater flows and mapping out natural features for an environmental impact statement it will submit with its application for a state mining permit.
Not mining the land it controls in Ashland County would reduce the productive life of the mine to some extent, but the Iron County portion alone would produce ore for decades, Seitz said.
Ashland County leaders have expressed more reservations about the mine than their counterparts in Iron County.
Seitz said the company is highly concerned about anti-mine statements attributed to Ashland County Board chairman Pete Russo in a conservative publication and other comments he made in public meetings that were recorded and posted online.
"We have to stop this mine," Russo told members of the Penokee Hills Education Project in a June 27 meeting posted on YouTube. "You have to stop it. Because if it ever goes in, we'll be in deep trouble."
Seitz said Russo's words contradict his statements to the company indicating that the provisions of the permit ordinance are negotiable.
Russo didn't return phone calls seeking his comment, but Beirl said Russo's personal opinions don't change official county policy on the mine project.
"Our only official position is we will support responsible mining," Beirl said. "Until they are ready to share their plans it would just be a guess on anybody's part what the impact is going to be environmentally, fiscally, socially."
Seitz said local governments and tribes in Ashland County will miss out on hundreds of thousands of dollars in benefits if the mine stops at the county line.
Beirl said the money earmarked for local governments, especially in the early years of a mining operation, are unlikely to be substantial under provisions in state law that that calculate grants based on company profits.
"I guess if it's not economically feasible to mine the Ashland County, that's a decision they have to make," Beirl said.
More wetlands
The company recently announced it would push back its application for a state mining permit by several months because consultants had fallen behind schedule in mapping wetlands on the mine site.
Seitz said the company also is adjusting plans because the consultants have found more sensitive areas than are on the latest state Department of Natural Resources map.
He denied most of the statements on a blog written by an Iron County resident that suggested the company may be preparing to abandon the project.
Gogebic Taconite has sent the consultants home, but not permanently, Seitz said, because as fall approaches, certain wetland plants fade, making it more difficult to accurately map wetland areas.
The work will resume in the spring, meaning the mine application will be filed no earlier than the fall of 2015, instead of spring as planned, he said.
[Editor's note: This story has been updated to reflect a correction. An earlier version omitted the first name and title of Ashland County Board Chairman Pete Russo]
Be the first to know
Get local news delivered to your inbox!