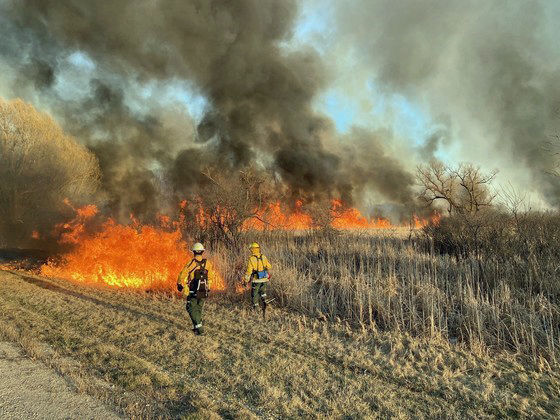 Gov. Tony Evers has declared a state of emergency as the risk of wildfire remains high across most of the state.
More than 330 wildfires have scorched some 1,500 acres so far this year, as snow melted about two weeks earlier than normal, according to the state Department of Natural Resources.
"This is definitely not a typical year," said Catherine Koele, a DNR wildfire prevention specialist. "We (have) about three times as many fires. And they're all over the state."
Koele said Wisconsin wildfires are typically one to two acres; this year, the average fire has covered seven acres.
Burning bans are in effect statewide as the DNR says every county is at very high risk of wildfire. Unseasonably warm temperatures combined with low humidity and gusty winds have contributed to the elevated risk.
The DNR warns that fires can start and spread quickly in such conditions and asks people to limit outdoor burning, including campfires, and use caution with off-road vehicles and other equipment that can spark fires.
Evers' emergency order allows the National Guard to send Blackhawk helicopters to parts of the state most in need of additional resources for the spring fire season, which typically runs through May. Evers made a similar emergency declaration in April 2020.
"The ability of the Wisconsin Department of Natural Resources to have all available resources ready to be quickly dispatched is a critical element in keeping fires small and achieving swift containment," Evers said.
A burning ban remains in place for the roughly two-thirds of the state under DNR fire protection. Other county and local governments may have separate regulations.
The National Weather Service predicts showers are likely in western Wisconsin Tuesday and will spread across the rest of the state Wednesday and Thursday. Weather Service meteorologist J.J. Wood said the air is also becoming more humid.
But Koele warns against complacency, as fire danger will remain high until vegetation turns green.
"I think what it's going to do is allow our firefighters to get a little rest," she said. "We could have some rain tomorrow and be in a high fire danger the following day."