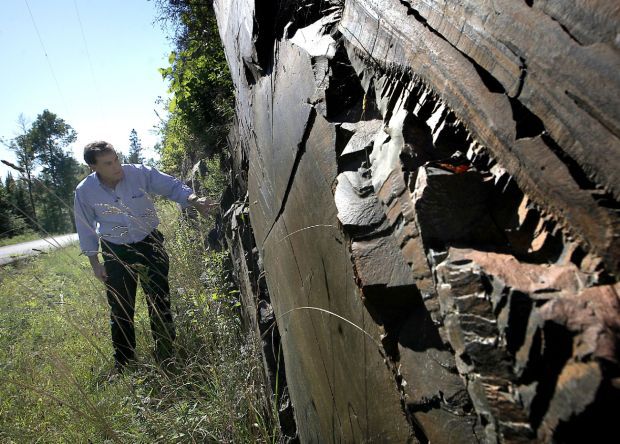 The president of the company looking to open an iron ore mine in northern Wisconsin said Friday he doesn't know if an investigation into whether a mine he previously managed contaminated a Spanish aquifer with arsenic will affect the project here.
Bill Williams, president of Gogebic Taconite, was director of mining and technical resources for Cobre Las Cruces, which opened a major copper mine in southern Spain in 2009. He left the company in 2011 and became president of Gogebic Taconite, which is based in Florida but has an office in Hurley.
Gogebic Taconite has proposed opening a $1.5 billion iron ore mine near Lake Superior in Ashland and Iron counties. Williams and company officials are in the process of submitting a formal application to state regulators for the mine, which would cover a 4-mile area. The plan has generated opposition from environmentalists, members of the Bad River Band of Lake Superior Chippewa who live in the area and others who fear the mine will pollute one of Wisconsin's last pristine regions.
Gogebic's interest in the project began in 2010, before Williams joined the company.
Williams said he needed more information about the Spanish investigation before he could say how it might affect the plans and declined further comment. But he also downplayed the investigation.
"It's just opposition against the mining in that area," he said.
Cobre Las Cruces, which has a major copper mine in southern Spain, has been accused of contaminating an aquifer in the area with arsenic.
It's not unusual to have problematic levels of arsenic in water when mining, but it's not known whether that would be an issue with the Wisconsin mine, said Tom Evans, a retired geologist from the Wisconsin Geological and Natural History Survey.
Problems, whether related to arsenic or other potential contaminants, can be properly mitigated, Evans said.
"You have to design a project that will deal with that one way or another," he said. "There is no mining of these kind of deposits that are inherently safe. They all are inherently problematic, or dangerous, whatever word you want to use because you are disrupting things."
Opponents of the Wisconsin mine have seized on news of the probe, circulating reports of it on social media and websites. Amber Meyer Smith, government relations director for environmental advocacy group Clean Wisconsin, called the investigation "very concerning" and something state regulators should look closely at.
"It raises some credibility questions. How large those are, what the impact of those are, who knows," said Dennis Grzezinski, attorney for Madison-based Midwest Environmental Advocates. "I certainly don't view it as 'Oh my! Now this process grinds to a halt.' That, I'm sure, is not in the picture."
The Wisconsin Department of Natural Resources is aware of the investigation and "we will do a thorough review no matter the outcome of the case," DNR spokesman Bill Cosh said.
Williams and two former co-workers were named in the investigation in a Seville court involving alleged environmental offenses by Cobre Las Cruces, according to a court document and a spokesman for the Andalusian Justice Tribunal, who spoke on condition of anonymity as required by his office's policy.
The Spanish mining company has not been charged, nor have Williams or the other two executives. The next step in the process is for a prosecutor to present the case to a magistrate overseeing the investigation, who will decide whether the executives should be charged and tried.
It is too soon to say whether the case will actually reach trial, the court spokesman in Spain said.
An appeal on the naming of the executives as suspects was rejected earlier this month by three magistrates who are not involved in the investigation.
Williams said Friday he knew the appeal had been filed, but he was not aware that it had been rejected until this week. He said he has not been in contact with Spanish authorities or his former employer.
Telephone and email messages left with the president and a spokeswoman for Canada-based First Quantum Minerals, which owns Cobre Las Cruces, were not immediately returned Friday.