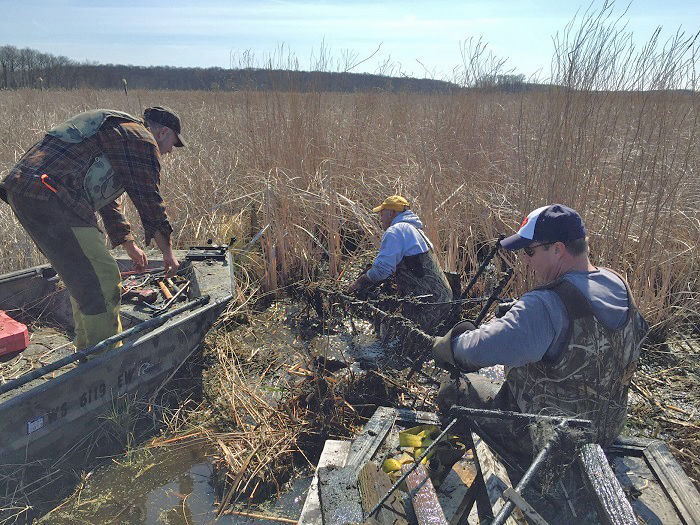 Five former Department of Natural Resources secretaries with tenures stretching back to the 1970s are calling on Gov. Scott Walker and the Legislature to reject a proposal that would scatter DNR programs among five agencies.
In a four-page letter released Wednesday, the former secretaries and one deputy secretary said that dividing the DNR would make conservation more costly and less effective while making it harder for citizens to have their problems addressed.
"It is our experience from administering the agency that the issues that the DNR deals with on a daily basis require constant interaction between the Department's 25+ Bureaus," they said.
Breaking up the DNR would create the need for additional salaried executives and other personnel for a new agency as well as higher executive pay in departments that would have hundreds of additional employees to manage, the six argued.
A proposal that Walker disclosed last month would divide DNR operations into two new departments and three existing ones. Under the plan, fisheries efforts would go to a new Fish and Wildlife Department while water pollution regulators would be in a separate Environmental Protection Department.
Meanwhile, state parks would be managed by the Department of Tourism; forestry would land in the Department of Agriculture, Trade and Consumer Protection; while conservation land acquisition would be absorbed by the Department of Administration.
The letter opposing those changes is signed by Tony Earl, who ran the DNR from 1975 to 1980 before he became governor; Bruce Braun, who served as deputy to the late C.D. Besadny, who was in charge from 1980 to 1992; and former secretaries George Meyer, 1993 to 2001; Darrell Bazzell, 2001 to 2003; Scott Hassett, 2003 to 2007; and Matt Frank, 2007 to 2011.
It is addressed to Walker, a Republican, with copies to his appointees DNR Secretary Cathy Stepp and Department of Administration Secretary Scott Neitzel, as well as the GOP-majority Legislature and the Natural Resources Board, which would disappear under the proposal.
Earl, a Democrat, was appointed by the Natural Resources Board, as were Besadny and Meyer. After the board was stripped of its appointment powers, Meyer was reappointed by Republican Gov. Tommy Thompson, Bazzell was picked by GOP Gov. Scott McCallum, and Hassett and Frank were chosen by Democratic Gov. Jim Doyle.
The former secretaries said splitting up the agency would:
Create problems preventing pollution, fostering wildlife habitat for hunting and fishing, protecting endangered species, overseeing logging operations, and managing state parks and natural areas.
Make it more difficult to respond to pollution that causes fish kills and to clean-water standards if wildlife managers who stock streams are split off into a separate organization from water quality regulators.
Undermine joint efforts by the forestry division and wildlife managers to carve more productive hunting grounds out of the mature forests of northern Wisconsin.
Result in forest management decisions being made in four separate state agencies instead of the current arrangement in which the forestry division does that work for parks as well as fishery, wildlife and natural areas.
Agencies consolidated decades ago
You have free articles remaining.
The DNR was created in the 1960s by consolidating agencies that handled "interrelated" conservation and environmental programs to increase government efficiency and provide a central point for citizens to have their concerns addressed.
The consolidation was proposed by a gubernatorial reform commission headed by retired paper company executive Bill Kellett. It was enacted through action by Republican Gov. Warren Knowles and the Legislature.
"The strength of the Kellett Commission Reorganization was the recognition that one agency should coordinate that necessary interaction to assure that we had healthy lakes and streams to maintain the quality fishery (which) is important to sportsmen and women and the state's tourism," the letter says.
Walker and Legislative leaders have said they were willing to consider splitting up the DNR.
Rep. Adam Jarchow, R-Balsam Lake, has been pushing for the change behind the scenes since at least late October, when the Legislative Fiscal Bureau wrote an 11-page memo for him describing technical and legal considerations of the plan.
Jarchow, who has co-authored laws that cut what he said was unneeded regulation of lakes and streams, said in a statement he has been told "by many hunters, anglers, farmers, and business owners that the DNR is just not working in its current form."
Without offering specifics, Jarchow said that after the DNR is divided "the agencies can focus on their mission — one on growing and promoting our sporting heritage and one on effectively and efficiently protecting the environment."
He pointed out that several other states have environmental protection departments separate from fish and wildlife operations, but the former DNR secretaries said their counterparts in such states have been envious of Wisconsin's unified system.
In Michigan, the letter says, the governor divided the state's DNR into two agencies in 1995 at a cost a legislative fiscal office put at $4 million, which was covered by reducing front-line staff who provide services to residents.
"Wisconsin should not move backward in natural resources management by splitting the DNR," the letter says.
Under Jarchow's plan, only the new fish and wildlife agency would have a public policy board where residents could bring problems. While forestry operations would be in DATCP, which has a public board, the environmental protection and other programs would no longer have a public forum for residents, the former secretaries said.
Jarchow and state Sen. Tom Tiffany, R-Hazelhurst, later distributed an essay defending their efforts to reduce environmental regulations as a means to create jobs for their constituents.