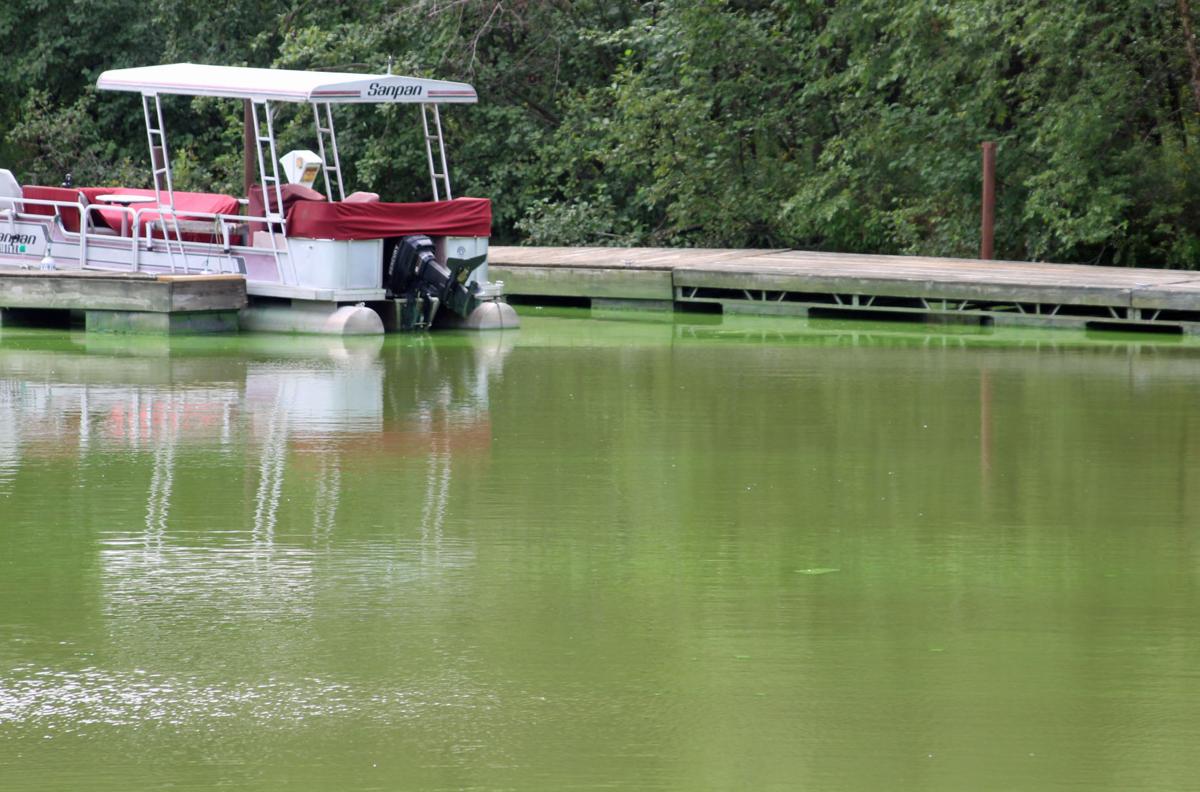 After years of delays, the federal government approved Wisconsin's plan to give polluters less-costly options for meeting phosphorus standards aimed at reducing unnatural weed and algae growth that has impaired hundreds of lakes and streams, state lawmakers said Tuesday.
The state sought an option for expensive improvements that would remove phosphorous from waste water before it was dumped in lakes or streams.
Manufacturers and sewage treatment plants would be exempted from the standards for 10 years if they paid fees that would be spent on cutting phosphorous pollution that rain carries off farm fields.
Some conservation groups have opposed the state plan, saying it lacked teeth to ensure that the fees would result in any significant improvement in water quality.
But Chicago-based EPA spokeswoman Anne Rowan said that if the variance performs as expected it would result in much greater reductions in phosphorus pollution than would have occurred if each exempted factory and wastewater treatment plant "instead installed feasible treatment technology."
Rowan said she couldn't provide details on how reductions would be enforced. Some state officials and environmentalists also said it was too early to comment.
The state has been pushing the U.S. Environmental Protection Agency for years to approve the rules, which originated with Republicans in the Wisconsin Legislature.
The timing of the EPA decision sparked speculation about whether it was related to the new administration of President Donald Trump, who has talked about dismantling the EPA and greatly reducing regulation of businesses.
However, two state lawmakers said the EPA decision will result in lower costs for businesses and utilities and stronger protections for water quality.
Sen. Robert Cowles, R-Green Bay, and Rep. Amy Loudenbeck, R-Clinton, emailed an announcement to news organizations.
"This newly approved reform measure will offer a vastly more cost-effective and resource protective means of reducing the phosphorus in our waters while lowering costs to water utility ratepayers and potentially saving thousands of Wisconsin manufacturing and food production jobs," the lawmakers said.
"I'm incredibly pleased that we were able to move this much-needed legislation," Cowles said in a statement. "However, I am still disappointed by the amount of time it took the EPA to review and approve our creative approach to reduce phosphorus."
Among the first
In 2010, the state was among the first in the nation to adopt specific, measurable standards for how much phosphorous could be released into state waters.
The rules approved by the state Natural Resources Board were the result of lengthy talks between state regulators, businesses, local governments and environmental advocates, said Bill Davis, who directs the state's chapter of the Sierra Club.
But after Republican Gov. Scott Walker took office in 2011 along with GOP majorities in the Legislature, changes were sought by business interests.
The original rule package recognized that in some cases, businesses and municipalities would face especially high price tags to reduce phosphorous to the levels scientists said were needed. So the rules allowed those polluters an option called "adaptive management."
Instead of installing new anti-pollution equipment in their plants, they would be able to provide funding for projects that would reduce phosphorous runoff from farms at a lower cost, Davis said.
They would be held accountable by provisions written into their pollution permits, which are legally binding documents. If phosphorous runoff from farms wasn't reduced, the permit holders would be penalized.
Madison and Green Bay were enthusiastic about the idea, and they worked with the DNR to implement legally binding adaptive management programs, Davis said.
But Walker and the Legislature sought to make the adaptive management option much more widely available, and without the binding permit provisions designed to give sewage plants and manufacturers strong incentives to ensure that phosphorous runoff reductions were accomplished, Davis said.
But Loudenbeck said polluters won't "receive a free pass or a proverbial get-out-of-jail-free card."
Cowles said the state's plan would keep the numeric standards for phosphorous on the books even if many polluters are exempted from them for 10 years. It's too early to know how widely the option will be made available, but it will create significant revenue for preventing runoff, and the state can review its effectiveness after 10 years, Cowles said. Fees would equal $50 per pound of phosphorous.
Jimmy Parra, an attorney for the public interest law firm Midwest Environmental Advocates, said the EPA decision isn't based on the state's claims about economic costs, but on an entirely new argument that was never aired at any public hearing — that water quality will be improved, Parra said.
"The public should have had (an) opportunity to weigh in on this new information to ensure that the decision is based on facts and science, not politics," Parra said.
State Department of Natural Resources spokesman Jim Dick said the department was reviewing a letter on the topic from the EPA.
Revenue for preventing runoff
Progressively tighter standards under the federal Clean Water Act have reduced phosphorous pollution from industry and sewage plants. Now the majority of nutrient pollution originates on farms. Runoff is relatively inexpensive to control, but state and federal laws don't set the same clear-cut limits for agriculture as they do for industry.
Farmers are offered financial incentives for voluntary efforts such as erosion prevention, which can be accomplished by planting cover crops near stream banks or by rotating crops.
Cowles said he doubted the new Trump administration was responsible for the EPA approving the rules, because they have been in the works a long time.
But the Sierra Club's Davis said it's possible the timing is the result of career EPA staff members taking a long view, and deciding it was important to preserve the phosphorus standards even if they are circumvented for a number of years.
The alternative — continuing to negotiate — would have run the risk that the state would succeed in getting the standards thrown out completely after more Trump appointees are in place, Davis said. Trump's nominee for EPA administrator, Scott Pruitt, is awaiting a confirmation vote in the U.S. Senate.
State Journal reporter Mark Sommerhauser contributed to this report.
Be the first to know
Get local news delivered to your inbox!