A Canadian company has withdrawn its request to condemn private land in order to reroute a controversial oil pipeline around a northern Wisconsin Indian reservation.
Enbridge Energy notified utility regulators Friday that it was withdrawing its application for the authority to take private property for its Line 5 reroute and announced Monday that it has negotiated rights for all the private land needed, though the company is still working to secure permits to cross roads and utility corridors.
As a result of a lawsuit filed by the Bad River Band of Lake Superior Chippewa, Enbridge is working to remove a 12-mile segment and bypass the reservation with about 42 miles of new pipe through Ashland and Iron counties.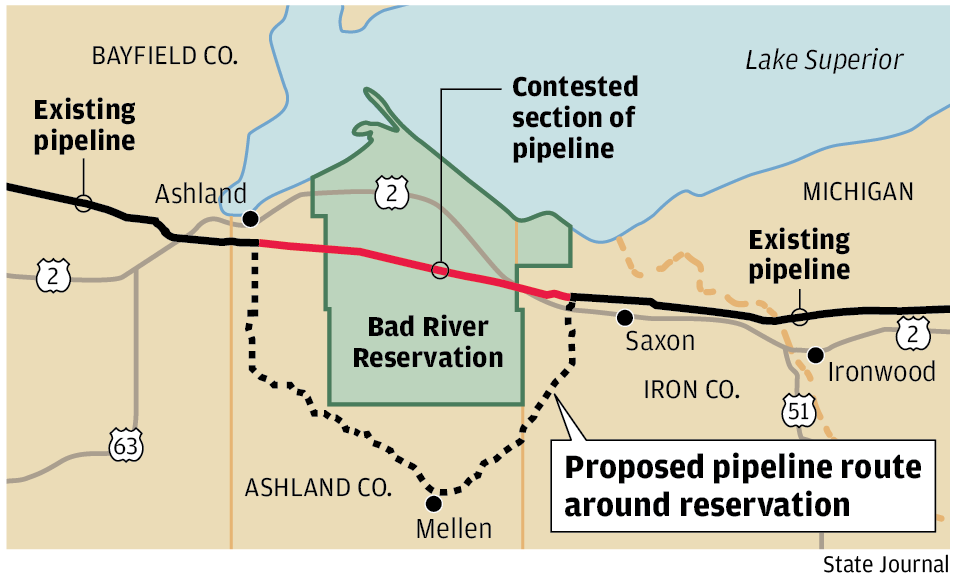 Enbridge had asked the Public Service Commission to determine the project was in the public interest and grant the company eminent domain powers. The company withdrew its application on the deadline for responses to legal challenges from groups including the Sierra Club, Honor the Earth, the League of Women Voters, the Superior Rivers Watershed Association, and 350 Madison, along with landowners who oppose the line.
The project will still require permits from the state Department of Natural Resources, which is preparing a draft environmental impact statement expected to be released this fall.
Sierra Club state director Elizabeth Ward said the environmental organization would continue fighting to block the project.
"There is a long permitting process ahead of us," Ward said. "The unprecedented opposition has been building throughout the summer and growing as awareness increases about the risks to the watershed, wetlands, tribal sovereignty, and climate."
The company says the line, which transports an average of 540,000 barrels a day between Superior and southwestern Ontario, is a key piece of energy infrastructure.
According to Enbridge, the line delivers liquified natural gas to a Plains Midstream Canada terminal in Rapid River, Michigan, that supplies propane to dealers in Michigan and Wisconsin.
Opponents point to dozens of spills on Enbridge pipelines over the past 20 years, including a 2010 rupture in Michigan that cost $1.2 billion to clean up.