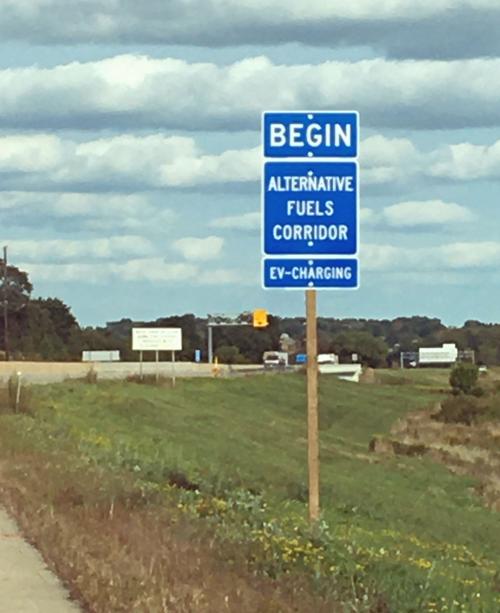 New signs along Interstate 94 are telling motorists in southeastern Wisconsin that electric chargers are nearby as part of Gov. Tony Evers' efforts to promote alternative fuels.
Signs erected in September along the interstate between Madison and the Illinois border indicate the 110-mile corridor is "EV ready," meaning there's a DC fast-charging station every 50 miles.
Transportation Secretary-designee Craig Thompson said the signs are meant for both electric vehicle drivers and those who might consider buying one but worry about a lack of fueling stations.
"Easy access to fuel is critical to expanding electric vehicles from local use to cross-country travel for private and corporate use," Thompson said.
Citing lax building standards and a lack of community-wide energy initiatives, the American Council for an Energy-Efficient Economy ranked Madison 64th out of 100 cities, behind Milwaukee, Chicago, Minneapolis and St. Paul.
The signs do not direct drivers to individual charging stations; most EV drivers rely on apps for that.
"It's to give them confidence there's a charger they can find on the corridor," said Chuck Wade, director of the Department of Transportation's bureau of planning and economic development. "It's not really intended to be a locator. It's more of an awareness-type thing."
The Federal Highway Administration designated the I-94 corridor "EV ready" in 2016, but the designation does not come with federal funding, and Wade said it took several years to find the $4,800 to install the 10 signs.
Wisconsin has also received EV-ready designations for parts of I-90, I-43 and U.S. 151 between Madison and Sun Prairie, although Wade said I-94 is the first to get signs.
There are long stretches of highway — including the interstate between Madison and the Twin Cities — that lack enough chargers to merit the designation.
The signs are part of a larger effort by the Evers administration to promote electric vehicles which, coupled with a shift to clean energy sources, are seen as the best shot at reducing greenhouse gas emissions from the transportation sector, now the single largest source of U.S. carbon dioxide pollution.
"This is an important step in developing the transportation system of tomorrow," Evers said in a statement. "As a state, we must continue our efforts to encourage the use of vehicles that run on clean, alternative fuels."
Using his line-item veto, Evers last year allocated $10 million of the state's share of the Volkswagen emissions scandal fines to fund public charging stations, but a Supreme Court decision overturned that veto. Those funds have primarily been used to replace state-owned vehicles and to help local transit authorities buy new diesel buses.
A proposal being introduced Tuesday would require certain buildings in Madison to include some parking spaces with electric vehicle charging stations.
In August, after an 18-month investigation into electric vehicles, the Public Service Commission put out a draft proposal that would require all large utilities to develop charging programs for all residential customers.
Electric vehicles make up a small but growing share of the nation's fleet.
According to the Wisconsin DOT, there were 4,468 electric vehicles registered in Wisconsin at the end of 2019. That's an increase of more than 50% from the previous year, though still less than 1% of all registered vehicles.
Bloomberg NEF expects domestic sales to dip in 2020 but then quadruple over the next five years to one out of 10 sales as manufacturers roll out new models. Bloomberg forecasts that electric cars will account for more than half of all sales by 2040 thanks to falling battery prices, improved technology and expanded charging infrastructure.
EV consultant Jane McCurry said the addition of signs on I-94 is an important milestone for Wisconsin as well as for an ongoing effort to make the interstate an alternative-fuel corridor connecting Michigan and Montana.
"I do think it signals progress that we have infrastructure in Wisconsin that we can be designated as a corridor," McCurry said. "Having more charging infrastructure is always going to be a good thing so people can get anywhere they want to go with confidence."
Fave 5: Reporter Chris Hubbuch picks his top stories from 2019
Be the first to know
Get local news delivered to your inbox!