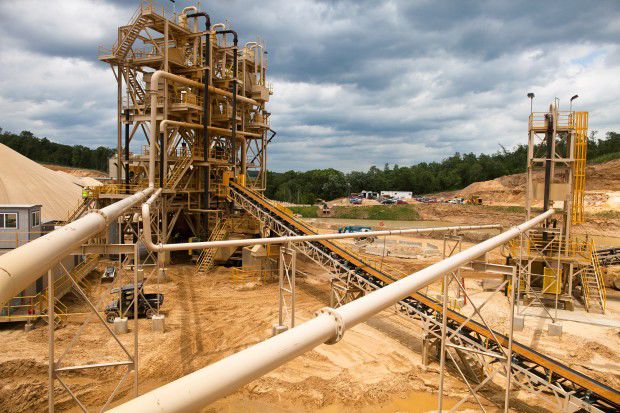 The state Department of Natural Resources is planning to study whether heavy metals from ponds at Wisconsin frac sand mines are leaching into and contaminating groundwater.
The study comes three years after water samples from some frac sand mine ponds showed concentrations of metals many times higher than state groundwater standards recommend.
Areas like a section of land outside Arcadia, where the Tunnel City and Wonewoc sandstone formations meet, are especially rich in minerals containing heavy metals, according to Wisconsin Geological and Historical Survey geologist Jay Zambito. The minerals keep metals locked inside the rock formations, Zambito said. His theory is that when miners break up the rock, the minerals might dissolve.
"You might be exposing minerals that can easily break down and those minerals — if they have trace metals present and those trace metals get into the water — the surface water then becomes poor quality and then it interacts with the groundwater, the groundwater then becomes lesser quality," said Zambito.
When the DNR sampled water used by companies to wash frac sand in 2013, it didn't answer the question of whether metals from mines are contaminating water.
They found aluminum concentrations 178 times higher than state standards, along with lead and manganese levels four times what the agency recommends for groundwater. But the water was cloudy with sediment, and researchers couldn't tell if those metals were in the sediment or the water itself.
You have free articles remaining.
That's why they're moving forward with a comprehensive groundwater study next year, DNR frac sand specialist Roberta Walls said. The study could be finished in time for the next DNR review of industrial sand mining water permits, scheduled for 2021.
For residents living near frac sand mines, that timeline offers little comfort. Sara Geers, attorney for Midwest Environmental Advocates, said she hears from residents that they're worried metals could be getting into their well water now.
High concentrations of metals have been shown to cause brain and nerve damage. That's why she said answers can't come soon enough.
"For the citizens who rely on groundwater for drinking, for people who fish in the streams around these facilities, it's not good enough to say, 'we're looking into it and we may tell you a few years down the road that, indeed, this facility has been polluting water for the past several years,'" Geers said.
UW-Eau Claire geology professor Brian Mahoney, though, says worries about heavy metals in groundwater may be overblown. For the past year he and his students have been sampling rivers and municipal wells in western Wisconsin for heavy metals. So far, the levels are well below drinking water standards.
"So, it doesn't seem as if there's a lot of material coming off the rock, getting into the groundwater," Mahoney said. "Some, certainly, but not very much."
Mahoney wants to test the rock itself to see if exposing it to air and weather could cause metals to bleed from exposed sandstone. But he said that kind of science is expensive and he's looking for funding.
This summer, the DNR began requiring some frac sand mines to test for trace metals in water they discharge into nearby streams. The Wisconsin Industrial Sand Association says that has cost operators tens of thousands of dollars even though there's no proof their operations are causing metals to leach into groundwater.
WisContext is an online multimedia project supported by Wisconsin Public Radio, Wisconsin Public Television and Cooperative Extension that aims to to provide information and insight about urgent and emergent issues that affect Wisconsin.