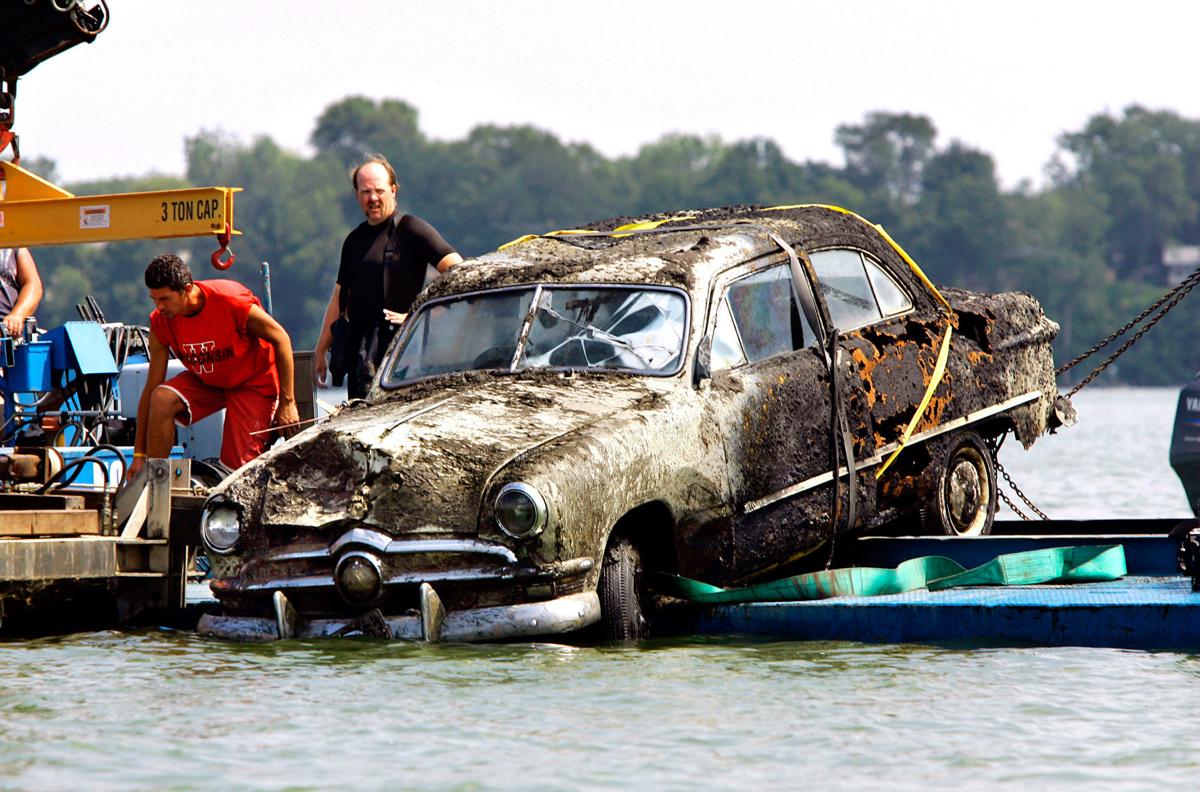 If you wonder what's hidden on the bottom of a Madison-area lake, go see Rick Krueger.
The veteran diver who helped write the book on the subject is now spending more time on the surface in his 17-foot Polar Kraft using sonar, a remote-control video camera and a GPS mapping system to chart thousands of underwater objects.
Krueger has already plotted more than 2,500 objects — including boats, fishing shanties, ladders, rock piles, a gas grill, a sailboat rudder and a shopping cart.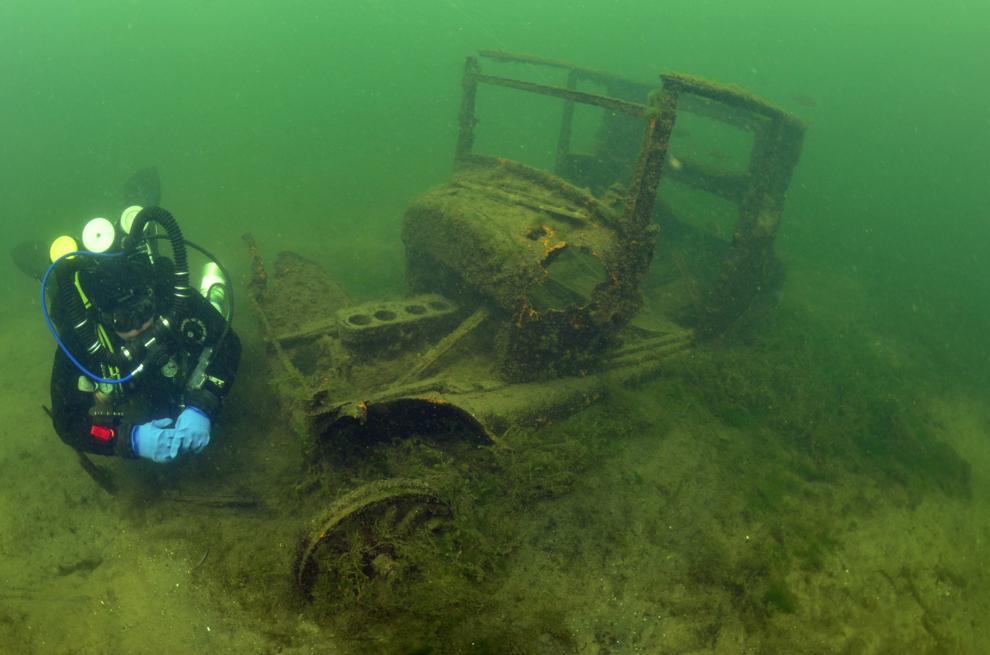 He has helped authorities recover cars that crashed through the ice — sometimes decades ago — including one that still held the remains of its passengers.
Krueger's database is the best underwater inventory there is for the lakes, said Tamara Thomsen, state historical society maritime archaeologist. A grant will allow Thomsen and Krueger to work on an official catalog of historically significant sunken watercraft including the excursion boats that carried tourists many years ago.
There are any number of less important wrecks, rotten old boats that appear to have been sunk on purpose by their owners.
"They have some kind of derelict vessels in their back yard rotted beyond belief," Thomsen said. "You find some with rocks in them, and holes in the bottoms of them."
Puzzles and secrets
Krueger regularly finds puzzles to solve — like hunks of an old dredging barge strung out in a straight line along miles of Lake Monona's bottom. He thinks maybe the dredging crew finished deepening a channel and then took their vessel and its big clawed arm apart piece by piece on their way back to shore.
Like many other divers, he remains intrigued by the 1967 plane crash in Lake Monona that killed singer Otis Redding, four bandmates, an assistant and the pilot. There are rumors that a case of Redding's jewelry is still at the bottom.
For Krueger, a 63-year-old retired police radio technician, history and fishing are inextricably intertwined. In addition to sunken barges and boats, he charts positions of tree stumps and anything else that might suggest a good fishing spot. He speaks at outdoors expos and sells packages of GPS coordinates to fishing enthusiasts. It keeps him in gas money.
There are things under the water that might tempt thieves, like a vintage motorboat with a mahogany dashboard and windshield. Krueger said he keeps those coordinates secret, even though most divers are scrupulously honest.
"There's just so much stuff out there, it's just unbelievable," Krueger said. "It's fun because you find stuff, and it's 'What the heck is this?'"
Krueger posts video online and asks viewers to help him identify mysterious silt-cloaked items like the shopping cart he detected in the middle of Lake Mendota.
In 2003 he used a metal detector to find a $20,000 Rolex that had broken off a boater's wrist and hidden in weeds 10 feet below the surface of Lake Monona.
Old TVs, swarming fish
Veteran diver Tom Villand describes being swarmed by carp and finding a sturgeon swimming alongside him like a diving buddy.
Divers have found TVs and stereos, a cannon ball, parking meters and stolen cash boxes. About 200 yards north of James Madison Park in Lake Mendota, discarded bottles are piled up, possibly by workers at an old bottling company.
The underwater laboratory Habitat lies off Picnic Point with two cars and a speedboat. Hundreds of anchors can be found, especially off Governor's Island.
Photos: See underwater treasures in Madison's lakes
The Habitat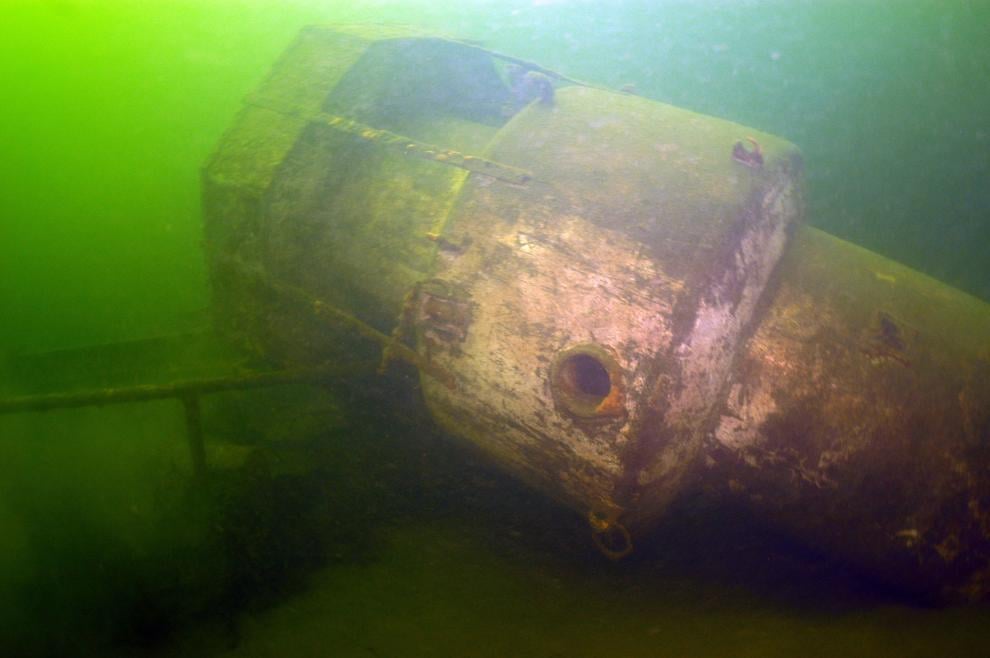 The Habitat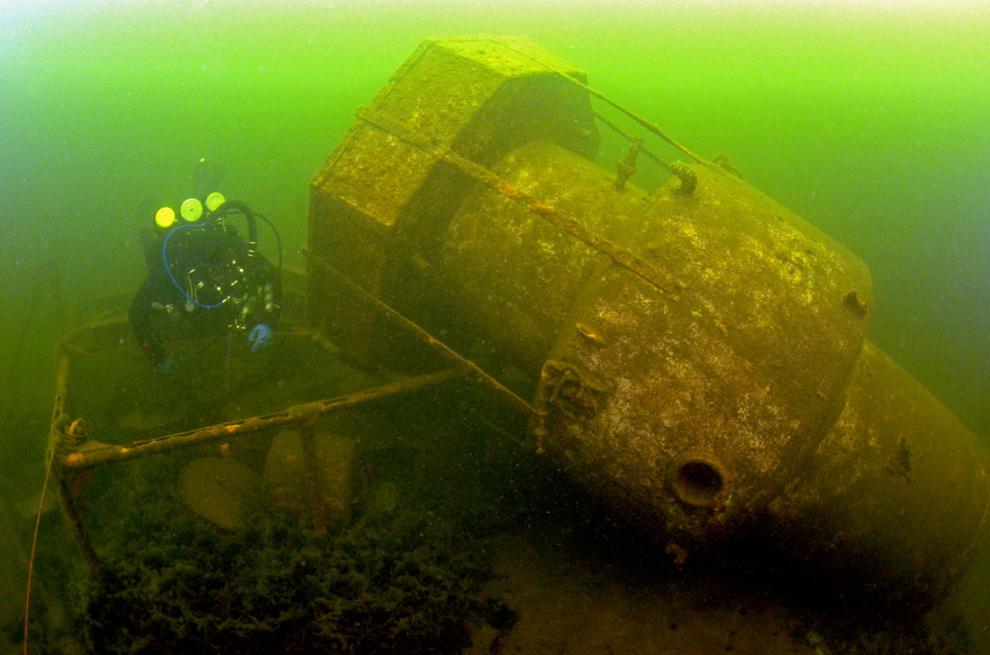 Habitat interior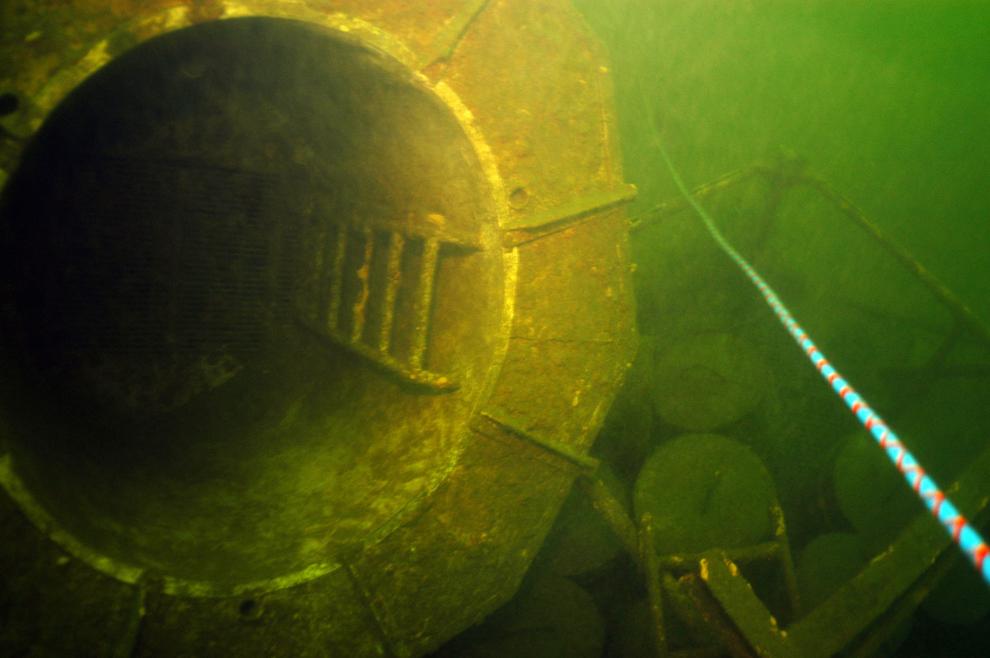 Ice shanty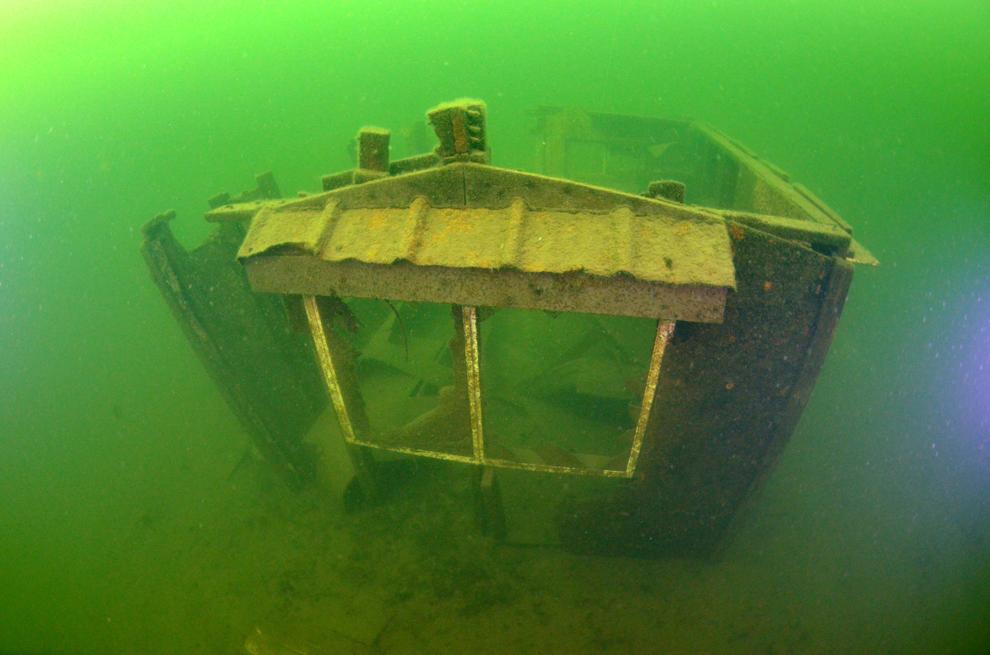 Sunken boat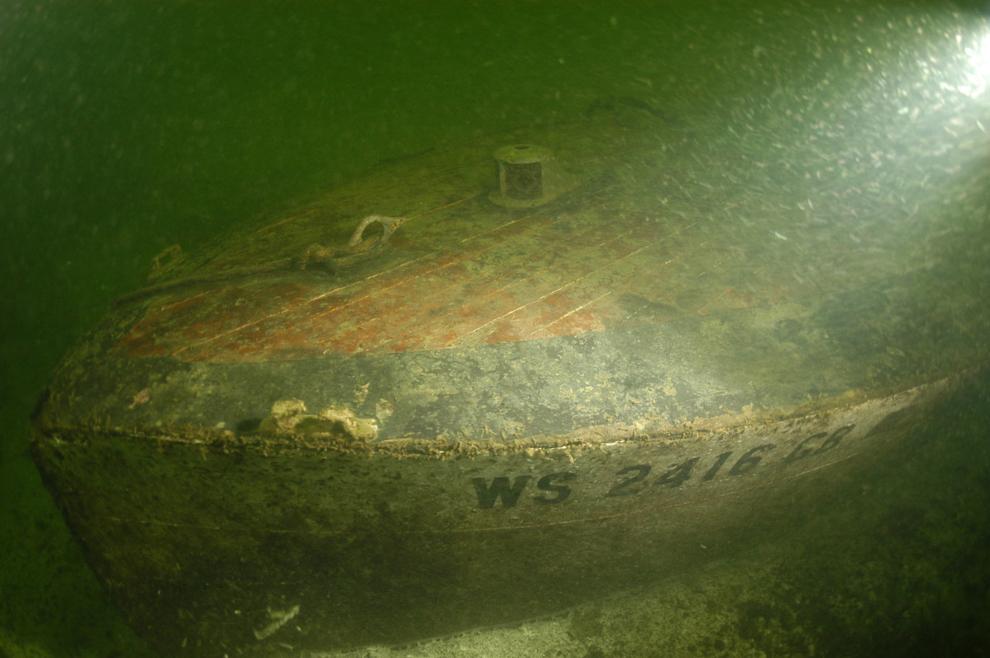 Sunken boat
Old car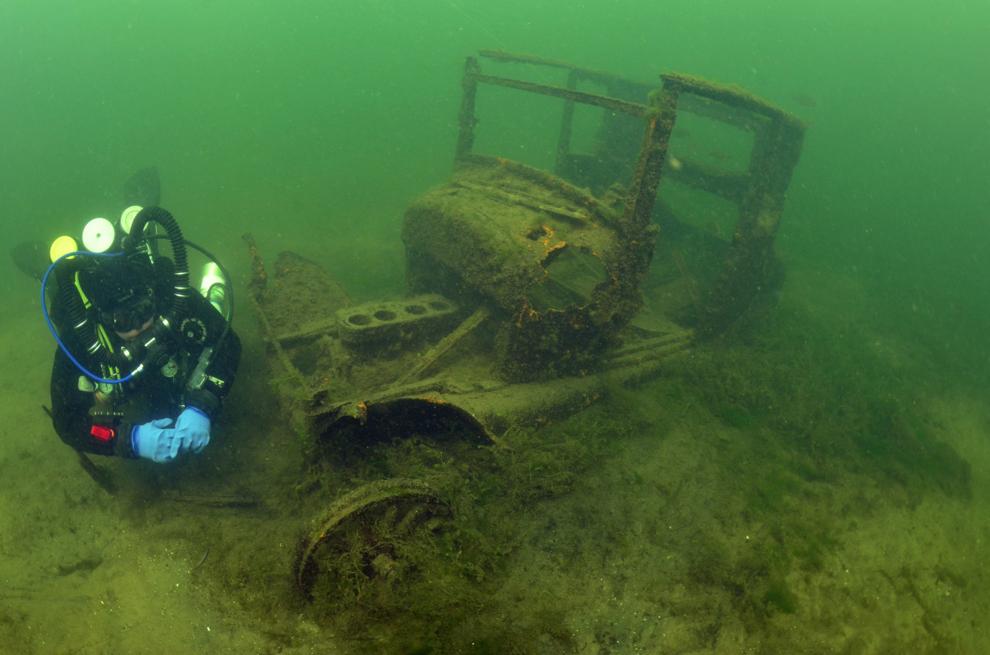 Overturned car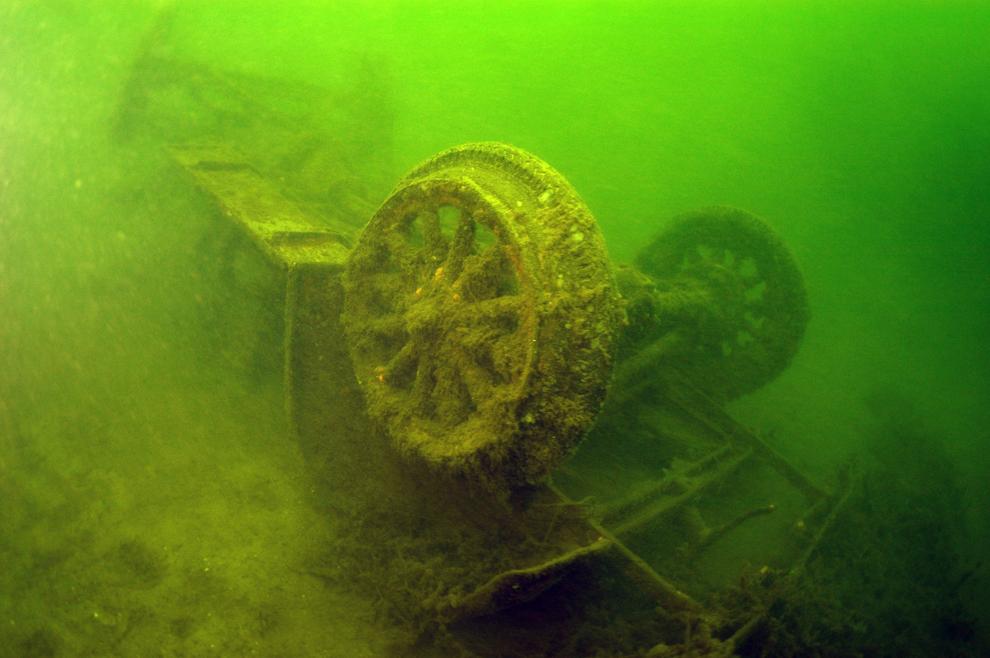 Overturned car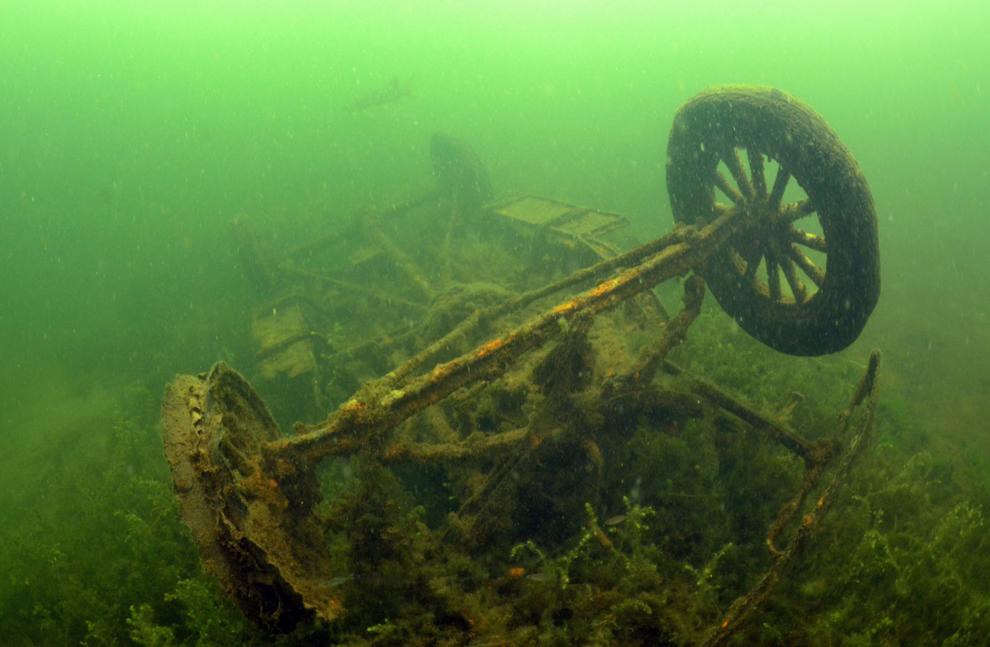 Overturned car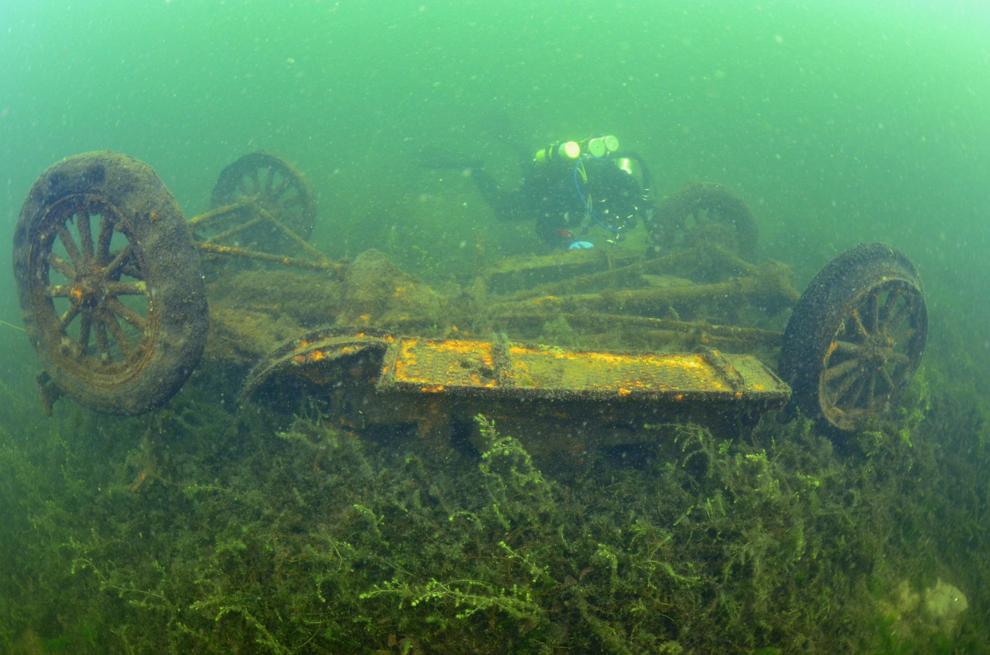 Abandoned boat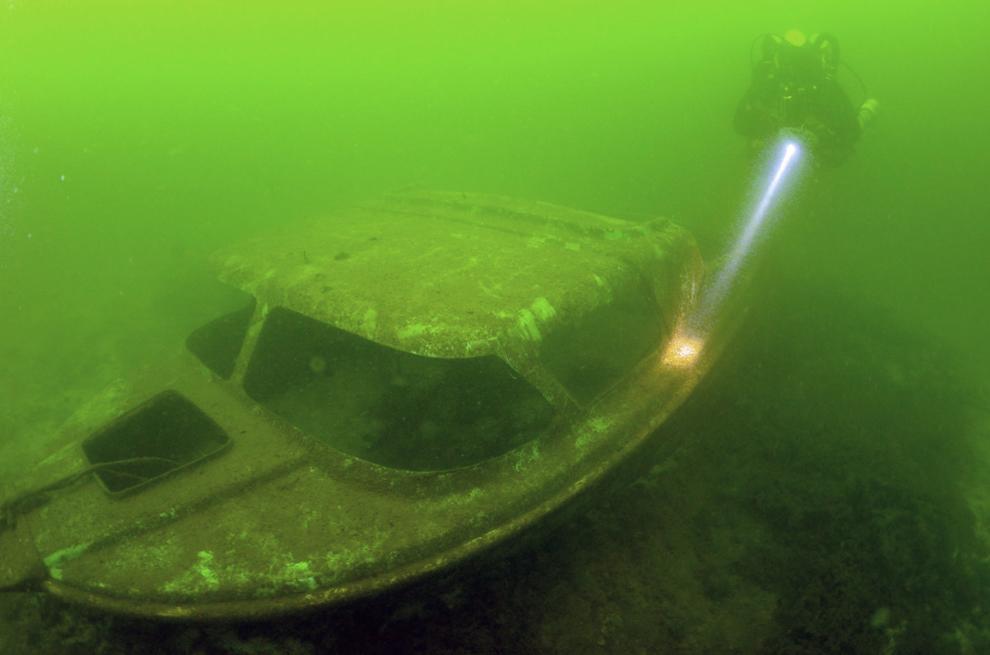 Generator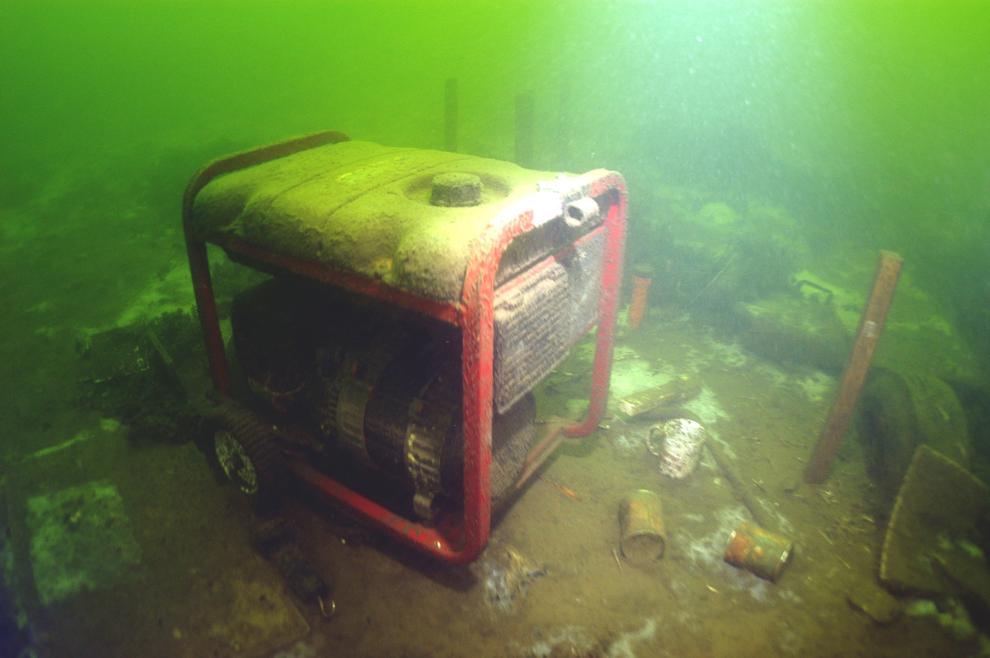 Ice shanty debris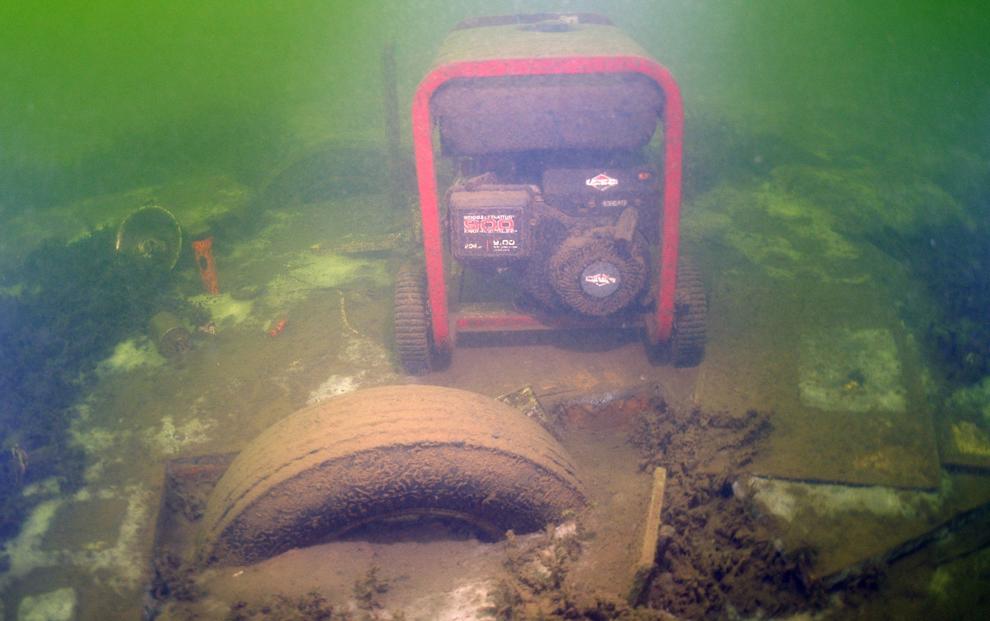 Sunken boat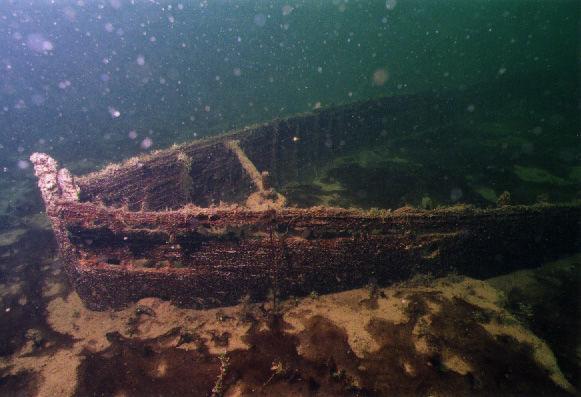 Diver explores wreck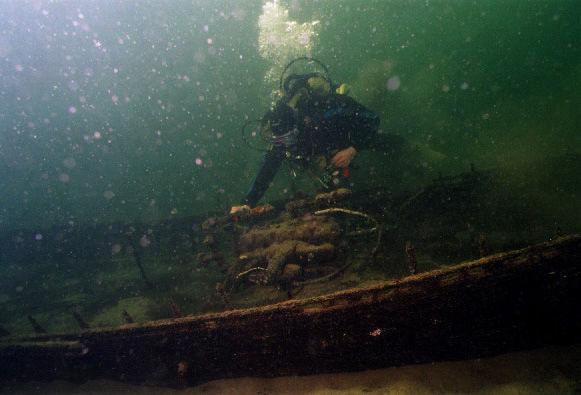 Smilin' Bill wreck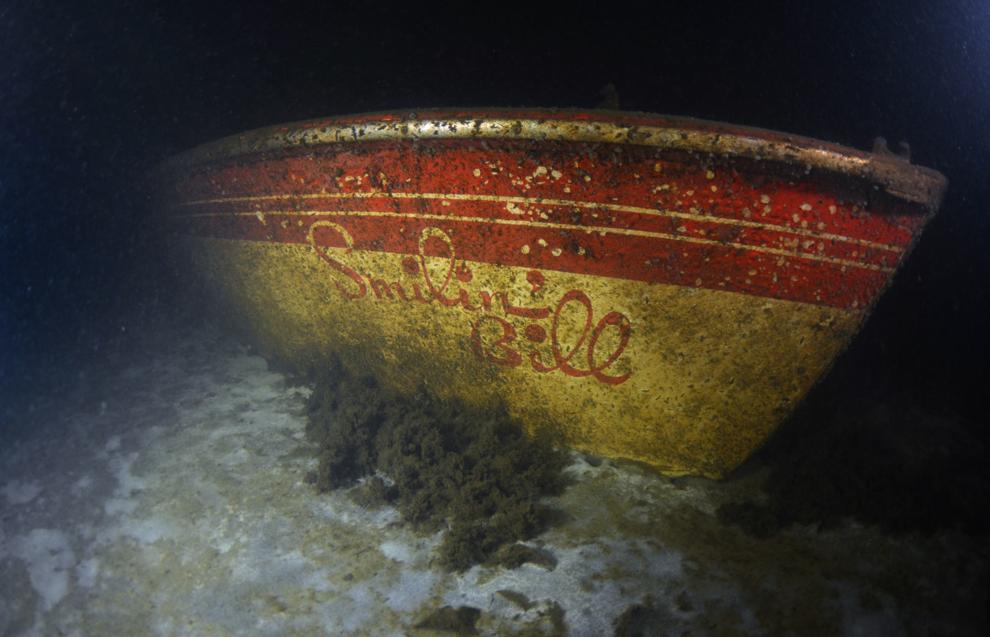 Silt-covered boat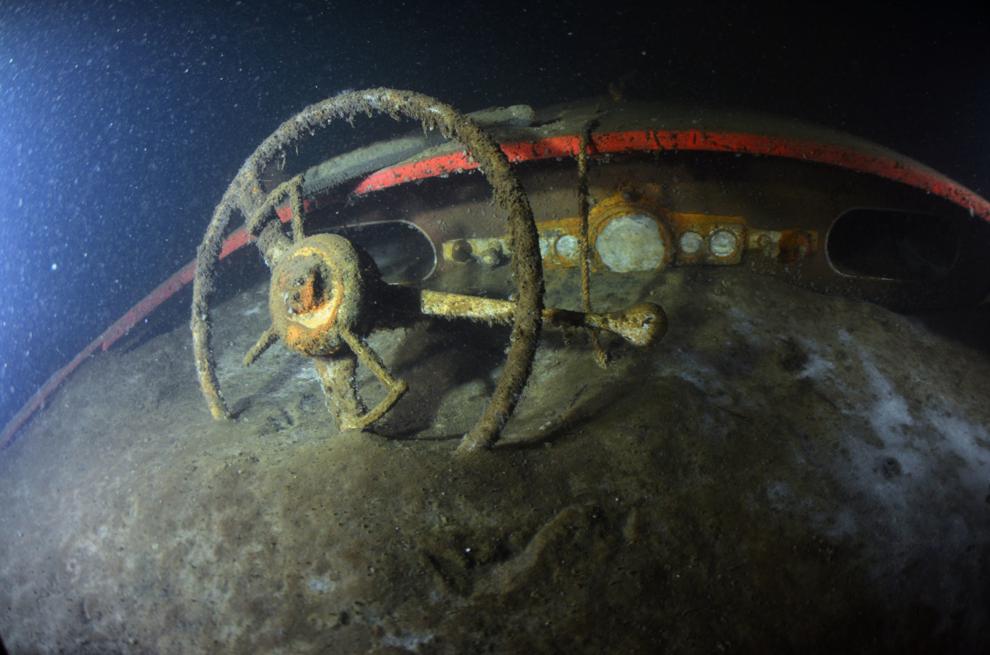 Mysterious wagon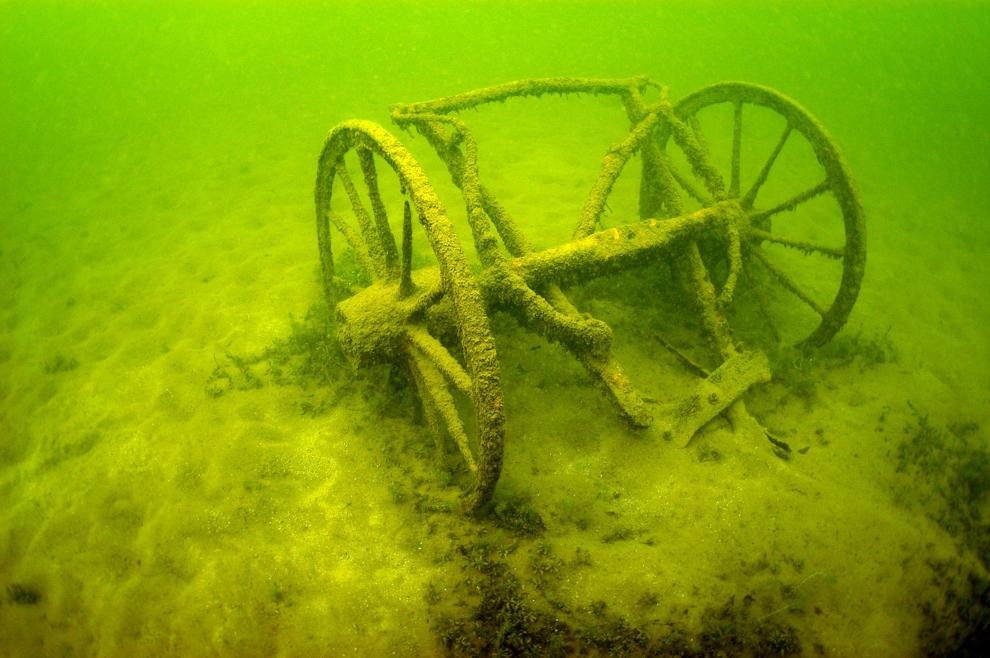 Monona Terrace supports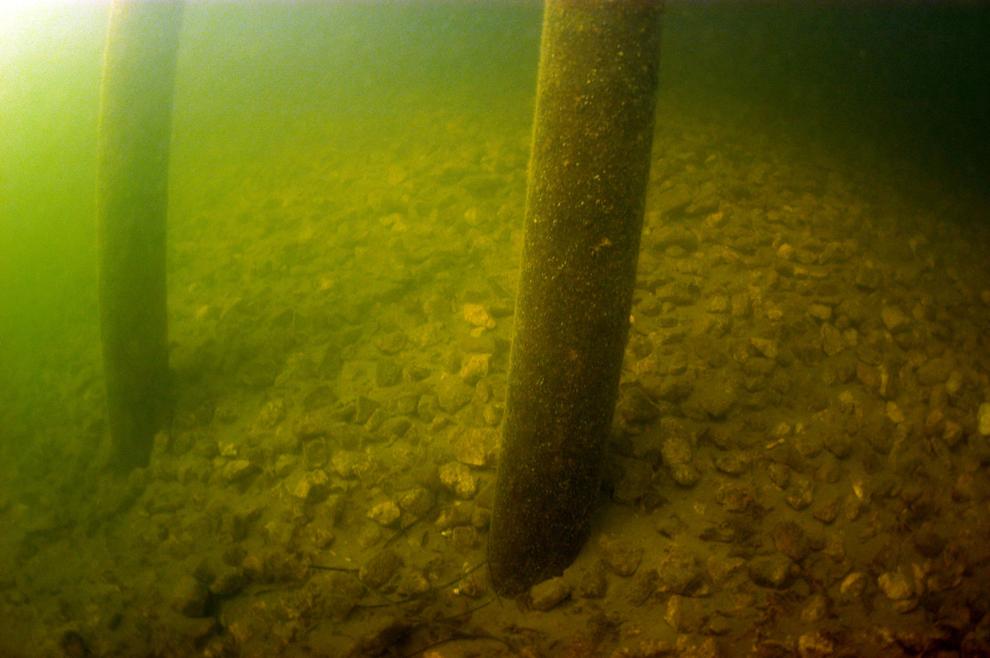 Ice diving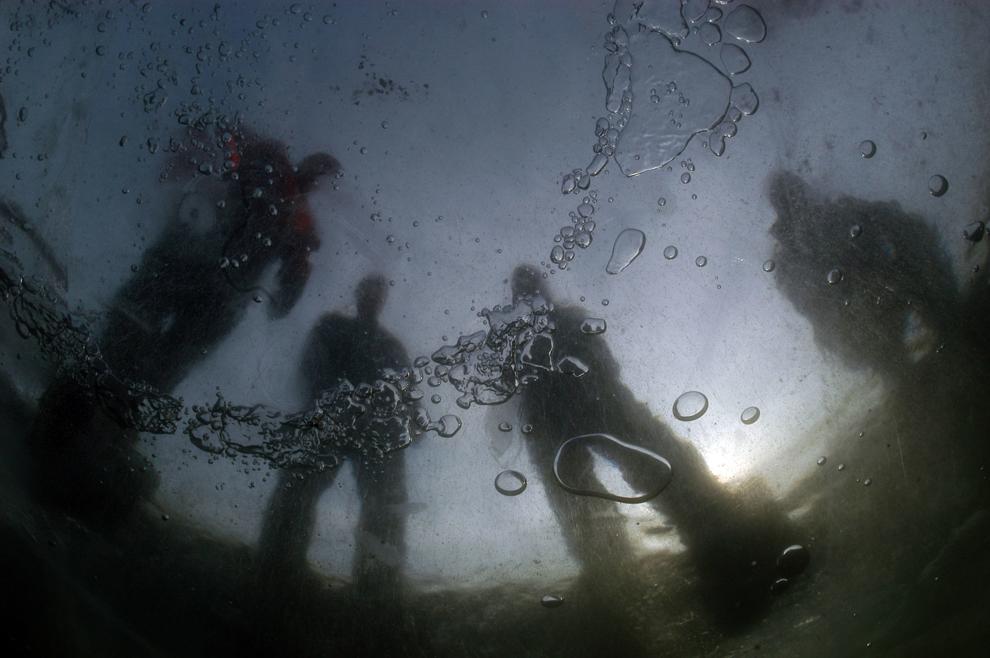 Abandoned dredge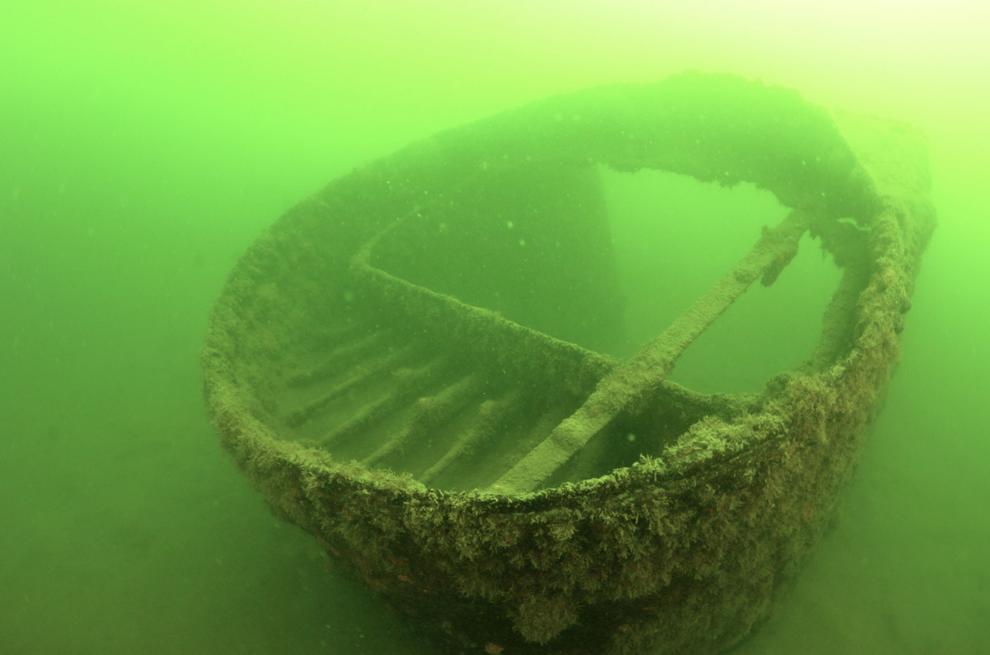 Weed sprayer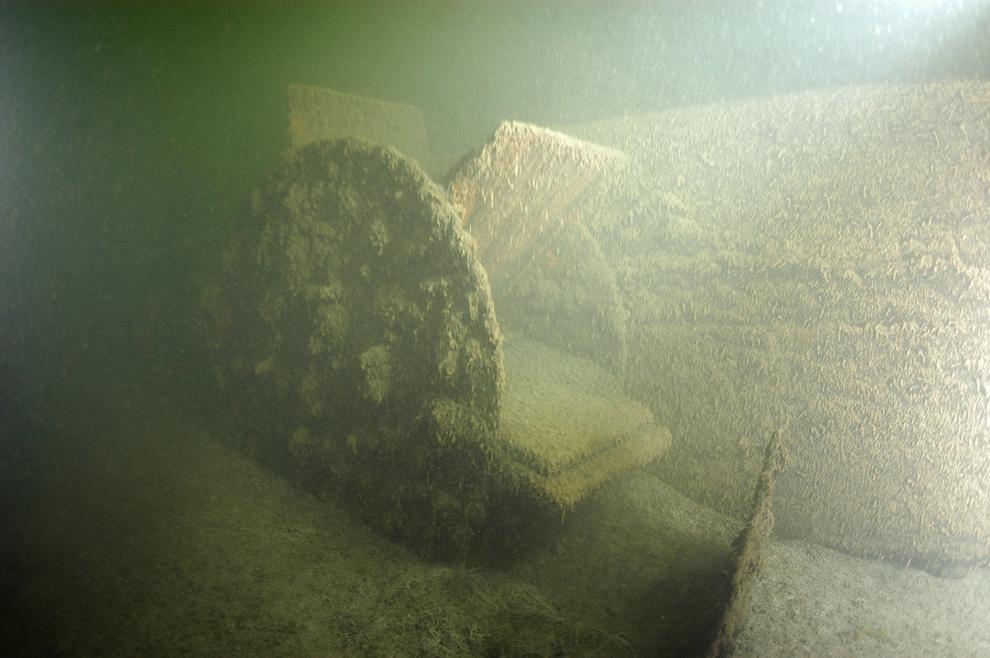 Boat lift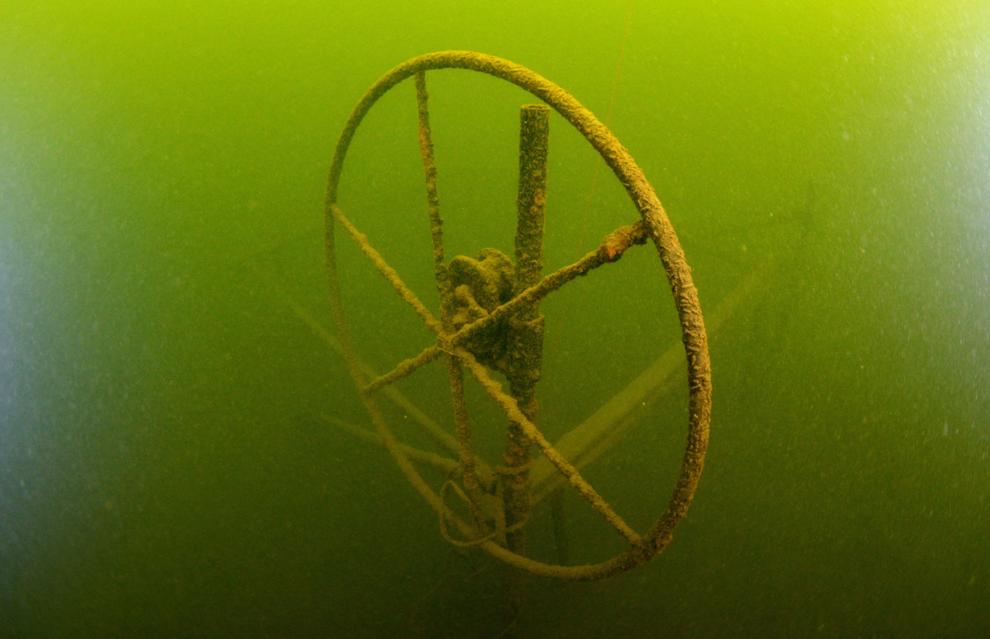 Overturned boat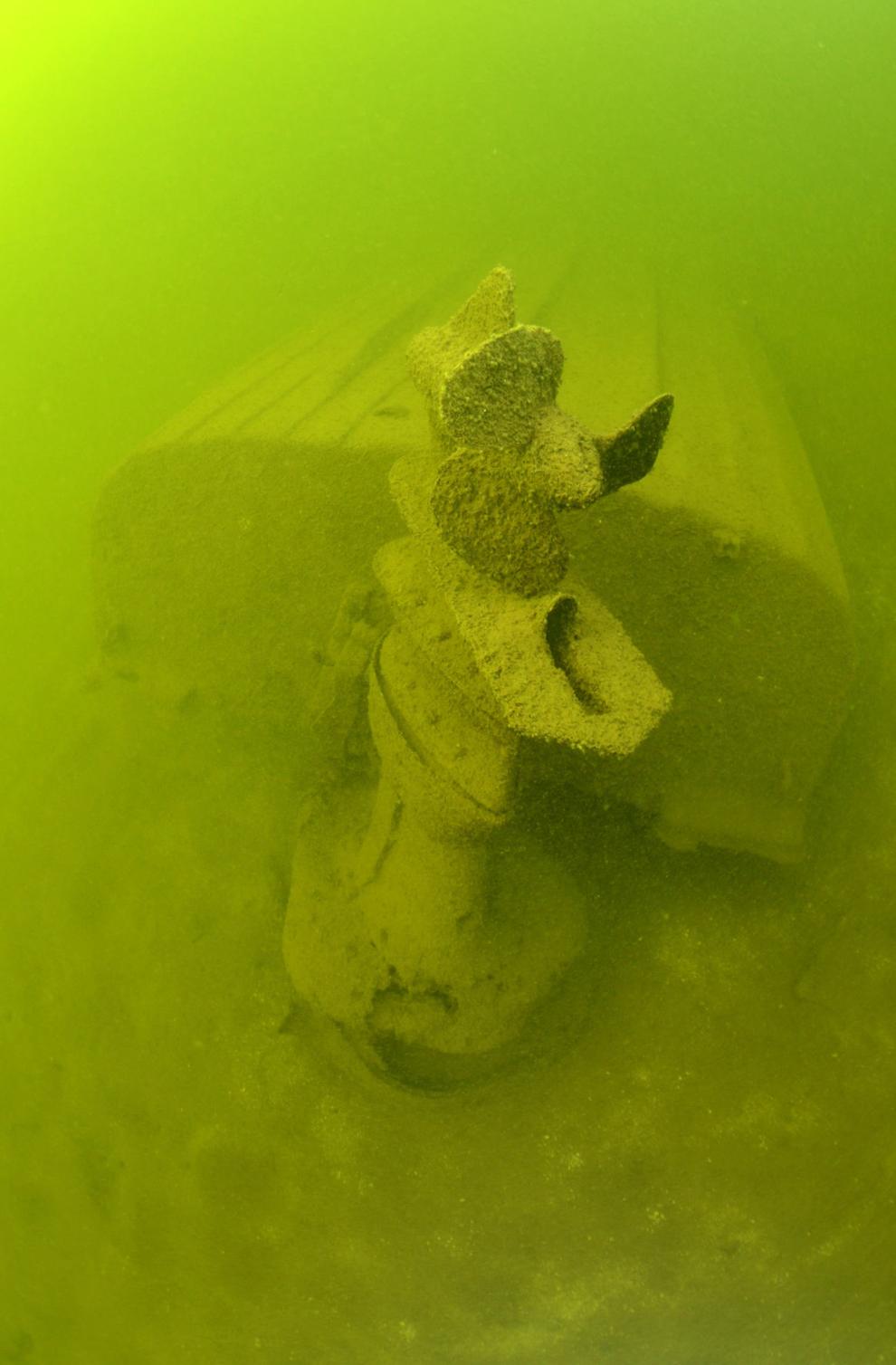 Overturned boat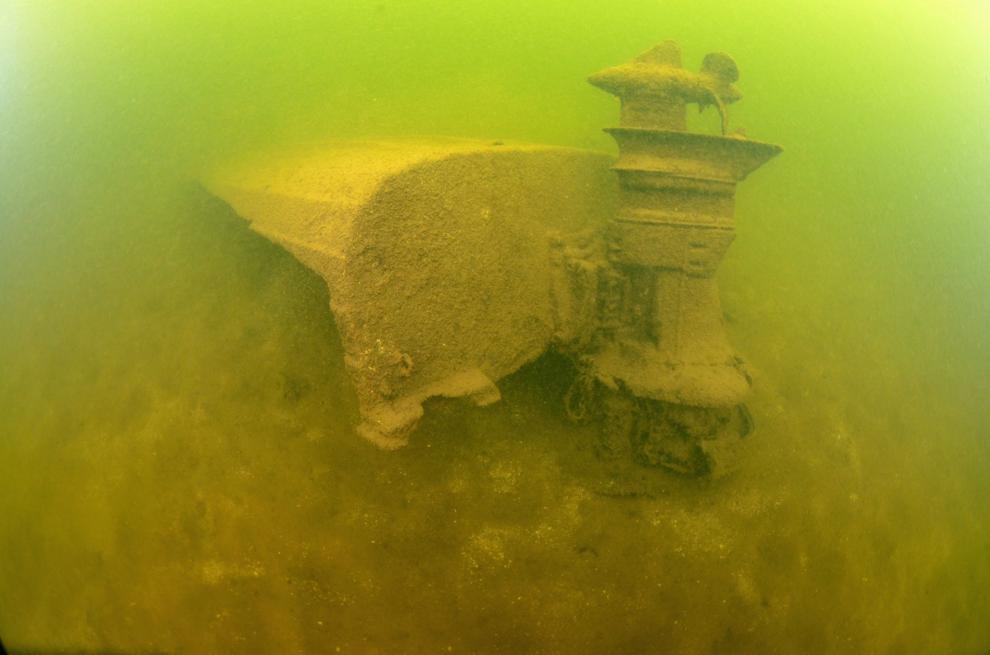 Sunken canoe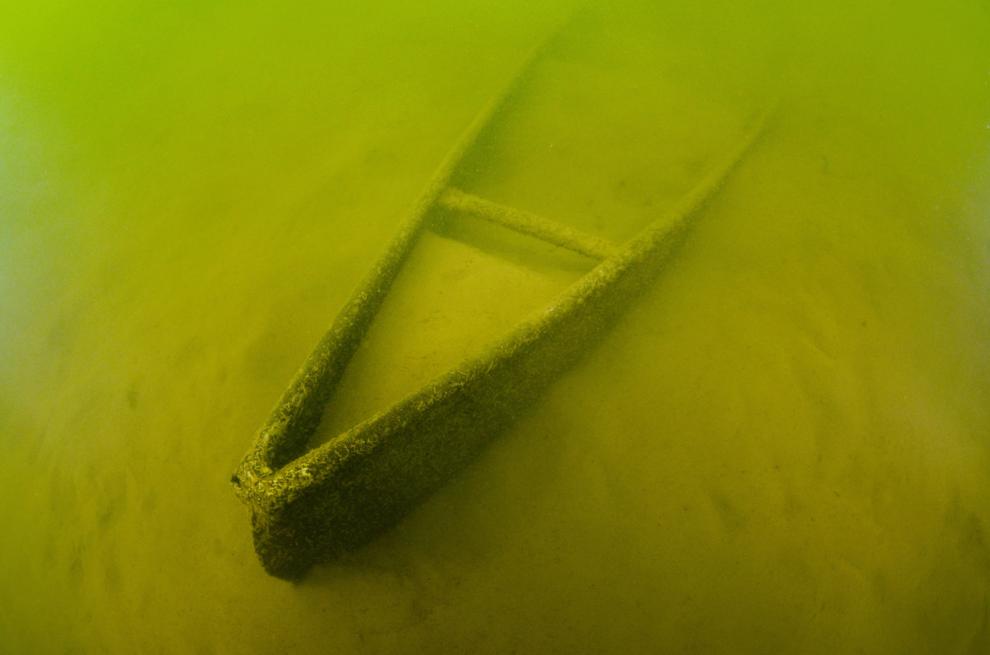 Fish crib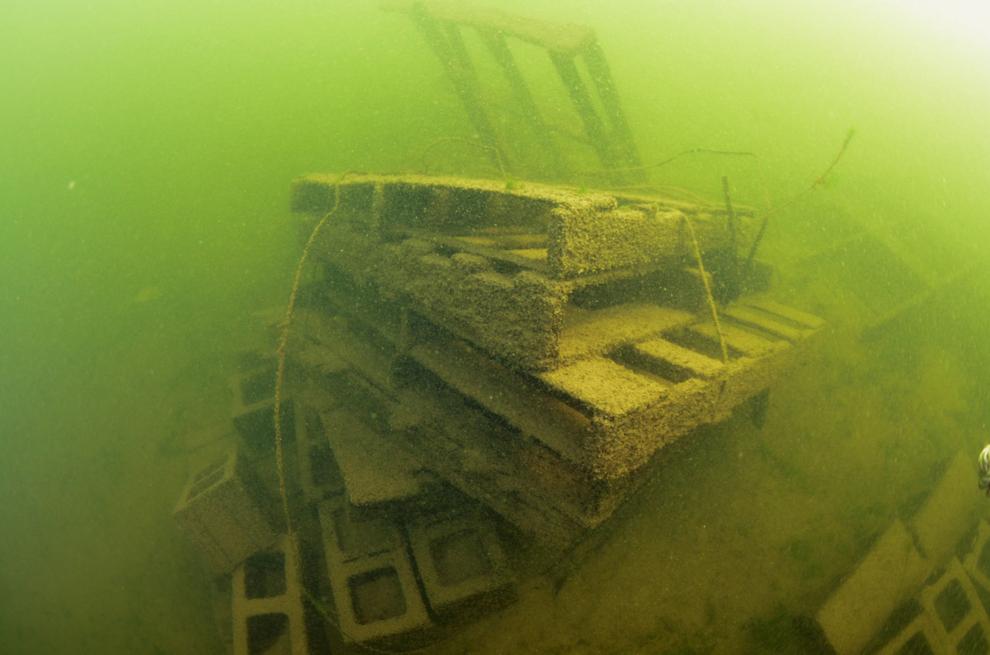 Sunken car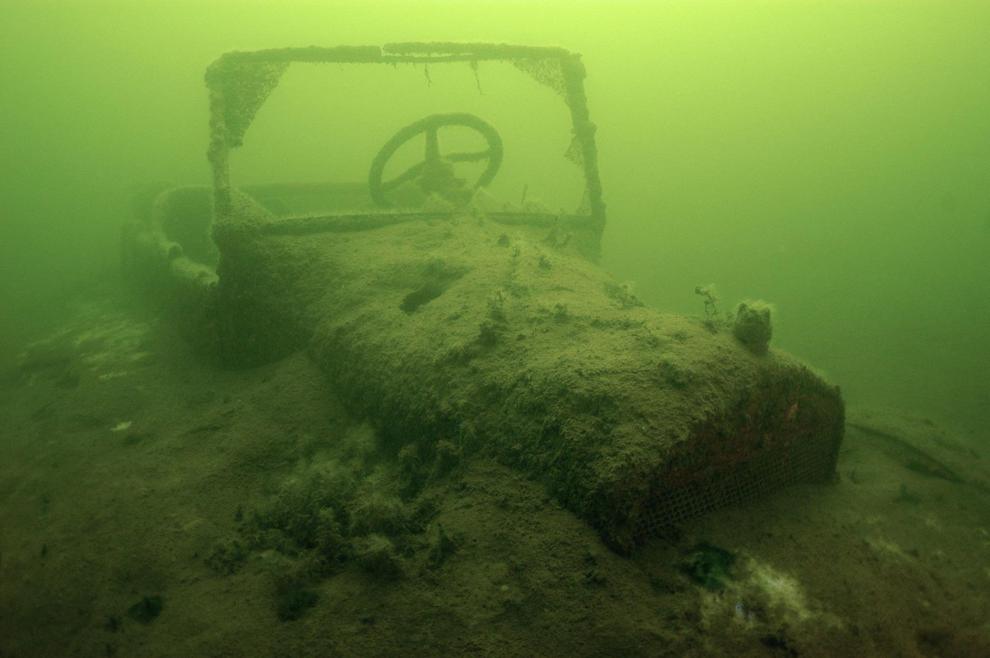 Sunken antique car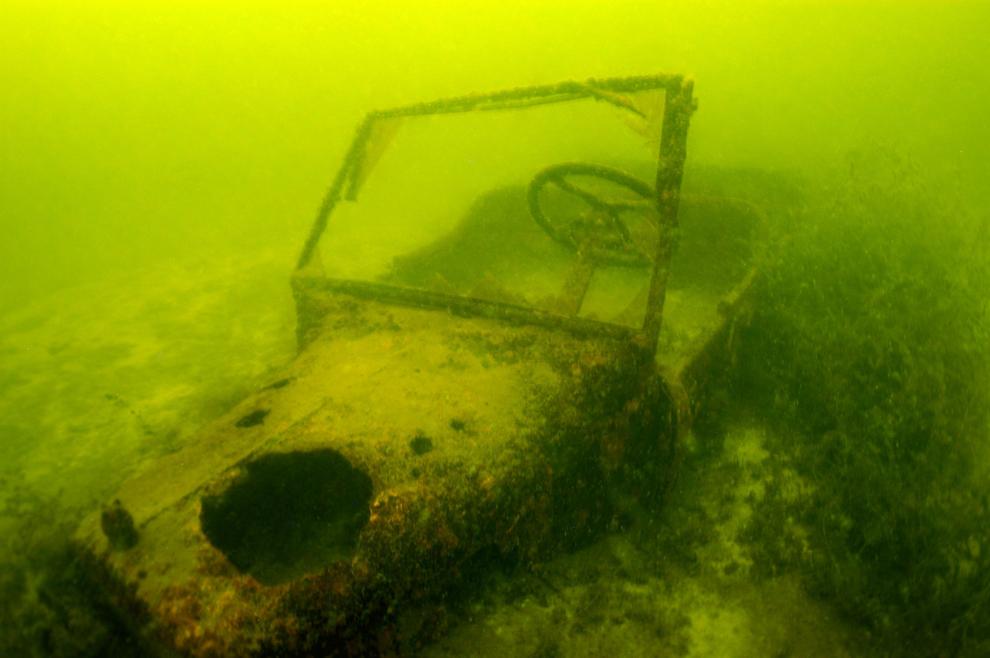 Weed cutter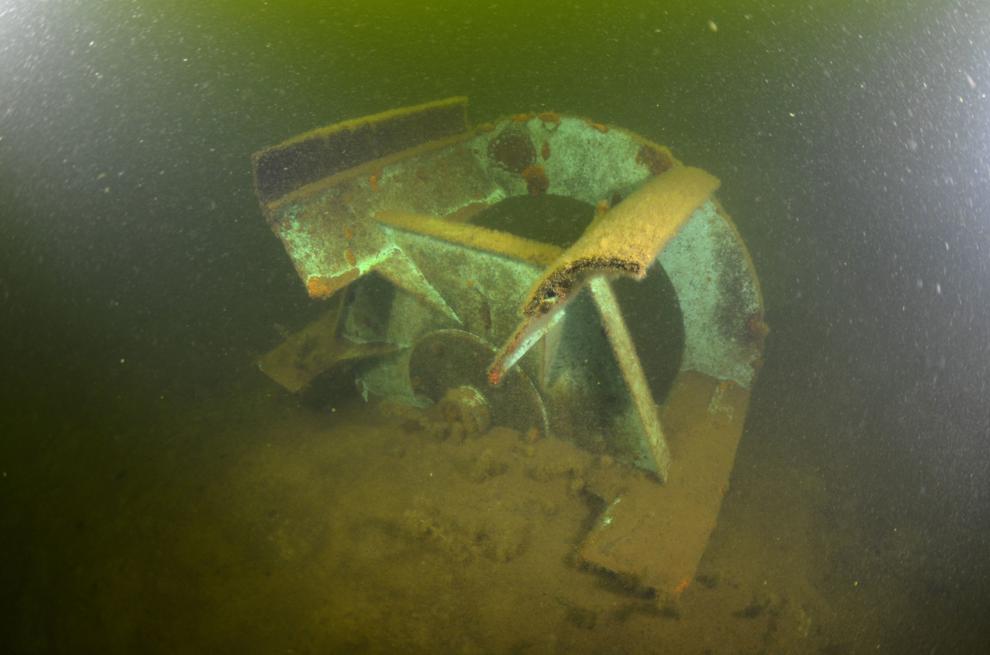 Sunken car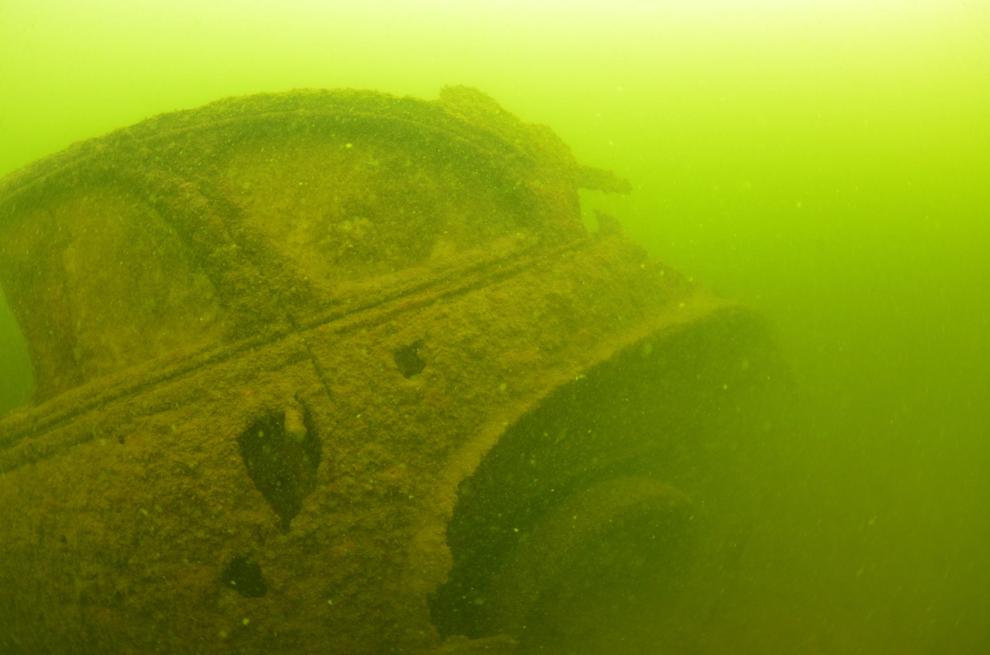 Sunken car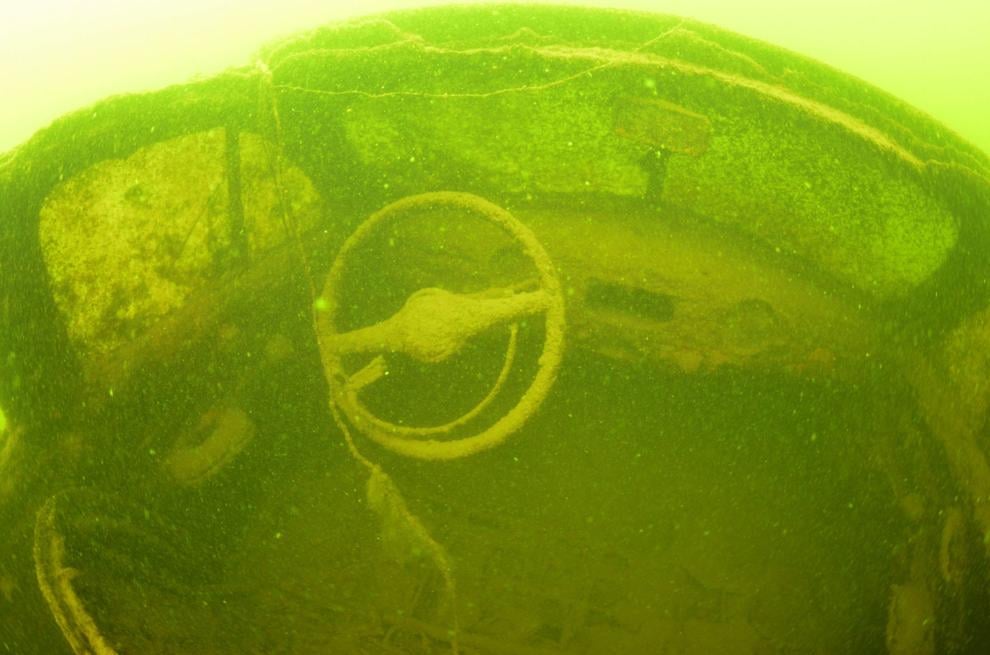 Sunken boat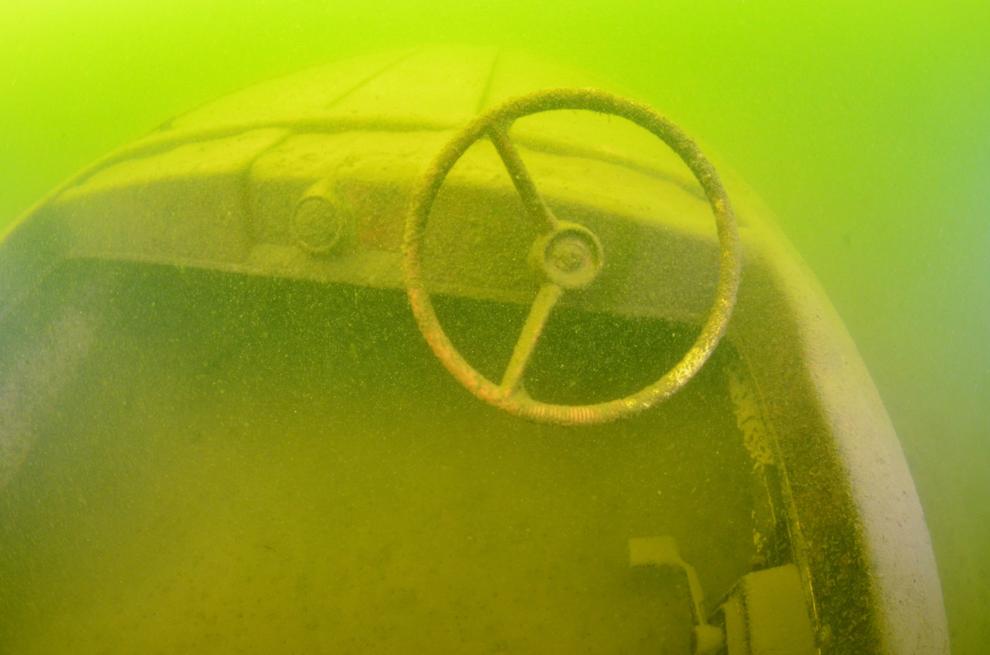 Boat mystery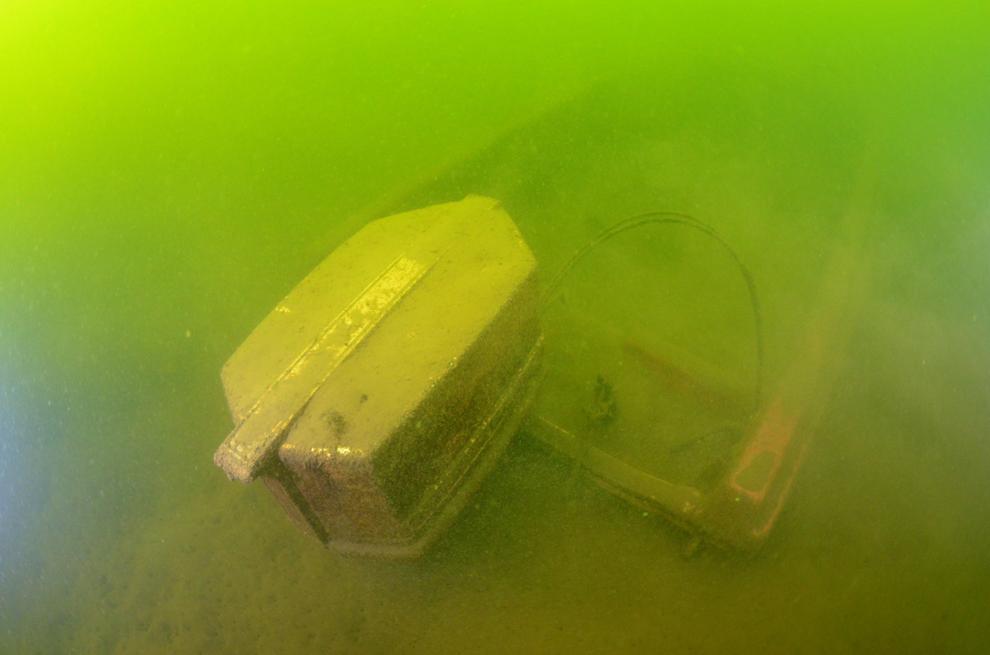 Sunken scow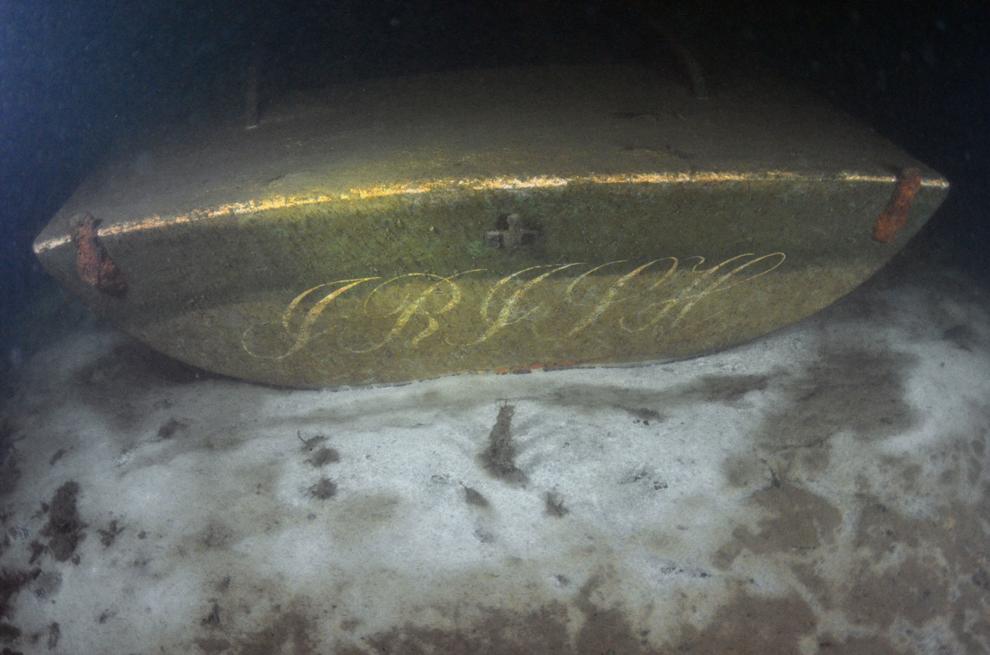 Bottle collection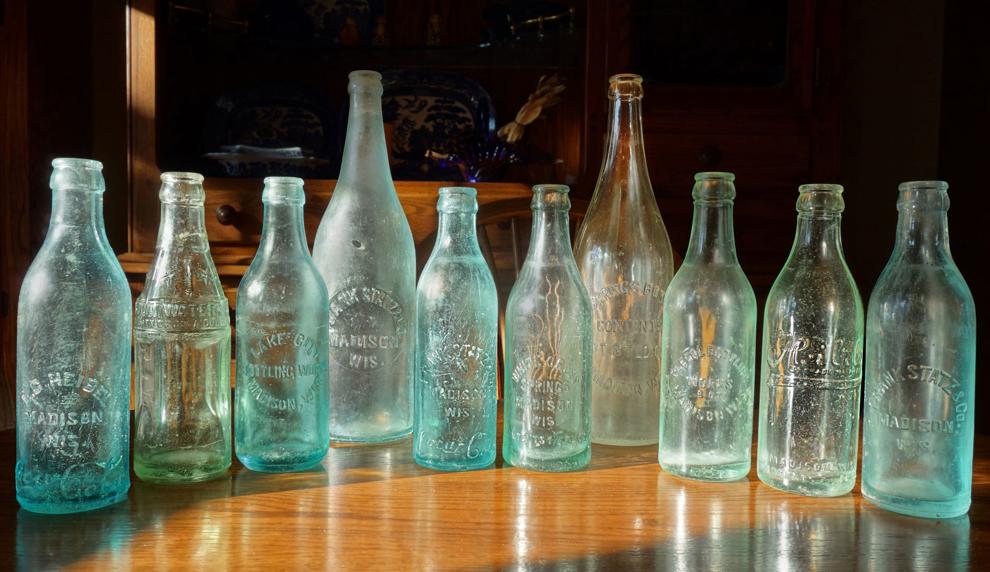 Vintage bottle collection
Photos: Madison's stunning lakes provide beautiful backdrop
Waubesa Trail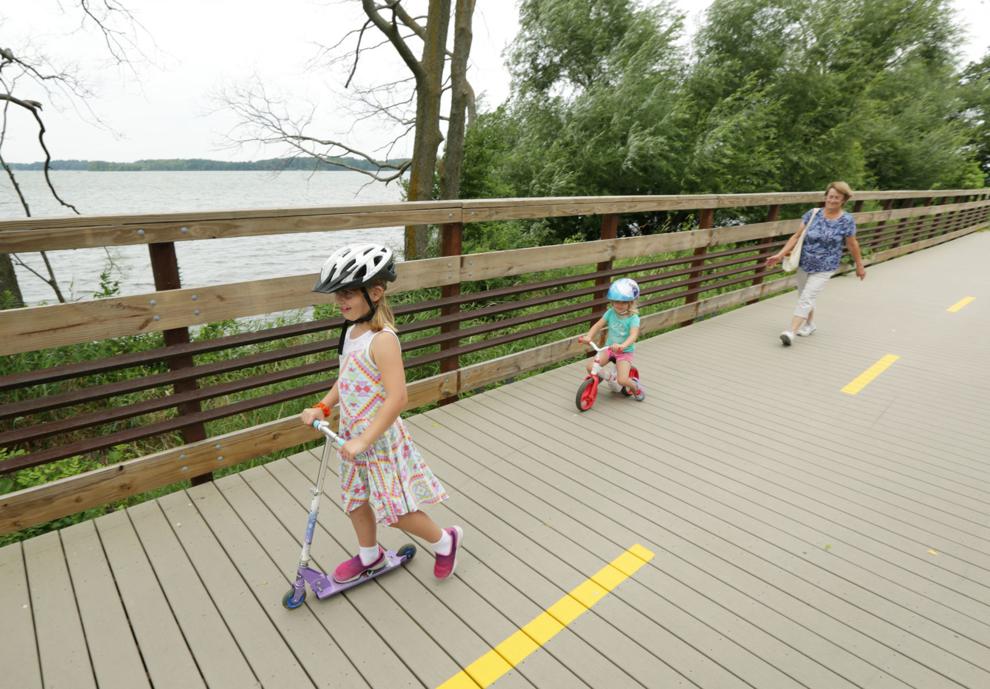 Kiteboarding on Lake Waubesa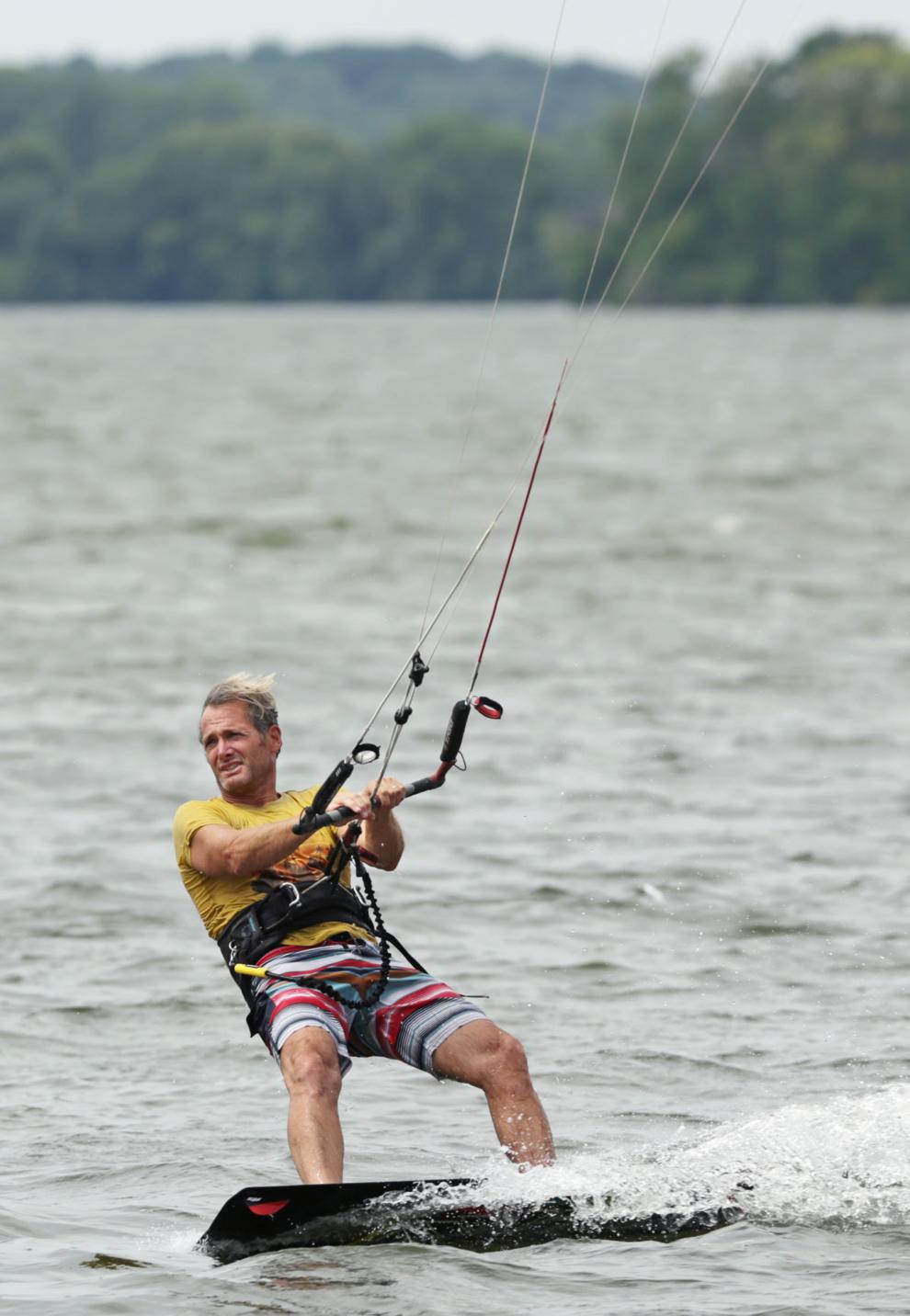 Madison's Isthmus: An aerial view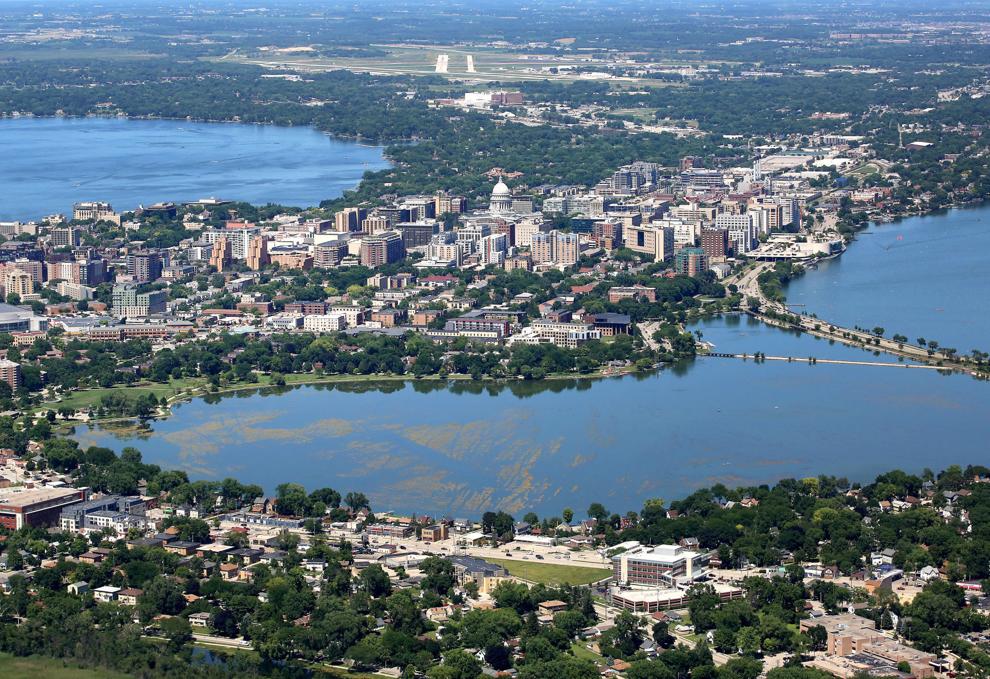 Speedboat aerial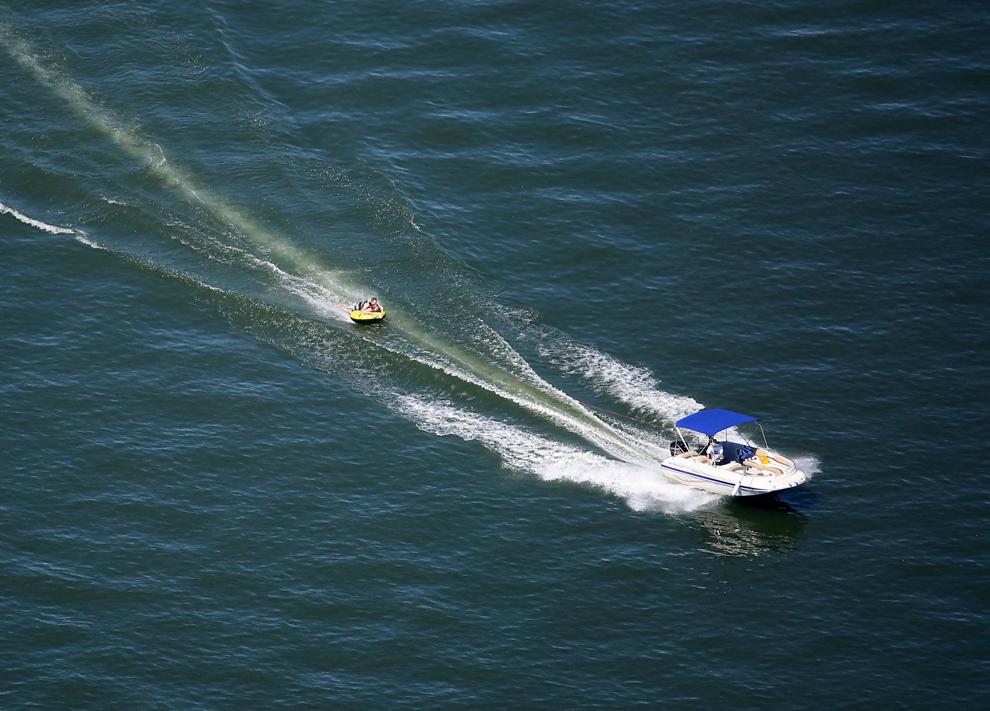 Terrace Aerial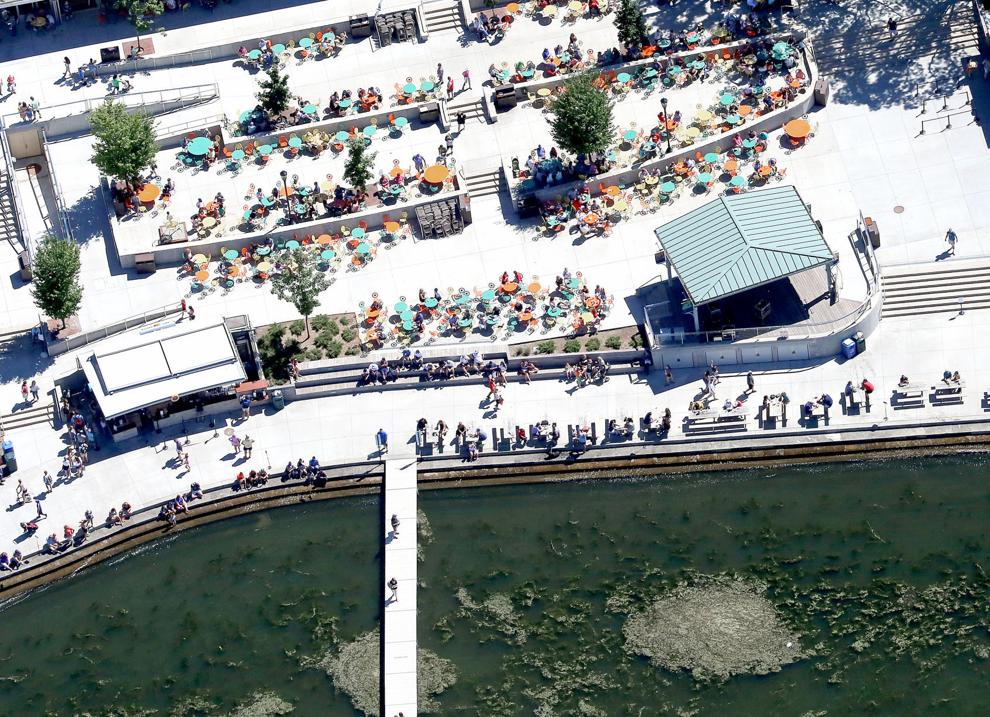 Madison's lakes: An aerial view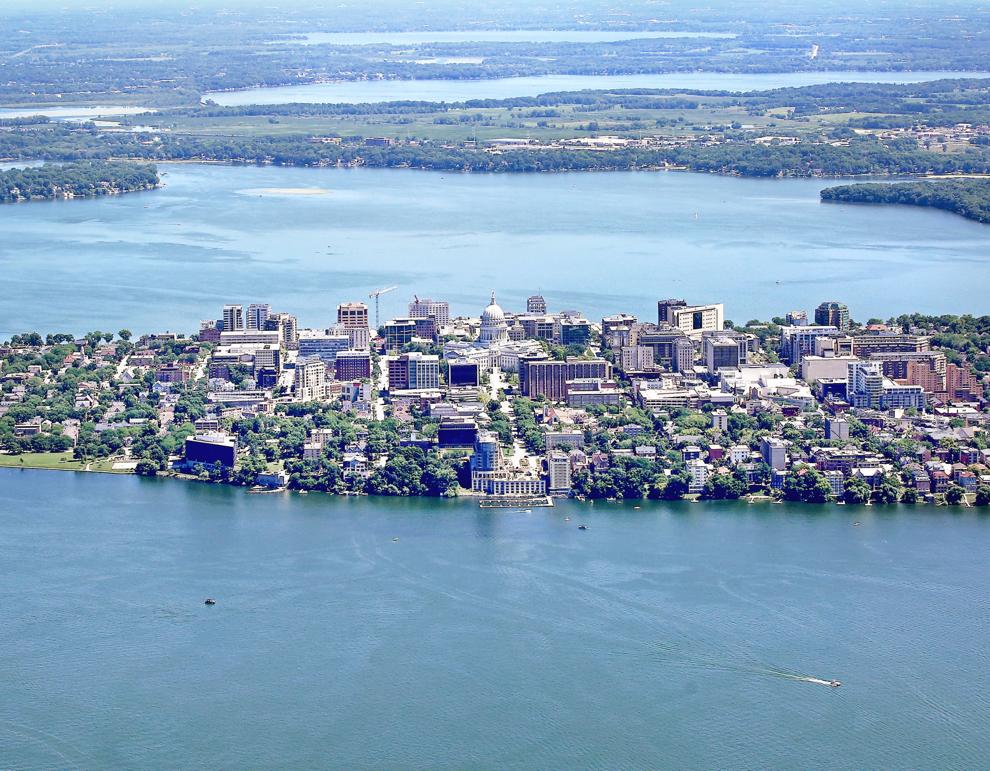 Goodman kayakers
Loons on Lake Wingra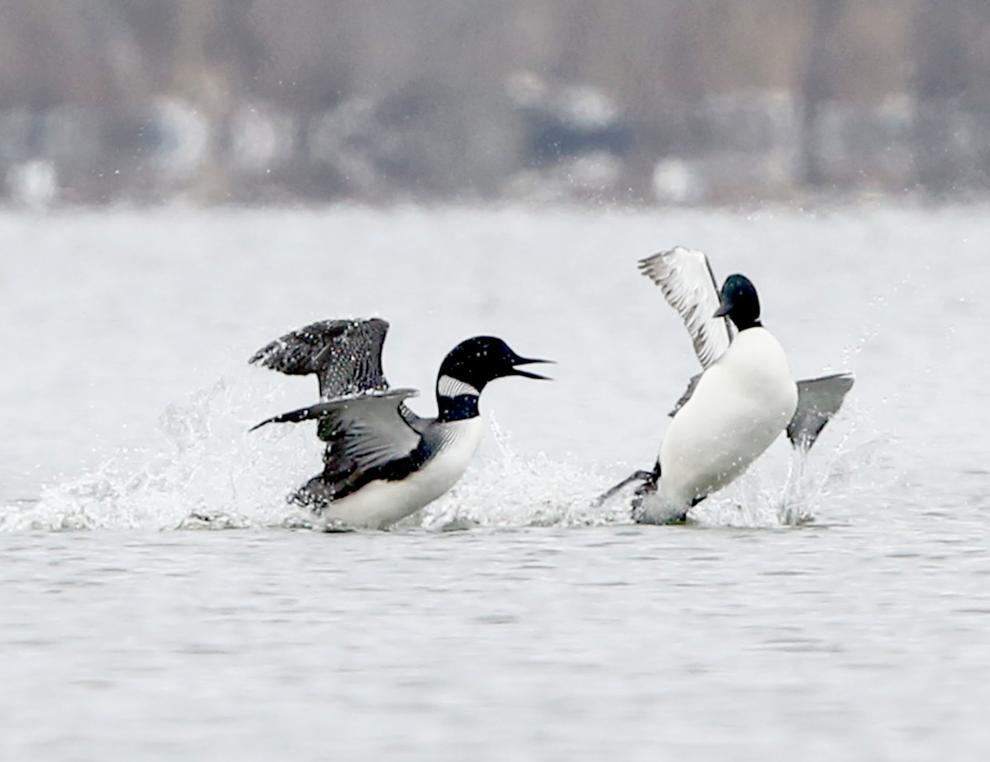 Swans on Lake Mendota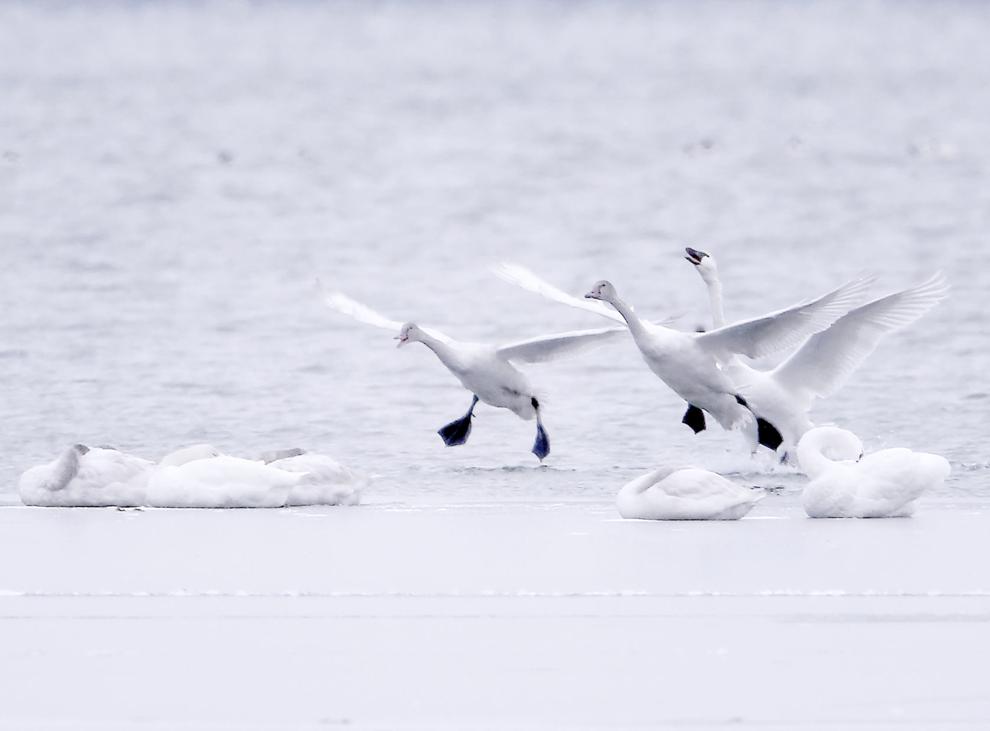 Anglers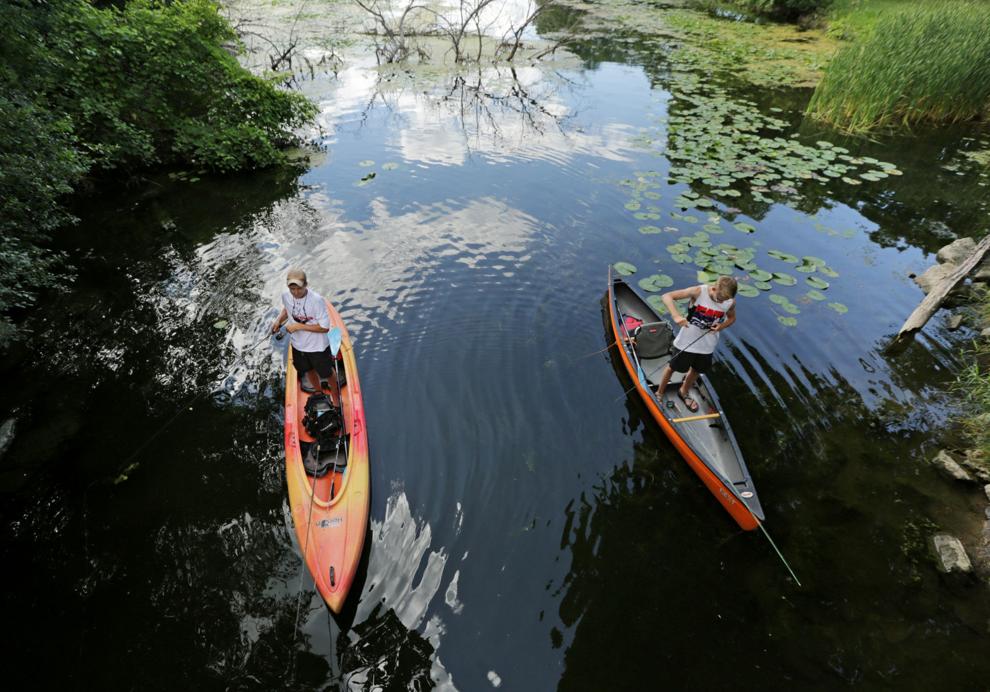 Muskies at dam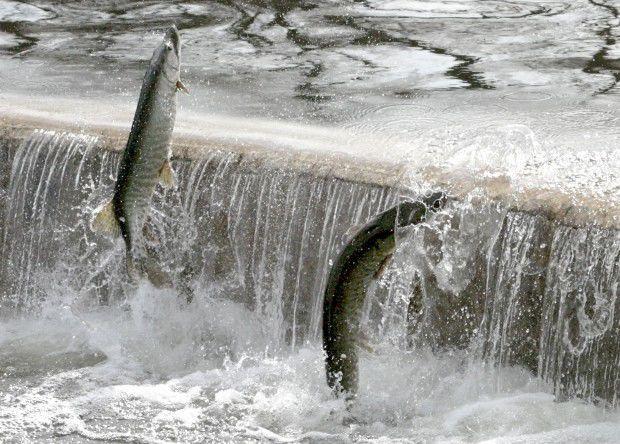 Lakes Aerial for gallery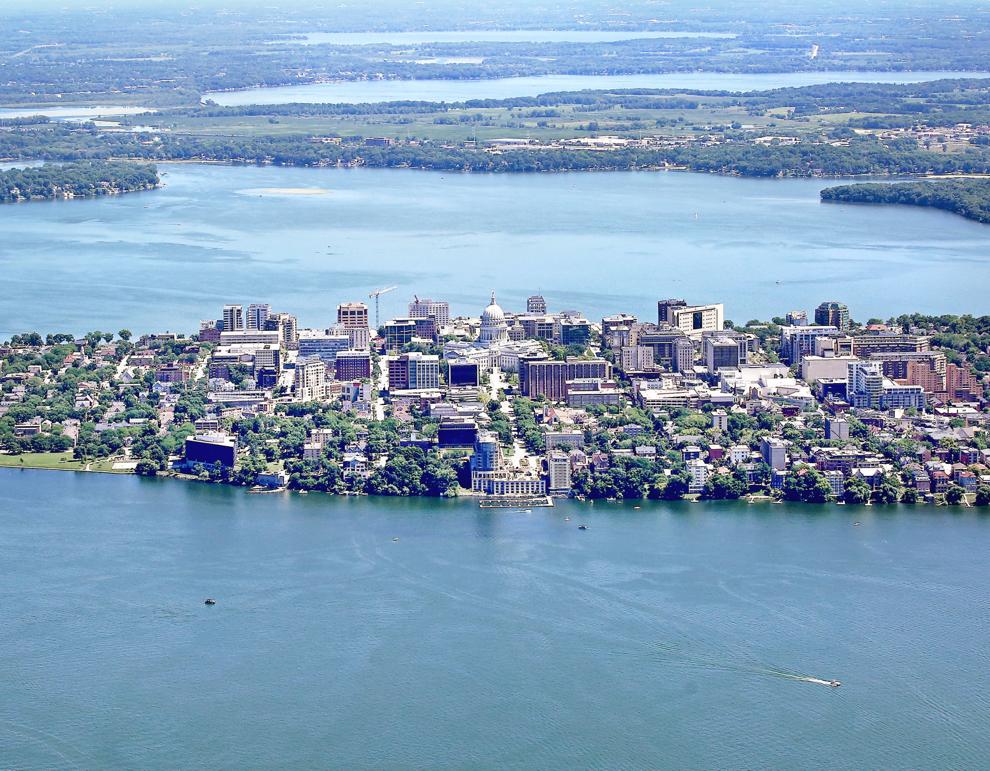 Paddle and Portage for gallery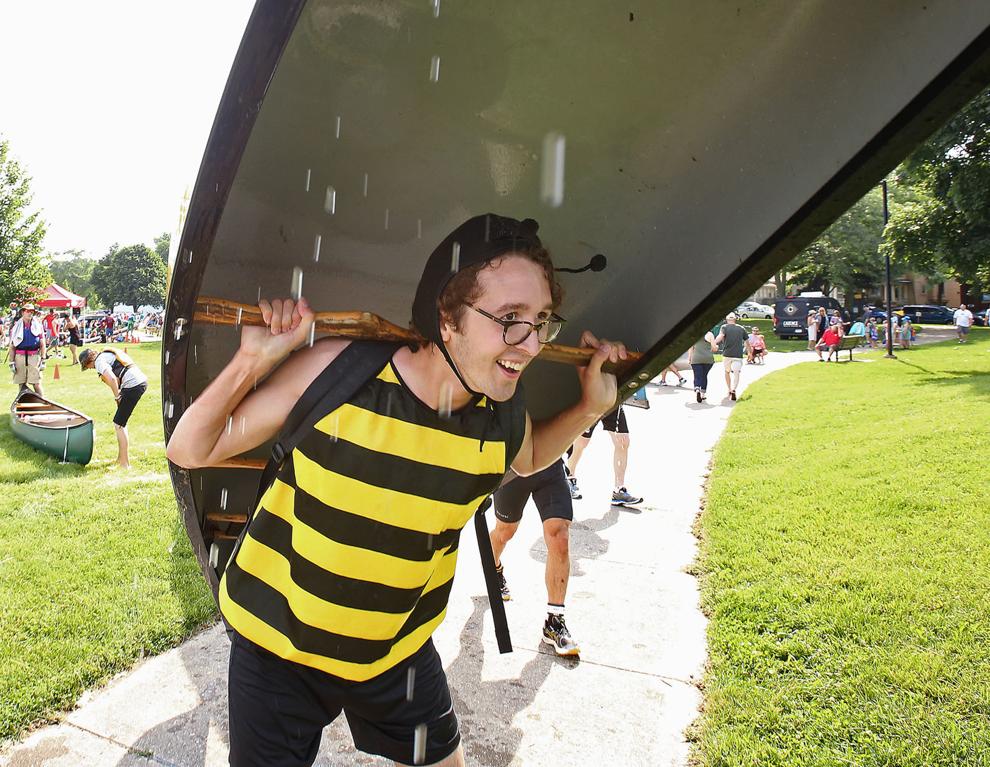 Shake the Lake fireworks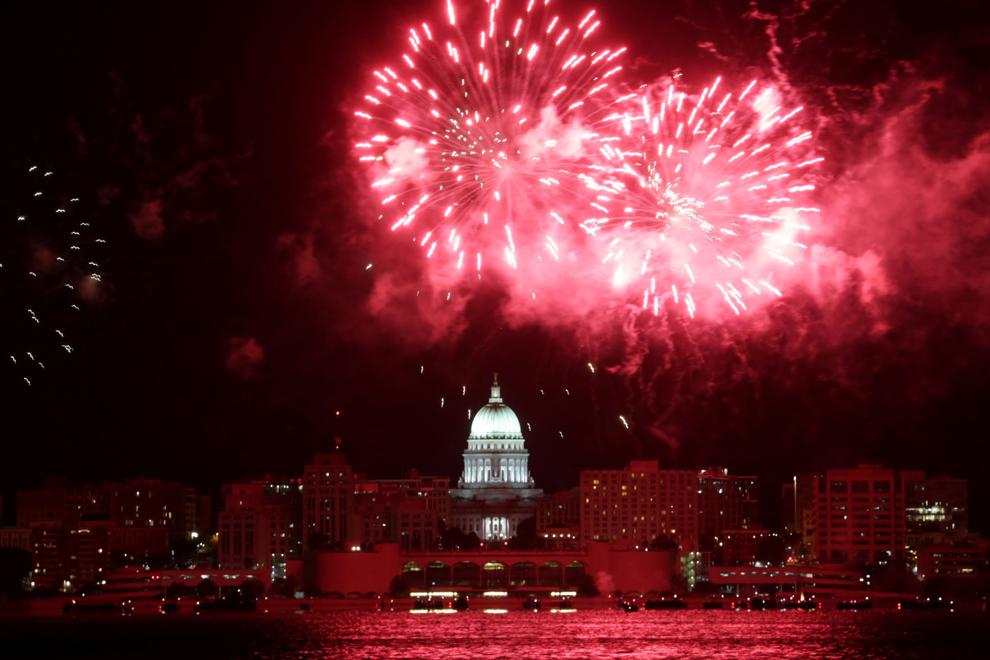 Photos: See how Madison's lakes have changed since the 19th century
Mounds on Edgewood Dr.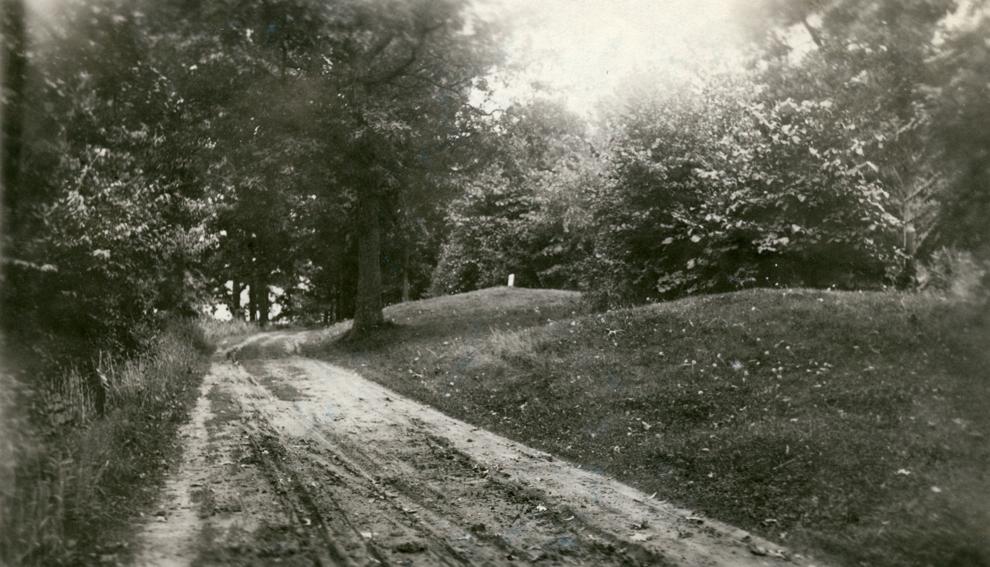 Steamboat "Scutanawbequon"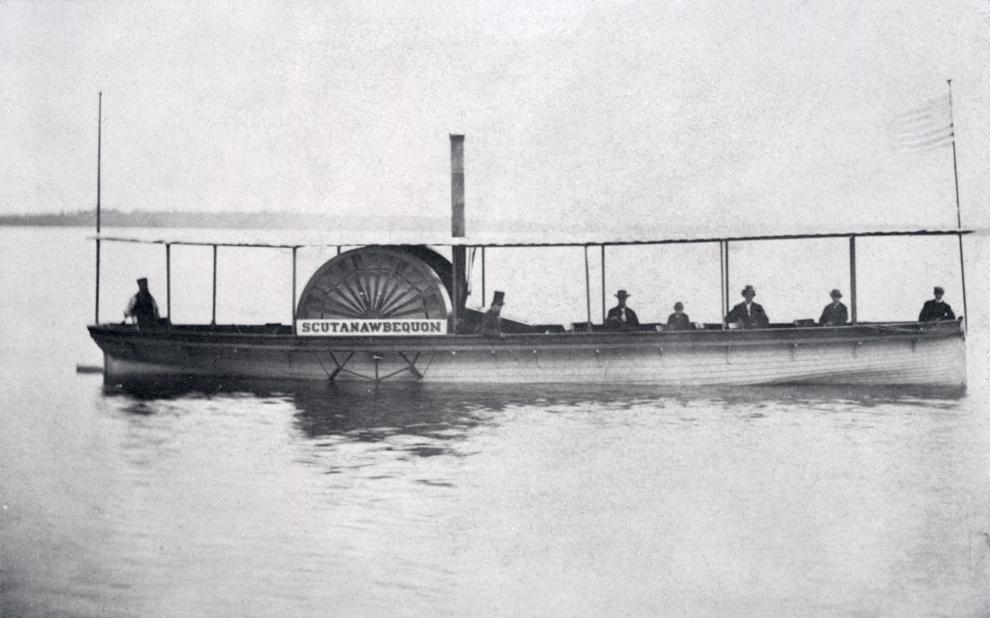 Lake Monona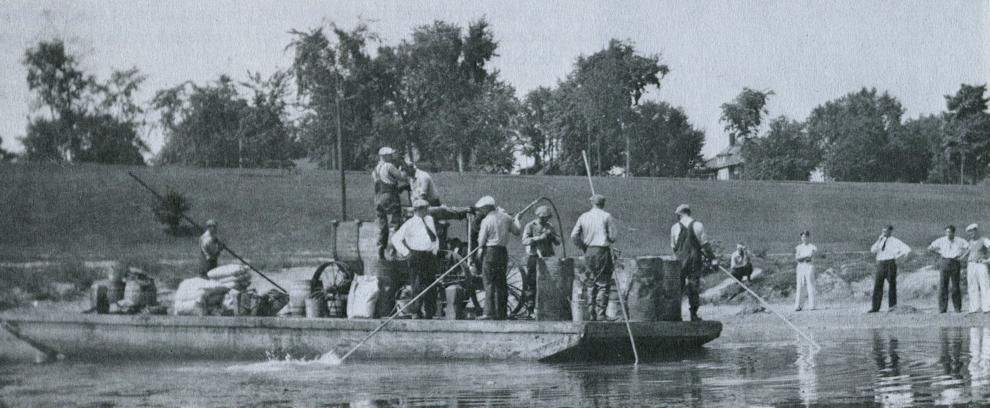 Yahara River from Williamson St.

Madison bird's-eye view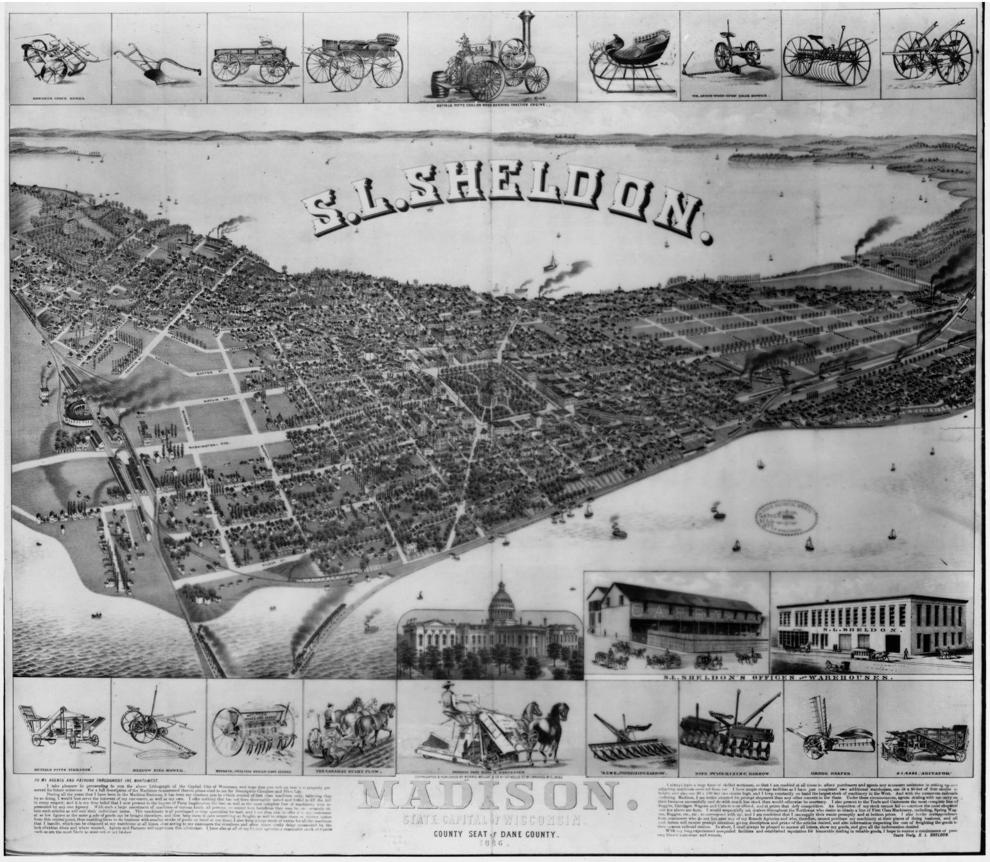 Mound on the Dividing Ridge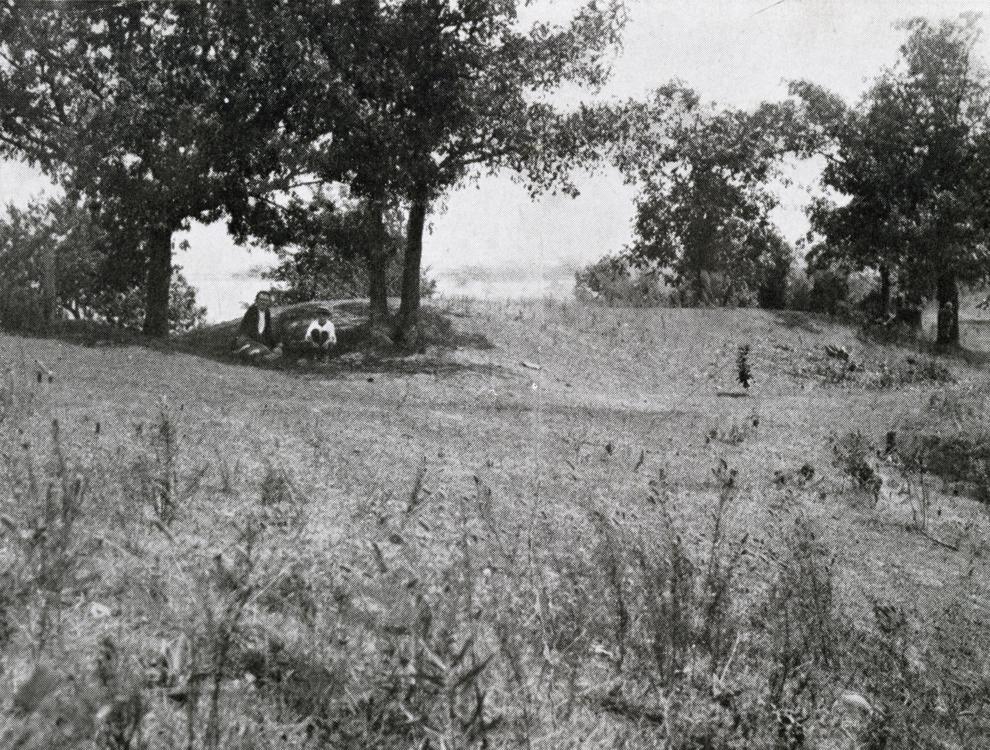 Crest of the Dividing Ridge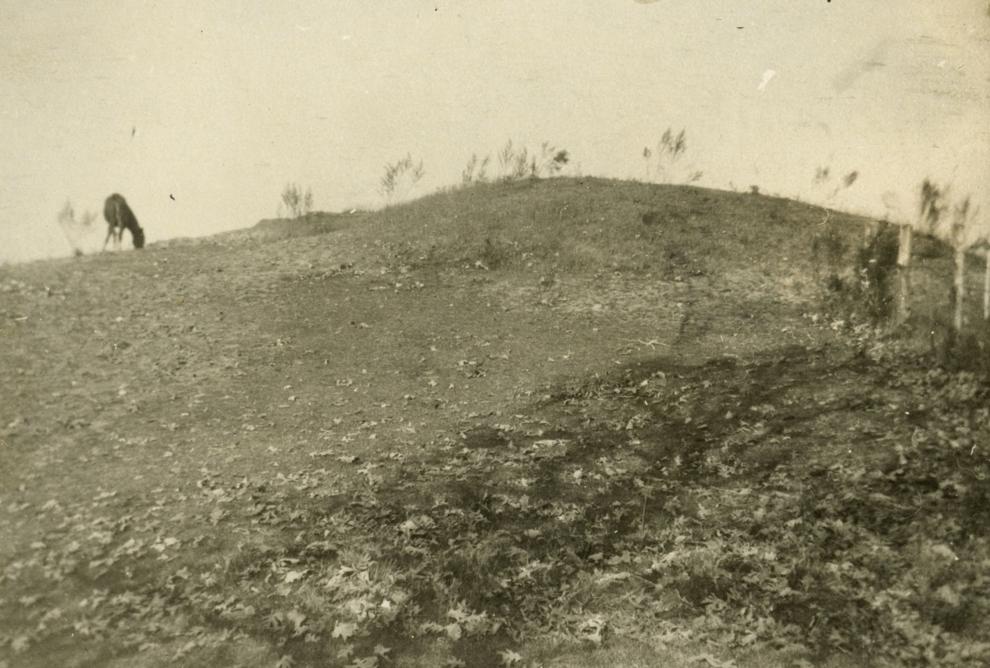 Woman in sand pit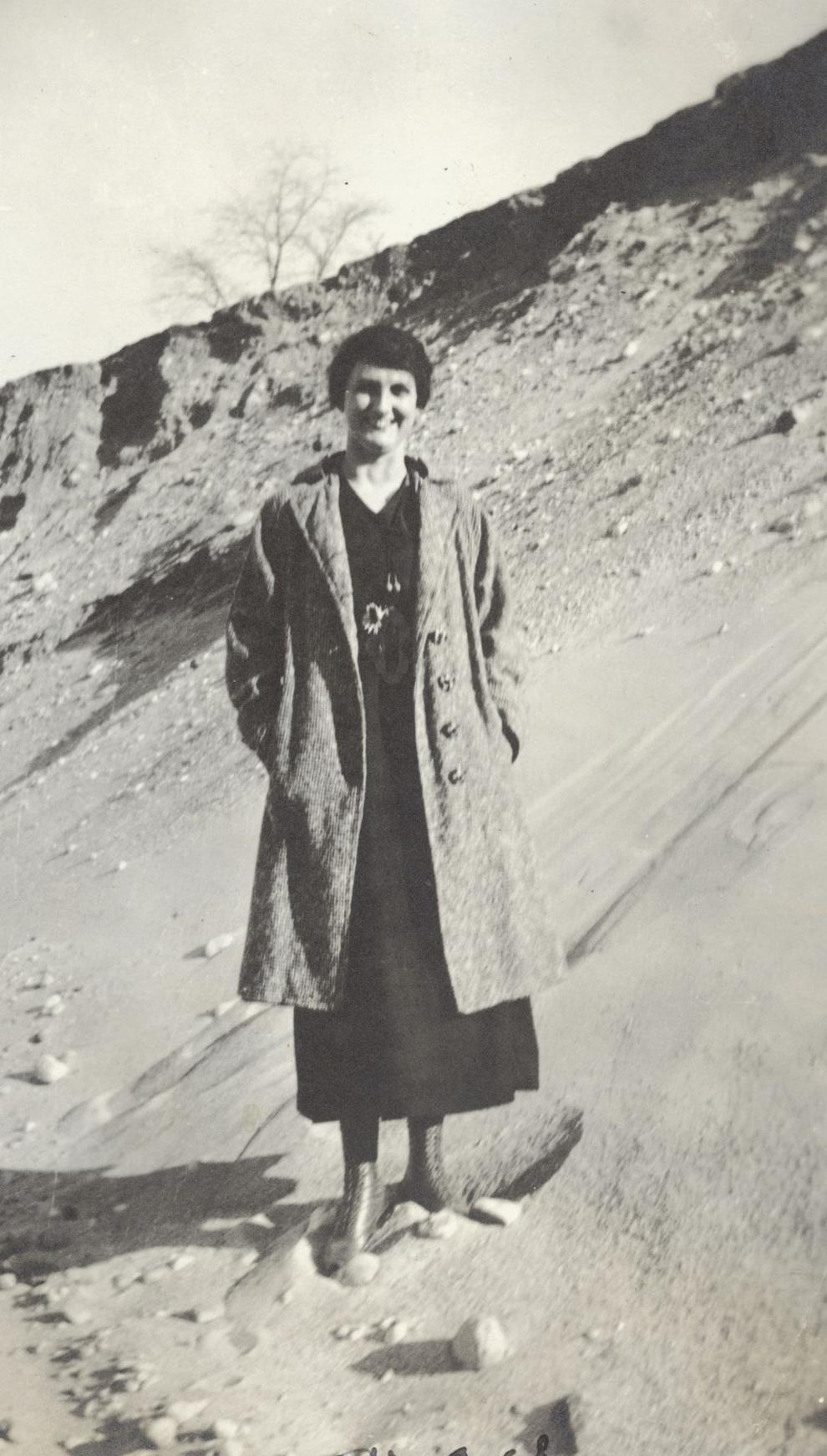 Native American map of Lake Mendota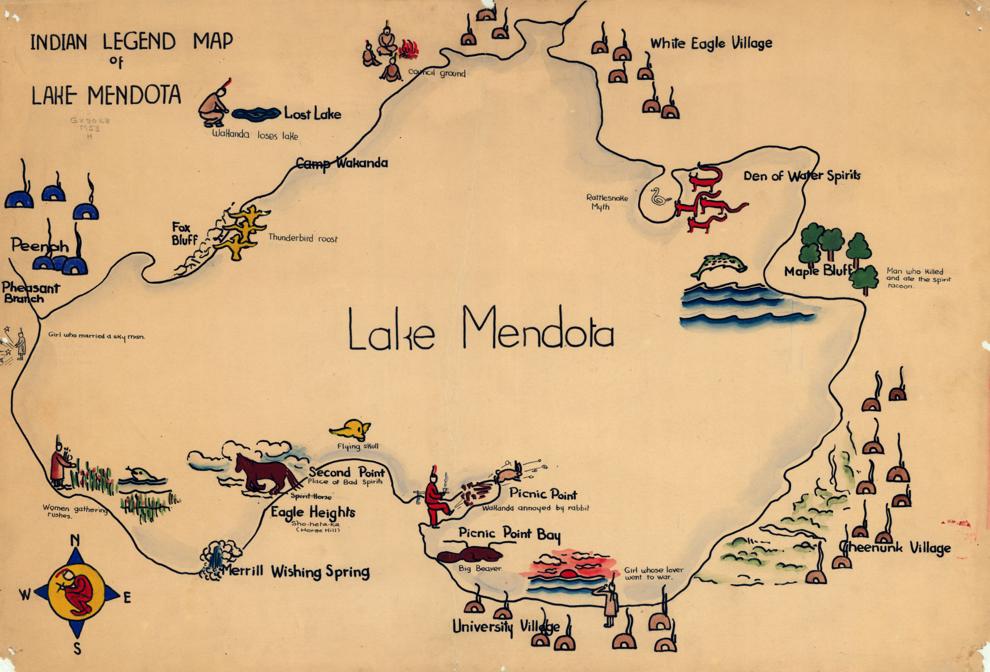 Plan for Madison as a model city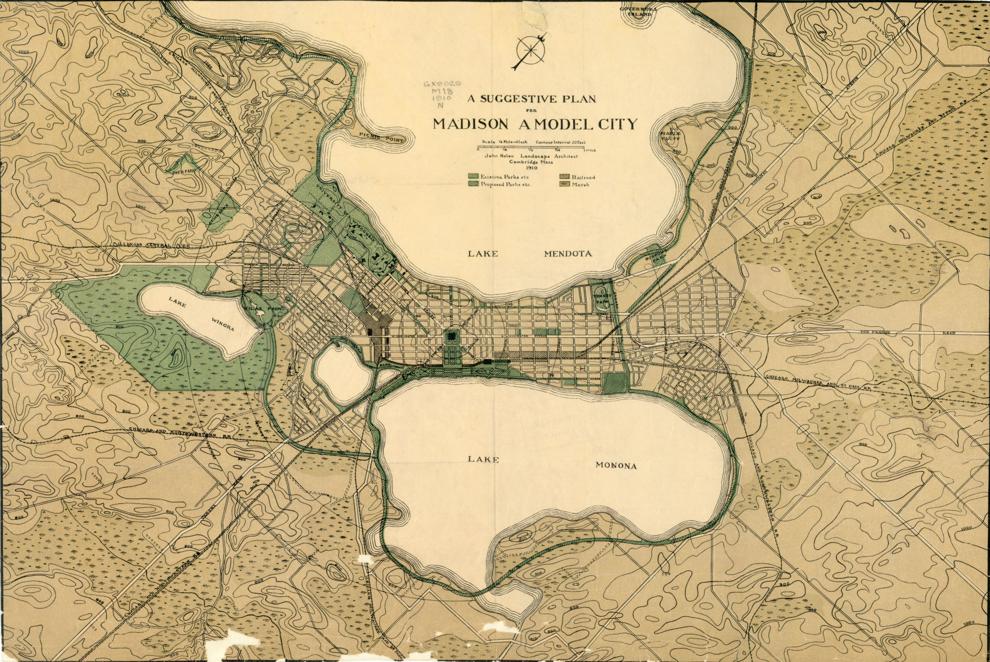 Fish catch from Lake Mendota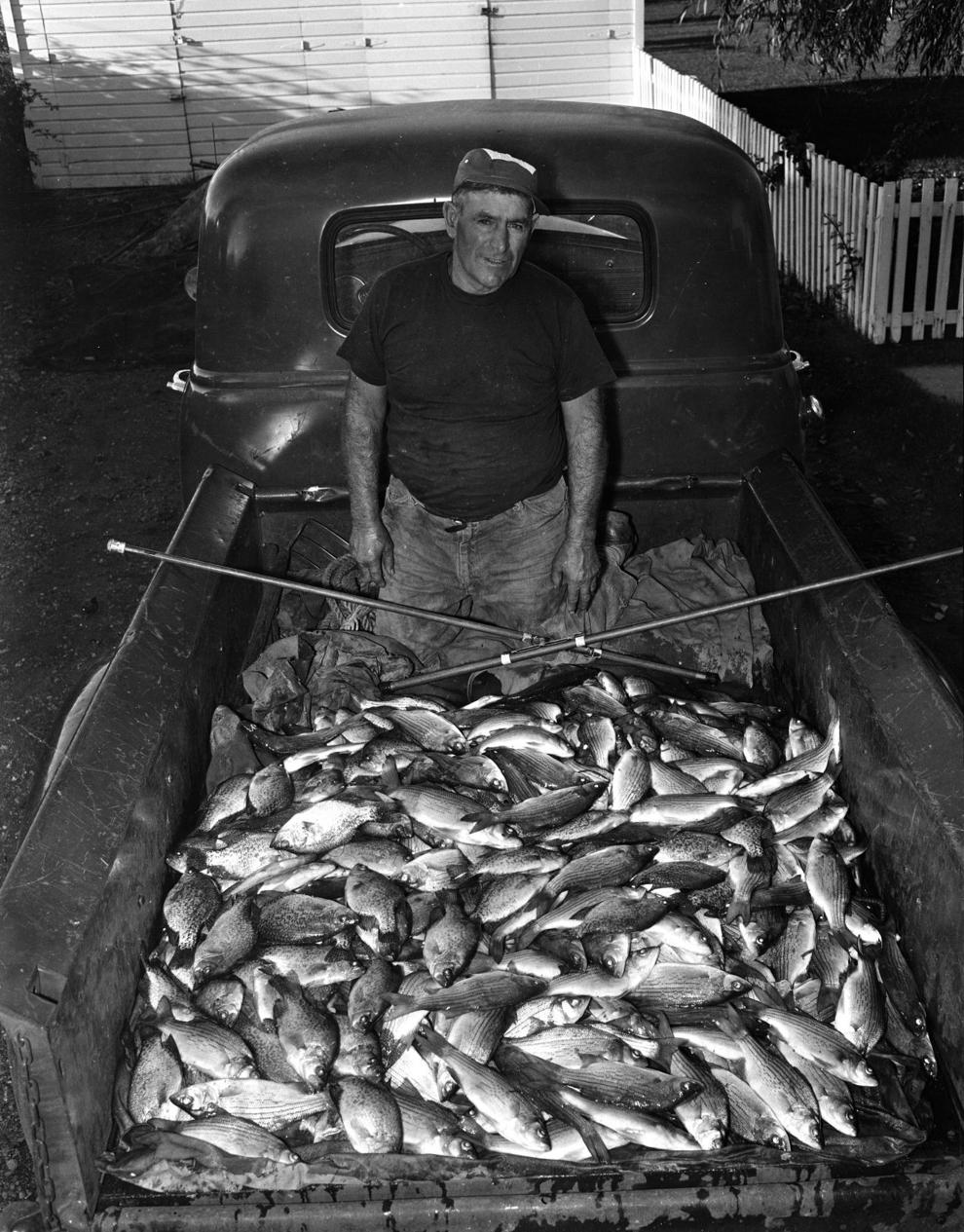 Linear mounds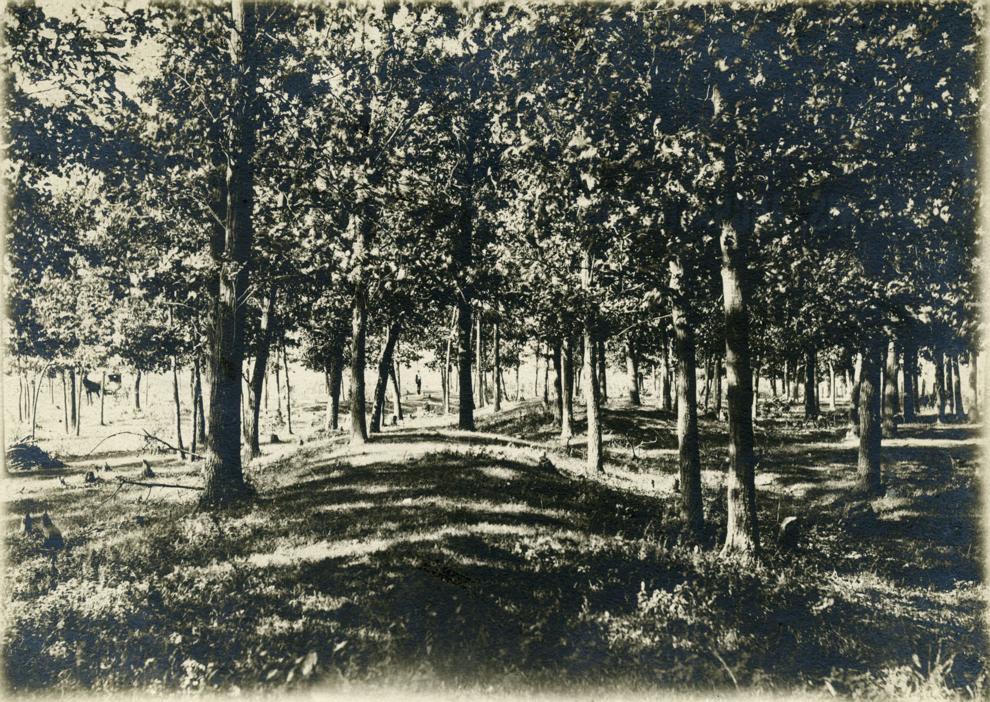 New state park on Lake Kegonsa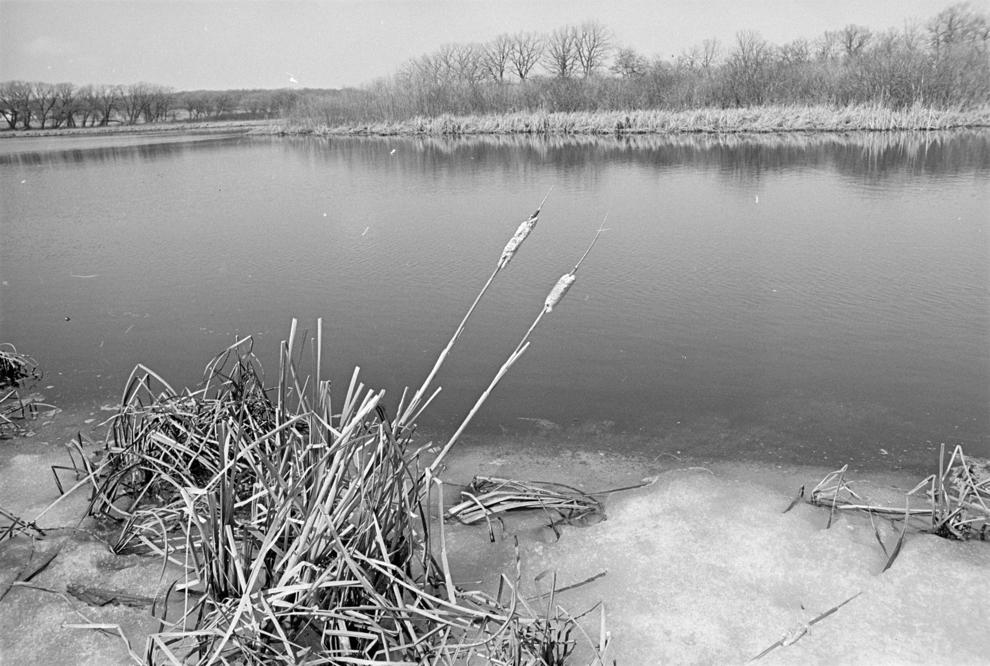 UW varsity crew vs. California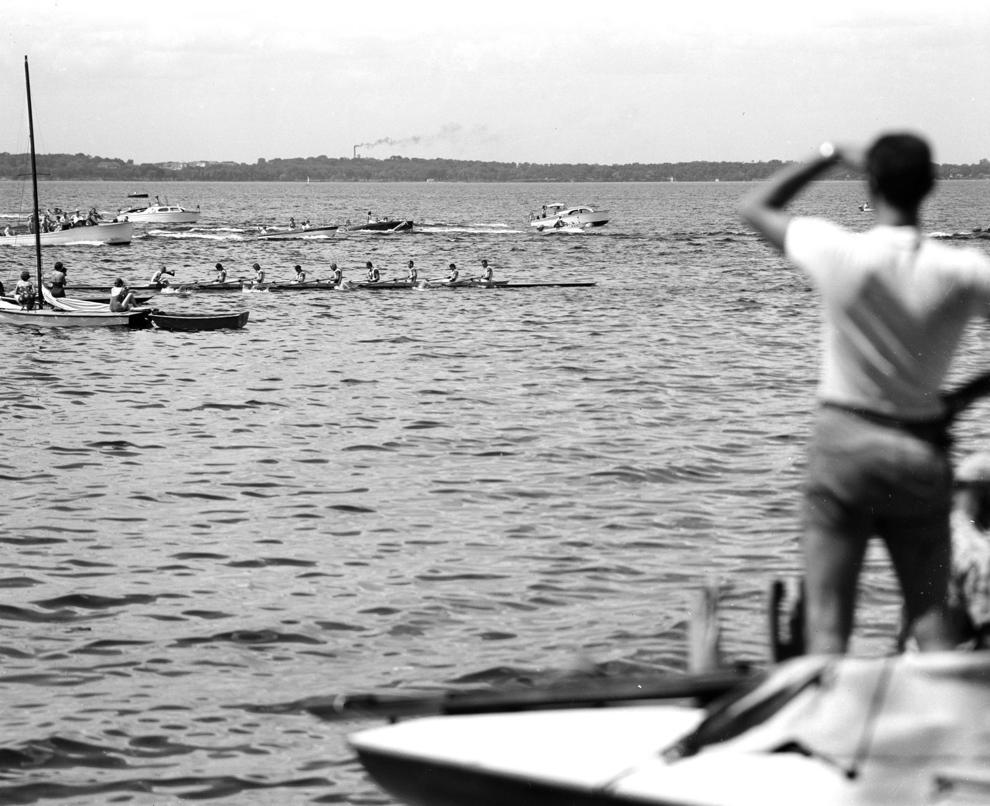 Ice fishing on Lake Mendota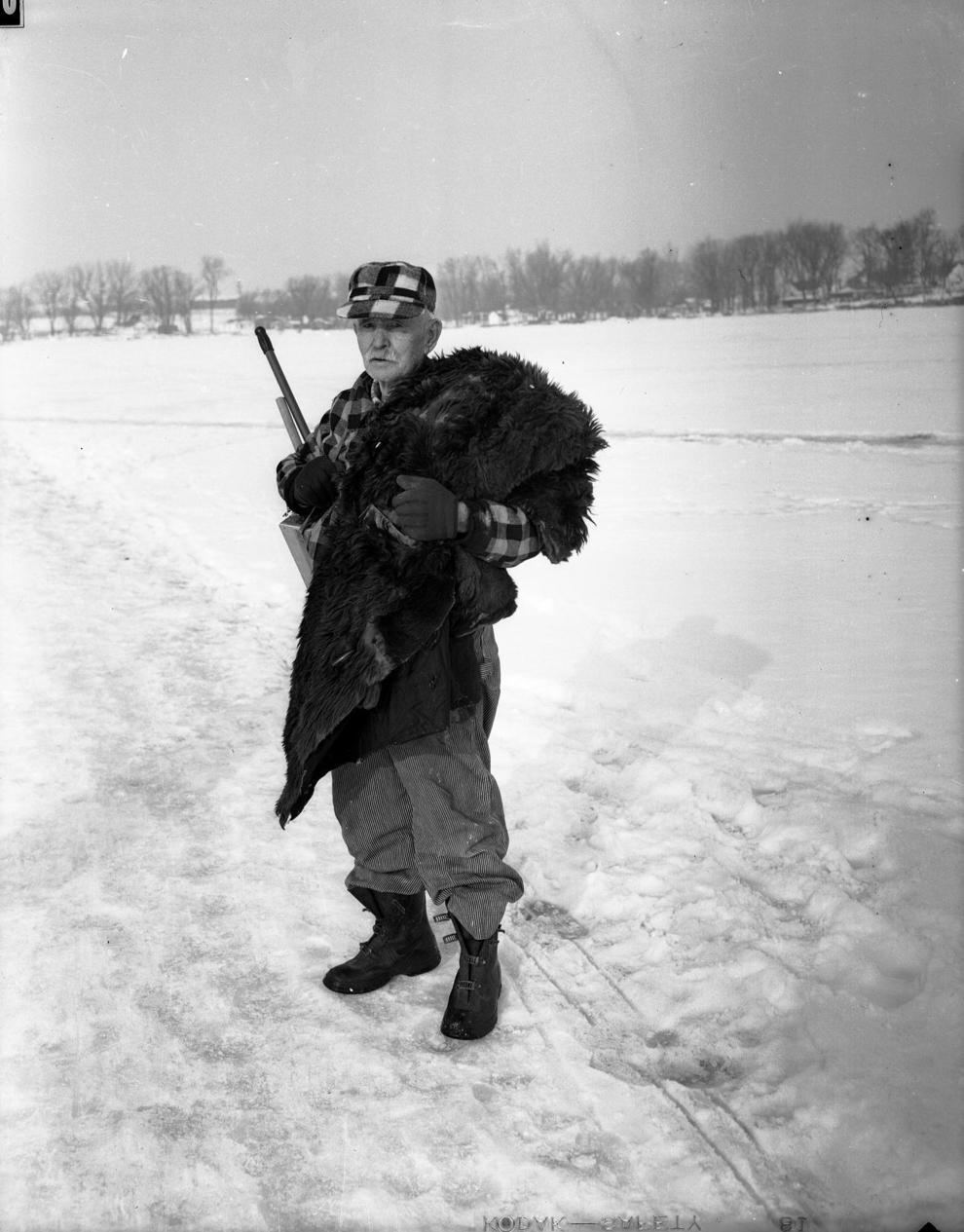 Vilas Park beach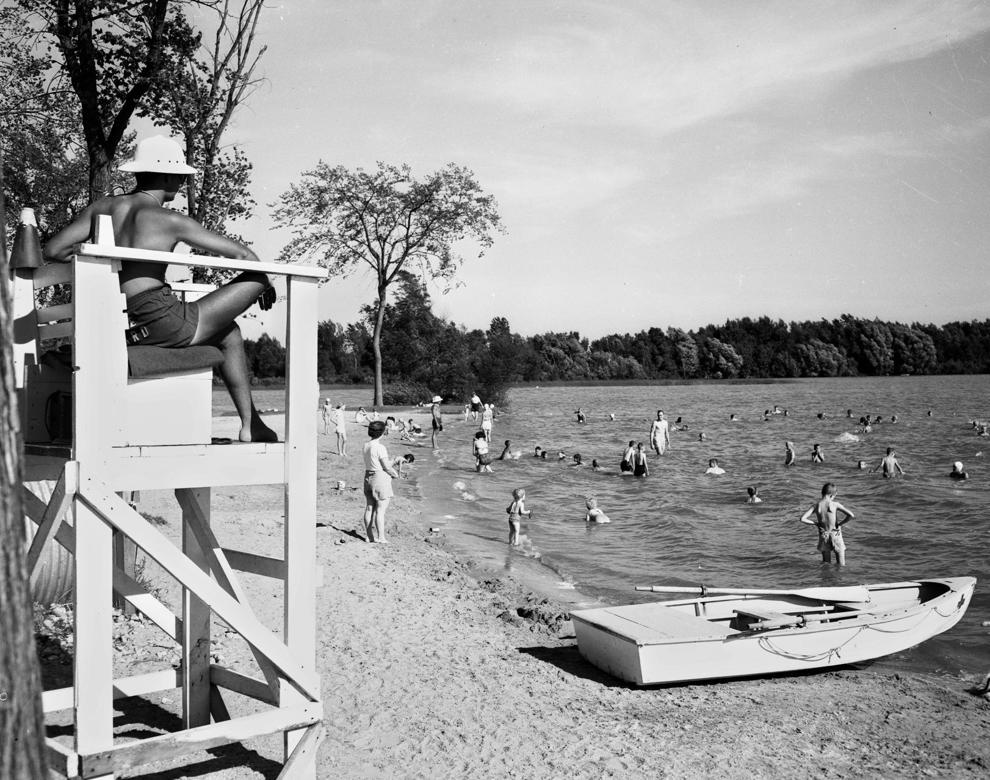 Shoreline at UW-Madison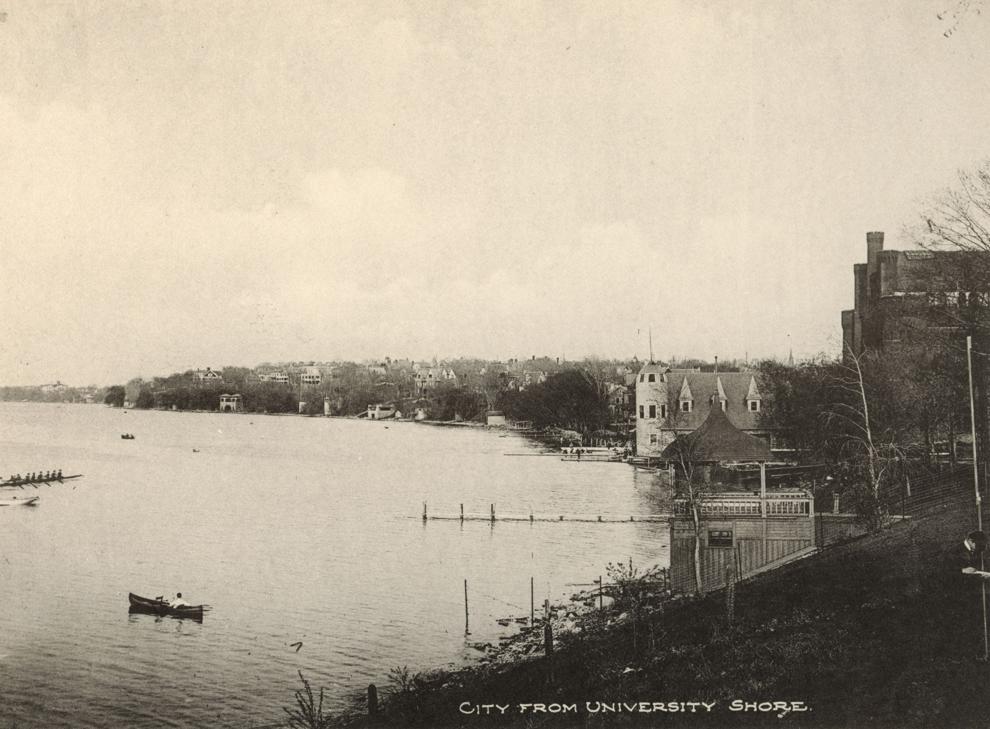 Aerial view of Governor's Island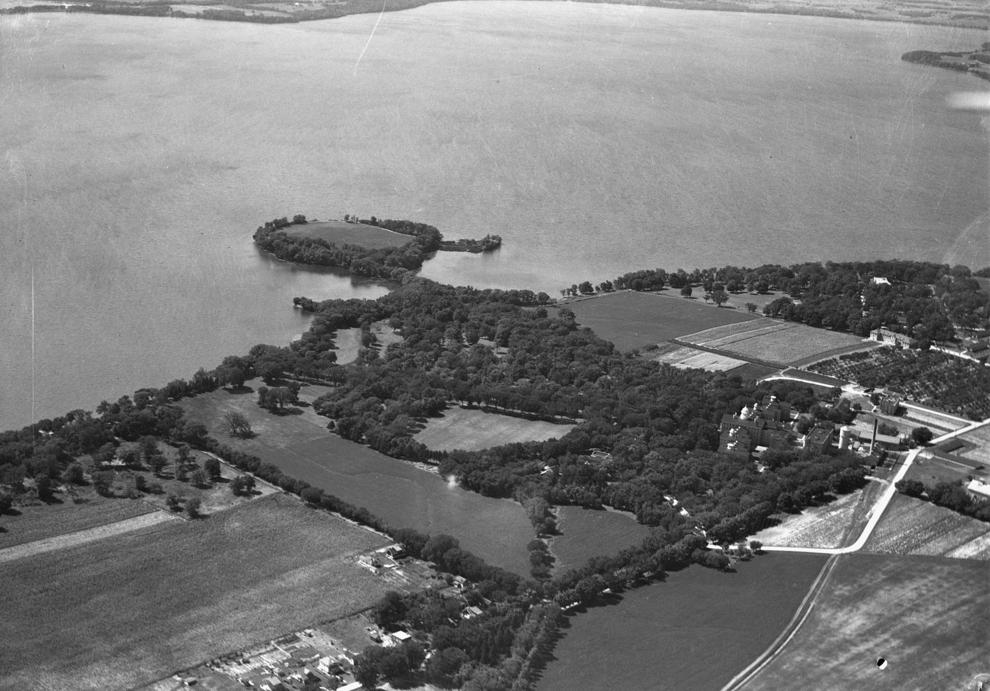 Frank Lloyd Wright boathouse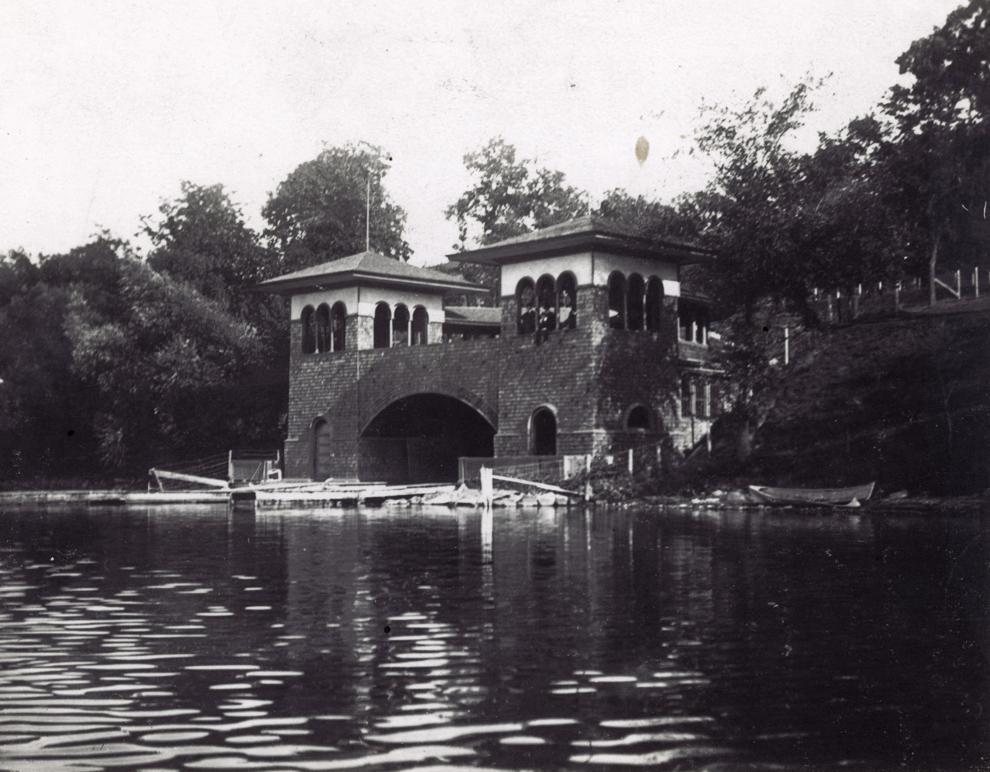 Formal group on steamboat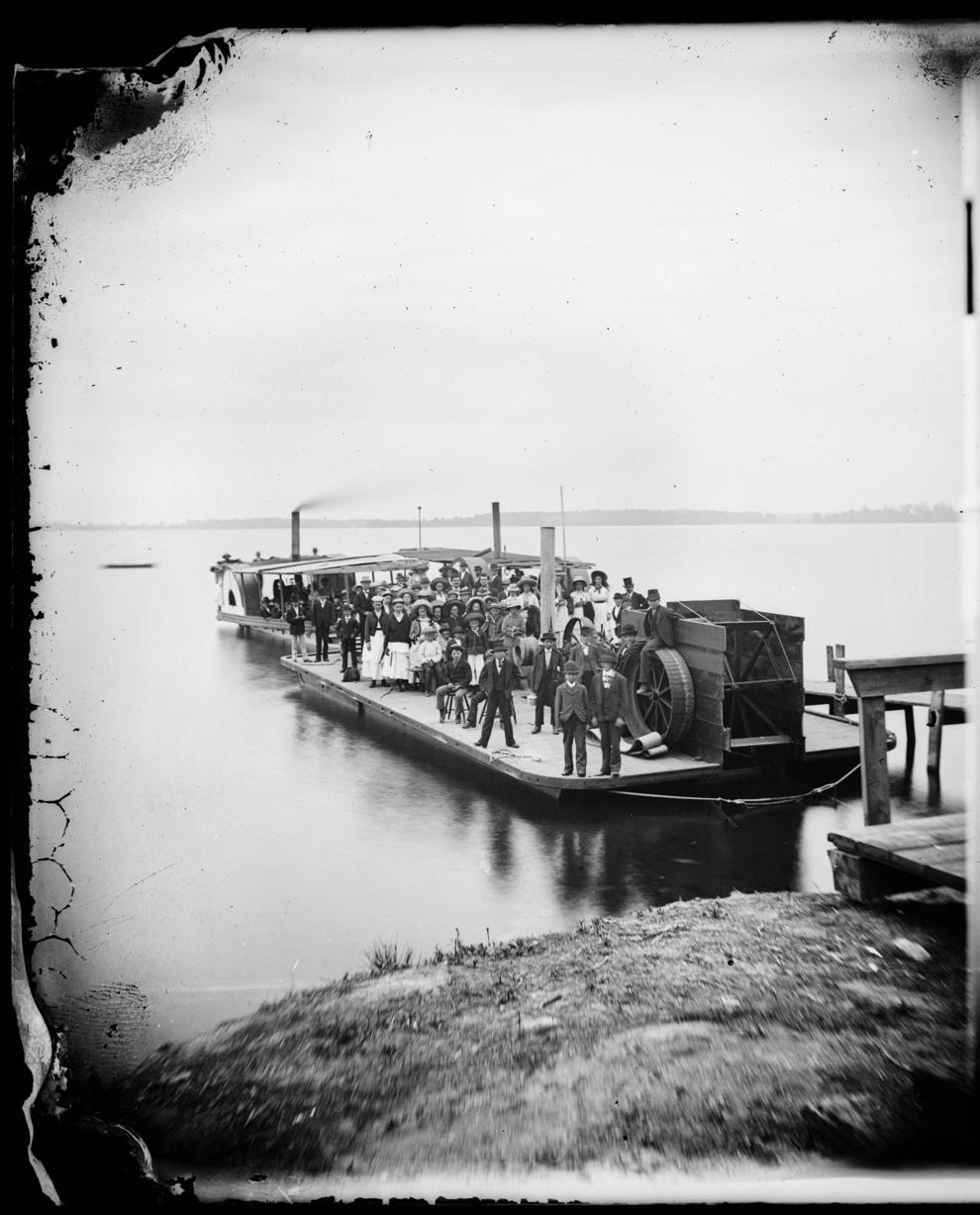 Lake Mendota near UW varsity boat house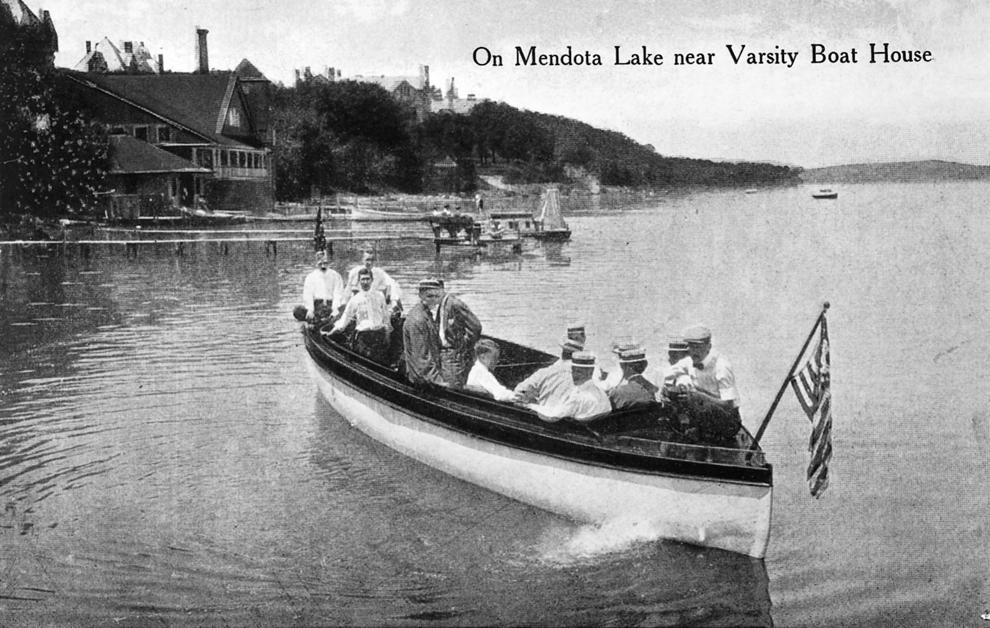 Lake Waubesa at Crescent Park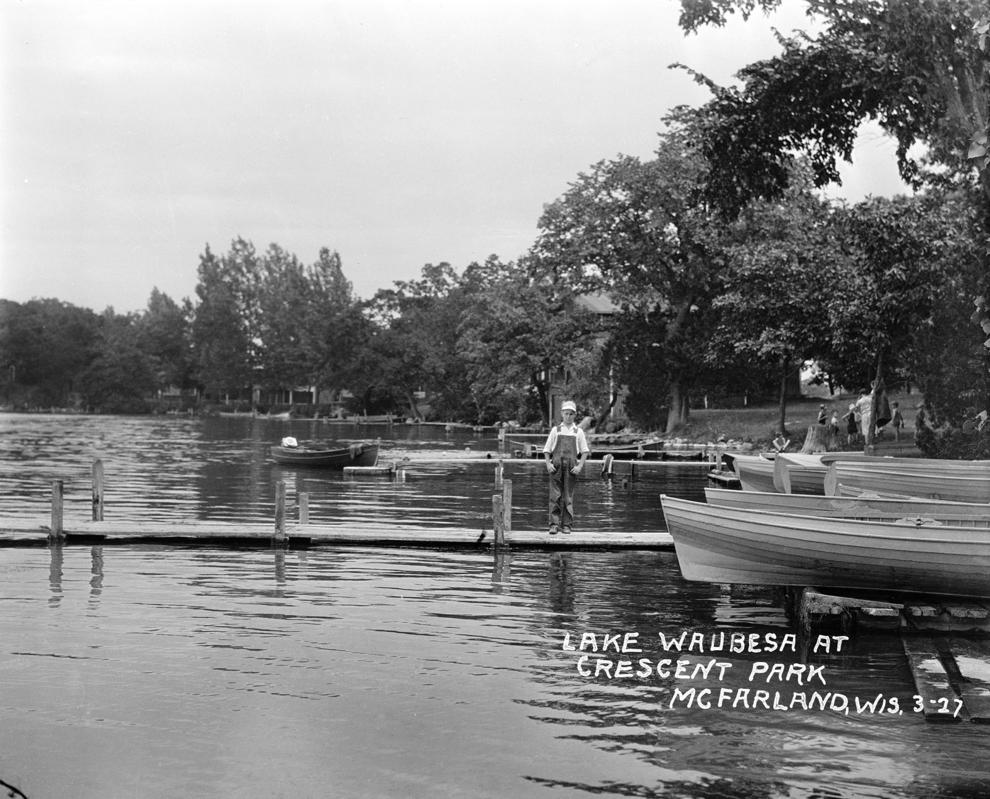 Ice fishing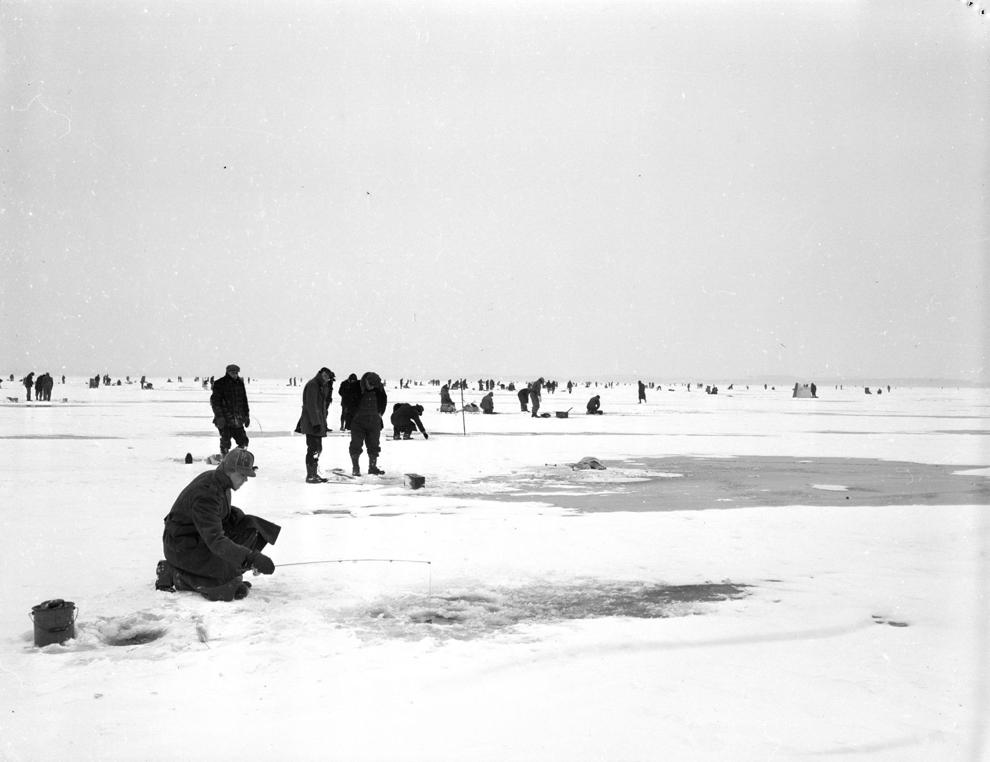 Water skiers on Lake Mendota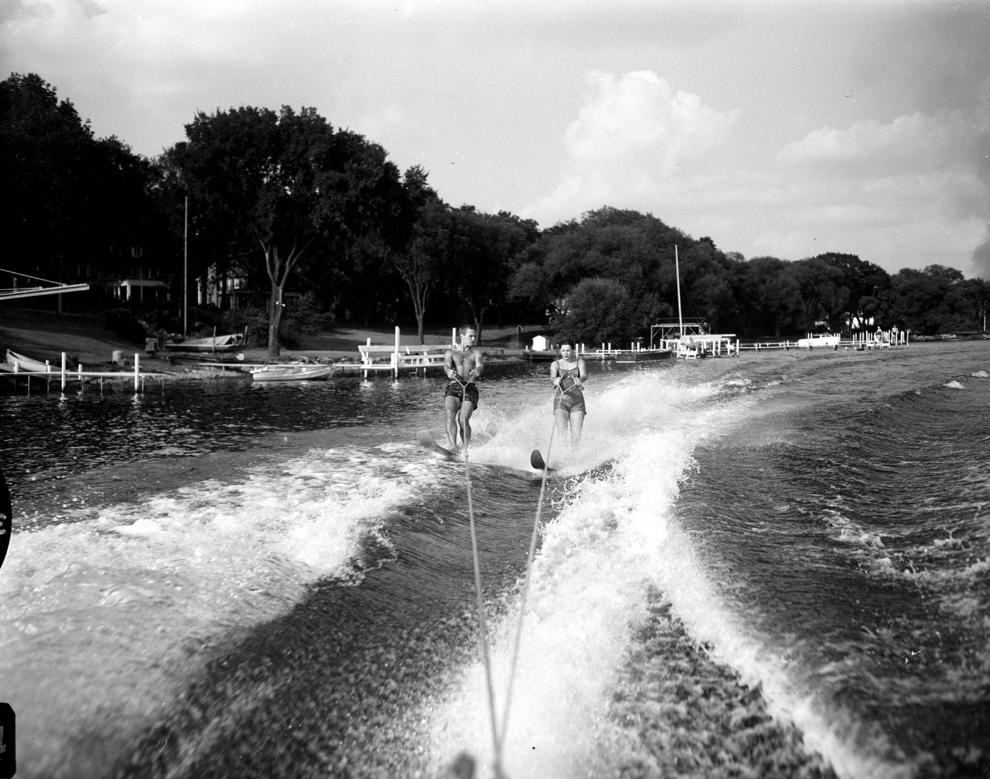 Lake Monona rowboat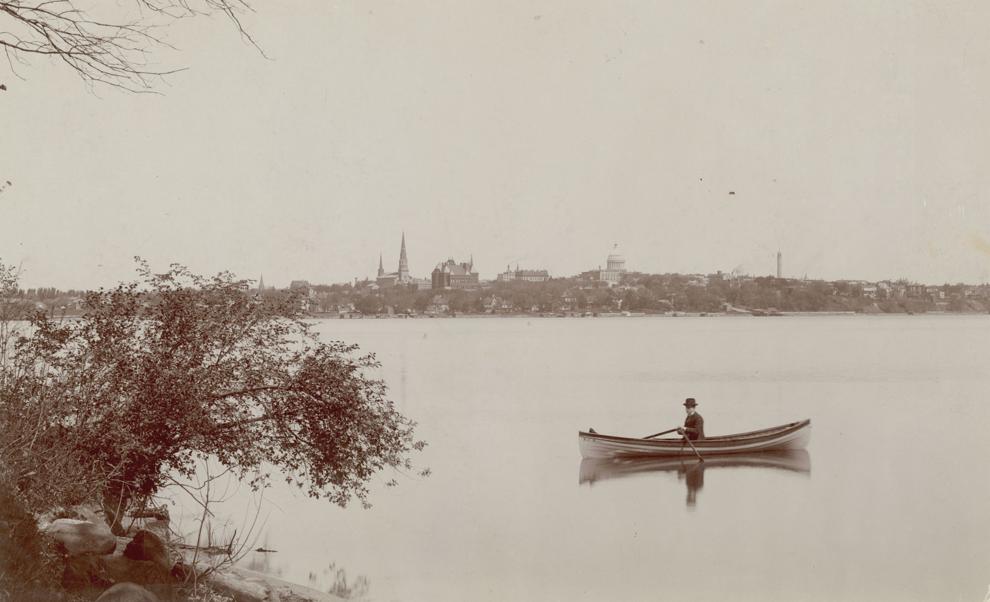 Aerial view of isthmus toward Lake Monona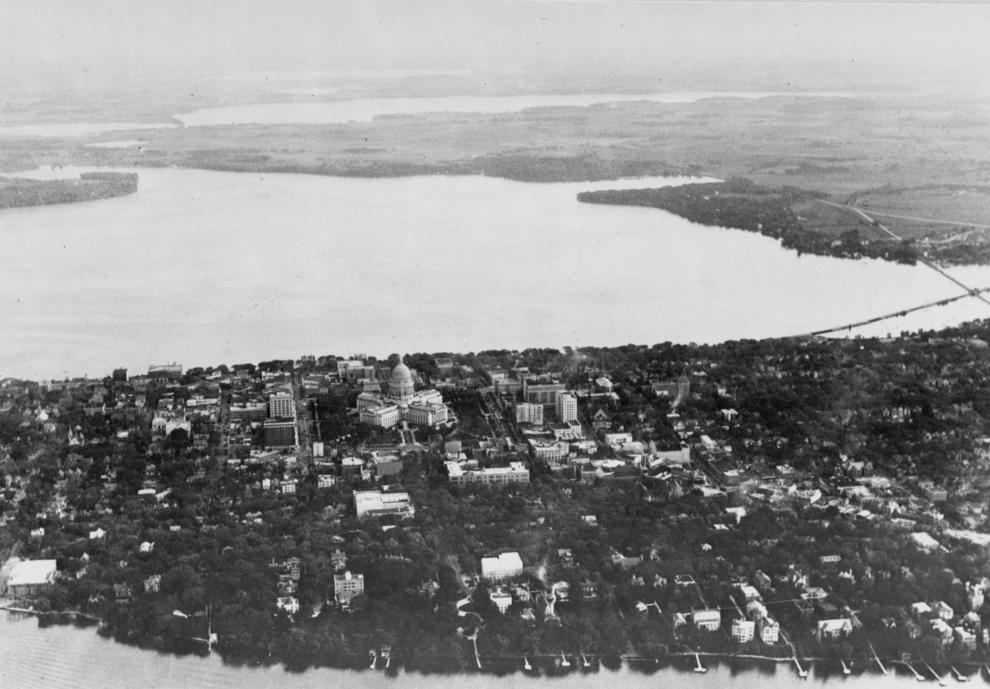 Lake Kegonsa log cabins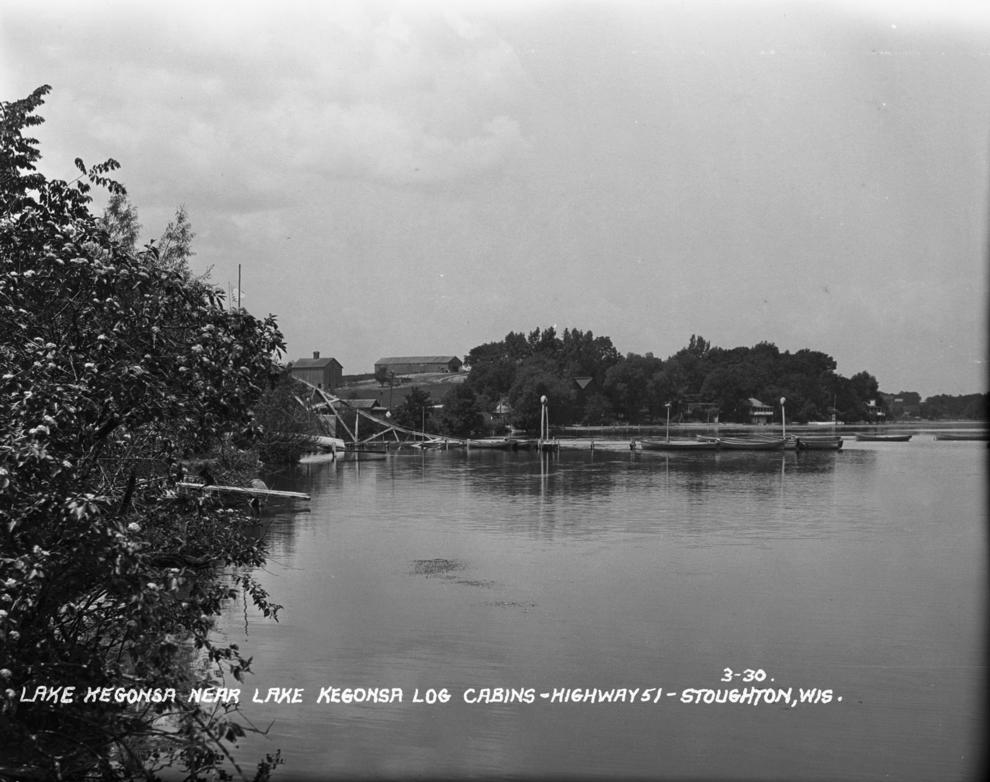 Mendota Yacht Club members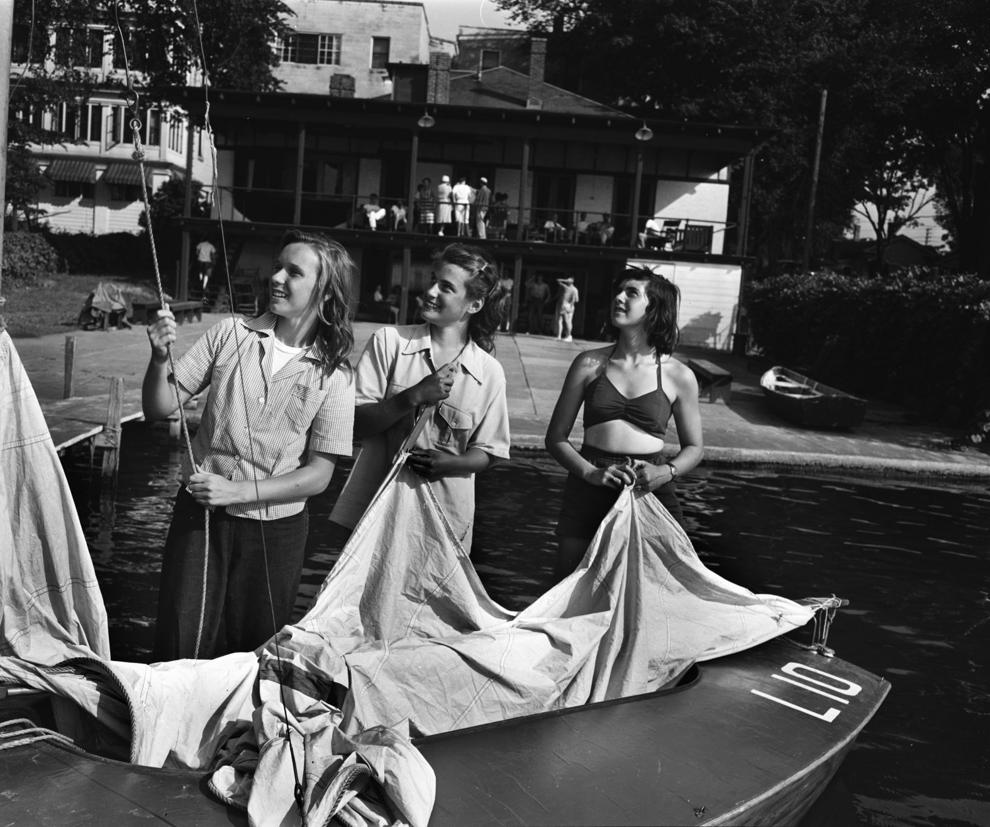 Boat houses on Lake Monona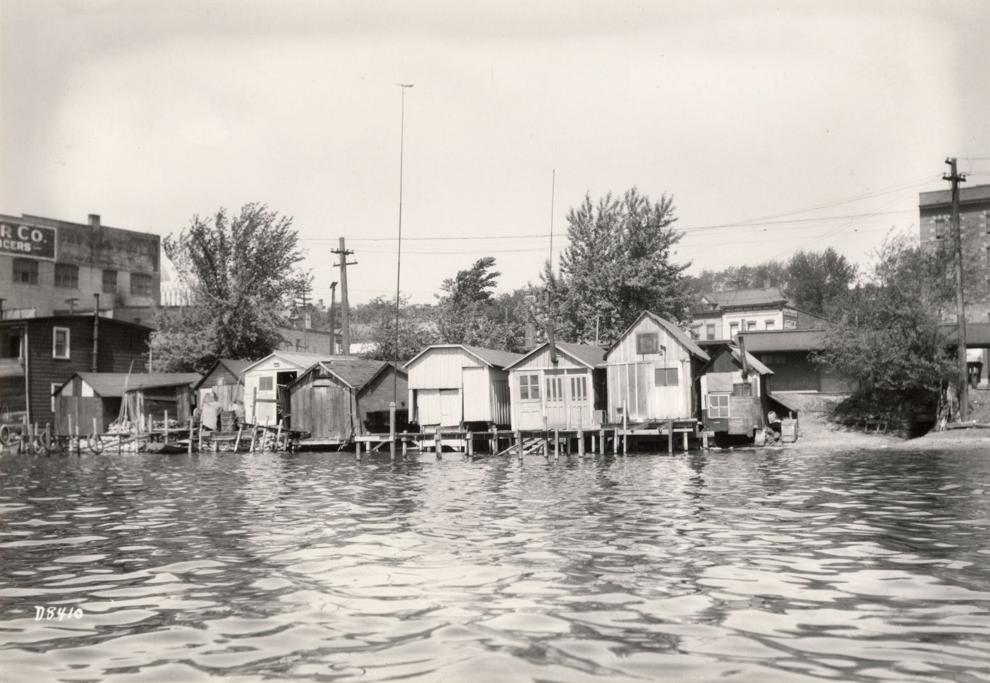 Tonyawatha Spring Hotel from across Lake Monona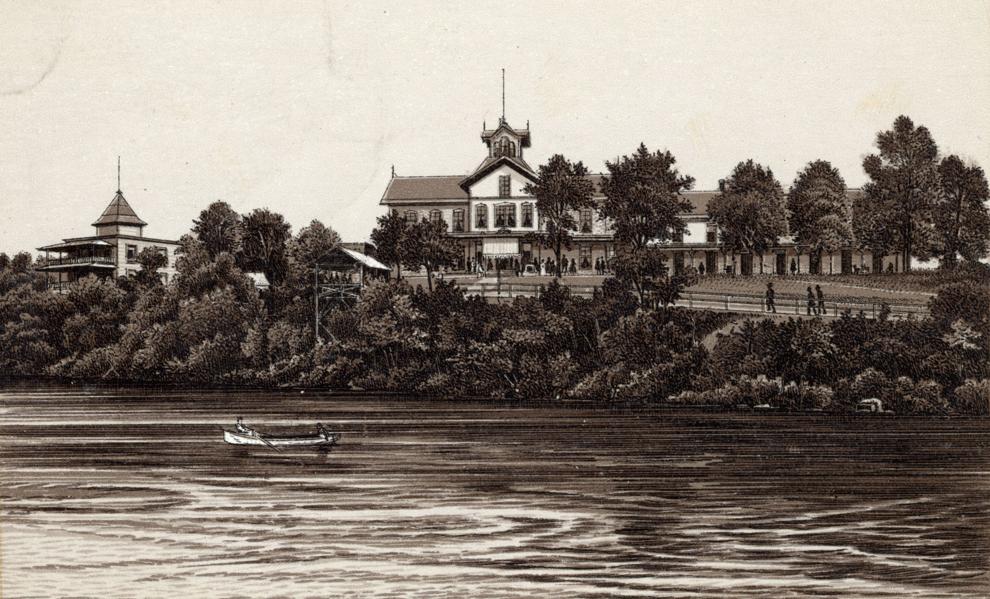 Yahara River painting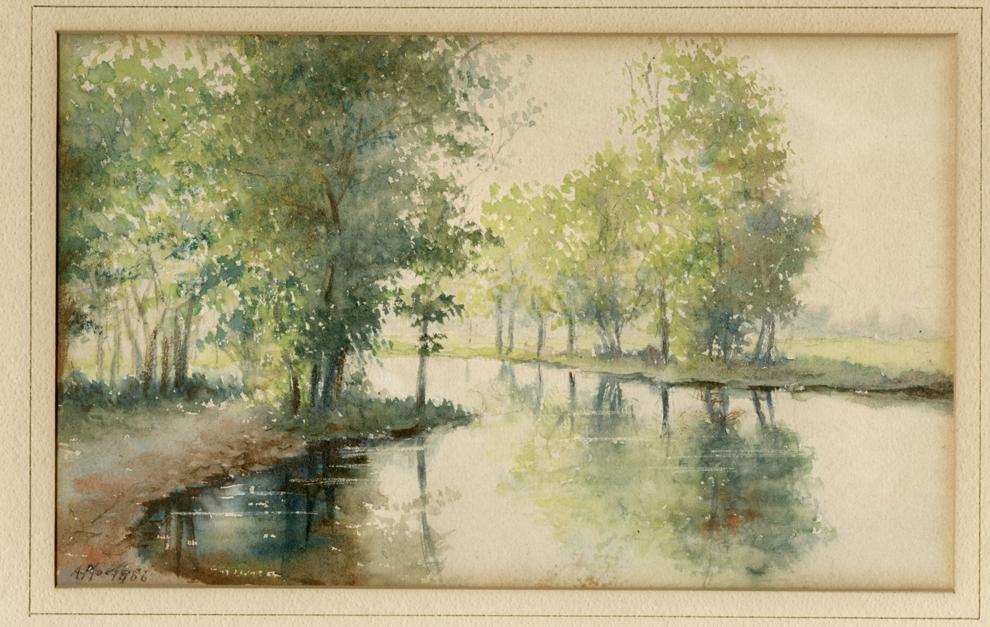 Burial mounds on the Edgewood campus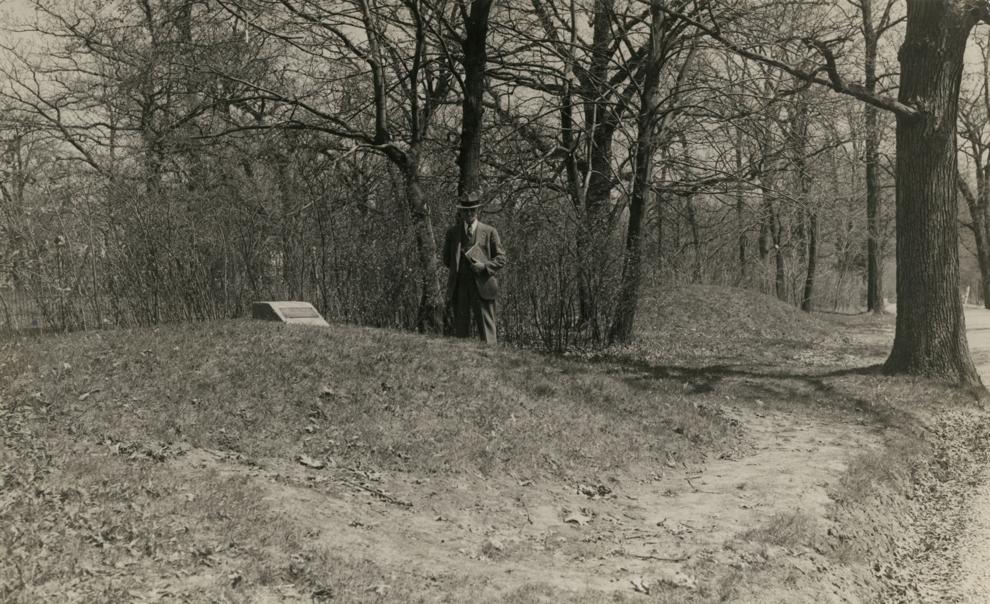 Steamboat landing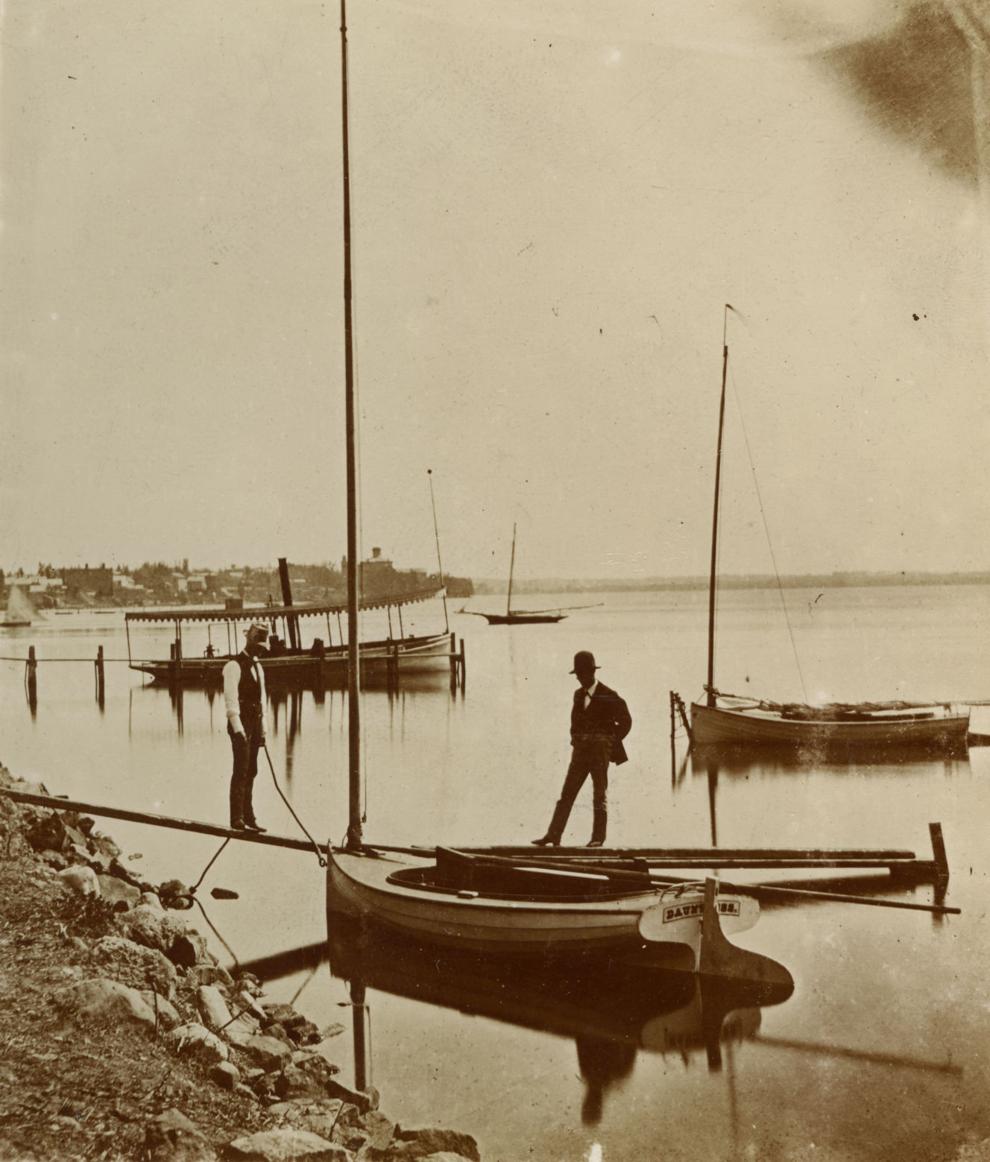 Farwell's mill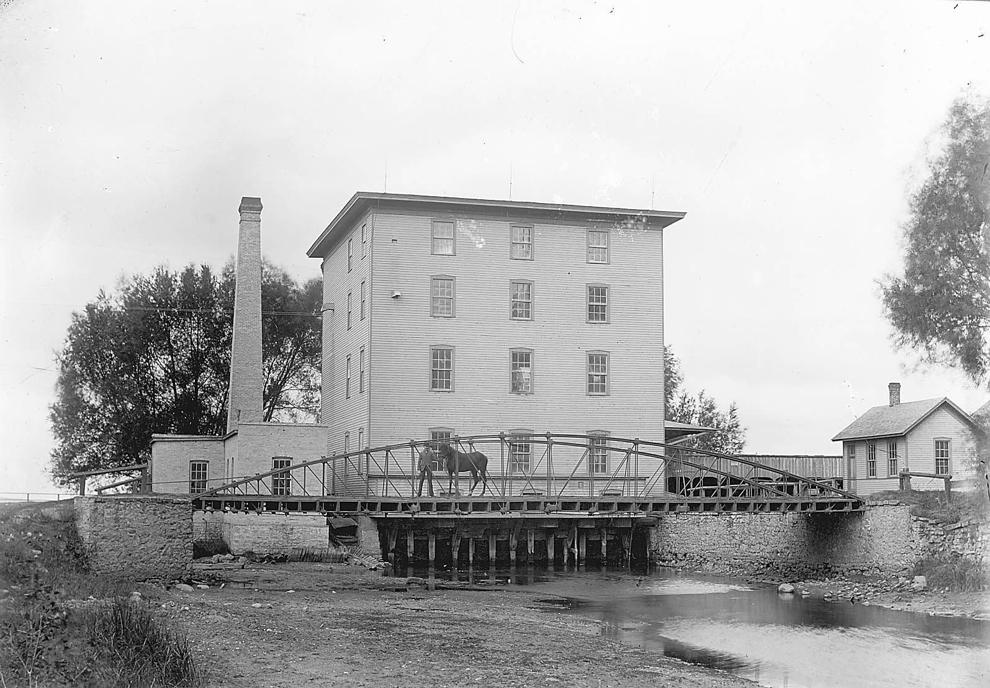 Eben Peck cabin