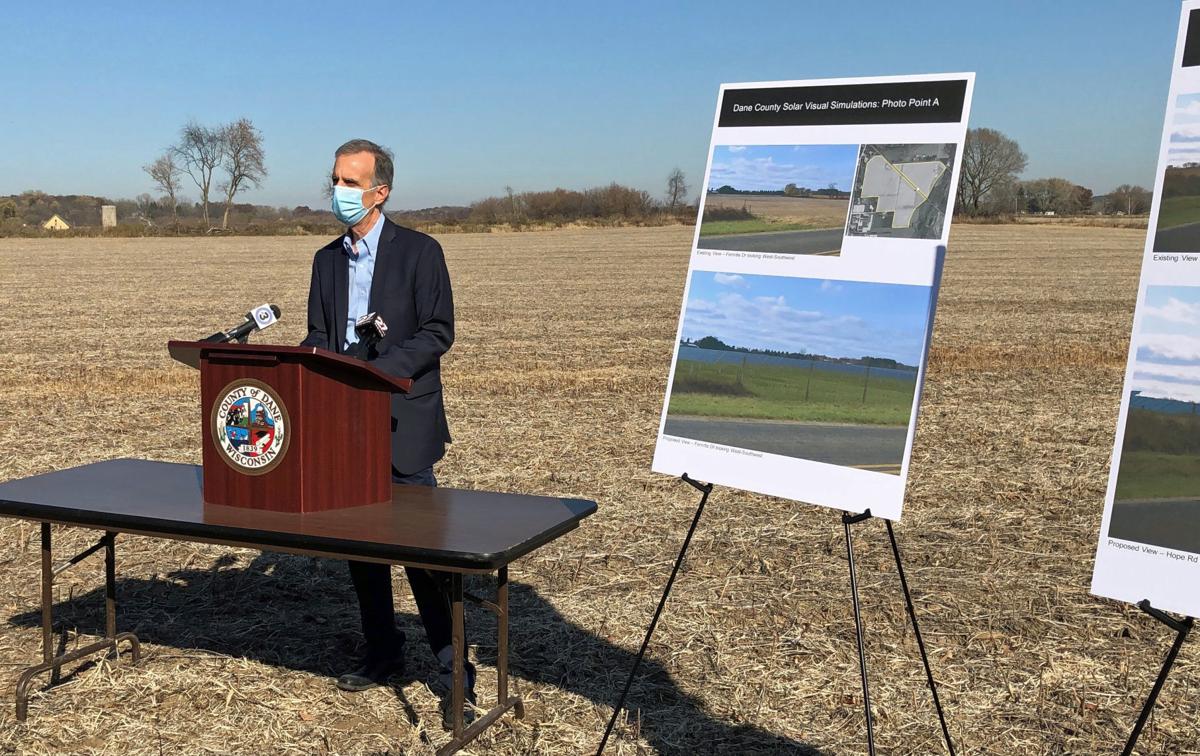 Dane County and Alliant Energy are exploring a partnership that would allow the county to offset all its operational electricity use with renewable energy through a utility solar farm on county land.
Under the plan, which is subject to approval of the county board and state regulators, Alliant would build a 16.5-megawatt solar farm on land leased from the county in exchange for renewable energy credits.
Dane County Executive Joe Parisi announced the plan Thursday at a farm just east of the county landfill in the town of Cottage Grove.
"Achieving this milestone is a win-win, benefiting both the environment and Dane County taxpayers for many years to come," Parisi said. "This installation will create local clean energy jobs and help combat climate change."
The plant would occupy about 140 acres of a 160-acre parcel straddling Femrite Road that includes about 109 acres of farmland purchased last year for its assessed value of about $2.5 million.
JP Brummond, vice president of business planning for Alliant, said the Madison-based utility has not decided if it will own the plant, which would require permission from the Public Service Commission, or have a private developer build and run it.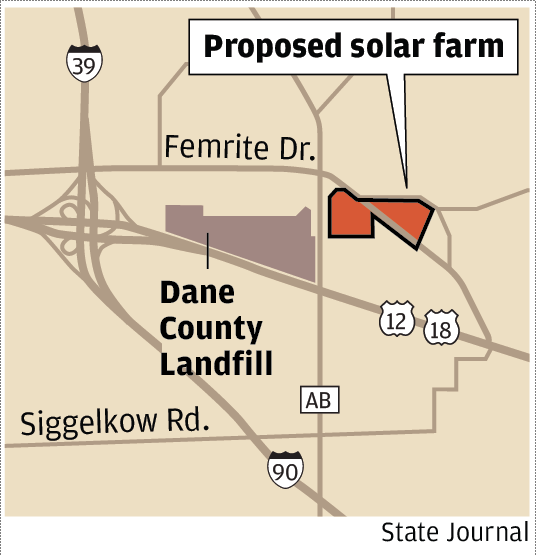 The county will not actually purchase electricity from the plant because it doesn't have enough facilities in Alliant's service territory, but Brummond said the lease arrangement will help the utility meet its goal of carbon neutral electricity by 2050.
"Our customers want clean, renewable energy," Brummond said.
In lieu of payment for the land, the county will receive renewable energy credits — or RECs — that it can use to offset energy from the grid.
Those, combined with energy from the county's own solar panels and a 9-megawatt solar farm under construction at the Dane County Regional Airport, are expected to return county operations to 100% renewable power, a status that was lost last year when the county began selling landfill gas for transportation fuel instead of burning it to generate electricity.
This spring the county released a Climate Action Plan that outlines a path to generating 80% of community-wide electricity use with wind and solar by 2030 as part of an effort to cut carbon emissions in half.
Parisi said he hopes arrangements like this one can serve as models for other municipalities, businesses or individuals who want to use clean energy.
"We're not going to stop with just our operations," he said.
Dane County currently has about 600 kilowatts of solar panels installed on 16 county properties that last year generated about 758,000 kilowatt-hours of electricity, enough to meet about 1.5% of the county's electricity use. Additional installations are also being planned for the Sheriff's Training Center outside of Waunakee, parks equipment facilities, and Consolidated Food Services.
Madison Gas and Electric will own and operate the airport solar farm, selling electricity to the county for about 5.8 cents per kilowatt hour over the next 30 years.
Earlier this year Alliant joined a small but growing group of utilities targeting carbon neutral electricity by 2050 and announced plans to eliminate coal-fired generation by 2040.