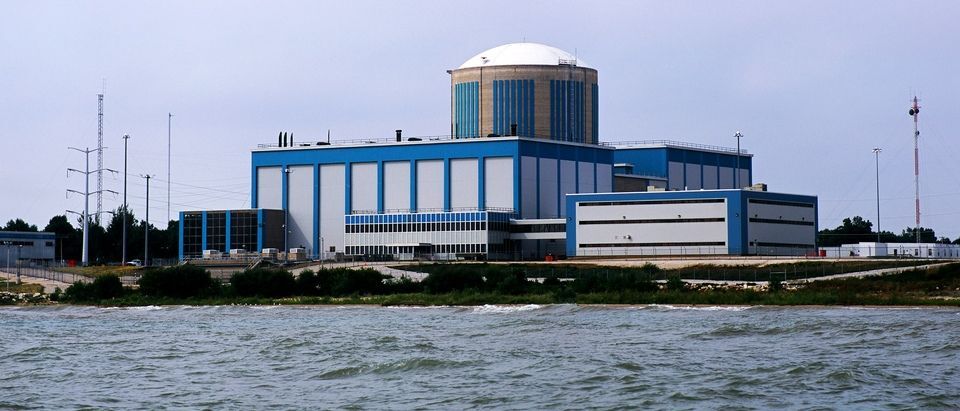 A demolition contractor says it could save Wisconsin utility customers millions of dollars if allowed to bid on a shuttered nuclear power plant.
New York-based NorthStar Group Services estimates it could decommission the Kewaunee Power Station for at least $200 million less than a competitor who has a deal to buy the plant on the shore of Lake Michigan.
Dominion Energy is seeking regulatory approval to sell the plant to EnergySolutions, a Utah company that specializes in nuclear waste disposal and decommissioning.
NorthStar says the sale is not in the public interest and is seeking to make its case before the Public Service Commission, which is considering whether to approve the sale.
The sale price has not been publicly disclosed, but according to applications filed with regulators, EnergySolutions would assume ownership of the plant, along with its spent fuel and about $780 million set aside to cover the cost of decommissioning.
EnergySolutions and Dominion estimate decommissioning the plant, which closed in 2013, will cost nearly $724 million.
If allowed to bid, NorthStar estimates it could do the job for just $500 million, noting it has a contract to decommission a much larger plant of similar design for a fixed fee of $540 million.
Any money left over in the trust — which is growing by roughly $15 million a year — would be returned to Wisconsin ratepayers.
American Transmission Co. and ITC Midwest filed a request Monday with the Public Service Commission to rescind the permit for the $492 million Cardinal-Hickory Creek transmission line and reopen the proceedings.
NorthStar argues the requirement to return unused funds has removed any incentive for Dominion or EnergySolutions, which contracts with many of its subsidiaries, to ensure they are spent prudently.
"Simply put, if the Commission allows the transaction to proceed, the trust fund will be administered by a trustee without oversight who is also the beneficiary of expenditures," the company argues. "Projects involving nearly a billion dollars of ratepayer money should be subject to transparent and competitive bidding."
Some conditions
Completed in 1973, the 560-megawatt plant was originally owned by Wisconsin Public Service Corp., Alliant Energy and Madison Gas and Electric, whose customers contributed to the decommissioning fund for decades.
After buying out MGE, the other utilities sold the plant in 2005 — along with the $405 million decommissioning trust — to Dominion Energy for $220 million.
The PSC initially rejected the sale, saying it would strip the commission of control should Dominion later sell the plant to a third party and deprive ratepayers of any unused decommissioning funds.
But the commission relented after Dominion added 12 conditions, including a pledge to return any excess decommissioning funds to ratepayers.
The company also agreed to give Alliant and WPS rights of first refusal, meaning the utilities have 60 days to match any offer if Dominion decides to sell the plant.
NorthStar says it has offered to buy that right from either utility for $25 million.
Spokespeople for the utilities declined to comment on the offer, saying they will respond to the PSC, but NorthStar says it is the PSC's job to determine if it's in the public interest to waive those rights.
The Citizens Utility Board filed a request Thursday seeking party status in the case and arguing that NorthStar would bring valuable expertise to a decision regarding hundreds of millions of ratepayer dollars.
"NorthStar has raised a number of reasonable questions related to EnergySolutions' estimated cost of decommissioning Kewaunee as well as EnergySolutions' ability to perform the decommissioning work under budget, and in a safe and timely manner," said Corey Singletary, director of regulatory affairs for the ratepayer advocacy group.
NextEra Energy submitted an application Monday to the Nuclear Regulatory Commission seeking to add 20 years to the licenses for the Point Beach Nuclear plant in Two Rivers, according to a document filed with state regulators.
'No reasonable expectation'
A Dominion spokesperson declined to comment on the issue, and EnergySolutions did not respond to a request for comment, but both companies filed briefs this week seeking to block NorthStar from participating in the case, saying the company has no legal standing.
"Although it seeks to cloak its claims in the interests of Wisconsin ratepayers, NorthStar's interest is nothing more than a desire to have a business role in the decommissioning," attorneys for Dominion wrote.
Dominion says under the conditions of its purchase agreement, the PSC cannot require it to open the sale to competitive bids.
"Tempting though that discussion might be from a public policy standpoint, it is not and cannot be an issue to be determined in this docket," they write.
EnergySolutions says NorthStar has "no reasonable expectation" of acquiring rights of first refusal and that the company's participation would add no value to the PSC's evaluation of the sale.
"There is no reason to give credence to NorthStar's pretense that, as an out of state, non-public utility vendor, it is a legitimate advocate for the public interest, rather than a disappointed competitor looking out for its own business interests," the company wrote in its filing.
Claims disputed
EnergySolutions also disputes NorthStar's claims that it can do the job for less.
Neither company has fully closed a commercial reactor.
EnergySolutions is working on plants in California, Illinois, Nebraska and Pennsylvania as well as a small demonstrator plant in Genoa operated by Dairyland Power Cooperative. Two of the sites — Genoa and Zion, Illinois — are substantially complete, though the NRC has yet to sign off.
NorthStar is currently decommissioning nuclear plants in Vermont and Florida, but those projects are expected to take another 9 to 16 years to complete.
For now, the issue is whether NorthStar should be allowed to participate in the commission's decision to approve the sale, which the company argues would be unusual and imprudent.
"In all other nuclear plant decommissioning projects, the utility owner has engaged in a competitive selection process that leads to selection of the best qualified counter party, including financial and technical capability, with an objective to protect the ratepayer decommissioning funds," NorthStar wrote.
"The Commission should benefit from NorthStar's experience as it considers the fundamental questions of this case. Was nearly a billion dollars of ratepayer money obligated without a competitive bid? And if so, why?"