Equipped with a 4-foot tube, thermometer and clipboard, Arlene and Jeff Koziol headed out to sample the water behind their home on Lake Mendota last week as they had at least once a week for the past three years.
What they found shocked them: A foul green, bubbly scum stretched from the shore to a couple of hundred yards out in the lake.
"I've been around water my whole life," Arlene Koziol said. "I've never seen anything like that in my life."
The Chicago natives, who came to Madison in the '60s for their love of its scenic lakes, are among 80 citizen-scientists who volunteer to check the water quality several times a week. They often serve as the first sentinels to widespread problems such as algae outbreaks that can result in public health warnings and closed beaches.
Now in its fifth year, the Lake Forecast initiative, organized by the Clean Lakes Alliance, also helps boaters, beachgoers and others plan their visits through Lakeforecast.org, which provides up-to-date information including beach status, water clarity and temperature.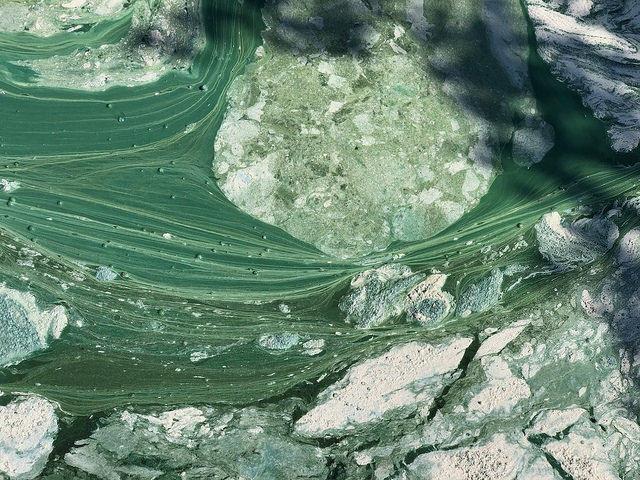 Monitors are trained to note such things as temperature, murkiness and presence of blue-green algae, and are stationed along all five lakes in the Yahara River watershed — Mendota, Monona, Wingra, Waubesa and Kegonsa — including all 25 beaches in the Madison area.
"Prior to Lake Forecast coming on board, we had some middle-of-the-lake monitoring that was being done by the DNR or by the university," said Adam Sodersten, director of marketing and development for the Clean Lakes Alliance.
"The problem is most people don't use the lake in the middle of lake," he said. "They use it at the shore, and the water conditions vary much differently from the middle."
Dave Mikolajczyk is another citizen-scientist who arrives at a pier on Lake Monona at Law Park once a week on a mission.
"I decided I wanted to do something to give back to the community," said Mikolajczyk, an Antarctic meteorologist at UW-Madison.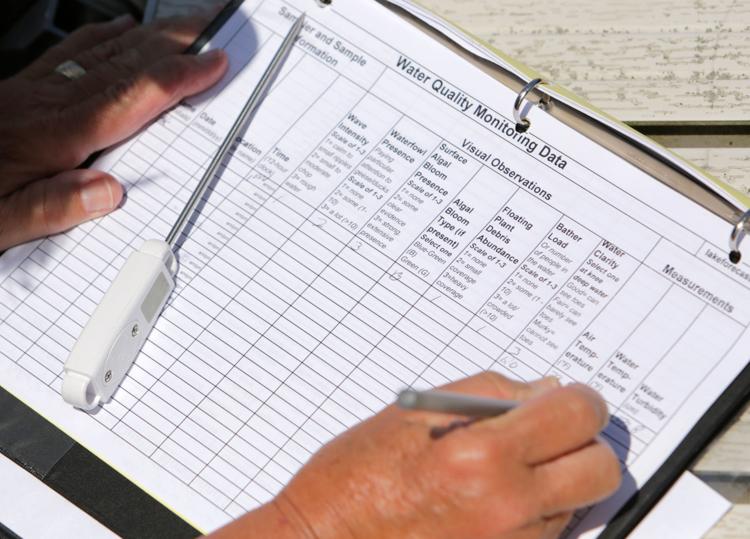 Each week he observes the lake for any blue-green algae, then gets down onto the pier to fill a turbidity tube with water. Mikolajczyk waits for the water to settle, then, to test the water's clarity, he looks for a black and white image, called a Secchi disk.
His routine includes observing the lake's waves, temperature and plant debris, and noting any swimmers or ducks. Mikolajczyk reports his findings on an app on his phone. The information is then uploaded to Lakeforecast.org in real time.
"What we've discovered is that people have a real passion for being a part of this bigger picture, and so they want to have their data uploaded as much as possible," Sodersten said.
Preventing algae outbreaks like the one last week is an ongoing process that involves diverting phosphorus and nitrogen runoff, which washes into the lakes following heavy rains. One pound of phosphorus can cause 500 pounds of algae, Sodersten said.
In 2014, a large algal bloom in Lake Erie caused such high levels of microcystin, a toxin sometimes found in freshwater algae, it left 500,000 people near Toledo, Ohio, without drinking water, according to National Geographic. In 2011, there was a toxic blue-green algae bloom on Lake Mendota near Memorial Union. Toxic algal blooms can cause symptoms such as headaches, rashes, sore throat and harmful effects to the liver and nervous system.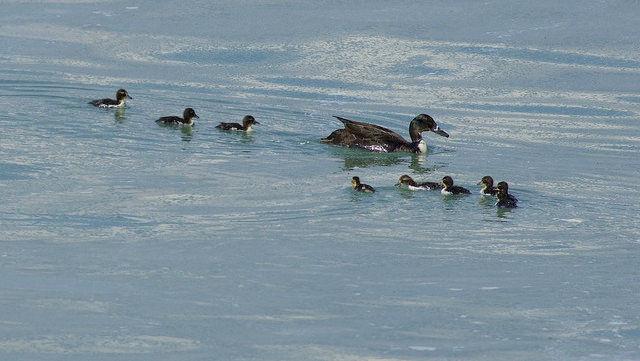 Through the Clean Lakes Alliance's commitment to the Yahara watershed, the Lake Forecast initiative also keeps an eye on invasive species such as zebra mussels and the spiny water flea.
In partnership with Public Health Madison and Dane County, the city of Madison, Dane County and the UW-Madison Center for Limnology, the Clean Lakes Alliance has provided data for other local sustainability efforts as well.
"Our goal is that not only will the data our monitors collect help people plan their beach visits, but also help scientists who study the lakes understand any patterns that develop in near-shore water conditions," executive director James Tye said in a statement.
The citizen-scientists will continue to upload their readings to Lakeforecast.org through Aug. 30.
One day, Sodersten said, he hopes the Lake Forecast initiative would accompany local news weather reports.
Until then, the readings from each monitor are presented in a online video forecast, called the Weekend Lake Report, featuring Sodersten. The forecasts note the best places for recreation and places to avoid.