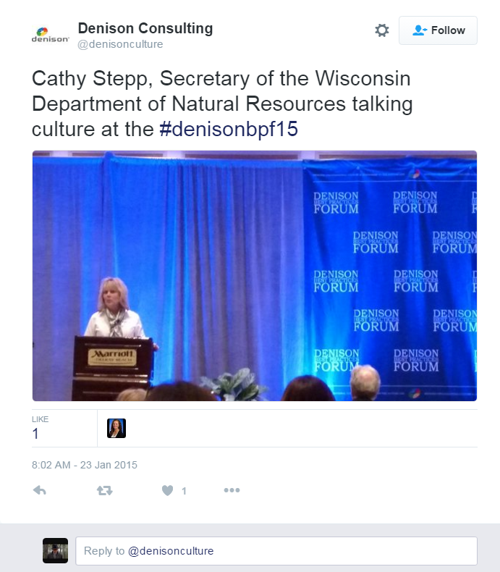 During a 2015 talk at a management seminar in Florida, Wisconsin Department of Natural Resources Secretary Cathy Stepp described the way she felt after she first assessed the department's strengths and weaknesses:
"Oh my god, I wanted to crawl in a hole and not come out for about a week," Stepp said in a videotaped speech.
Before Gov. Scott Walker picked Stepp to run the DNR in 2011, the agency had gone through years of hiring freezes and job vacancies. Stepp said she inherited "very overworked, burned out staff who were mad and frustrated and frankly weren't real politically aligned with our new admin, most of them."
Two former DNR secretaries, Scott Hassett and George Meyer, have taken issue with Stepp's statements in the speech. They said Stepp was incorrect about previous DNR management practices, and they said current and former DNR staff tell them morale under Stepp is worse than ever.
The seminar was sponsored by Denison Consulting, a company that advised Stepp on managing the agency. The Wisconsin State Journal transcribed her talk. Here's an excerpt:
"… many of my employees have been with the agency since the early '80s, late '70s, during some of the Earth Day movements, and have very strong, personal passions of, frankly, an us-against-them mentality, (and it's) difficult to channel that energy into being productive and into partnering with the private sector in order to have economic development and environmental protection at the same time. And that's why we needed Denison's help," Stepp said.
"So I talked about my early perception of the DNR. Again, I was a home builder. I saw them as barricades, hurdles, (saying) 'Here's why you can't do something' instead of 'Here's how you can,' she said.
"So turning our agency from being a prohibiting agency to a permitting agency, which is what I felt strongly we were supposed to be, has certainly been a tall challenge," she said.