A series of public meetings regarding a controversial power line proposal in southern Wisconsin has been canceled as a result of the federal government shutdown.
The U.S. Department of Agriculture's Rural Utility Service is overseeing the federal environmental review of the line between Dubuque and Madison and had scheduled six meetings between Jan. 22 and Jan. 29 at locations along the proposed route.
But the USDA is among 10 federal departments that have been closed since Dec. 22 as Congress and the White House remain deadlocked over $5 billion in funding that President Donald Trump is demanding to build a wall on the border with Mexico.
Those meetings won't happen on that schedule, said Coleman Burnett, project manager with SWCA Environmental Consultants, which is helping coordinate the federal environmental review process of the line, known as Cardinal-Hickory Creek.
"We needed to give people enough notice," Burnett said Tuesday. "We had to make a call over the weekend. We waited as long as we could."
SWCA is a "third-party" contractor, working on behalf of the federal government but paid by the applicants seeking to build the $500 million project, American Transmission Company, Dairyland Power Cooperative and ITC Midwest.
Burnett said SWCA is in the process of sending out notices this week, and that the meetings cannot be rescheduled until the USDA re-opens.
"This is a very unforeseen circumstance," she said.
The government shutdown created some confusion about the meetings, which are still listed on the RUS website. Agency phones went unanswered Tuesday, and outgoing messages indicated furloughed employees do not have access to email or voicemail.
It was not clear what groups or individuals had received the cancellation notice.
The Wisconsin Public Service Commission, the state agency that will determine if the project is necessary and in the best interest of customers, received an email notice from SWCA Monday afternoon saying the meetings were off.
The Environmental Law and Policy Center, which is working on behalf of some opponents, received a slightly different email notice Monday that requested comments be sent to SWCA.
That caught the attention of Mary Gade, a former EPA regional administrator who is working with ELC on the Cardinal-Hickory Creek project.
Gade said contractors should not be doing work without federal supervision, and according to the agency's shutdown plans, employees are prohibited from doing work during while on furlough.
"They're not supposed to be working during the shutdown," she said. "At best it's squirrelly. At worst it's illegal."
The USDA did not respond to questions Tuesday about whether any federal employees were overseeing the contractor.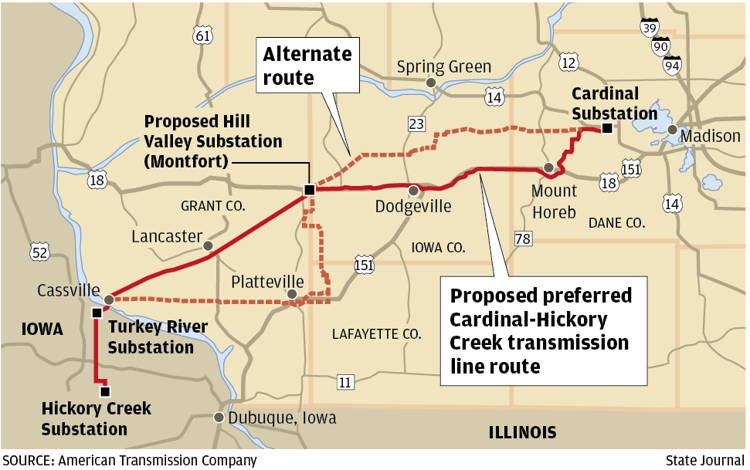 The proposed 345-kilovolt line, which would connect to a substation in Middleton, has generated widespread opposition. A record number of individuals, groups and local governments — including Dane County — have received permission to take part in the state permitting process.
The project owners and some clean energy groups say the line will help deliver low-cost wind energy from Iowa, save Wisconsin ratepayers between $23.5 million and $350 million over the next 40 years, and "create numerous other reliability and public policy benefits."
Opponents, including conservation and environmental groups, say the line is not needed, would support fossil fuel use and damage important conservation areas. They argue Wisconsin consumers would be better served by energy efficiency and local renewable energy projects.
[Editor's note: This story has been updated to correct the name of the The Environmental Law and Policy Center.]
Be the first to know
Get local news delivered to your inbox!