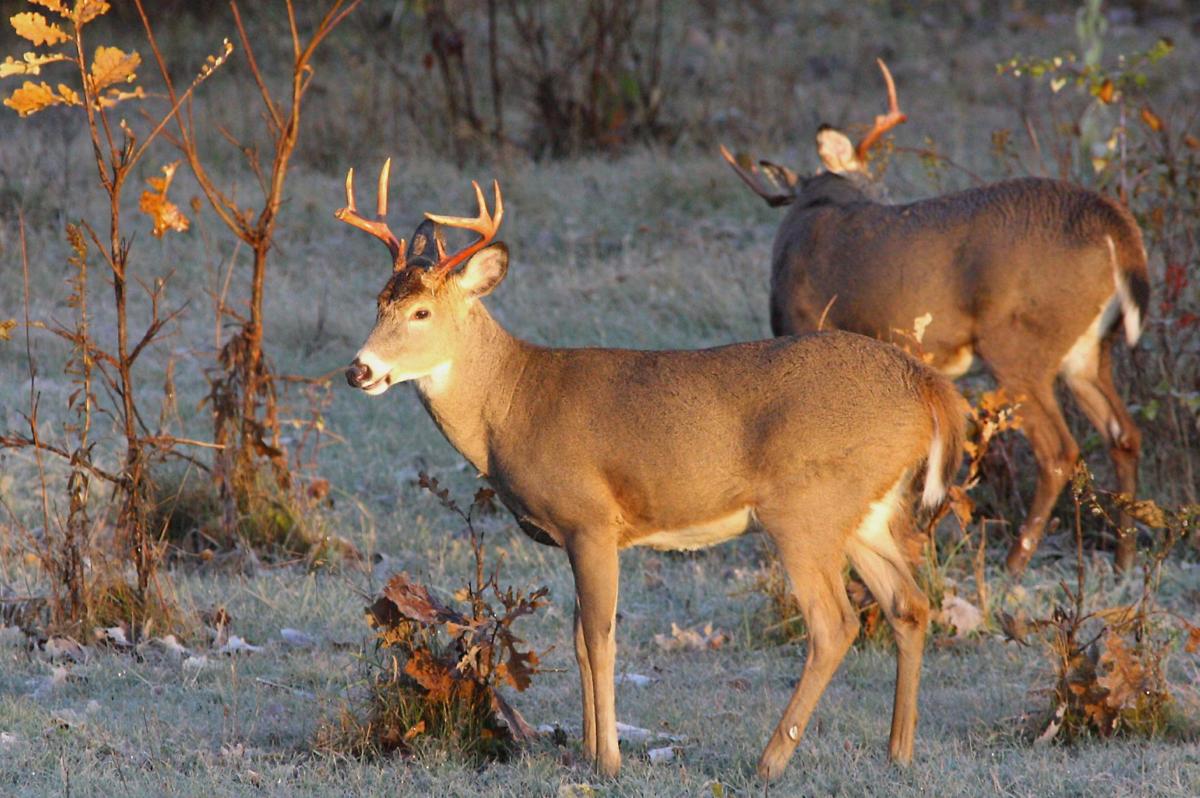 As concerns increase about the spread of chronic wasting disease through Wisconsin's deer herd, new research has found that CWD is deadliest for the animals most valued by many hunters — bucks.
The findings suggest new and more aggressive measures should be used to slow CWD's growth, including eliminating large numbers of bucks in two southern Wisconsin areas with high infection rates, said Mike Samuel, a UW-Madison researcher who co-authored the study published last month.
"We will lose a bunch of these older males anyway, so it makes sense to shoot them and control the disease," Samuel said.
Otherwise, CWD prevalence in the outbreak areas will keep growing, eventually leading to a significant decline in deer numbers and detection of more cases across the state, Samuel said.
But Samuel said he doubts the state will adopt practices to control the disease if they are unpopular with hunters who have seen thinning of the herd in terms of short-term losses of hunting opportunities.
Samuel remembers how hunters successfully fought efforts to thin the herd after CWD was first found in the state in 2002, and he isn't hopeful that attitudes have changed, despite growing awareness of how quickly the disease has spread in the last five years.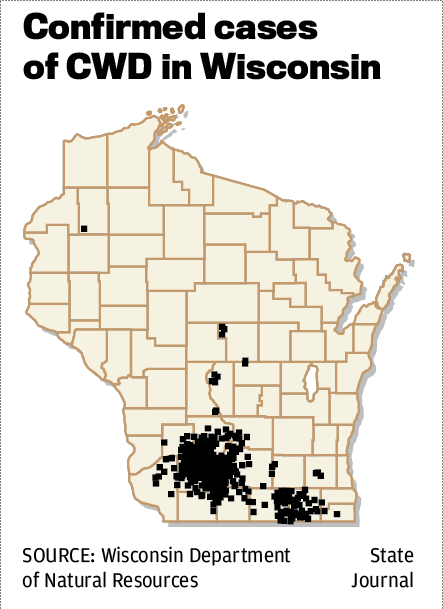 The study conducted jointly by the university and the state Department of Natural Resources found that bucks are much more susceptible to the disease than previously believed.
By applying more accurate technology for tracking the infection in 16,000 deer killed in Wisconsin and Illinois from 2002 to 2011, the researchers also found that CWD shortens the lifespans of infected bucks more drastically than does.
Responding to public opinion and budget cuts, the DNR has adopted a mostly passive approach to CWD.
But as infection rates have reached 30 percent to 40 percent in the core CWD areas and it has turned up in wild herds and in deer farms 100 or more miles away, hunters have begun to express concern.
Gov. Scott Walker has called for additional study of the disease and the DNR has assembled a committee to review existing plans.
Samuel and other scientists recently described for the committee the latest research that has been conducted here and in Western states where CWD has reduced wildlife populations.
Some hunters and deer farm operators continue to say the state should let the disease run its course, but the director of the state's largest organization for outdoors enthusiasts said attitudes may be changing.
George Meyer, the director of the Wisconsin Wildlife Federation, said the state should mount an educational campaign about new research and then ask hunters to weigh the short-term pain of thinning the herd and reducing hunting opportunities in some areas against the prospect of CWD continuing to spread and reducing deer numbers statewide.
"It's strong medicine, but this is a severe illness," Meyer said. "What do you want for your children and nieces and nephews?"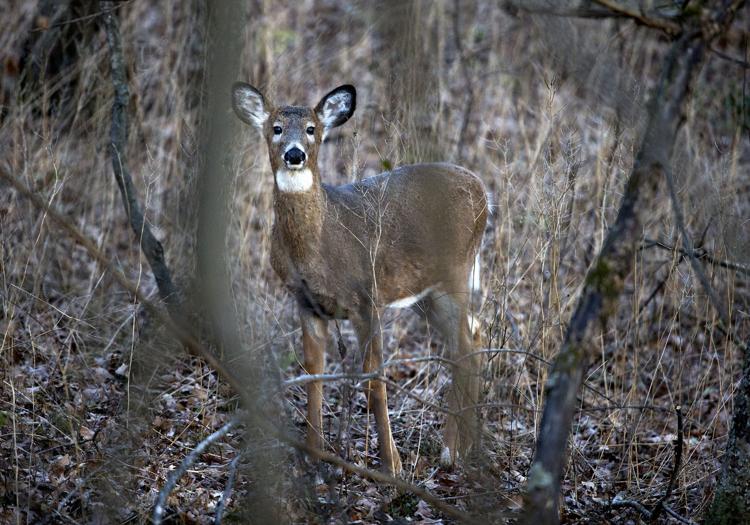 Options to reduce spread of CWD
Samuel said there are several methods — each potentially controversial with hunters — the state should use to slow the disease's spread, including a pilot program to test effectiveness of eliminating bucks within one of the major outbreaks.
He also called for culling yearling deer on the edges of the outbreaks to stop them from carrying the disease to new areas, and eliminating as many deer as possible in a roughly 2-mile radius around any new places where the disease is detected.
To reduce deer numbers quickly in targeted areas, sharpshooters using night vision equipment should be deployed, and in portions of the major outbreak areas the state should allow hunting with guns during the deer mating season, said Samuel, who is based at the university's cooperative wildlife research unit.
In 2002, the state began an aggressive campaign against the disease, but within a few years it softened amid public opposition and reduced funding. But Meyer said concern about CWD has grown.
Samuel said that in addition to gun hunting in core CWD infection areas during rut, the state should also consider quicker and more aggressive efforts to eradicate deer around any new detections.
And yearling deer should be eliminated around the edges of the core infection zones, because young deer moving to new territory are most likely responsible for the disease's spread, Samuel said.
Meyer said many bow hunters would oppose opening their season to firearms, but the level of resistance might depend on how much territory was affected.
In places where CWD is newly detected, deer numbers would need to be kept as low as possible for five to 10 years to make sure the disease was gone, because it takes nearly two years for infected deer to begin showing signs that they are ill.
The CWD pathogen, called a prion, is virtually indestructible. There is no reliable way to wash it away. It can lay dormant in soil.
Samuel said that he is a deer hunter, and would not be happy personally to see herds thinned, but he said people need to remember that deer populations can be restored.
DNR's Bob Nack said the agency is open to changes that are recommended by its Chronic Wasting Disease Response Plan Review Committee, which is scheduled to hold its second meeting on Nov. 14.
He cautioned that any changes to the state's CWD strategy would require time for public comment and detailed review by several advisory groups.
Be the first to know
Get local news delivered to your inbox!