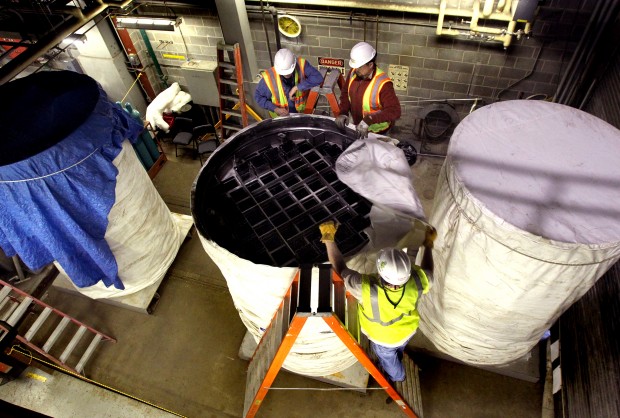 GENOA — A 64-wheel beast of a truck creeped along at just under 1 mph hauling a cask of radioactive waste from a long-dormant power plant to a concrete pad between Highway 35 and the Mississippi River. It was the first of a series of trips it will make this summer in one of the final chapters of the Coulee Region's atomic era.
A quarter century after Dairyland Power Cooperative shut down its La Crosse Boiling Water Reactor, the spent fuel remains. Starting last week and continuing through the summer, workers are transferring the radioactive waste into dry cask storage in a move designed to save the company millions in annual costs.
It's a massive undertaking, more than five years in the planning, and the numbers are staggering.
All told, it will take a crew of 40 people working two shifts a day most of the summer to complete the project. When loaded, each cask will weigh 98 tons and require approximately 3,000 pages of documentation. That's a stack of paper about a foot high. There are more than 500 steps that must be followed. Just to weld a lid on one of the casks workers must follow 120 pages worth of procedures. The cost could reach $45 million.
Nothing is left to chance. There are contingency plans for everything from a power outage to an earthquake.
Workers have completed half a dozen dry runs. Inspectors from the Nuclear Regulatory Commission were on site on and off over the past two years and most of the month leading up to last week's move.
"We don't want any surprises," said project manager Don Egge.
Bill Trubilowicz is in charge of the dry cask transfer. An independent contractor, he began his career as an operator at the Big Rock nuclear plant in Michigan, where he also oversaw the decommissioning. He's spent the last five years preparing for Dairyland's move.
His rule: "Don't hurt anyone, don't drop anything and don't spill anything."