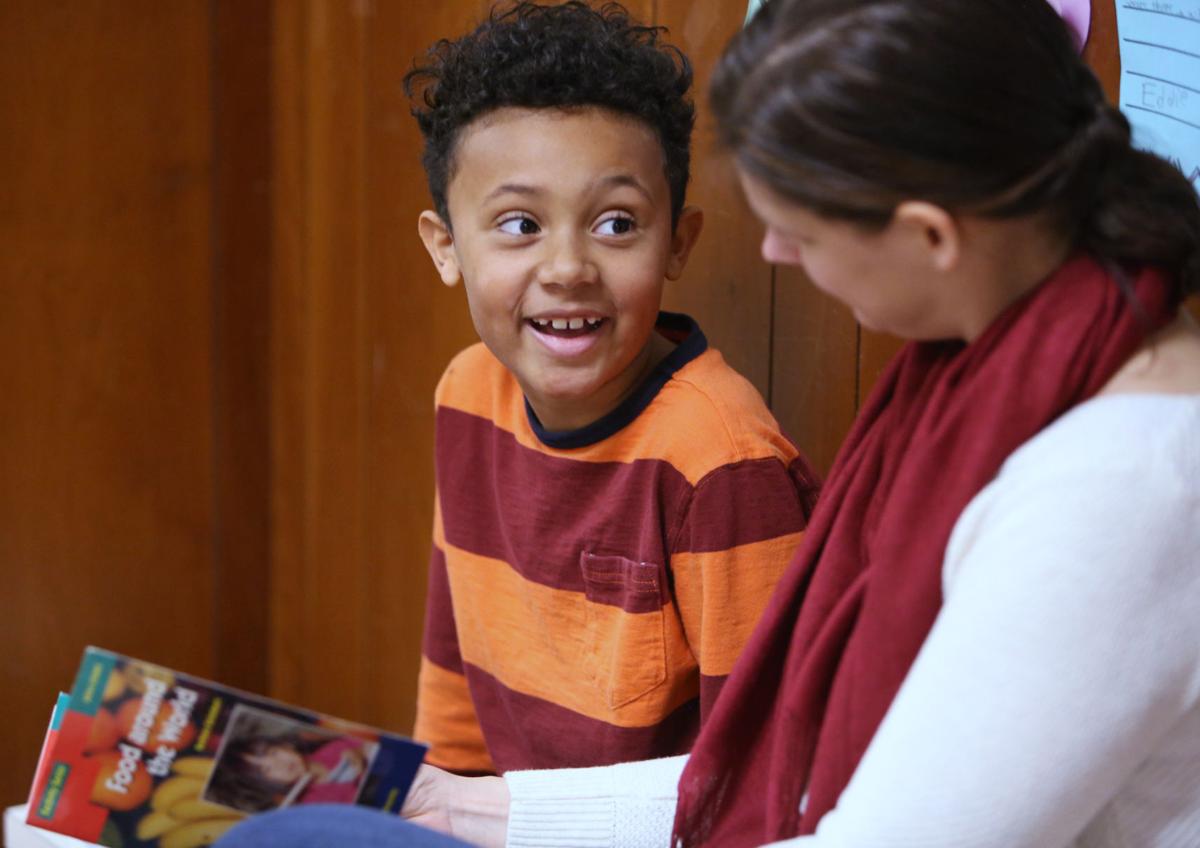 Amid a school year unlike any other, Madison's Schools of Hope tutoring program navigated uncharted waters as its members tutored students online.
The program, launched in 1995 as part of a civic journalism project by the Wisconsin State Journal, the United Way of Dane County and WISC-TV to supplement student learning, is split into two groups: programs aimed at helping elementary school students, managed and funded by the United Way and an AmeriCorps grant, and a middle school program managed by the Urban League of Greater Madison, to serve students in the Madison and Sun Prairie school districts.
Each group tackled unique problems brought on by the COVID-19 pandemic, from finding community volunteers to help the elementary students to figuring out how to best engage middle school students from a distance through online education.
"This is almost an impossible situation, and it's probably not how kids learn best," Emily Greene, director of Schools of Hope for Madison and Sun Prairie elementary schools, said of online learning.
In previous years, AmeriCorps members were embedded in elementary schools to tutor students. They worked closely with school staff to identify which students could benefit from tutoring, and they brought in community volunteers to do that tutoring one on one.
But the COVID-19 pandemic upended K-12 learning for students across both the Madison and Sun Prairie school districts and caused members in the program to reevaluate how they would continue to work with students safely.
"Our approach has always been school-based," Greene said. "We're going to try virtual tutoring and see how that works."
In March, when the COVID-19 virus shut down schools across the state, Schools of Hope spent the first couple of weeks of the pandemic making sure students had access to technology needed to continue learning and to avoid falling behind.
"That was rough," Greene said. "Some of our schools were not at the point where students had one-on-one technology."
Community volunteers were no longer able to help tutor students in most of the schools served by the program, so Greene shifted the program's focus from tutoring to community outreach.
The program amped up its focus on community service amid the pandemic, by obtaining and delivering school supplies to those in need, to help continue their distance learning and supporting food pantries that are connected to schools.
The biggest concern for schools right now, Greene said, is getting supplies and food into the hands of underserved students.
And, among a litany of other COVID-19 related hurdles, recruiting tutors through AmeriCorps for the elementary school program has been a challenge during the pandemic. Schools of Hope started the school year with eight AmeriCorps tutors but their goal was 16.
"We are not where we would like to be. Recruitment was extremely difficult," Greene said in October. The number of schools served by the program was limited as a result, with one AmeriCorps member per school, the program is able to serve half of their goal.
"If we had more AmeriCorps members, we could be serving more schools," Greene said.
Middle school
For middle schoolers, the Schools of Hope program also moved completely online.
Before COVID-19, tutors were placed in the schools to work with middle schoolers face-to-face throughout the day, but now tutors in the program schedule time slots to provide instructional support for their students through video calls, which has made tutoring more difficult.
"Now you've got 30-minute sessions focusing on different areas that the kids need help in, from literacy to math to social emotional learning and to academic development," said Dr. Ruben Anthony, president of the Urban League of Greater Madison. Tutors now have to coordinate times around teacher instruction instead of being present with the student during in-person class time, prior to the pandemic.
The Urban League began to provide online tutoring through Schools of Hope in May, after the pandemic shut down most of in-person learning. With the help of Urban League staff, AmeriCorps members and a few community volunteers they ventured into virtual support for students as the year concluded and summer school began.
The program goal is to support the learning of 800 to 1,000 students between Madison and Sun Prairie schools each school year. But, at the beginning of the 2020-2021 school year, they were serving just over a third of their normal student count.
"This year we're shooting for at least 600 students being supported," said Andrew Schilcher, director of Middle School Programs at the Urban League. He believed the program was on track to exceed that goal by November.
During the pandemic school year, the Urban League relied on teacher referrals to identify students in need of instructional support. This year, a volunteer tutor is assigned to a teacher who then identifies a student in need of help. The volunteer works with the students online during digital breakout rooms, during teacher office hours and sometimes outside of normal learning hours, if needed.
"The big theme is being flexible with our volunteers and how we're engaging to make sure that we're an asset to the schools and not just asking them to redesign what they're doing for us," Schilcher said.
Family support
In March, when the school system and support programs shut down in-person instruction to mitigate the spread of the virus, the Urban League developed a continuity operating plan to maintain student and family support systems as much as possible.
"We know that the services that we provide, not just through Schools of Hope but in general, we really couldn't shut down during these times because these families are going to need us more now than they needed us before," Anthony said.
As online learning began to roll out in school districts across the state, learning team members at Urban League began to reengage with the students who were participating in the program prior to the shutdown, online. Learning support staff with Schools of Hope worked to make sure their students had access to internet service and knew how to connect to their classes digitally.
Once distance-learning and support for those students was squared away, the next problem the Urban League tackled was how to provide social and emotional support to students who were struggling with the transition.
Leading into the summer, Anthony said he became concerned with students losing their initiative for school, so the Urban League developed an online platform for their Science, Technology, Engineering, Arts, and Math (STEAM) Camp and offered a 21st Century Careers program — a paid internship and experiential learning program. Nearly 70 students took part between both programs.
Anthony said a new worry arose knowing the school year would be all or mostly online: Would the students have learning support at home? So the Urban League launched a parent academy to make sure parents are able and ready to provide instructional support at home.
"We have to think about the impacts not on just the child but the whole family," Anthony said. "We're doing what we can do to keep the children on track but also to help parents be able to provide what they need so that the challenges the children have don't get deeper."
[Editor's note: This story has been updated to correct the list of partners involved in launching Schools of Hope in 1995. The program was an outgrowth of a civic journalism project by the Wisconsin State Journal, the United Way of Dane County and WISC-TV.]
---
Photos: How Midwest schools are navigating COVID-19
"If we had more AmeriCorps members, we could be serving more schools." Emily Greene, director of Schools of Hope for Madison and Sun Prairie elementary schools
"If we had more AmeriCorps members, we could be serving more schools."

Emily Greene, director of Schools of Hope for Madison and Sun Prairie elementary schools