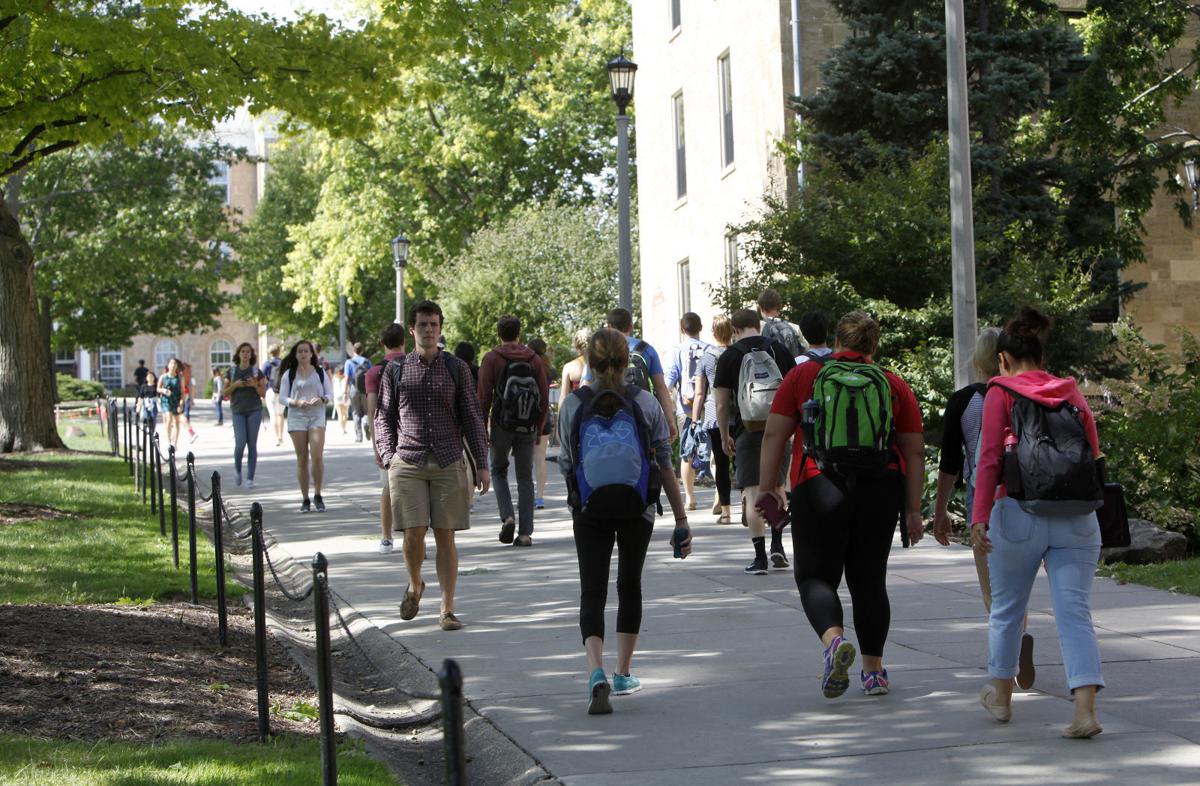 Many University of Wisconsin System campuses are struggling to enroll students amid a downward trend in the number of high school graduates.
Eight of Wisconsin's 13 public four-year campuses saw enrollment decline from last school year, according to preliminary enrollment figures reported Thursday. Compounding the problem for many of those institutions is a recent restructuring that places two-year branch campuses under their umbrella.
The 13 two-year campuses, all of which lost students, collectively saw one-quarter fewer students this year than last. Declines ranged from 11% for UW-Whitewater at Rock County to 58% at UW-Platteville at Richland.
The System has promised that revenue losses for the branch campuses won't affect four-year campuses' bottom lines in the first few years of the restructuring.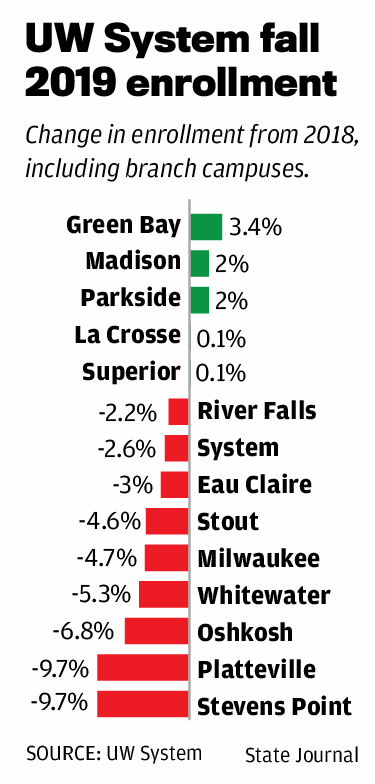 Fewer students mean less tuition money coming into campus coffers. Coupled with cuts in state money during previous budget cycles that college leaders say have not been recovered, campus finances in many places have been strained, prompting staff vacancies that go unfilled, increased employee workloads and suspension of academic programs.
Enrollment at UW-Stevens Point's main campus fell by 531 students, or nearly 7%, from last year, the largest decline among the four-year campuses.
"We knew 2019 would be a tough year, but we have reasons to be optimistic," said Laura Bell, director of UW-Stevens Point's enrollment operations.
Applications are up significantly at all three campuses, and early results show UW-Stevens Point had the highest number of 2020 applications among all UW System schools, she said. This year's graduate student enrollment rose by 50%.
UW-Platteville experienced the second largest decline among the main campuses, losing 509 students, or roughly 6%. University spokesman Paul Erickson did not respond Thursday to requests for comment.
Just three of the four-year campuses experienced enrollment growth from last school year. UW-Madison and UW-Parkside reported 2% increases and UW-Green Bay has nearly 10% more students on its four-year campus.
Enrollment remained steady at two others, UW-La Crosse and UW-Superior.
UW System President Ray Cross said the numbers were not unexpected and in line with a national trend of fewer high school students for campuses to recruit.
"It demonstrates more than ever the need for investing in student success and building the talent pipeline to deliver the graduates Wisconsin needs," he said in a System announcement.
Among all UW campuses, the System had 4,450 fewer students enroll, a 2.6% decline year-over-year.
The number of Wisconsin students graduating from public and private high schools next spring is projected to be the lowest since 1999-2000, according to a report by UW-Madison's Applied Population Lab. That corresponds with a dip in the state's birth rate in 2002 in the wake of a short-lived recession and the Sept. 11, 2001, terrorist attacks.
Enrollment is projected to slightly recover after next school year until 2026 when the state will face an even larger enrollment contraction as babies born during the Great Recession enter college. Since 2008, fertility rates have remained lower despite economic recovery, the report said.