Petting zoos, bouncy houses, dinosaur costumes and cotton candy machines.
All have been or will be on Wisconsin's college campuses this fall and are a critical part of Democrats' strategy to achieve a "blue wave" in Wisconsin — tapping into the 18- to 25-year-old demographic that perennially turns out to vote at a lower rate than every other age group, especially in midterm elections.
The gimmicks vary from campus to campus, but the initial purpose is simply to get students looking up from smartphones on their walks to class.
Students such as UW-Madison senior Nada Elmikashfi then make their pitch: "Hey, are you registered to vote?"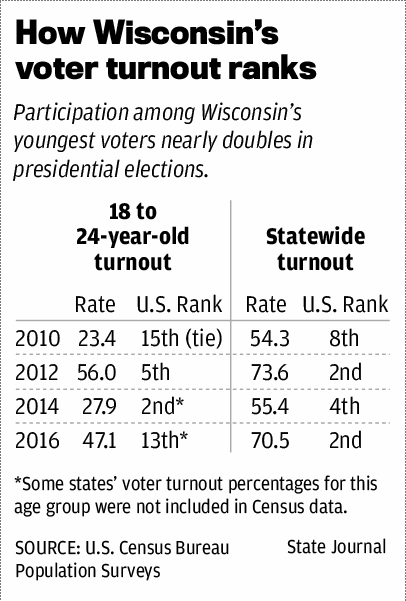 Elmikashfi heads the university's chapter of NextGen America, a liberal group formed in 2017 aimed at engaging students in the political process and registering as many college students, the majority of whom lean Democrat, to vote in the high-stakes Nov. 6 midterm. So far, NextGen numbers indicate more than 45,000 young Wisconsin voters have pledged to vote in November.
The effort is funded by billionaire liberal activist Tom Steyer, who has poured $33 million into mobilizing young voters on more than 400 campuses in 11 battleground states, a campaign NextGen calls "the largest youth organizing effort in American history."
About $2.5 million has gone to Wisconsin, where a staff of 65 are working on 26 college campuses, including six community colleges and eight private schools, to support Democratic candidates in competitive and closely watched races: State Superintendent Tony Evers, who is challenging two-term Republican Gov. Scott Walker; U.S. Sen. Tammy Baldwin, who is being challenged by Republican state Sen. Leah Vukmir; and Randy Bryce, who is running for U.S. House Speaker Paul Ryan's vacant seat in southeastern Wisconsin against Republican Bryan Steil.
Earlier this month, the group added to its list a fourth Wisconsin race, the 6th U.S. House District in the central and eastern part of the state, where they have taken an "active organizing presence" in supporting Democratic challenger Dan Kohl against two-term incumbent U.S. Rep. Glenn Grothman.
And on Friday, the group announced a nearly $300,000 digital ad campaign encouraging young Wisconsinites to vote. The ad will launch Monday and run through the election.
About 58 percent of 18- to 25-year-olds either identify as Democrats or lean toward the Democratic Party, according to a Pew Research Center poll conducted in the first eight months of 2016.
With heated gubernatorial and senatorial elections at the top of the ticket, UW-Madison's Elections Research Center director Barry Burden anticipates the 2018 midterms to garner one of the state's highest youth turnout rates in a generation.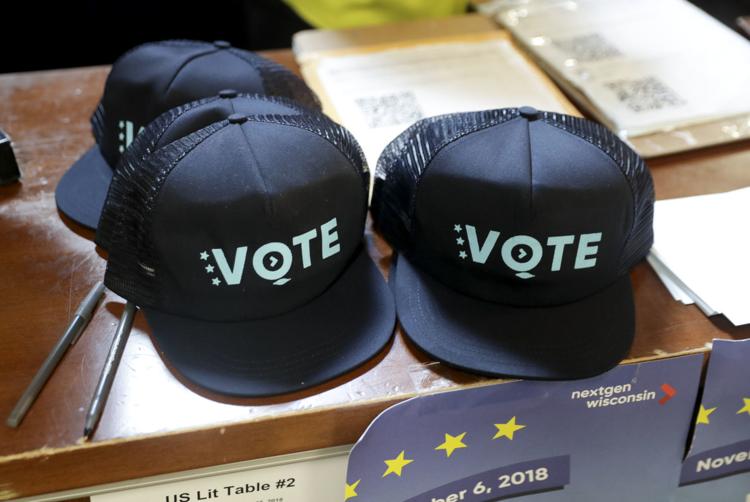 Efforts paying off?
Baldwin got her start in politics as the UW-Madison campus area representative on the Dane County Board.
"I owe my political career to young people," she said at a recent campaign event on campus, encouraging students to show up on Nov. 6.
But not enough of them showed up in 2016, she told the Wisconsin State Journal.
"I think a lot of people looked at what happened in 2016 and said that they assumed an outcome that didn't take place," she said in an interview.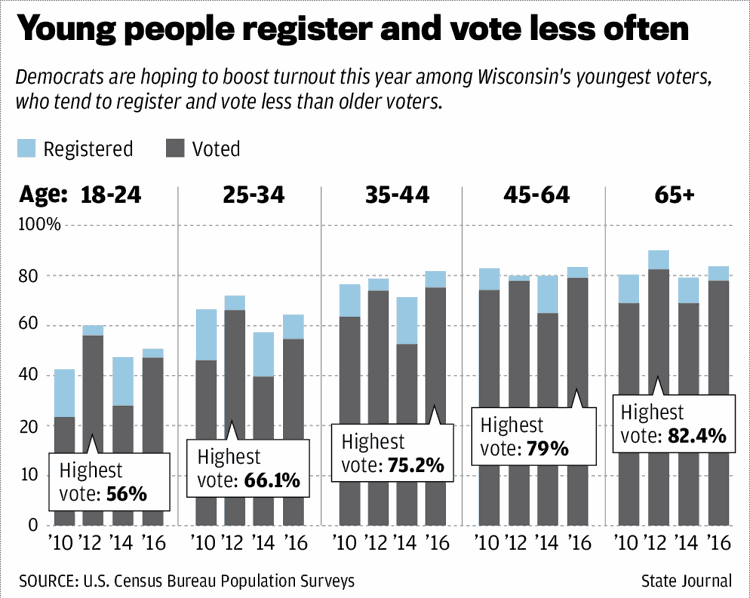 Wisconsin's youth turnout rate dipped below 50 percent in 2016, something that hadn't happened in either the 2012 or the 2008 presidential election.
Census data shows at least a 20 percentage point difference in turnout between Wisconsin's youngest voters and those 45 and older in the last four elections.
From Aug. 15 through Wednesday, the Madison city clerk's office tallied more than 4,600 registrations from people under the age of 25. That's a little more than half as many registrations recorded for that age group in the same time period leading up to 2016 election.
It's unclear if those registration numbers are on par with the last midterm election. Upgrades in the city's software after 2014 make that comparison difficult to draw, city officials said.
As of mid-September, UW-Madison issued voter ID cards to nearly 6,750 students, well ahead of the number of cards issued as of the eve of the 2016 election, according to university spokeswoman Meredith McGlone.
Donald Trump's presidential victory two years ago and actions he has taken in office have energized many college students, including Elmikashfi, who worked full-time over the summer on voter registration efforts.
"The way the administration has conducted itself, it's shown us that we don't have the privilege of not focusing on politics anymore," said Elmikashfi, a Muslim who immigrated to the U.S. at age 6.
"There's a lot to lose and that's definitely pushed people to say, 'Hey, it's a privilege not to worry about politics.'"
The College Republicans of UW-Madison have approached the 2018 midterms a bit differently.
Because several other student organizations are actively registering voters, the group doesn't focus its efforts there, according to club chairman Charlie Mueth.
The group prefers to dedicate its time and resources to expanding its club membership and promoting its ideology, Mueth said.
You have free articles remaining.
Register for more free articles
Stay logged in to skip the surveys
"If we get them engaged, those are the people who are going to be voting," he said.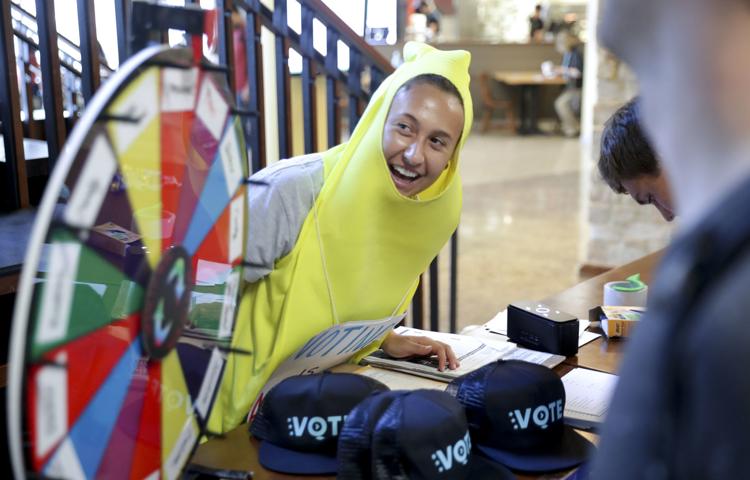 'Voting is apeeling'
On Sept. 25, National Voter Registration Day, Maia Berlow wore a banana costume for 7 1/2 hours and a sign taped to her stomach that read, "Voting is apeeling."
Standing at a voter registration table in Union South, Berlow reminded UW-Madison students, "Don't let the election slip your mind!"
Berlow, one of NextGen's field organizers focusing on UW-Madison, was joined that day by another NextGen organizer who wore a dinosaur costume. The punchline passed along to students: Get politicians with prehistoric policies out of office.
NextGen threw a voter registration carnival at UW-Green Bay and lured UW-Whitewater students with root beer floats.
At the registration tables, students use their smartphones to scan a QR code, which identifies if students are already registered to vote, if their address needs to be updated or if they need to start the registration process.
Students fill out a pledge card with their contact information, so NextGen can follow up and send them reminders as the election nears. The card includes a list of hot-button topics that students could check off as the issues impacting their ballot decision.
According to NextGen, the cost of college was the most selected issue and access to affordable health care came in second among student concerns.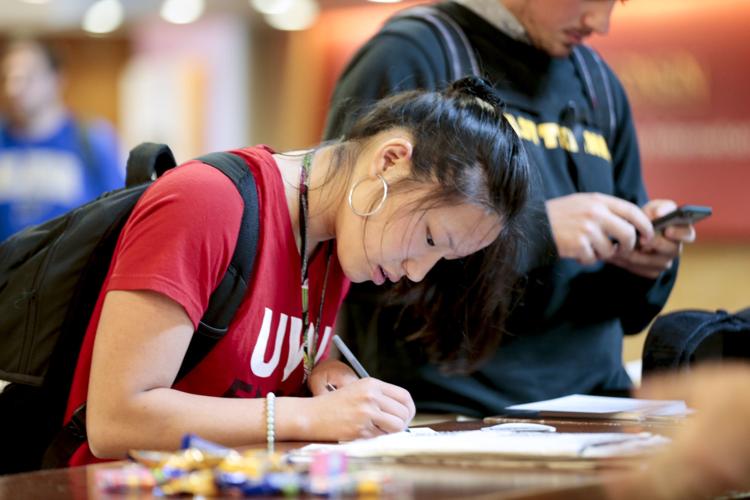 Lewis Gross, a 22-year-old graduate student studying nuclear engineering, was one of more than 50 UW-Madison students who registered at NextGen's table on National Voter Registration Day, according to organization data.
Driving Gross to the polls this midterm was the controversy surrounding Trump's nomination of Judge Brett Kavanaugh to the U.S. Supreme Court and the realization that U.S. Senate elections could impact future nominees' prospects.
"That matters," he said of Supreme Court nominations. "Those decisions are going to affect us the longest. I'm wasting (my right to vote) if I don't."
Voting barriers
2016 marked the first election in which a new voter ID law, passed in 2011 but delayed by court challenges, took effect. It required voters to have a Wisconsin-issued photo ID, a change that created obstacles for out-of-state college students living in Wisconsin or Wisconsin students lacking a driver's license or passport.
Some colleges produce campus-issued student IDs that are compliant for voting, but Wisconsin's flagship university isn't one of them.
Instead, UW-Madison students could obtain a free ID anytime at Union South's Wiscard office. The university also had a second voter ID distribution site at the Gordon Dining and Event Center on Election Day, and is looking to add one or two more places in the 2018 election.
Burden, the UW-Madison political science professor, called the voter ID law "a mixed picture" on campus in 2016 with lines of students trying to obtain a valid ID.
University officials do not dispute the lines on Election Day, but said the traffic was "quite manageable." That's because nearly 90 percent of the 7,300 voter IDs UW-Madison issued to students came before Election Day, according to spokeswoman McGlone.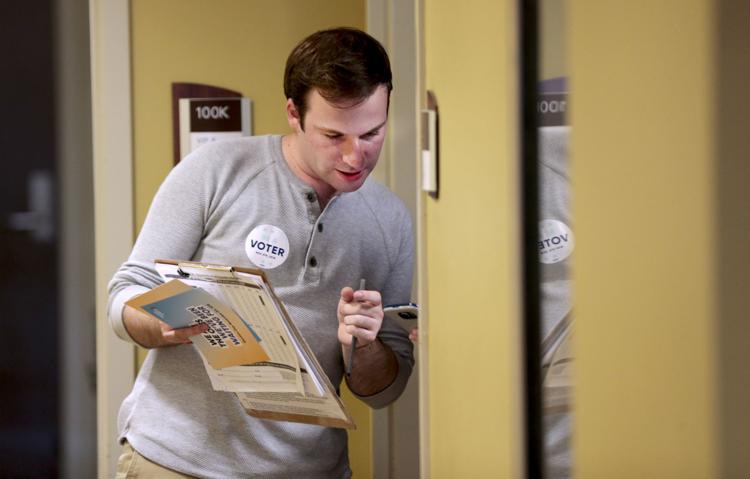 Even so, "Wisconsin had some of the worst voting conditions for students in 2016," said Nancy Thomas, director of the Institute for Democracy & Higher Education at Tufts University.
Thomas' group compiled confidential reports on individual institutions' voter turnout rates in the 2012 and 2016 election.
UW-Madison elected to make their report public, which showed in-person election day voting dropped from 67 percent in 2012 to 49 percent in 2016.
The university's absentee voting rate significantly increased, from 29 percent in 2012 to 45 percent in 2016, a sign that Thomas said illustrates "how hard the institution must have tried, and the students must have tried," to make their voice heard.
And UW-Madison is trying even harder this year. The university's nonpartisan voter education campaign began in June and has more administrators involved in and coordinating among departments than in past elections, according to Morgridge Center for Public Service assistant director Megan Miller.
UW-Madison is also competing against peer institutions in the Big 10 Voting Challenge to see which school gets the most votes.
One of theirs will come from Liam Dolan, a 19-year-old sophomore from Mukwonago. This will be his first time voting in a general election.
"If I don't vote, I shouldn't have a say in complaining about the country," he said. "There's this stereotype that we don't get out there and vote. I want to change that."