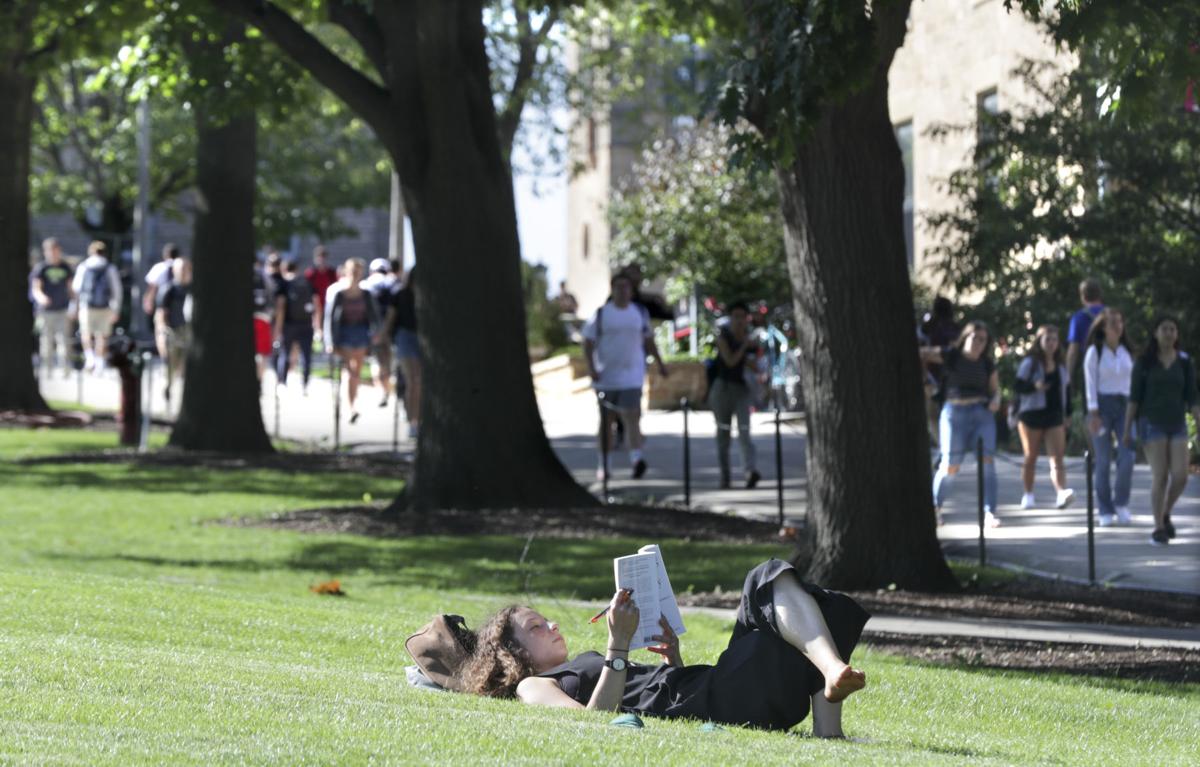 Wisconsin residents make up a bare majority of freshmen at UW-Madison this year, the smallest percentage of in-state students the university has enrolled in at least 25 years.
The incoming class includes a record-breaking 7,550 students, 50.3% of whom are from Wisconsin.
That's a 3.1-percentage-point drop from last year's incoming class and an even steeper decline since the late 1990s and early 2000s, when two out of every three freshmen were Wisconsin residents, according to a Wisconsin State Journal analysis of enrollment reports.
But looking at raw numbers, the 3,797 students from Wisconsin represent the second-largest number of resident students in the last decade and the fourth-largest in the last 30 years.
Complicating the admissions puzzle is the state's declining number of high school graduates. There are 13 University of Wisconsin System campuses across the state, along with dozens of private institutions, all of whom are competing to recruit a shrinking pool of in-state applicants.
"We take very seriously our role as the flagship of the state of Wisconsin," said Steve Hahn, UW-Madison vice provost of enrollment management.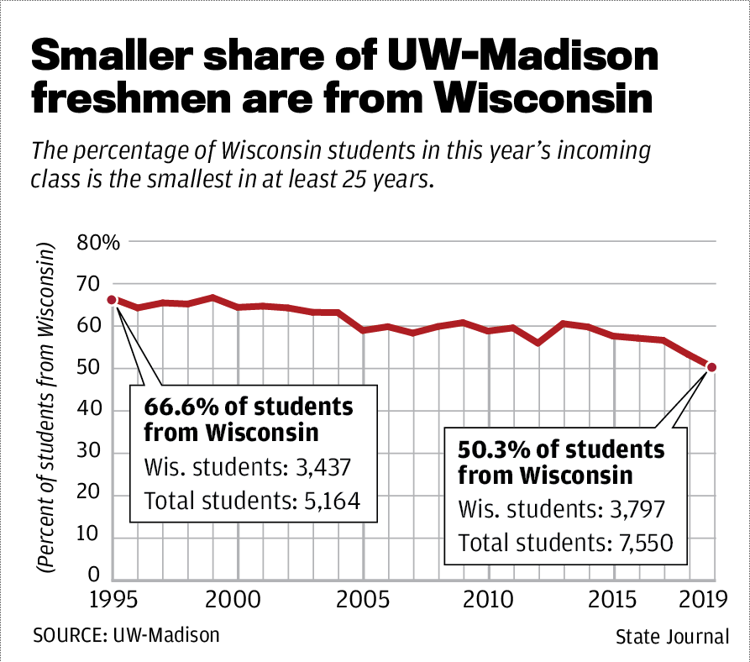 UW-Madison admitted nearly 68% of Wisconsin applicants this year and just over 51% of non-resident applications, he said.
UW-Madison professor Eric Grodsky, who studies inequalities in higher education, said the university's higher admission rate for residents than nonresidents indicates that UW-Madison is not denying access to in-state students.
"Here's the challenge for the university: When the budget gets cut and tuition gets (frozen), the question is how do we maintain the drive for excellence at the university, which is expensive, with the commitment of the university to serve the students of the state?" he asked. "That's what a lot of universities have tried to navigate, including ours."
You have free articles remaining.
The UW System Board of Regents approved UW-Madison's 2015 request to lift the 27.5% cap on new students who can come from outside Wisconsin and Minnesota. In place of the cap, the university is required to enroll at least 3,600 state residents in each class from 2016-17 through 2019-20.
The change made four years ago is now up for review. UW-Madison must submit to the board in December a report describing admissions, enrollment and other outcomes from the change, according to 2015 meeting minutes.
Critics of the policy argued at the time that the change from a fixed percentage to a minimum raw number limits access for Wisconsin students, paving the way for UW-Madison to increase tuition revenue by enrolling more out-of-state and international students who pay a tuition rate more than three times higher than Wisconsin students.
The number of freshmen hailing from outside Wisconsin or Minnesota has grown from 2,034 in 2015 to 2,444 in 2019.
UW-Madison Chancellor Rebecca Blank and UW System President Ray Cross pushed for the plan at the time, saying it is necessary to meet Wisconsin's workforce needs as the number of working-age adults and high school seniors in the state is projected to decline in coming years.
Hahn said demographics played a role in the shrinking percentage of in-state students. He also said this year marked an improvement in the strength and yield rate of the university's nonresident applicant pool. Yield rate refers to the number of students accepted who choose to enroll.
"More students said yes to us than we were historically trending," he said. "That's the reason for the large class we're seeing."
Hahn said he expects next year's class to be made up of at least 50% in-state students.
Nearly 850 of this year's in-state students received full tuition through Bucky's Tuition Promise, a scholarship for residents whose families make less than the state median income. That's up from 796 in the scholarship's first year, but about the same percentage of students.