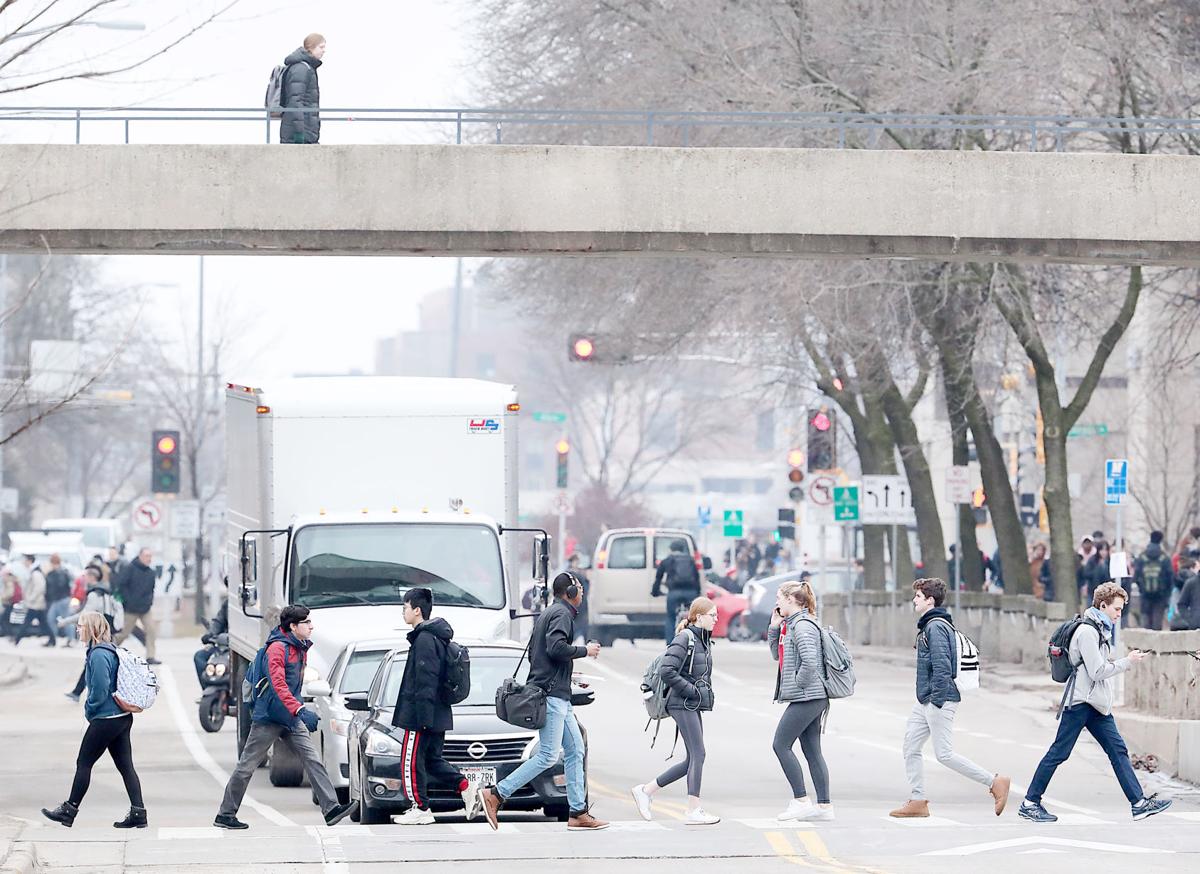 Few states controlled tuition at their public universities as tightly as Wisconsin has done in recent years and the handful that did offset the squeeze with some additional state money, according to a new report released Tuesday.
The nonpartisan Wisconsin Policy Forum examined in-state tuition rates at 34 public universities identified as peer institutions to UW-Madison and found "striking differences" between Wisconsin and the other schools that also saw tuition controls imposed after the Great Recession.
After several decades of rising tuition rates, the Republican-controlled Legislature and then-Gov. Scott Walker in 2013 froze tuition for resident undergraduate students attending a University of Wisconsin System campus. The strategy has led to savings for students in the eight years it's been in place. Since 2014, researchers found debt load declining for UW students graduating with bachelor's degrees.
But there was a tradeoff. The freeze has hamstrung campuses that are contending with rising costs and created concerns about maintaining the quality of a UW education. It also incentivizes enrolling more out-of-state students.
Three other universities — the University of Washington-Seattle, Florida and Purdue University — voluntarily decided to control tuition or supported legislative efforts to do so in recent years, the report said. Those schools, however, received some funding increases to make up for the tuition revenue losses:
Washington-Seattle received a 66% increase in money from 2013 to 2018, the largest boost among the 35 schools studied by the Wisconsin Policy Forum.
Florida saw a 57% increase in funding, the fifth-largest in the group.
Purdue received a 6% increase.
UW-Madison, meanwhile, saw a 7% cut in state money during that time period — the largest drop in the group of 35 schools. The decrease was even larger, 11%, on a per-student basis because the university increased its enrollment during that time.
UW-Madison Chancellor Rebecca Blank, in an interview with Wisconsin Public Radio last week, voiced her support for lifting the tuition freeze. She said other Midwestern universities have increased in-state tuition by as much as 20% over the past eight years and noted that UW-Madison has scholarships available for low-income families who could otherwise not afford to enroll.
"But for higher-income families, comparing us to other equivalently good schools, we're cheaper than most of them," she said. "You shouldn't give away your goods at the cheapest possible price. What you should do is charge a reasonable price and discount for all of those people you want to have there and for whom the price is a little high."
But the shaky economic landscape caused by COVID-19 led the System to decline to ask for a lift of the tuition freeze in the agency's 2021-23 state budget request.
Instead, interim System President Tommy Thompson wants nearly $100 million to extend Bucky's Tuition Promise, a UW-Madison scholarship program, to other campuses. The scholarship covers tuition for Wisconsin students whose families earn less than $60,000 a year.
Thompson also asked in the budget request for the authority to borrow up to $1 billion to cushion some of the financial blow coronavirus has brought to campuses. The UW System is unique in its lack of an ability to borrow, which is particularly challenging during the pandemic because campuses are facing cash-flow problems.
The report found all other states authorize at least some borrowing by a public university, university system or higher education board. UW-Madison is the only Big Ten institution that cannot manage its own construction projects and must rely on the state Building Commission.
Thompson said his budget request will "enable us to come back even stronger from this incredibly challenging pandemic."
"Even as state funding has decreased and tuition has been frozen and lagged our peers, the UW System retained and graduated more students, in faster time, with less debt, while generating talent in highly coveted fields," he said in a statement. "Our graduates increasingly work, raise families, and contribute to the economic growth here in Wisconsin. Simply put, the UW System is Wisconsin's greatest asset other than its people."
Badgers United, a nonprofit that advocates for UW-Madison and a lifting of the tuition freeze, commissioned the report released Tuesday. Research was conducted independently and the group had no influence over the findings, according to Wisconsin Policy Forum communications director Mark Sommerhauser.
---
Fave 5: Higher education reporter Kelly Meyerhofer shares her top picks of 2020
Fave 5: Higher education reporter Kelly Meyerhofer shares her top picks of 2020
The first story I wrote this year was about a two-legged dog. 2020 only got more weird from there.
In early March, I sat in a room with about a hundred others listening to UW-Madison Chancellor Rebecca Blank brief professors on how the coronavirus might affect campus operations. During the Faculty Senate meeting, she encouraged instructors to consider what classes or meetings could be delivered online.
"We have no idea quite what may be coming, if anything," she said on March 2.
Oh, how quickly did the world change. 
It's been a privilege to bear witness to all of the seismic changes 2020 brought to college campuses, most of which I reported from my kitchen table (OK, and sometimes my couch). I'm grateful to the State Journal's subscribers who help support my job as one of the few higher education reporters in Wisconsin. The five stories listed below were some of my favorites, but you can find the 172 other stories I've written so far this year here.