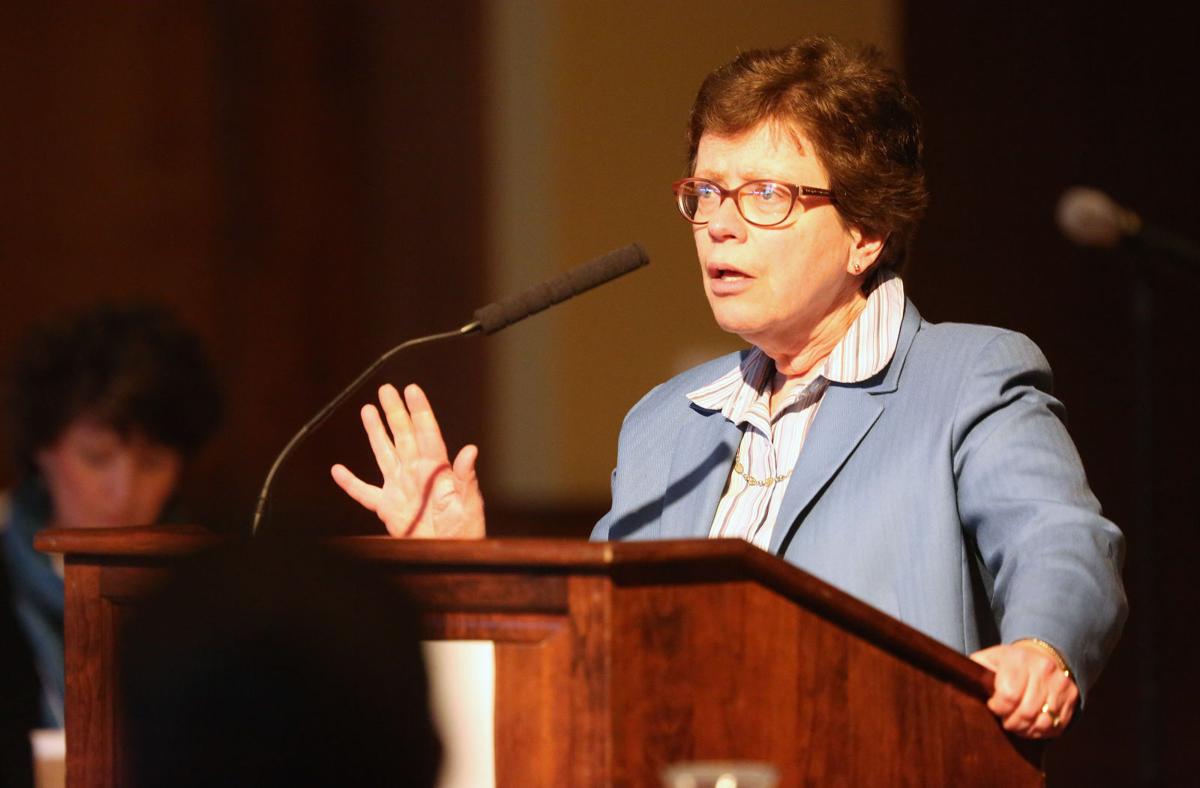 UW-Madison Chancellor Rebecca Blank had a two-part pitch for Foxconn executives when she chatted with them during a dinner at the governor's mansion earlier this month.
First: Her university could play an important role in training the workers who would fill Foxconn's facility, Blank told them. And second: Its status as a research powerhouse — particularly in medicine and engineering — could boost the company's ambitions in the field of medical imaging.
Now that Wisconsin has succeeded in wooing Foxconn, Blank and others are working to do something similar by developing research partnerships with the Taiwanese electronics giant that could pour new funding into UW-Madison.
"My main message was: There is a world-class university in Madison, Wisconsin," Blank told the Wisconsin State Journal, recounting her informal talks with Foxconn officials. "If you came to this state, there are many ways in which we can help you do your work even better."
There is much UW-Madison does not yet know about what Foxconn's plans — which call for a $10 billion investment and a massive plant somewhere in southeastern Wisconsin where up to 13,000 workers will assemble liquid-crystal display panels — will mean for the university.
Gov. Scott Walker told WTMJ-AM on Thursday that institutions will need to "start training people now" for jobs at the facility, which is scheduled to open in 2020 and will be aided by a state incentive package worth up to $3 billion.
"We're going to start doing programs specifically targeted towards getting the workforce they're going to need," Walker said.
Wisconsin Technical College System spokesman Conor Smyth said the schools that surround the area where the facility is expected to go — Gateway, Blackhawk, Waukesha County and Milwaukee Area technical colleges — already offer advanced manufacturing programs.
Smyth said he expects the colleges will use those programs as a foundation, and supplement them with courses tailored to Foxconn's needs. Technical colleges regularly work with businesses to develop curriculum to train prospective employees.
In talks with Foxconn executives and state officials, Smyth said, "The discussion was really about, 'Are we ready?' And the answer was that we were."
Blank said UW-Madison officials will need to know more about Foxconn's plans to determine what new courses or programs will have to be developed.
"That's the next round of conversations," she said.
UW will face competition
for research funds
Blank said there are good prospects for collaboration between the company and UW-Madison, as well as other engineering programs at UW's Platteville and Milwaukee campuses.
Much like the competition between states for the new Foxconn facility, though, Blank acknowledged UW-Madison will have to convince company officials that it deserves those research partnerships over other institutions.
"They could go to any university across the country and create collaborations if they wanted to," she said.
Along with the benefit of being geographically close to the proposed plant site, connections between Foxconn and UW-Madison's Carbone Cancer Center could give the university a leg up.
Foxconn and its CEO, Terry Gou, have been major donors to National Taiwan University and its cancer center. That center is led by Dr. Ann-Lii Cheng, who studied at UW-Madison for two years at the same time as Dr. Howard Bailey, who now runs the Carbone Cancer Center. The two are still friends and colleagues, said Susan Lampert Smith, a spokeswoman for the center.
Officials from Foxconn's medical group met with Bailey and other Carbone researchers on July 11 to discuss "collaborations that would benefit both institutions," Smith said. Cheng also joined Gou for a tour of Wisconsin and other states earlier this summer.
In another connection, Doug Albregts, CEO of the television maker Sharp, which Foxconn acquired last year, is a UW-Madison alumnus.
"They have a strong interest in imaging devices and we have a very, very strong group in that area," Blank said. "The opportunities for research collaborations with the medical school and the engineering school are very strong."