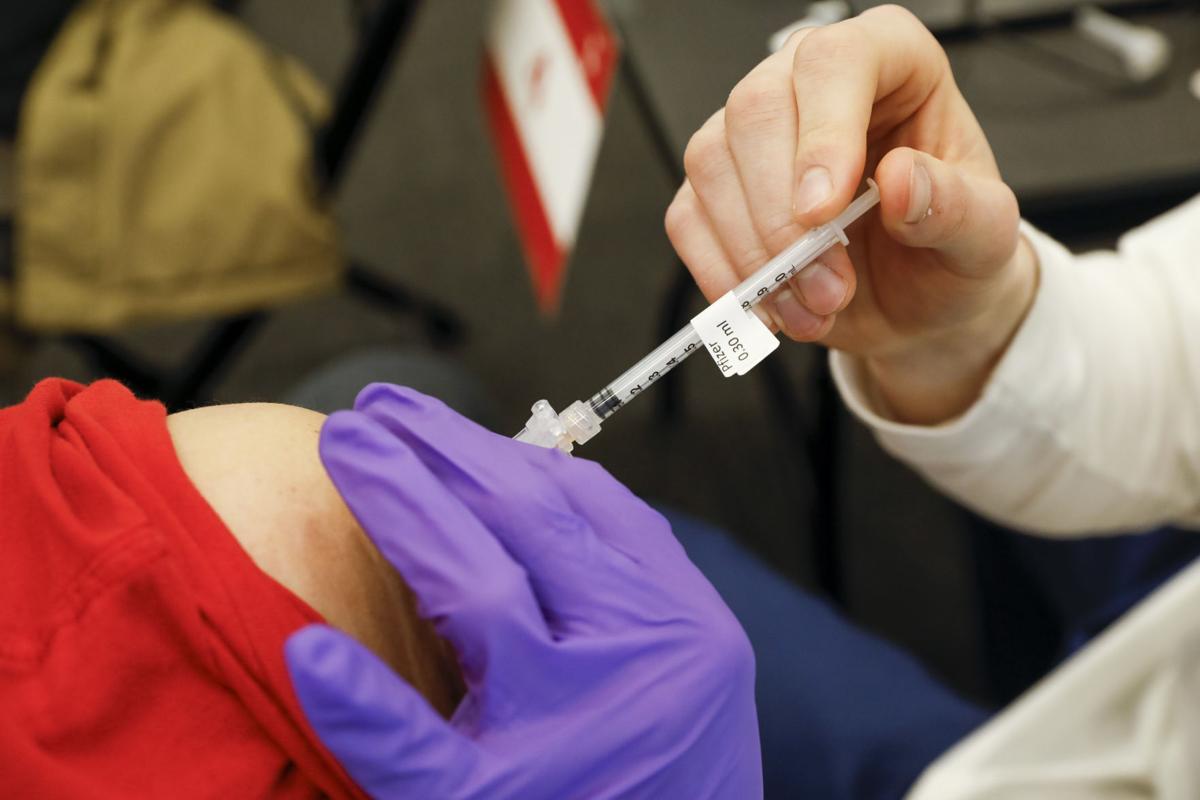 Student vaccination rates at Wisconsin's public universities range widely from 91% at UW-Madison to 38% at UW-Parkside, according to figures released Friday.
The data offers the first complete picture of COVID-19 vaccination rates across the University of Wisconsin System, which has encouraged but not required students and employees to get the shot. The approach differs from at least half a dozen private universities and colleges in the state that are requiring vaccination.
The System's stance against vaccine mandates has frustrated some faculty members, many of whom worry about returning in person to teach in mostly aging buildings that they describe as poorly ventilated. They believe a mandate would provide a much safer learning environment.
COVID-19 mitigation measures in place at System campuses include an indoor mask mandate and, at most campuses, required weekly testing for unvaccinated individuals.
The percentage of fully vaccinated students as of Wednesday are:
UW-Madison: 91%
UW-La Crosse: 75%
UW-Milwaukee: 74%
UW-Eau Claire: 69%
UW-Whitewater: 64%
UW-Oshkosh: 61%
UW-Stout: 58%
UW-Green Bay: 55%
UW-River Falls: 55%
UW-Superior: 50%
UW-Platteville: 47%
UW-Stevens Point: 46%
UW-Parkside: 38%
University officials caution that the rates will continue to increase. For example, some students only recently got the shot after returning to campus.
The System launched a "70 for 70" campaign that awards $7,000 scholarships to 70 students who get the shot and attend a campus that reaches a 70% vaccination rate.
Sometime after Oct. 15, the deadline by which students must receive their full series of shots, schools that meet the 70% goal will hold a drawing to randomly select winners of the scholarships. Winners must provide proof of their vaccination status.
Enrollment determines how many awards each school receives, though if a campus doesn't meet the 70% threshold, their share will be divvied up among the other schools.
Most campuses are also offering their own prizes in addition to the System's campaign. For example, UW-Milwaukee is holding weekly drawings for vaccinated students to win laptops, Brewers tickets, Summerfest passes and gift cards.
How each campus calculates its rate also varies. UW-Madison verified its data through on-campus vaccination records and submitted documentation of off-campus vaccinations. Others have asked students to self-report.
System spokesperson Mark Pitsch said he anticipates the dashboard to be updated weekly.
6 lives disrupted: How COVID-19 changed Madison
The torrent of disruption to daily life over the past year has been inescapable.
Calendar squares filled with weddings and events cleared. Vacations vanished. Schools shuttered and hand sanitizer was in short supply. We learned new words, like social distancing, herd immunity and doomscrolling. 
COVID-19 affected every person, every family. It's taken nearly 6,500 Wisconsinites from us, including 278 in Dane County.
Here are six stories from people whose lives and jobs changed over the past year.