A reveler at Saturday's Mifflin Street Block Party threw a metal fence post through the front windshield of a white sedan, bringing the tally of damage during the event to at least two vehicles.
Lea Wheeler, 22, who graduated from UW-Madison last May, identified the Toyota Camry in a video shared on social media as hers.
"It's appalling," Wheeler said. "I'm surprised that people would think that it's OK to do that to other people's cars, damage people's property. I don't know if they think that they were being funny or cool or something, but the fact that it's going to be probably, if not over, $3,000 is ridiculous to me."
Wheeler said she filed a police report and hopes Madison police catch the young man who thrust the fence post through her windshield. But she said she's also "a little frustrated" with how Madison police handled the incident.
"I want to know how (police) didn't notice people standing on my car, and potentially do something to stop them from standing on my car," she said. "I don't know why they weren't doing their job."
Ahead of the annual event, Madison police pledged "strict enforcement" of a public health order requiring people to physically distance themselves outdoors, but so far only four citations have been issued for the event that drew thousands.
"We just hope the event doesn't lead to an increase in (COVID-19) cases," city-county health department spokesperson Morgan Finke said, referring other questions to police.
Police spokesperson Gracia Rodriquez said on Monday that the department wasn't granting interview requests, nor did she respond to questions about staffing levels and enforcement decisions. She said the department is tallying the citations officers issued to people who were released at the scene.
Madison police have already identified the individual suspected of damaging another car. A young man is seen in a video stomping the front windshield of an SUV. That investigation is ongoing.
UW-Madison has opened investigations into "several" students for conduct violations but officials declined to specify how many.
UW-Madison Police had three officers patrolling Downtown alongside city police on Saturday afternoon, spokesperson Marc Lovicott said. Those officers helped block adjacent alleyways to prevent more people from joining the party.
Around 4 p.m., city police asked nearby police departments for additional help to break up the large crowd, he said. By the time more UW-Madison police arrived on scene, however, the crowds had thinned and officers were fairly quickly released.
Event decried
Student activists blasted their peers for packing the event during a pandemic.
"You put the ENTIRE community of Madison at risk for a glorified tailgate," the BIPOC Coalition, which represents UW-Madison students of color, said in a tweet.
The group also took aim at city and university police for what they saw as standing by as property was damaged, pointing out that officers last summer at times used tear gas and pepper spray when those protesting against racial injustice damaged property.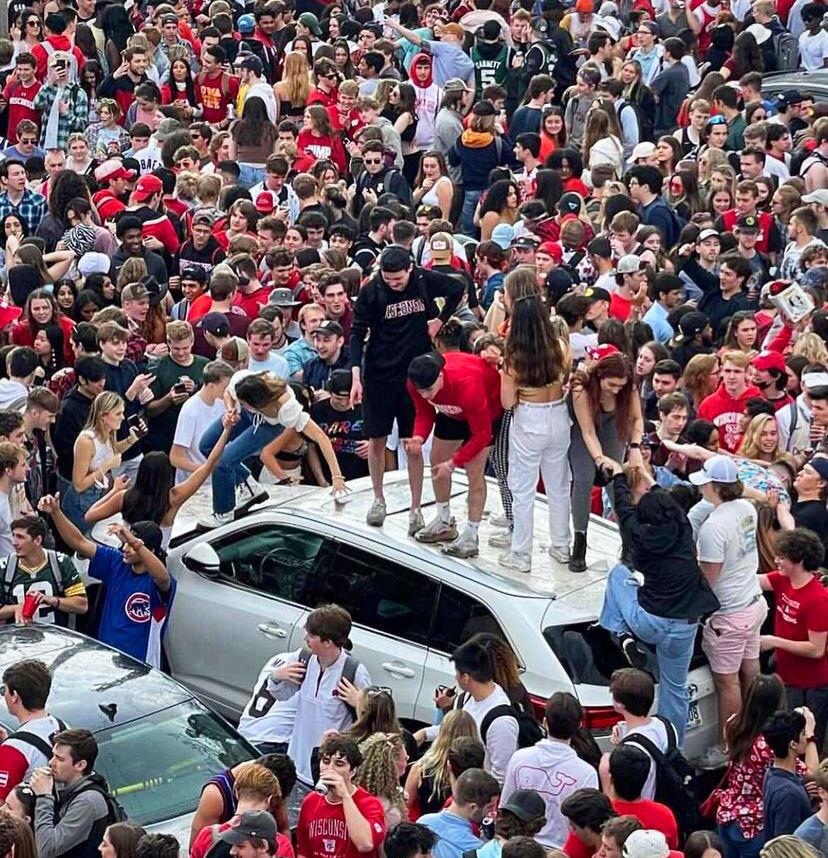 The BIPOC Coalition, which did not respond to an interview request on Monday, also called attention to a video showing Madison police officers apparently participating in a game of beer pong with students. The officers aren't seen drinking, but two of them tossed ping pong balls at plastic cups on a makeshift table. Two other officers are seen clapping in the video after the tosses.
Madison police didn't respond to a question about the video, which was posted on the Barstool Badgers Instagram account.
The BIPOC Coalition criticized the Barstool Badgers account for promoting the block party in advance. A message sent to the account wasn't returned on Monday.
Damage done
Wheeler said she doesn't understand why some officers were seen playing beer pong at one point during the day and yet her car was left unprotected against damage.
"I think the police definitely could have done more, but I mean obviously it's the students who need to just have more respect for people in general and more respect for people's property, assuming that they were students who were doing that to my car," she said.
Wheeler said her car's windshield is shattered, and both the roof and hood are dented from people standing on it. Her insurance deductible is $500, but she's not sure how much the company will cover. She's started a GoFundMe page to cover the costs and said she'll donate any extra funds to a Madison homeless shelter.
---