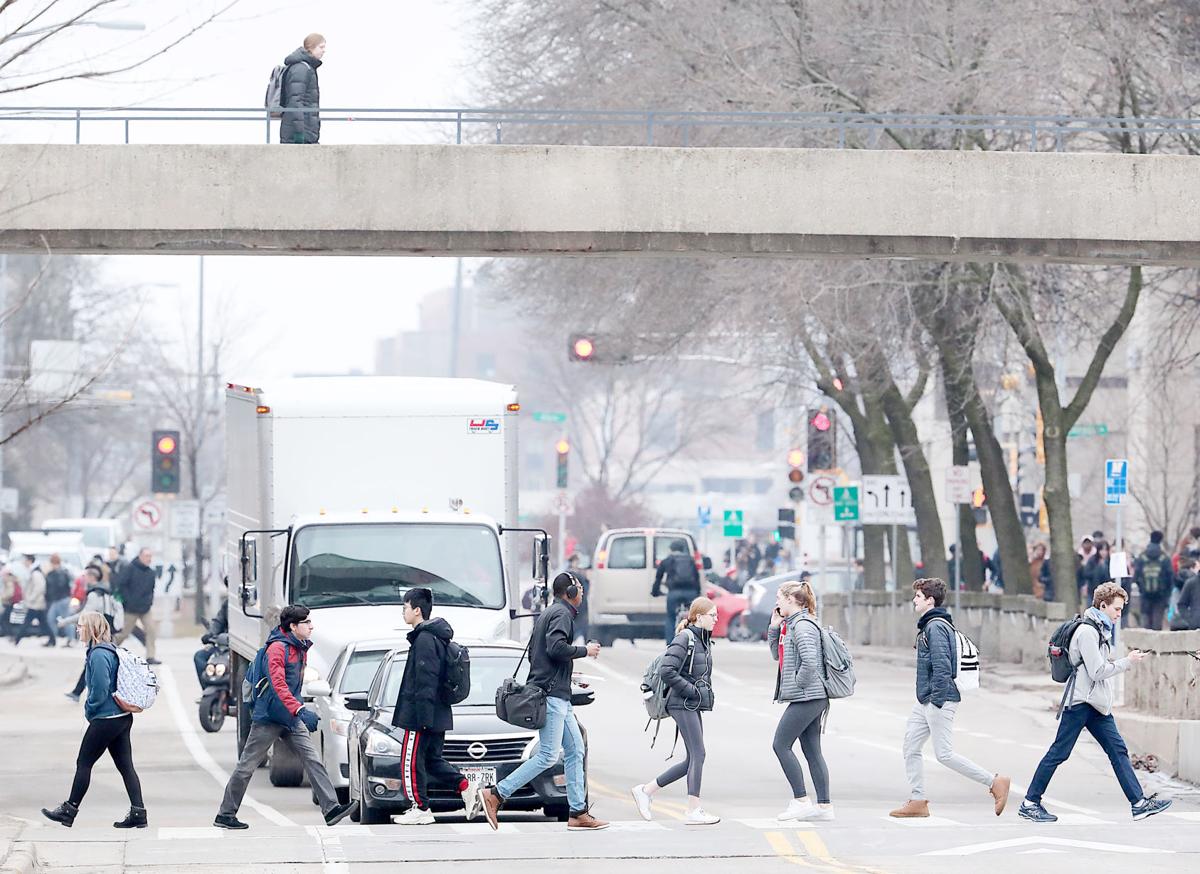 The University of Wisconsin System wants nearly $100 million more in the next state budget to cushion COVID-19's financial blow to campuses and cover tuition for Wisconsin students whose families earn less than $60,000 a year.
Interim System President Tommy Thompson is also asking for the ability to borrow up to $1 billion over the next school year to help universities, which are hemorrhaging money from lost revenues and additional costs as they scramble to safely reopen in early September.
Considering the small funding increases the System has received in recent years during a strong economy and the state's current shaky economic landscape, Thompson admitted the budget request, his first true test as president since taking over July 1, is ambitious. But the former four-term governor with wide bipartisan appeal said universities are best equipped to drive the state's economy through the pandemic.
"This is a big, bold, aggressive budget that I think is going to meet the needs of our time," he told reporters Tuesday in a video news conference. "If you were looking at a way to grow yourself out of a financial dilemma, wouldn't you go to an area that's going to give you the biggest return possible? ... Who's a better job creator than the University of Wisconsin?"
The UW Board of Regents will vote Thursday on Thompson's $6.4 billion 2021-23 budget proposal, which asks Democratic Gov. Tony Evers for about $96 million more in state money for a total of $1.9 billion in state taxpayer funding. The operating budget overall would increase by 3.5%. The proposal also continues the tuition freeze that has been in place for in-state undergraduate students since 2013.
"We had a long, lengthy discussion of this," Thompson said. "Economically, it's not the right time to raise tuition."
Instead, the System wants to extend "Bucky's Tuition Promise" at UW-Madison — a scholarship that provides qualifying in-state freshmen and transfer students with essentially a full-tuition scholarship — to all UW campuses. The "Wisconsin Tuition Promise" would operate as a last-dollar award, meaning the System covers whatever isn't met by other financial aid a student receives.
Frugal times
Higher education is often one of the first areas states turn to for cuts during recessions. Last spring, Evers asked state agencies to identify $70 million in savings because of a potentially huge drop in revenue related to the COVID-19 pandemic, and the System shouldered more than half of that burden.
Evers more recently announced another round of cuts: $250 million across all state agencies. Board of Regents meeting materials indicate the System's share of that would be $69 million.
Campuses have already taken measures to create savings, such as restricting travel, imposing furloughs and laying off some employees. Reopening this fall semester brings additional costs, such as enhanced cleaning operations and COVID-19 testing.
Borrowing authority would help universities weather the coronavirus, Thompson said. The System's campuses are among a small minority of schools that lack the ability to borrow money on their own, an action some other universities are turning to in order to ride out virus-related budget shortfalls.
Thompson points out that his proposed $96 million budget increase is less than what the System is enduring in coronavirus-related cuts this year.
"I want to be able to convince the legislators that the University of Wisconsin has been a punching bag for too long," he said. "We're not going to apologize anymore. We're going out to tell our story."
Former UW System President Ray Cross, who retired over the summer, told that same story without much success.
In the most recent 2019-21 budget cycle, he sought $107 million more. The GOP-led budget-writing committee landed on less than half of that amount, leading Cross to say he felt like he had been "kicked in the shins." The reduced funding increase came after a $36 million increase in the 2017-19 cycle and a $250 million cut in the 2015-17 cycle.
"I'm going to fight my darnedest to get this budget through," Thompson said.
Other budget requests
Thompson's budget request also includes adding 20 county-based agriculture jobs in UW-Madison's Extension Division, expanding student mental health support and providing an additional $4.5 million for the state's largest financial aid program for System students. The program was short nearly $2.3 million in 2019-20, according to budget documents.
The UW System also seeks about $1 billion in state taxpayer-supported borrowing for building projects. On the list for UW-Madison is a restoration of Music Hall, a new College of Letters & Science building, underground utilities work on Engineering Drive and the first phase of an engineering building to replace the Computer Aided Engineering Center, which is 82 years old.
If the Regents approve Thompson's budget proposal, it goes on to Evers, who will propose his own budget next winter.
Evers spokeswoman Britt Cudaback said the governor is glad to see some of his concerns addressed in the System's budget request and will review it after it is submitted.
Spokespeople for Assembly Speaker Robin Vos, R-Rochester, and Senate Majority Leader Scott Fitzgerald, R-Juneau, did not respond to requests for comment.