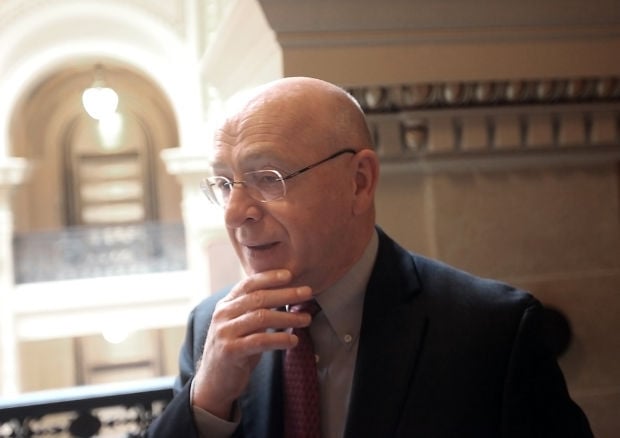 University of Wisconsin System president Ray Cross blasted Gov. Scott Walker's suggestion that faculty could lessen the impact of his proposed $300 million budget cut by teaching more classes.
"I don't like to see faculty vilified," Cross said in an interview with the State Journal on Thursday. "I don't want to create the impression that teaching isn't important. My frustration is, it's so hard to explain what faculty really do."
The state faces a projected budget hole of about $2 billion, including agency requests.
"They might be able to make savings just by asking faculty and staff to consider teaching one more class per semester," Walker told reporters on Wednesday. "Things like that could have a tremendous impact on making sure that we preserve an affordable education for all of our UW campuses, and at the same time we maintain a high-quality education."
Cross on Wednesday announced immediate cost-saving measures for UW System administration employees. But Thursday he stressed the importance of having adequate funding to recruit and retain quality faculty.
"We want to attract and keep the best and brightest faculty and students," Cross said. "I believe some of this is rhetoric and a lack of understanding, and we need to do a better job of explaining."
The State Journal first reported that Walker was considering giving the System's campuses more flexibility, possibly accompanied by a budget cut.
When Walker this week announced the plan to provide more autonomy and cut state aid to the System by $300 million, many lawmakers were skeptical, including some Republicans. On Thursday, concerns remained.
State Sen. Jerry Petrowski, R-Marathon, warned of statewide consequences.
"The UW System is vital to our state and plays an important part in the development of technology and the establishment of new businesses, thereby increasing the amount of jobs available in Wisconsin," Petrowski said. "Personally, I think people need to educate themselves on the consequences of making such drastic cuts, and to think ahead to make sure that such decisions do not spark unintended consequences for not only our future generation, but our state as a whole."
Sen. Luther Olsen, R-Ripon, a member of the Legislature's powerful budget committee, took issue with Walker referring to his proposal as "Act 10 for the UW." The 2011 law largely eliminated collective bargaining for most public employees, making it easier for school districts, among other public employers, to manage their budgets in the face of historic cuts in state K-12 support.
However, school districts mostly offset the cuts by having employees contribute more to pension and health insurance premiums, something UW System officials already did to counteract budget cuts in 2011.
"The university already had Act 10," Olsen said. "This is Act 20."
Sen. Sheila Harsdorf, R-River Falls, also a member of the Joint Finance Committee and chairwoman of the Senate's higher education committee, said decisions about how to absorb the cuts should be left up to UW officials and shouldn't be micromanaged by lawmakers.
"To me, it's about giving them greater flexibility so they can manage the campuses in the best interest of students," Harsdorf said.
Cross has said he will work to reduce the size of the cuts. On Thursday, he said the UW System needs to better compensate faculty.
"We need to invest more in faculty. We need to appreciate them more," Cross said in the radio interview. "Because it's on the backs of the best and the brightest that we're going to solve some of the problems we have in this country, and in this state. And we must attract the best and the brightest faculty. And that means we can't be deriding them."
Cross compared Walker's comments about faculty to criticizing how hard lawmakers work based only on the work people can see them do during floor periods.
"Blame administrators. Don't deride faculty. I'm getting tired of that," Cross told WPR. "These are some of the finest people who are committed to try to solve our problems, and we need to work with them."
His comments were echoed by UW-Madison Chancellor Rebecca Blank, who said Thursday the responsibilities of faculty and instructional staff go beyond teaching.
"Teaching is a core mission of the university and taxpayers should expect that faculty are spending time in the classroom," Blank said in a statement. "But we know that our faculty are working on behalf of the state in research, outreach and fundraising, among other capacities."
A February study of workloads across 11 departments showed that UW-Madison faculty work 63 hours per week on average, the university said.
And UW-Madison added that faculty and staff brought in more than $400 million in federal research awards in 2012-13.
Walker did not publicly respond to Cross' comments. But in a radio address released Thursday, he promoted his plans to give the System more flexibility.
"Our reforms will allow for a stronger UW System and provide the tools that they need to grow and thrive and continue to provide a world-class education to the hardworking students and families of this great state," Walker said.
State Journal reporter Matthew DeFour contributed to this report.