A Nov. 6 letter signed by Cross placed in Gow's personnel file said the chancellor exercised "poor judgment" in inviting 59-year-old adult film actress and activist Nina Hartley to speak on campus Nov. 1.
Hartley's talk touched on topics such as consent, female empowerment and the importance of distinguishing porn from reality. The event drew about 70 students, according to the La Crosse Tribune.
Gow said Wednesday in an interview with the Wisconsin State Journal that he did not regret selecting Hartley as speaker, that sensationalistic media was partially to blame for the controversy and that his actions were consistent with UW System policy on free speech, which assigns chancellors the responsibility to implement the policy.
Asked if he thought the System's actions were consistent with its policy, Gow paused before answering.
"I would hope that all of us take a breath and take a look at the policy and see there's an important principle here, and that's promoting and protecting free speech on campus," he said.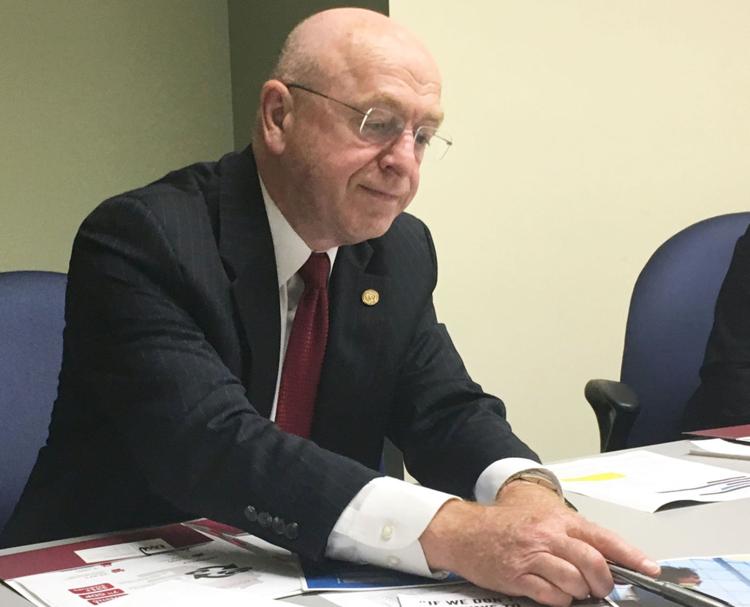 Gow initially paid Hartley a $5,000 speaking fee through his office's discretionary fund that he said does not come from taxpayer dollars or student fees. But in the ensuing controversy, which sparked international attention, Gow promised to pay the fee personally.
Cross called for a four-year retroactive audit of the sources and uses of that fund, according to the letter obtained by the State Journal.
"As we continue to struggle for greater financial independence and public trust, your decision to spend money from this fund on a one-sided lecture by an '... (adult entertainment) performer, educator, and ... activist' unfortunately puts all of our funding at risk," Cross wrote. "I fear your actions also detract from our budget request and our capital plan, which should be one of your highest priorities."
Gow said he has no objection to the audit.
You have free articles remaining.
Cross' letter, first reported by the Milwaukee Journal Sentinel, also reprimanded Gow for failing to alert UW System leadership before speaking with the media about his decision despite recognizing in advance that it would be a controversial issue. He hinted in his letter at previous warnings he issued to Gow about the chancellor's interactions with the media.
A raise to Gow's $220,000 salary is at stake. Cross warned that his decision will impact the salary adjustment that, along with other UW chancellors, is scheduled for review by the UW System's Board of Regents at next week's meeting in La Crosse.
Freedom of expression?
Hartley's speech was part of UW-La Crosse's "Free Speech Week," a series of events dedicated to highlight a new UW System policy that protects free expression.
Provocative conservative commentators, such as Ben Shapiro who came to UW-Madison's campus in 2016, have been interrupted or prevented from speaking by student protesters. At the Madison event, Shapiro's speech was delayed about 10 minutes by protesters, but other events on campuses across the country were less peaceful, sparking bills to establish campus speech guidelines in several states led by Republican legislatures.
"Different ideas in the university community will often and quite naturally conflict," the policy states. "But it is not the proper role of the university to attempt to shield individuals from ideas and opinions they, or others, find unwelcome, disagreeable, or even deeply offensive."
Just before the policy passed, meeting minutes show Cross stating that "perhaps the most important thing a university can do is to actually teach students how to engage and listen to those with whom they differ ... modeling civility and reaching out intentionally to engage those who hold ideas and values we might find repulsive or difficult to deal with is not easy, especially in such a polarized society – but if the university does not show students and others how to do this, who will?"
Gow said he selected Hartley because she offered students a perspective different from their own. He apologized for putting Cross and the Board of Regents in an "awkward situation."
Donald Moynihan, former director of the La Follette School of Public Affairs at UW-Madison, said the UW System's response is at odds with its own policy and sends a message to all UW chancellors on who they can and cannot invite to their campuses.
"The first time we see a speaker whose profile doesn't match their preferences, they used state power to punish the person who invited that speaker," he said, referring to the UW System. "They're talking the talk about free speech, but they're not walking the walk."
"Pornography is a horrible hill on which to plant the flag of free expression," he wrote. "I am hopeful this will result in a deep conversation about pornography rather than a shallow one about freedom."