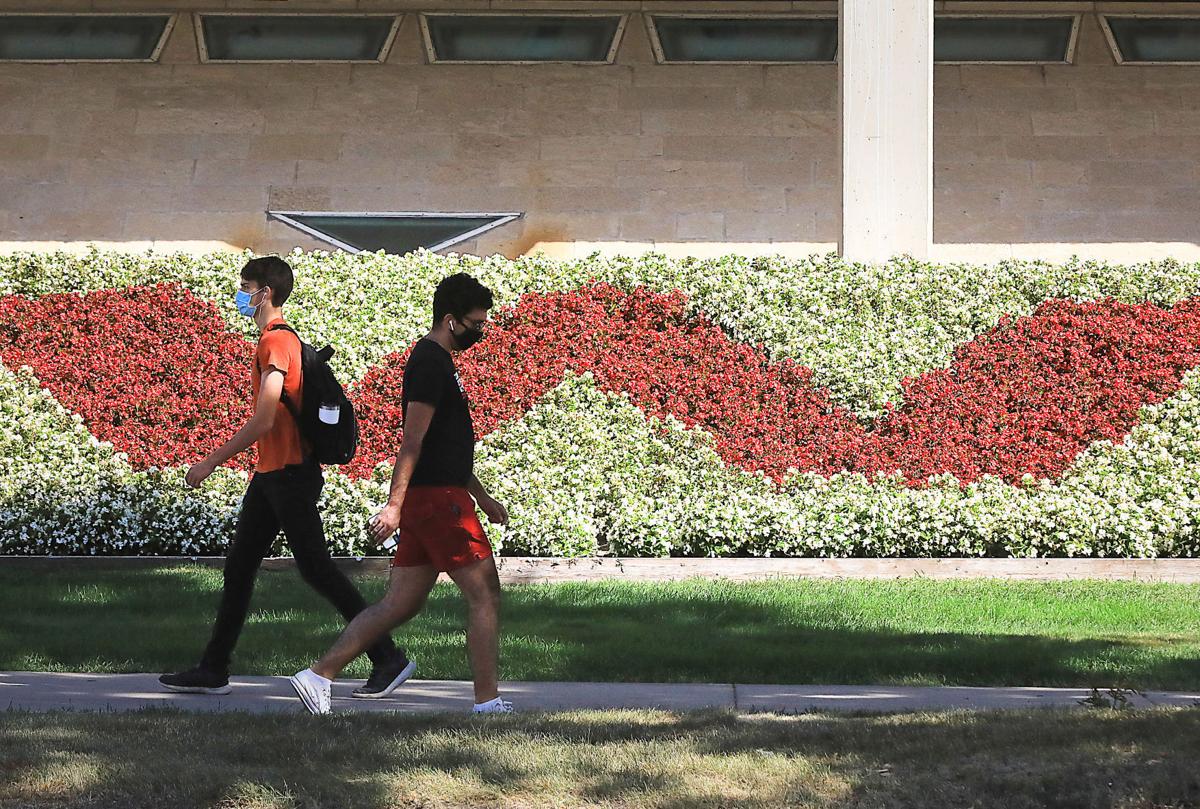 Enrollment at most University of Wisconsin campuses dropped again from last school year, a reflection of both the declining number of traditional high school students for colleges to recruit and the pandemic's effect on college students.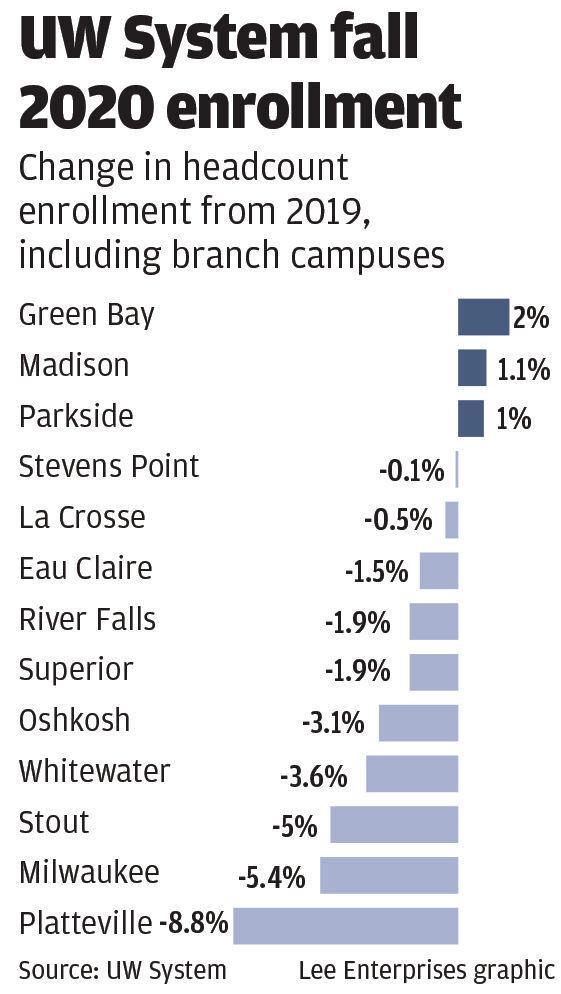 The System's headcount enrollment is down 1.9%, or roughly 3,200 students, compared to fall 2019, according to preliminary figures reported Thursday.
That's less than the 2.6% decline the System saw from 2018 to 2019.
"I'm pretty happy about this," interim System President Tommy Thompson told the UW Board of Regents on Thursday. "We did not suffer as a System a dramatic decline that many had feared and many other campuses have experienced."
Nationally, undergraduate enrollment fell 1.4% at four-year public universities and 9.4% at two-year public universities, according to a report last month by the National Student Clearinghouse Research Center. First-year enrollment fared even worse, with four-year schools seeing a 14% drop and two-years a 23% decline.
The System reported a 6% decline in first-year enrollment and a nearly 500-student increase in underrepresented minorities.
Thompson partially attributed the lack of a dramatic enrollment drop to the decision to reopen campuses this fall.
"We didn't even know if we were going to open up and students didn't know if they were going to come," he said at the Regents meeting. "But they did come. When they found out we were opening up, they came."
Branches suffer
The System's two-year branch campuses, which collectively enroll about 4% of the System's students, reported nearly a third of the System's enrollment decline. At UW-Platteville Richland, total headcount now stands at 108 students.
UW-Platteville spokesman Paul Erickson said the university is committed to its two branch campuses in Barabook Sauk County and in Richland Center. The university already added four new associate's degree programs between the two campuses and is continuing to expand the curriculum.
Applications are up 33% at Baraboo Sauk County and 19% at Richland Center compared to this point last year, he said.
Even though Platteville had the largest enrollment decline among the campuses at 8.8%, Erickson said the numbers, particularly at the main campus, were better than expected given the demographic challenges and uncertainty caused by COVID-19.
"We're not all that displeased with our numbers right now," he said. "We had actually budgeted for a bigger decline than that."
UW-Milwaukee saw the second-largest drop among the campuses at 5.4%.
David Clark, the interim co-lead of UWM's division of enrollment management, said the university worried about whether students enrolled last spring would come back in the fall, a concern largely alleviated when three-quarters of students returned.
However, Clark said UWM suffered a double-digit decline in transfer students and a 14% decline in freshman enrollment. Those included large drops in the number of underrepresented minority and first-generation students.
Applications are up "significantly" for next year, he said, and UWM is launching some new financial aid programs to help convert admitted students to enrolled.
Inching upward
UW-Madison was one of three UW campuses that saw a slight uptick in enrollment this fall. That's in part because Madison admitted more students than it had in past years.
Asked if UW-Madison's growing student body and higher admit rate has hurt UWM, Clark said there's a number of students who apply to both universities, but UWM more often competes with colleges in southeastern Wisconsin.
"It's hard to say," he said. "There's a shrinking pool of high school graduates and Madison takes in more students and our tuition is about the same. That could certainly impact our class but I would hesitate to draw a straight line."
More testing
Also on Thursday, the Regents approved a contract for UW-Madison that will significantly expand the university's COVID-19 testing capacity during the spring semester.
Currently, UW-Madison tests dorm residents and employees once a week and offers free, drop-in testing to the rest of the campus community. The university previously announced plans to increase testing to twice a week next semester for dorm residents and other students coming on to campus.
UW-Madison will administer at least 15,000 of Shield T3's rapid saliva-based tests per week and have the capacity to test up to 10,000 per day if needed. These will be in addition to the existing campus testing program.
The contract also provides UW-Madison with access to a mobile app the university can use to quickly deliver tests results and notify individuals who have been in close contact with others infected by the virus.
UW-Madison will pay Shield T3 at least $6.4 million, though the price tag could grow to $15 million depending on the number of tests it administers next semester.
Laurent Heller, UW-Madison's vice chancellor for finance and administration, told the board that the $15 million estimate is in line with the $13 million budget the university set for testing this fall.
The university is hoping to receive some state or federal money to offset the cost, but may have to reallocate money elsewhere in UW-Madison's budget if funding does not come through, he said.
---
The results are in: See how Wisconsin voted in top state and local races