The elevators in UW-Milwaukee's student union frequently break down, leading to multi-day or even multi-week failures in one of the university's busiest buildings that brings more than 20,000 people through it on a single weekday.
The obsolete elevators are just one of the ongoing operational challenges for UWM student union director Richard Thomas. Finding parts to fix the building is an increasing challenge as it gets older and, in some cases, Thomas' facilities staff save and repurpose building parts to use in other areas of the student union.
"We are gradually rebuilding this building piece by piece as things fail," Thomas said. "That's not a very economical way of going about it."
Similar problems plague campuses across the University of Wisconsin System. And that's before last week's polar vortex and quick thaw, an extreme weather event that officials say likely led to burst pipes and flooding-related damage across UW campuses, including 28 buildings at UW-Madison.
The vast majority of the UW System's 2019-21 capital budget request — $1.8 billion of the $1.9 billion request — is for renovations, replacements and repairs to buildings constructed decades ago that are breaking down with increasing frequency and unpredictability.
The request includes large-scale, building-specific projects, such as $40.7 million to renovate UWM's student union, portions of which date back to 1956.
But the largest chunk of the System's request, $300 million, would go toward smaller maintenance-related projects that could help clear a backlog that's been building up for years. Two-thirds of the $300 million would come through state-funded borrowing.
How much the System will receive in the upcoming budget remains uncertain. In the last six fiscal years, the state allocated about $183 million for small maintenance projects through state-funded borrowing. Over that same period the System has requested $241.3 million, while campuses have asked for even more — $427.4 million.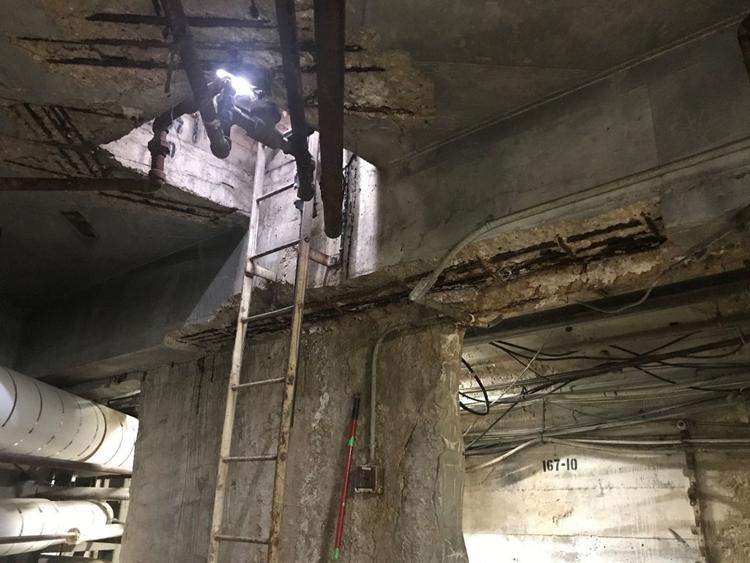 'Catch us up'
The System's unprecedented capital request, which tops a billion dollars for the first time in its history, is needed to "catch us up" from a lack of state funding over recent years, System officials said last summer.
"We can't afford to keep kicking this issue down the road," Alex Roe, the System's associate vice president for capital planning and budget, told the UW System Board of Regents at a Thursday meeting on UW-Madison's campus. "The longer we delay these annual activities, the more expensive they become."
The System's presentation to the Regents depicted the opposite of what campus brochures and websites highlight.
Gone are the gleaming glass-paneled research facilities and campus quads with students sunning on the grass. The slideshow revealed standing water on rooftops, degraded roofing shingles, rain inside a heating plant, concrete erosion, a flooded loading dock, burst steam pipes, flooded basements, corroded electrical panels, structural column damage, deteriorated agricultural research station and an animal facility vacated because conditions were deemed unsafe.
Regent Regina Millner called the presentation "daunting."
You have free articles remaining.
Register for more free articles
Stay logged in to skip the surveys
Immense presence
Campus officials have feverishly worked to keep campuses running as smoothly as possible despite the funding shortfall, Roe said.
"What I want to emphasize is that facilities are not not doing their jobs," she said. "They've taken on the responsibility of stretching their budget further and further."
With more than 1,800 buildings covering more than 62 million square feet, the UW System is the largest owner of physical space in state government. More than 50 percent of the UW System's total square footage was built from 1950 to 1979.
Buildings constructed during that period are no longer energy-efficient and were designed in configurations rendered obsolete for today's academic needs. Some older buildings have never undergone HVAC, electrical, plumbing or exterior renovation, Roe said.
The problem won't go away when the oldest buildings are fixed. Newer buildings have less longevity because utility systems, such as alarms and HVAC units, are now electronic and have shorter replacement cycles.
Emergency repairs
At UW-Madison, the deferred maintenance backlog totals $1.5 billion, according to university facilities spokesman Steve Wagner. That figure does not include repairs to the 28 buildings that sustained damage in recent days.
The university falls short on maintenance spending compared to Big 10 peers, particularly in the percentage of money going to preventative maintenance, UW-Madison associate vice chancellor for facilities and management David Darling said Thursday to the Regents' capital planning and budget committee.
Tending to emergency repairs diverts facilities staff away from routine maintenance, he said. To bring the facilities department staffing in line with other Big 10 universities, an additional 214 employees would need to be hired.
Needs outlined
UW-Madison projects in the 2019-21 capital budget include:
$126 million replacement of the university's existing natatorium.
$79 million Sellery Hall renovation and addition.
$78 million for renovation and repairs to Camp Randall Stadium.
$48 million Kohl Center addition and renovation.
$20 million utility project replacing some of the oldest underground utilities on campus.
Gov. Tony Evers will propose a budget to kick-start the legislative debate on Feb. 28. His office did not immediately respond to a request for comment Thursday afternoon on whether he supports the System's full capital request.