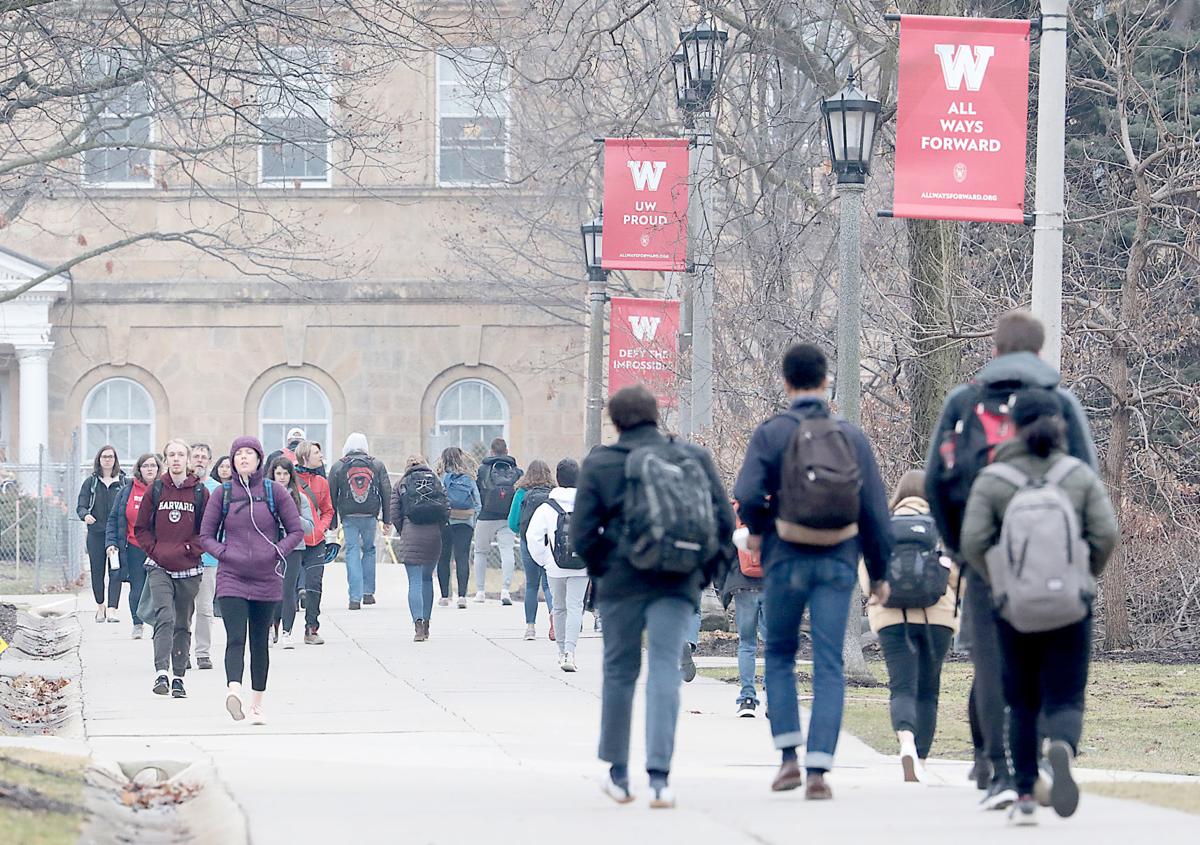 The first wave of furlough announcements for Wisconsin's public universities came Friday with hundreds of employees ordered to take unpaid time off as a way for campuses to address the growing financial fallout associated with the COVID-19 pandemic.
The University of Wisconsin System will furlough its nearly 600 administrative employees one day each month through June 2021 to save about $3 million.
Chancellors of UW campuses, where the bulk of the System's 39,000 employees work, are making their own decisions on whether to furlough employees. UW-Milwaukee became the first to say it will "most likely" impose a campus-wide furlough for its roughly 3,700 employees. UW-Madison, which is bracing for the largest loss among the campuses with an estimated $100 million shortfall, expects to announce details by the end of the month.
The move marks the first time in at least five years that university employees will be placed on mandatory unpaid leave. Leaders have resorted to other measures — layoffs, buyouts and unfilled vacancies — to address budget shortfalls in recent years.
The coronavirus pandemic, however, presents a problem college administrators across the country say they have never seen before.
The System conservatively estimates COVID-19 will cost its campuses nearly $170 million for the spring semester alone, a figure officials project will increase as the pandemic continues. The estimate includes the cost of issuing refunds for on-campus parking, dining and housing services, along with technology purchases to move classes online, payments to student employees who abruptly lost their jobs and losses in athletic ticket sales.
Uncertain outlook
The furloughs for the 588 UW System Administration employees begin in May. Every worker must take one unpaid day off each month over the next 14 months, System President Ray Cross wrote in a Friday email to System administration employees.
"This is a painful but necessary reality," he wrote in the email. "And it is difficult news to share. You and your colleagues across the UW System are the very lifeblood of who we are and what we do."
Cross cautioned that conditions could change and additional action may be needed.
"But for now, this will be our plan," he said.
The System's announcement on furloughs comes one day after the executive committee of the UW Board of Regents unanimously authorized leaders to develop furlough plans.
Campus plans
Financial circumstances among the campuses differ, so furlough plans will vary, Cross said.
The Wisconsin State Journal asked campus representatives Friday for details on furlough plans and, if not available, when employees can expect to learn more:
UW-Madison is working on a furlough policy. Employees can expect information by the end of the month.
UW-Milwaukee said it will "most likely" implement a campus-wide furlough for the fiscal year beginning July 1. Year-round employees will receive eight furlough days, though higher-paid employees will receive even more unpaid days off. Employees on nine-month contracts will receive six furlough days. The university also said it may furlough specific employees who cannot work remotely or work in units facing the largest financial losses as soon as May 2. Faculty will not be eligible for position-specific furloughs.
UW-La Crosse is not planning to impose a campus-wide furlough, but is considering a "small number of reassignments and targeted furloughs" as well as offering some voluntary furlough options. Employees can expect more information "in the near future."
UW-Superior has no plans to lay off or furlough employees through June 30. Leaders are working on personnel decisions for the next fiscal year.
UW-Stevens Point anticipates furloughs will be needed in the weeks and months ahead. Leaders expect to share additional information with employees Wednesday.
UW-Whitewater will release details next week.
UW-Platteville is deciding whether to use the furlough process to address budget shortfalls. More information will come next week.
UW-Green Bay said a decision on furloughs or layoffs will be shared by April 24.
UW-River Falls will furlough some of its employees starting in early May for those who cannot complete their work from home. An estimated number of affected employees was not available.
UW-Eau Claire said it will use some of its reserves to make up for an $8.5 million shortfall. Leaders are exploring the possibility of a semi-hiring freeze, furloughs or layoffs, but no decision has been made and there is no timeline for when employees can expect details. Spokesman Michael Rindo said budget cuts in 2015 forced hard decisions then that put the campus on "solid financial footing" to address the pandemic's economic fallout.
UW-Parkside said it doesn't know which areas might be impacted by furloughs. Employees can expect information by the end of the month.
UW-Stout provided a general statement that did not include specific information on furloughs or indicate when employees can expect to learn more.
UW-Oshkosh did not immediately respond to a request for comment.