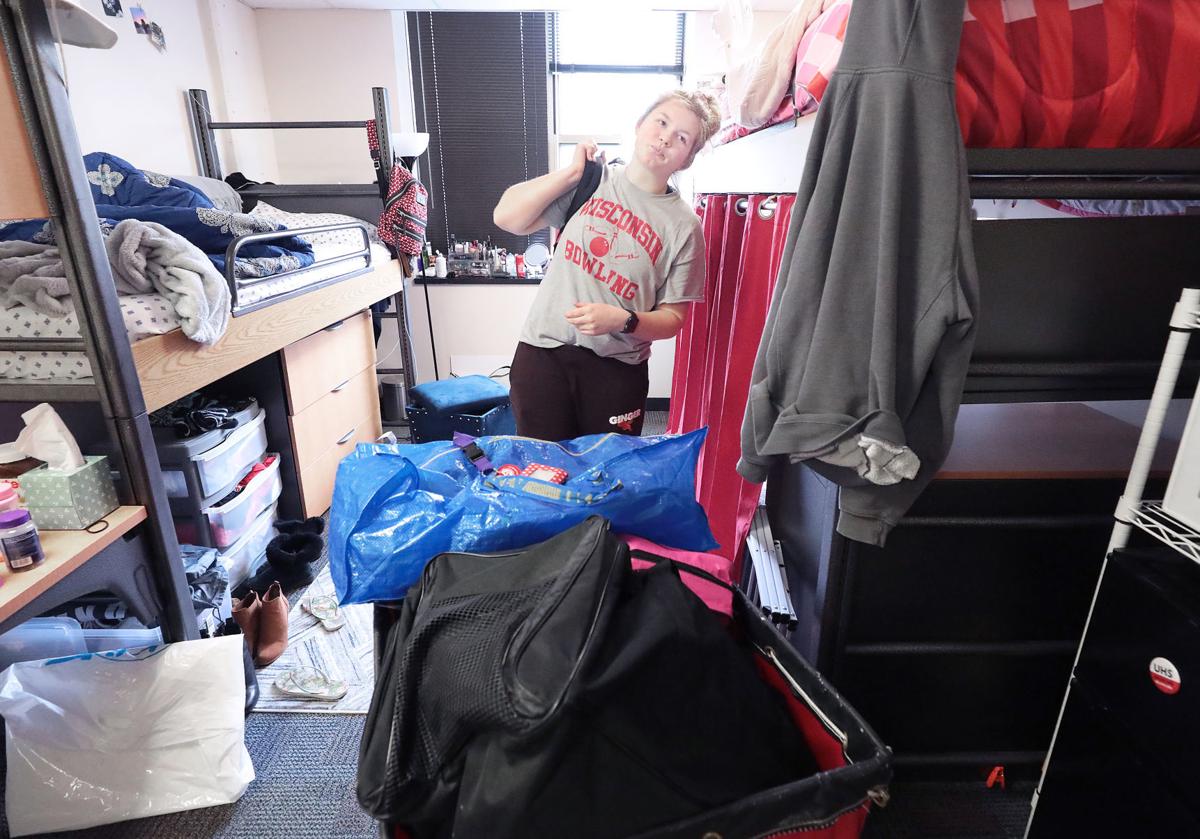 Red carts rolled in and out of residence halls. Students stuck without suitcases lugged trash bags of belongings out to cars. Desk receptionists collected students' keys, a requirement in the move-out process.
What would be a normal scene during May's end-of-semester move-out is taking place two months early and with a level of anxiety and frustration among students who aren't entirely sure when — or if — they can return.
"They're kicking us out," said freshman Kat Weeden, who lives in Waters Residence Hall and rushed to secure temporary housing with a friend before she flies home to Michigan next week.
UW-Madison officials announced Wednesday a suspension of in-person instruction through April 10 and asked students living in residence halls to move back home at least temporarily. The unprecedented measures came the same day that the World Health Organization declared the COVID-19 coronavirus a pandemic.
University officials said they recognized the disruption the move would have on students mid-semester, but they also said emptying out dorms and eliminating packed lecture halls was paramount to public health because of the virus' potential to spread quickly across campus.
The campus was understandably chaotic Thursday, three days before the 7,800 students living in on-campus housing must move out.
Students scrambled Wednesday night to book flights and bus tickets, cancel spring break plans, find friends to stay with, hire movers and arrange car pools.
Sophie Smith, 22, a senior in neurobiology, said she spent Wednesday night lugging her little sister's belongings out of the dorm and into her apartment, where they'll share a room. She said they were fortunate because her roommates have cars, easing the move. But others weren't so lucky.
"It's really frantic," Smith said. "Days to get all your stuff out."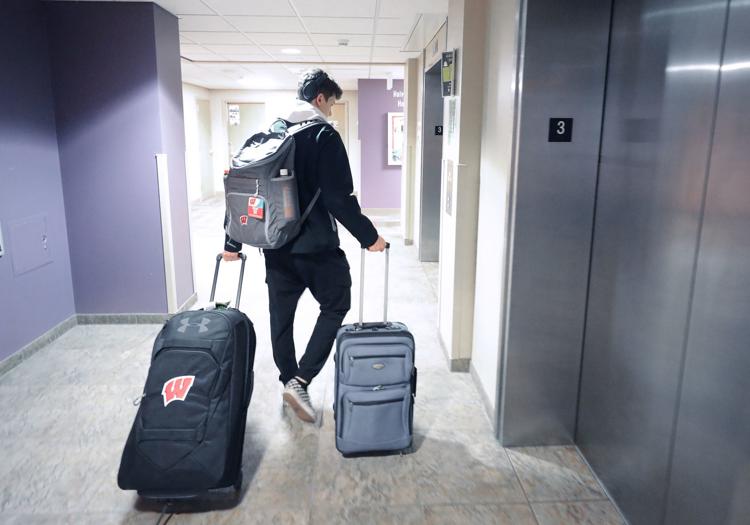 University Housing granted exceptions to about 900 students, roughly 11% of dorm residents, who lack the means to return home or ability to continue coursework online, university spokesman John Lucas said.
Freshman Gavin He, 18, will stay on campus because he is an international student from China. The pre-business major said he is still waiting for details on whether he will stay in Smith Hall or temporarily move to a different dorm.
While courses will be taught only online, the campus will remain open. Dining halls will feed the students staying behind. Research will continue, and employees are expected to report to work unless told otherwise by their supervisor. But many students expect it to be a ghost town for the upperclassmen who are staying in their off-campus apartments.
"It's gonna be dead here," Weeden said.
Unprecedented transition
Adding to the commotion, a flurry of questions circulated among students about the shift to online instruction.
How do instructors expect to prevent cheating? What can students in science and engineering labs expect? What about dance and music classes? How much support will there be for professors unfamiliar with the technology?
Colleges across the state will be grappling with many of the same questions in coming weeks. Most University of Wisconsin System campuses plan to move coursework online after spring break. Some institutions are even extending spring break to prepare for the transition.
Madison Area Technical College on Thursday announced it was extending its spring break by one week through March 29. The college is still deciding whether to move coursework online when students return March 30.
UW-Madison has increased its online program offerings in recent years, even announcing the launch of its first fully online undergraduate degree Wednesday. About 60% of the university's total enrollment last summer was online programming.
Those investments make the temporary shift to online education "much more feasible" than even a few years ago, Chancellor Rebecca Blank said at a Wednesday news conference.
Officials also said some in-person experiential learning will continue — at least for now. For example, education students can keep working in Madison public schools and health science students can keep working in clinical rotations.
Uncertainty looms
Still, many students are skeptical about how effectively their classes can function online.
Madison Moore, a sophomore studying electrical engineering, said some of her lab-based courses require expensive equipment only available on campus.
"You can buy your own Bunsen burner," her friend Jordan Schoff joked.
Moore's teachers talked about online simulations replacing lab work, but she said that won't help for classes in which she works with a group of students on problem sets. Without those discussions, "we're completely self-teaching," she said.
Harish Prabaharan — a sophomore majoring in computer science, math and electrical engineering — said he relies on teaching assistants and professors answering his questions to fully grasp the material. That process doesn't always translate well over email.
"It's going to be tough to get the same support that we have on campus here," Prabaharan said.
Freshman Kylee Kohlhoff, 19, a kinesiology and dance major, wonders how her dance courses will be taught online. Her professors say they may grade students based on journal entries students write after performing a particular dance exercise. Some upperclassmen were preparing for a showcase that has now been canceled.
"The dance department literally has no clue what they're doing," Kohlhoff said.
The challenges that come with transforming Wisconsin's flagship campus to a fully online operation might be temporary. University officials have said only that students living in residence halls should remain off campus through at least April 10.
But for those students packing up their belongings with no return date in sight, the transition feels more permanent.
"I don't know if we're even going to get to come back," Weeden said.
Concerned about COVID-19?
Sign up now to get the most recent coronavirus headlines and other important local and national news sent to your email inbox daily.