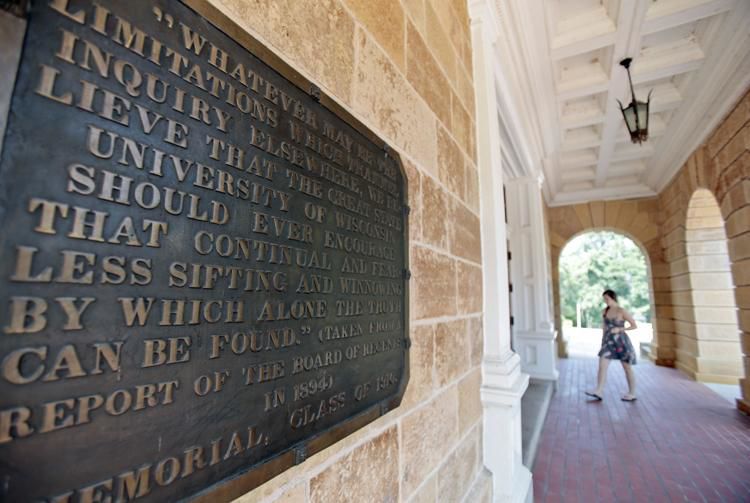 The UW System Board of Regents took another step Friday toward enforcing mandatory punishment for students who repeatedly disrupt others' free speech — a policy widely criticized by students, faculty and First Amendment experts.
The Regents approved a scope statement on the policy Friday, one step in a long process to amend the University of Wisconsin System's administrative rules.
Writing the controversial policy into state rules hinges on approval from Democratic Gov. Tony Evers, something that appears highly unlikely. He voted against the policy while serving on the board when it was adopted two years ago, calling it "a solution seeking a problem."
Evers spokeswoman Melissa Baldauff said Friday that he still does not support the System's free speech policy.
The Regents, the majority of whom were appointed by Republican Gov. Scott Walker, adopted a free speech policy in the fall of 2017 in response to what Republicans see as growing hostility from liberals on college campuses to conservative ideas.
Just this week, an individual papered the UW-Madison College Republicans' office with signs critical of President Donald Trump despite UW policies banning the posting of unapproved signs in public spaces. The student conduct office is reviewing the incident.
Part of the Regents' free speech policy requires UW campuses to suspend students who on two occasions disrupt the free expression of others in a substantial way. If students are found to have done so three times, they are expelled.
You have free articles remaining.
That part of the policy hasn't taken effect, however, because the System's administrative rules haven't been amended to include it.
A majority of Regents voted to approve moving forward in the amendment process, though several could be heard voting no. The vote was taken by voice and no member requested a roll call, so how each member voted is not recorded.
Regent Ed Manydeeds, who was appointed to the board by Evers this spring and spoke in opposition, urged the rest of the board to "think about what it is we're trying to do and whether we as citizens should be doing this" because the punishments "follow (students) the rest of their lives in a negative way."
A preliminary public hearing and comment period on the topic over the summer yielded nearly 50 comments.
Only one of those, from Nancy Suitor, of Michigan, appeared to support the policy. She said the policy would help protect conservatives and Christians on campuses.
All other comments were explicitly opposed to the policy or offered suggestions and recommendations for improvement, including from the conservative legal group Wisconsin Institute for Law and Liberty.
UW Law School professor Steph Tai expressed concerns about the legality of the rule.
Tai, who serves as faculty adviser for the school's moot court team, said two of last year's national competitions focused on this topic. Judges at the competitions found the rules to be too vague and pose constitutional concerns when non-students infringe on others' free speech rights.
"I can say that this policy, whatever it takes the form of, will head into fairly constitutionally murky grounds," she said at an August hearing.
Be the first to know
Get local news delivered to your inbox!