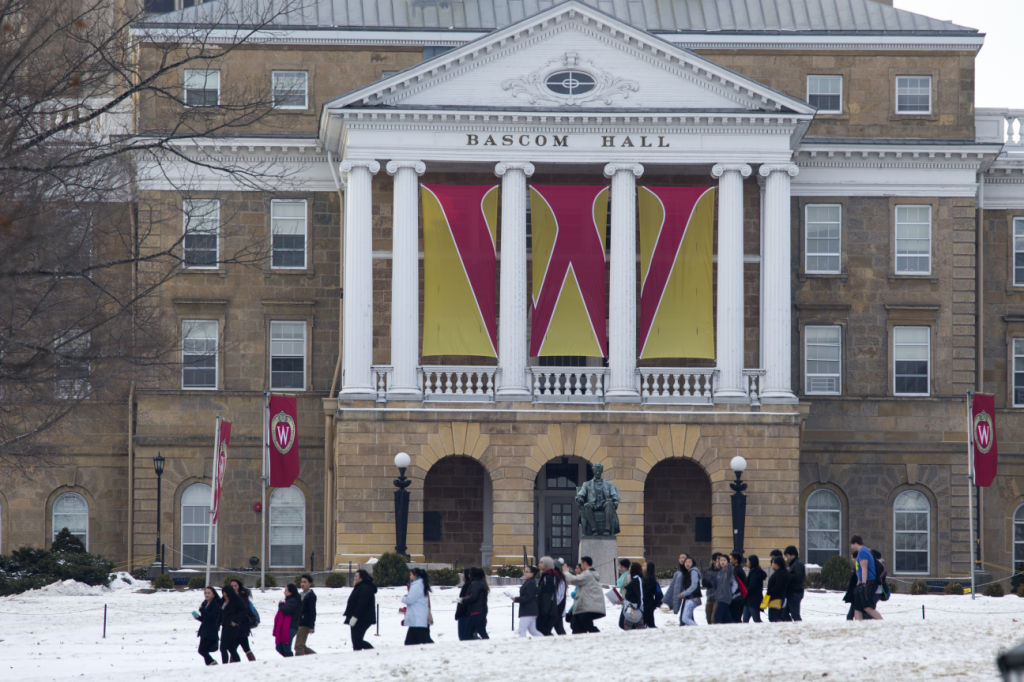 University of Wisconsin System President Ray Cross warned top campus leaders in early January that shared governance and faculty tenure — two cherished benefits for university employees — were under threat from state lawmakers, according to emails obtained by the State Journal under Wisconsin's open records law.
"We risk having them re-written by non-academics within the legislature and that risk has been elevated in recent weeks," he wrote to campus leaders throughout the 26-campus System in early January.
The issue has flared over the years, with some lawmakers — including Assembly speaker Robin Vos, R-Rochester — saying that Wisconsin's tradition of giving faculty, staff and students a formal voice in campus matters can slow progress and cause unnecessary delays.
When Gov. Scott Walker introduced his budget a month later, it included a provision that shared governance and tenure would be taken out of state control and left to the UW System Board of Regents to enshrine in its rules. Last week, Regents president Michael Falbo said that the board would protect both.
The emails provided by the System were related to two important meetings Cross called in Madison on Jan. 5 to tell faculty representatives and chancellors at each campus of the serious budget situation and of plans, then in negotiations but since finalized, to separate the System from state control in key areas and change its funding and governance structure.
Direct message
Cross' message was direct: the cuts would take them back to funding levels not seen since 1998. The System's political strategy has changed in tone through the years but its influence has continually declined. They needed to propose a "deal" — what became more autonomy for decreased funding — to top lawmakers upfront that they consider both "big" and politically feasible.
The emails showed chancellors and other top leaders jolted by the proposed cuts and governance changes but mostly supportive of Cross, who asked for feedback that he and other System leaders would take into the coming meetings with Walker and top Republican leaders at the Capitol.
The exchanges were cordial, but Cross swatted away some items in a laundry list of proposals by UW-Eau Claire Chancellor James Schmidt.
In what he called "some very candid thinking," Schmidt proposed a governance structure where each campus controlled most decisions, stripping some power from the UW System and its Board of Regents.
He also called for greater collaboration, floating a proposal to fold UW-Extension into the flagship UW-Madison and assign each of the 13 two-year UW Colleges to a partner four-year campus, merging administrative and other duties.
"Incredible logic!!" wrote Cross in sharing Schmidt's email with top System deputies Jim Villa and John Yingling. "I find this most troubling!!! I thought Jim was a bit more thoughtful than this."
In the email, Cross argued against the proposed changes to Colleges and Extension, both of which he presided over as chancellor before being elevated to System president. UW Colleges have already streamlined their administrations and their buildings are paid for by the counties, he wrote. UW-Extension gets a mix of county and federal funding, he wrote.
Cross said in an interview Tuesday he appreciated Schmidt's sharing of ideas, noting that other of his proposals have more support.
"There's a lot of give and take," Cross said. "He's putting ideas on the table."
On the proposal for more autonomy from the state, Cross tried to steel chancellors for a difficult road ahead, which he argued was worth the struggle.
"This will not be easy and we will get consider(able) push back from our faculty and staff," he wrote to new UW-Milwaukee Chancellor Mark Mone on Jan. 6. "However, this is something we might not get a shot at for another 20-30 years."
Mone, like most chancellors whose emails were included, told Cross he supported him and that "we are keeping the calm here" in the face of concerns shared by faculty and staff.
UW-Madison Chancellor Rebecca Blank urged Cross to include Darrell Bazzell, UW-Madison's chief financial officer who's experienced and respected at the state Capitol, on the System's negotiating team.
"It would be good to have his expertise ... he has knowledge the others on your team don't," she wrote on Jan. 6. "I realize this might cause awkwardness with other staff, but this is too important."
Cross said Tuesday that he heeded Blank's suggestion, agreeing that Bazzell "has a good financial mind."
Blank declined an interview request on Tuesday.