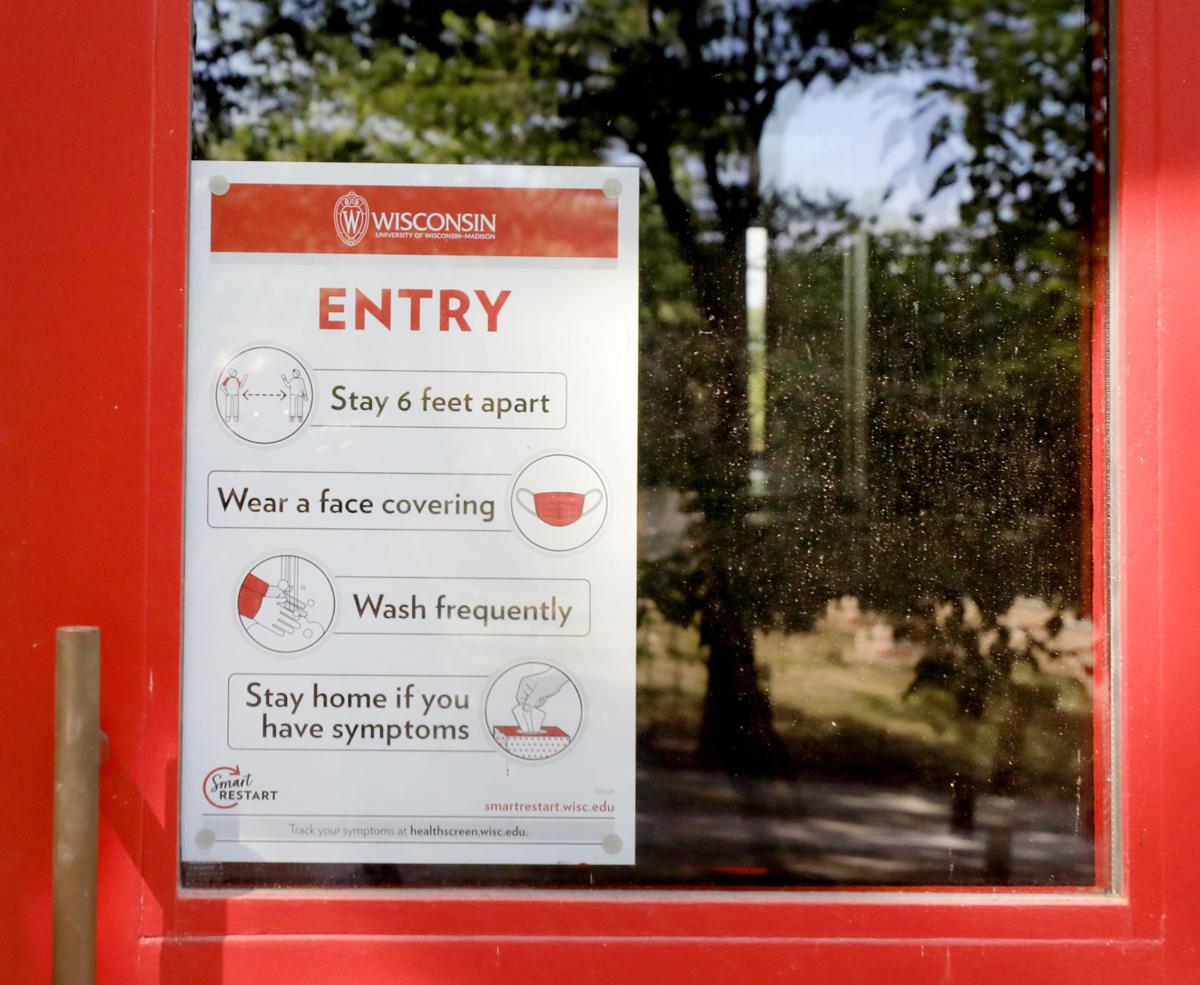 UW-Madison's students will be more closely monitored next semester.
A mobile app called "Safer Badgers" will be students' and employees' "key to campus," representing a "significant change from the fall semester," Chancellor Rebecca Blank wrote in a Friday email.
All students living in the Madison area, including those who live off-campus and have only online classes, will be denied entry to campus buildings unless they are up to date on a twice-weekly COVID-19 test requirement.
Graduate students and employees must test regularly, though how often it's required will depend on their job and how often they are on campus.
Members of the campus community will use the app to schedule their COVID-19 tests, track their results and provide proof of their "Badger Badge," a virtual access pass to gain entry into buildings where in-person classes and other face-to-face events take place.
Trained employees will stand guard outside buildings, checking those who enter for their Badger Badge. The screen won't show individuals' health information, but rather inform the staff member whether someone is up to date on their COVID-19 tests.
Using the app may qualify students for incentives and "avoid any negative consequences triggered by being out of compliance." It also provides anonymous notifications to phones if another app user nearby has tested positive for COVID-19.
Safer Badgers will be available for download by mid-January. UW-Madison can lend smartphones to those who don't own one.
The app is part of a recent contract UW-Madison signed with Shield T3, a subsidiary of the University of Illinois System, to significantly increase its testing capacity with rapid, saliva-based tests.
The contract allows UW-Madison to administer up to 10,000 tests per day. Throughout the fall semester, UW-Madison has administered no more than 12,500 tests per week.
To accommodate the increased testing demand, the university anticipates offering COVID-19 tests every day of the week and during both early morning and late night hours.
"By expanding testing and linking campus access to this testing, we will put additional strong curbs on the spread of the disease," Blank wrote in the email. "However, expanded testing, while powerful, can get us only so far."
She reminded students that they still will need to wear a mask and avoid large gatherings.
Tommy Thompson, interim University of Wisconsin System president, also announced on Friday that other UW campuses will increase their testing requirements in the spring semester.
Many campuses this fall required students living on campus to be tested once every two weeks and had no requirement for employees or students living off campus.
Under the expanded testing requirements, dorm residents must get tested once a week and all non-residential students, faculty and staff must be tested at least once every two weeks.
---
Fave 5: Higher education reporter Kelly Meyerhofer shares her top picks of 2020
Fave 5: Higher education reporter Kelly Meyerhofer shares her top picks of 2020
The first story I wrote this year was about a two-legged dog. 2020 only got more weird from there.
In early March, I sat in a room with about a hundred others listening to UW-Madison Chancellor Rebecca Blank brief professors on how the coronavirus might affect campus operations. During the Faculty Senate meeting, she encouraged instructors to consider what classes or meetings could be delivered online.
"We have no idea quite what may be coming, if anything," she said on March 2.
Oh, how quickly did the world change. 
It's been a privilege to bear witness to all of the seismic changes 2020 brought to college campuses, most of which I reported from my kitchen table (OK, and sometimes my couch). I'm grateful to the State Journal's subscribers who help support my job as one of the few higher education reporters in Wisconsin. The five stories listed below were some of my favorites, but you can find the 172 other stories I've written so far this year here.