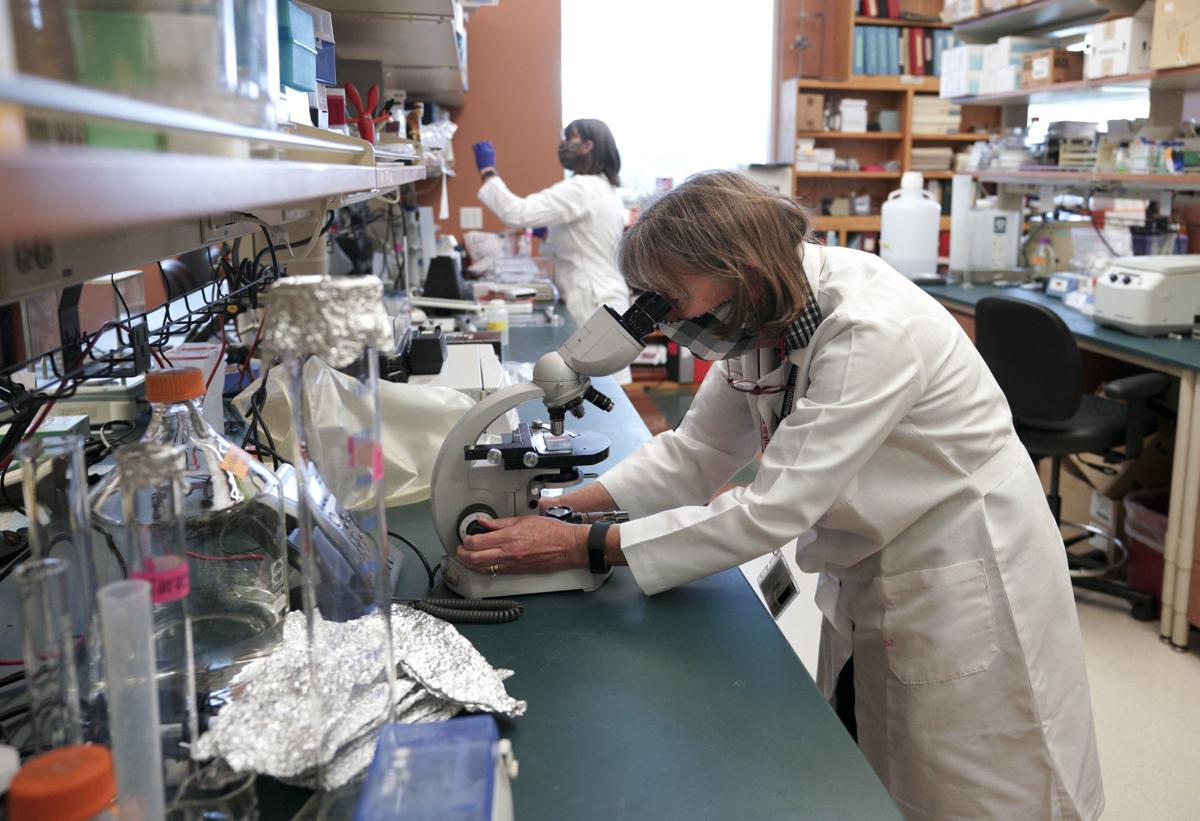 UW-Madison ranked eighth in research spending among hundreds of institutions in the latest year — again falling outside the top echelon where it had perched for decades — according to the latest figures by the National Science Foundation.
Since the federal agency started surveying universities on their research spending activity in the 1970s, UW-Madison ranked among the top five every year. But the university was bumped to sixth place in 2015 and fell even further, down to eighth, in 2018.
The latest rankings, released Friday by NSF, ranked UW-Madison eighth again among 916 public and private institutions who responded to the survey in the 2019 fiscal year.
With nearly $1.3 billion in annual research spending, up 7.6% from the previous year, UW-Madison vice chancellor for research and graduate education Steve Ackerman said in a statement that the university is "committed to sustaining its position as an innovation leader."
The ranking is just one metric of UW-Madison's research enterprise, capturing funding from federal, state and local government; industry; nonprofit organizations; and foundations. Other rankings assess, for example, graduate student programs and how many doctoral degrees institutions award.
But the research rankings are closely watched by faculty and administrators. A high rank can help recruit top talent who compete for and win competitive research grants. Key to bringing those professors in, and keeping them in Madison, is offering competitive salaries, which the university has often said lags behind peer schools.
The ranking is also directly tied to UW-Madison's number of faculty members. Ackerman in 2019 pointed out that the university was down about 60 professors from 2015 — the year in which the university fell out of the top five.
UW-Madison is starting to close that gap but the ripple effects of COVID-19 may threaten that momentum. Chancellor Rebecca Blank said last summer that more than 160 faculty members accepted job offers, one of the largest hiring sprees seen in years. But she pointed out that there will be far less hiring in the immediate future because of financial problems related to the pandemic.
Former University of Wisconsin System president Katharine Lyall said the latest ranking was neither good news nor bad, but fell somewhere in between.
"When I look at those rankings, I'd say it's fortunate that we haven't dropped further and we need to do everything we can to move up in the rankings," said Lyall, who now advocates for UW-Madison as a board member of the nonprofit group Badgers United. "There's no reason we shouldn't be able to do that as long as we deal with these financial challenges."
Seven institutions spent more than UW-Madison in the most recent survey: Johns Hopkins University; the University of Michigan; the University of California-San Francisco; the University of Pennsylvania; the University of Washington; UC-San Diego and UCLA. Rounding out the top 10 were Harvard University and Duke University.
UW-Madison's growth in spending year-over-year was the second highest among the top 10 universities. Looking longer-term, however, the university had the second smallest increase, 26%, since 2010. Others increased spending over the past decade by as much as 113% at Harvard and as little as 25% at Duke.
A high rank is more than just bragging rights for the university, Lyall said. Research has a huge economic impact on the state and local economies.
"A lot of states would just love to have that research engine working for them," she said. "It's a key asset that Wisconsin should want to keep vigorous and growing."
---
Photos: UW-Madison's new chemistry building
A 10-story tower taking shape on University Avenue as part of a $133 million overhaul of UW-Madison's chemistry complex includes elements designed to reduce the energy needed to heat, cool and light the building that go beyond current state building code requirements.
Heat exchangers: Exhaust air from labs passes over over coils containing a glycol-water mixture that captures energy before the air leaves the building, transferring it to the fresh air supply, reducing the energy required to heat and cool the building.
Windows: An opaque ceramic frit, or screen, is baked into the insulated, floor-to-ceiling windows, creating an integrated shading device that allows maximum natural light while reducing glare and heat gain.