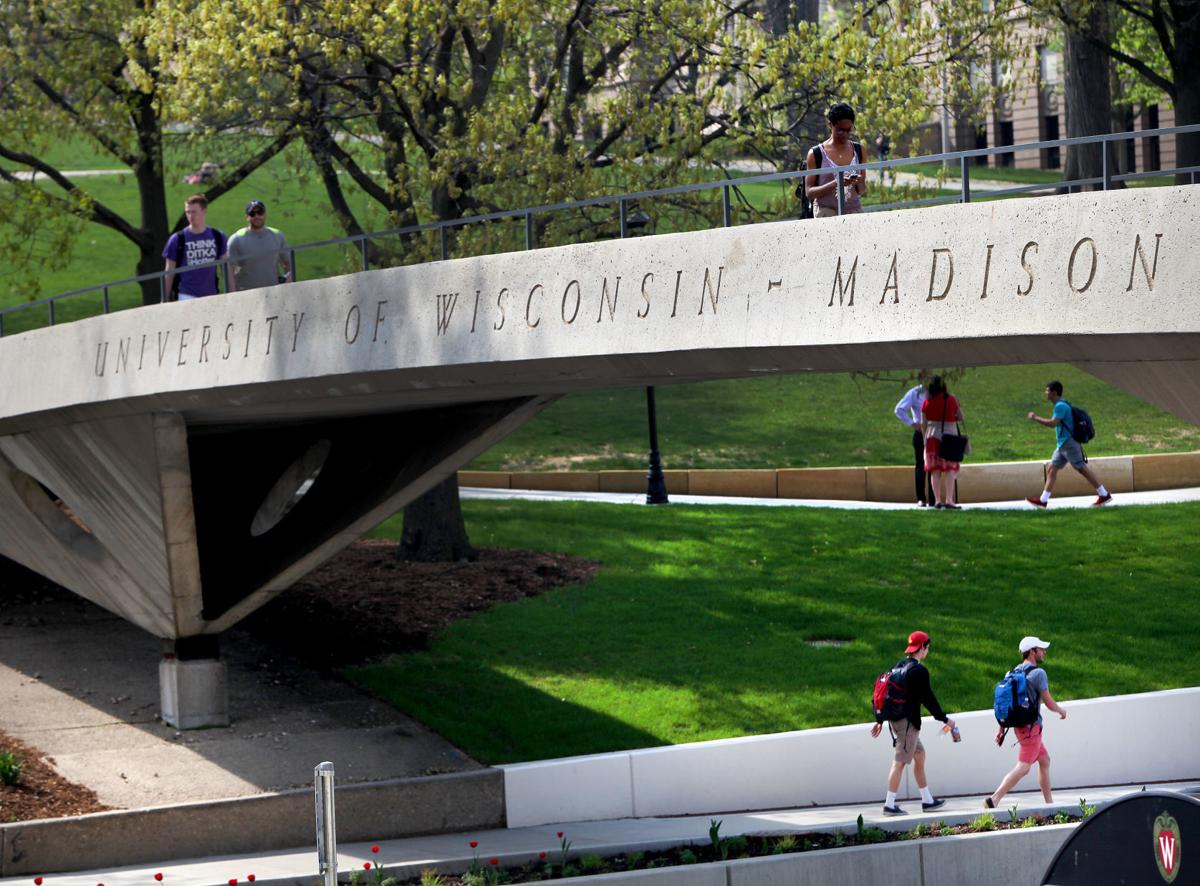 About 80 miles separate Wisconsin's two public research universities, but the background and prospects of students at UW-Madison and UW-Milwaukee present one of the starkest disparities in the country, according to a new report.
Education Reform Now, an education think tank, ranks UW-Madison as the least accessible public research university among 74 institutions. It enrolled the smallest share of low-income students as measured by the percentage of freshmen eligible for a Pell grant, the federal subsidy for college students from families with the greatest financial need. But UW-Madison boasts the second-highest six-year graduation rate among peer institutions.
UW-Milwaukee faces the opposite challenge: Roughly a third of the university's enrollment comes from a working-class background, but it has the lowest six-year graduation rate relative to peer schools.
"Those two institutions present one of the sharpest contrasts in the country within the same state," said Michael Dannenberg, director of the organization's strategic initiatives for policy. "One does a really good job at student graduation and completion, and the other does a good job at access. Neither does a good job on both."
According to the report, 12% of UW-Madison freshmen qualified for a Pell grant while 36% of UW-Milwaukee's qualified. About 87% of UW-Madison students graduate within six years whereas only 42% of UW-Milwaukee students did so.
If UW-Madison is unable to enroll a higher percentage of low-income students, Dannenberg proposes redirecting some of the flagship's money to UW-Milwaukee where a larger share of Pell-eligible students are served.
UW-Madison's access gap
Officials from both institutions said the report — which relies on 2016-17 data, the most recently reported to the federal government — does not accurately represent their institutions today.
Derek Kindle, UW-Madison's director of student financial aid, said the university is a "need-blind" institution, meaning a student's income isn't considered as part of the admissions process. Only after students enroll does UW-Madison learn how many are Pell-eligible.
He also pointed to another recent study by the Institute for Higher Education Policy that found UW-Madison to be one of four flagship universities across the country most affordable for low-income students.
But when it comes to enrolling those students, UW-Madison is far behind other flagship campuses, according to the Education Reform Now report.
Research shows one in five students scoring in the top 10% on the ACT come from a Pell-eligible family, Dannenberg said, so there is "no excuse" for UW-Madison to enroll less than 20% of Pell-eligible students.
Kindle said that assumption was "myopic" and suggests students consider other factors in their college selection process. He also said UW-Madison rates ACT scores a bit lower than other factors in the admissions process.
He pointed to two scholarship programs, both of which began within the last two school years, as a way UW-Madison is addressing its access gap.
Incoming resident students whose family income level falls below a certain threshold qualify for a four-year, full-tuition scholarship under Bucky's Tuition Promise. About 800 incoming students met the $56,000 family income level last school year and qualified for the scholarship, which relies on private donations, not taxpayer money.
Chancellor Rebecca Blank announced last winter that the university would raise the income level to $58,000 in the second year. Kindle said officials were able to raise the income level to $60,000.
A similar scholarship program called Badger Promise covers one year of tuition for first-generation transfer students or two if the student is Pell-eligible. The program launched in 2017-18.
UW-Madison also has held more workshops to help students file their Free Application for Federal Student Aid (FAFSA). The form is required in order for students to be considered for a Pell grant.
UW-Madison's student FAFSA filing rate has increased in recent years, he said.
An academic research lab focused on college affordability problems may lead to more solutions. Linked closely to the university's financial aid office, the lab is considered by some to be the first of its kind in the nation.
"We've made great efforts that don't show up overnight," Kindle said in an interview.
UW-Milwaukee's graduation gap
UW-Milwaukee enrolls about three times as many low-income students as UW-Madison, but only about four in every 10 students graduate within six years.
Compared to 15 peer institutions enrolling students with similar demographics and test scores, UWM's graduation rate fell to the bottom, according to the report.
UWM officials said the institution's six-year graduation rate increased from about 41% in 2016-17 to 44.3% last school year.
The university recently reorganized its supplemental instruction, where students study with their peers or with others previously successful in the course. Another program called Math Reform helps students taking remedial math catch up faster to become college-ready.
The initiatives have shown some promising results, officials said. First-year retention that has hovered around 68% for several years has increased to 74%.
Officials also questioned how similar the peer institutions identified in the report are to UWM, including whether those schools have the ability to increase tuition rates. At University of Wisconsin campuses, an undergraduate resident tuition freeze has been in place since 2013.
UWM chief enrollment officer Katie Miota said access to financial aid is critical. Students not returning to campus is often because of economic reasons, not academic ones.
"We're doing everything we can in a lean budget environment," she said.
Be the first to know
Get local news delivered to your inbox!