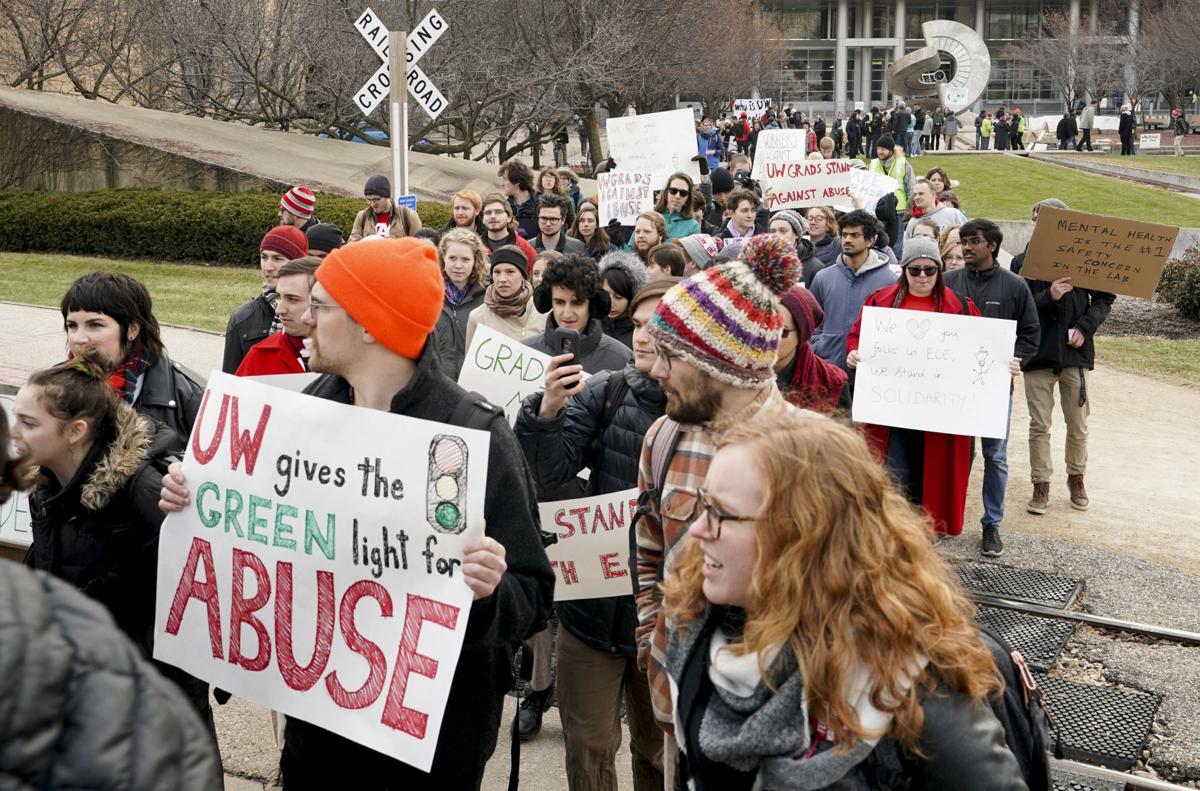 Almost 200 UW-Madison students and others gathered on campus Thursday to demand the university hold abusers accountable and to protest the possible return of an engineering professor who was suspended for creating a "toxic" work environment for students.
The demonstration on Engineering Mall was organized by the UW–Madison Electrical and Computer Engineering Graduate Student Association. It followed a Wisconsin State Journal report in October that brought to light circumstances surrounding the 2016 suicide of a doctoral student in the university's Department of Electrical and Computer Engineering under the direction of professor Akbar Sayeed.
The student, John Brady, who was awarded a Ph.D. posthumously, was an employee and research student in Sayeed's lab prior to his death and, according to a student petition, endured "abusive behavior and a toxic work environment" in the years leading up to his death.
Brady's father informed officials of the working environment in the lab, which students described as "toxic" and Sayeed's behavior as "abusive," according to a May 2017 university report. The report recommended Sayeed be placed on two years of unpaid leave, beginning Jan. 1, 2018, and ending Dec. 31.
Not surprised
Juan Pablo Ruiz, a post-doctoral research associate at UW–Madison who studies the mental health of grad students and attended Thursday's rally, said he was not surprised when he heard about the circumstances surrounding the death of Brady. Ruiz and others at the rally said they would like to see leadership develop clear no-tolerance policies on workplace harassment, bullying and toxic environments.
"The reason I got into this line of work was because of the countless stories I heard," Ruiz said. "I found, doing science across three continents, that this is unfortunately quite ubiquitous to academic culture."
Ruiz said Sayeed should not be allowed back at UW–Madison.
"From the reports that I have read, there seems to be very clear evidence that this was a pattern of behavior that was being perpetuated in a laboratory from someone who had a responsibility to his trainees," Ruiz said. "There was a clear tragedy that came about because of that behavior."
'Fully committed'
Ian Robertson, dean of the UW-Madison College of Engineering, said in response to the rally that the engineering school and university "are fully committed to maintaining a supportive climate in which all members of our community treat each other with respect."
"We do not tolerate hostile or intimidating behavior," he said in a statement.
Sayeed will perform administrative duties in Robertson's office until the department chair, provost and Robertson are satisfied that adequate measures are in place to provide oversight of the faculty member as a teacher, mentor and research adviser, as well as to prevent potential harm to students, Robertson said.
Jenny Bratburd, a graduate student in the microbiology doctoral training program, said there is an inherent power dynamic between students and faculty that has the potential to be abused.
She would like to see a university-wide anonymous reporting service implemented for students, staff or faculty to use to seek help if they are experiencing harassment, bullying or a hostile work environment.
In the aftermath of the Sayeed investigation, the College of Engineering launched an online survey tool for graduate students to evaluate their progress and solicit feedback from advisers. The software includes a box students can check to confidentially request a meeting with college leaders.
"It's beneficial for everyone if we have this healthy environment where students feel safe, they have places to report these things and they're being regularly reviewed," she said. Through this reporting process, she hopes, the university will take proactive steps to protect students if a pattern of negative behavior among faculty or staff is recorded.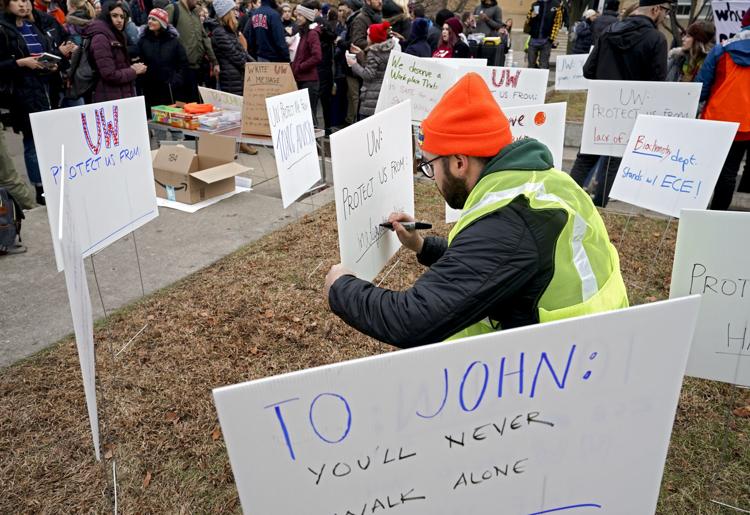 2,100 signatures
Students marched from their rallying point on the mall to Bascom Hall to deliver a petition with more than 2,100 signatures to UW–Madison Chancellor Rebecca Blank, Provost John Karl Scholz and University Committee chairman Terry Warfield.
In the petition, students outlined their desire for a workplace free of bullying and harassment and for the university administration to rescind its offer to Sayeed, who could return to campus in January.
Sayeed has not responded to multiple requests for comment.
Editor's note: After publication, UW-Madison responded to comments made by demonstrators, noting it does have clear policies on hostile and intimidating behavior, including a website and "greatly expanded communications and training" about the policies in recent years. The university also has an anonymous/confidential reporting option in place.
Be the first to know
Get local news delivered to your inbox!