Madison Hall parked herself at a picnic table on the UW-Madison campus earlier this week to browse off-campus job listings and prepare for the school year ahead.
With the sun shining, Lake Mendota shimmering, a nearby stereo blaring and other students shuffling in and out of the Lakeshore dorms, it felt like the campus experience the incoming sophomore had envisioned but largely missed out on when she lived in Elizabeth Waters Hall last year.
"There's a different vibe" to the start of this school year, she said. "We're still wearing masks, so we're not back to normal, but it feels more normal, or like we're at least headed in that direction."
Excitement was the prevailing theme for Hall and the nearly 8,500 other students moving into UW-Madison dorms this week. There were also nerves, but more often because of typical college concerns — grades, classes and finding one's way around campus, for example — than reasons related to COVID-19.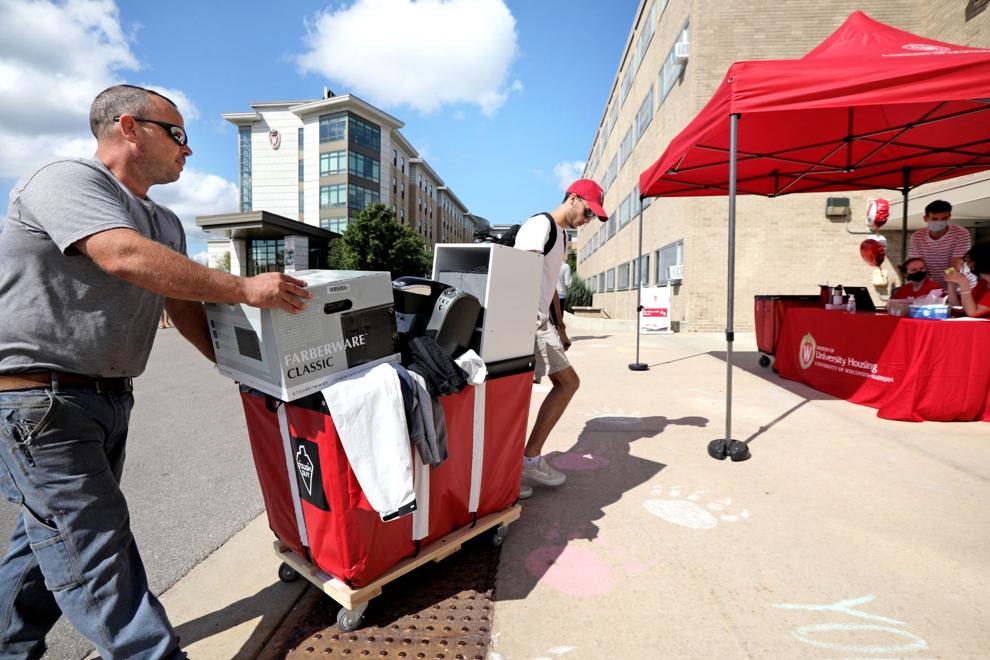 Some of the two dozen students interviewed for this story seemed worried about the state of the pandemic, like freshman Rohit Bakayat, who is frustrated that the virus is "something we have to worry about again" after case numbers fell to promising levels earlier this summer.
But few forecasted a September like last fall when dozens of outbreaks moved classes online for two weeks and led to a quarantine of 2,200 students in two large dorms. The delta variant of the coronavirus, which is driving COVID-19 cases in Wisconsin to a level not seen since last winter, came up in only a handful of conversations.
Many students cited the high campus vaccination rates as giving them peace of mind and high hopes for a semester filled with in-person interactions. UW-Madison reported 88% of students and 99% of faculty are fully vaccinated.
"I just hope it doesn't go too bad and, like, everyone keeps wearing their mask and everything so we can have a normal year," said freshman Krishi Patel.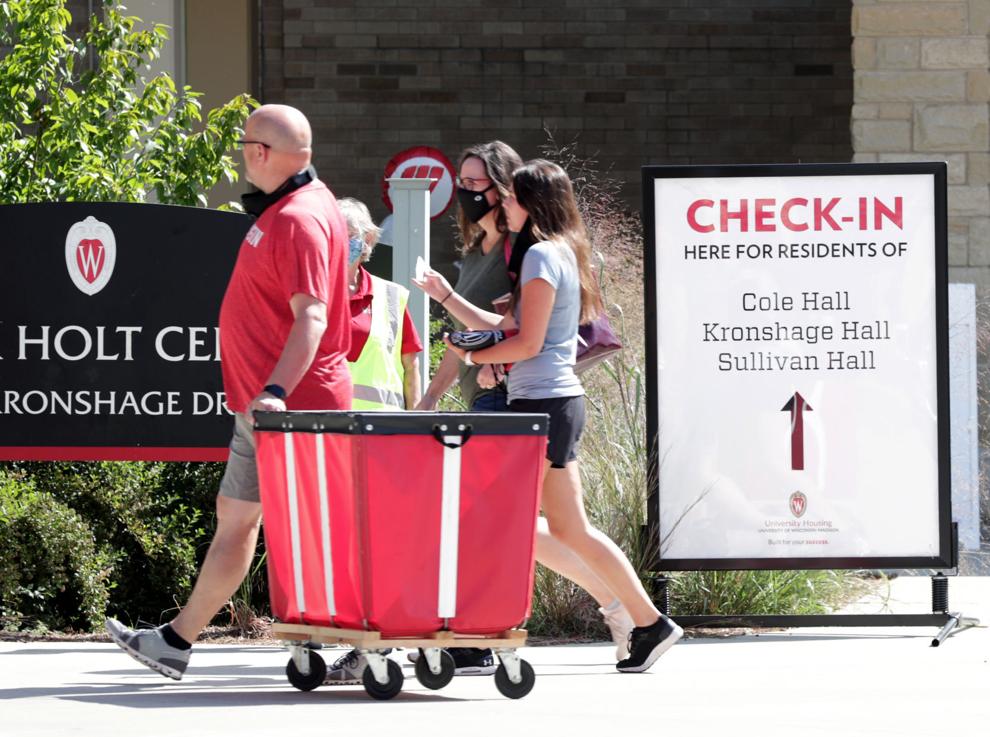 Packed dorms
University Housing employees this week handed out room keys under the shade of balloon-bedecked tents. Parents packed red rolling carts with hampers and hangers and hair dryers. Students gave goodbye hugs. Bike racks began to fill up.
Housing spokesperson Brendon Dybdahl said this year's residence hall population is the largest in UW-Madison history, fueled by a big freshman class and strong interest among returning students to live on campus.
That's led to a bit of a housing crunch. Officials converted 481 larger double rooms into triples and 41 dens or lounges into quads.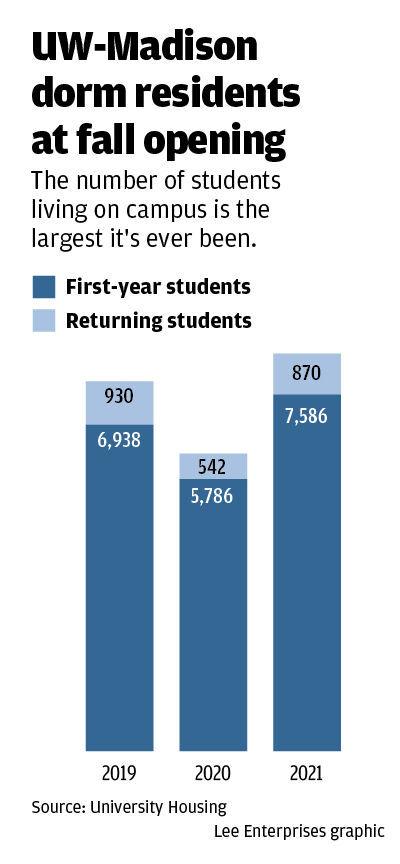 Dorm density was a big concern for Dane County Executive Joe Parisi last fall. He called for the university to send students home, a request UW-Madison rebuffed.
Parisi said he's impressed with UW-Madison's preparations for this year and much less worried about what September may bring.
"You look at that level of vaccination (on campus), if we had that vaccination rate nationwide, we'd be nearing the end of the pandemic," he said in an interview. "There's never guarantees, but I'm also confident they're on top of things."
The city-county health department, which also expressed concerns about the university's reopening plan ahead of the fall 2020 semester, said in a statement this week it supports UW-Madison's layered approach that includes weekly testing for unvaccinated people and an indoor mask mandate.
Some students hope the mask requirement will eventually ease because making friends is harder with a hidden smile.
"Being cautious in these first few weeks is the right thing to do," Chancellor Rebecca Blank said at a recent event hosted by the UW Foundation and Alumni Association.
If infections taper off, policies may be revisited, Blank said. But if cases trend in the more troubling direction, safety measures could also be strengthened.
"We're still in a place of real uncertainty," she said.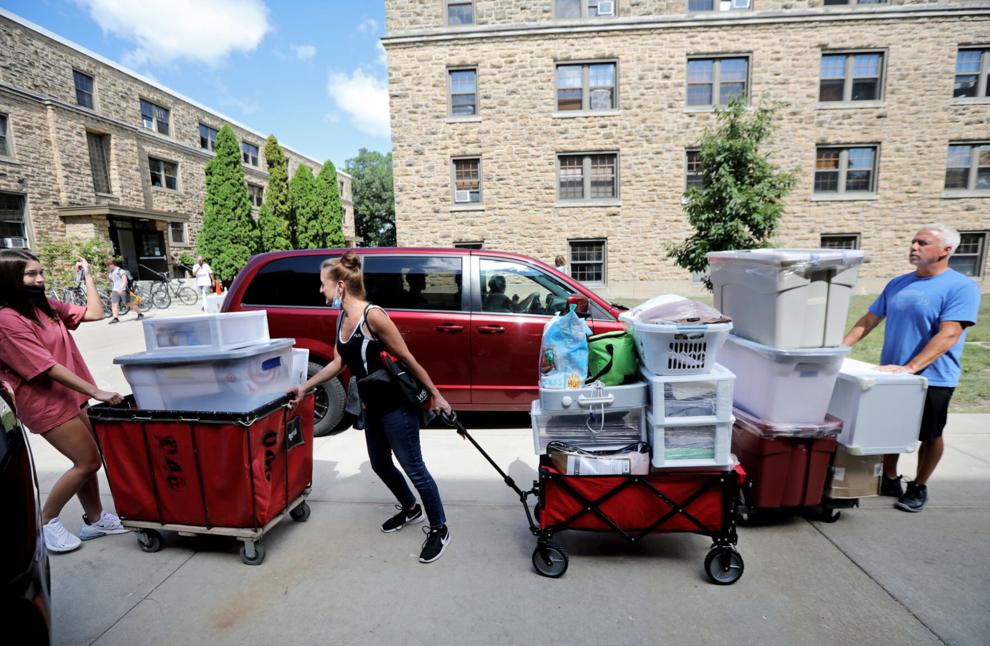 Masks, vaccines
Masks won't be a problem for Bis Mishra, a fully vaccinated freshman from Franklin.
"In my old community, there'd be a fistfight over it," the electrical engineering student said. "Madison is a lot more common sense about it."
The minor inconvenience of mask-wearing sure beats online learning, Mishra said. His high school moved classes remotely several times throughout his senior year.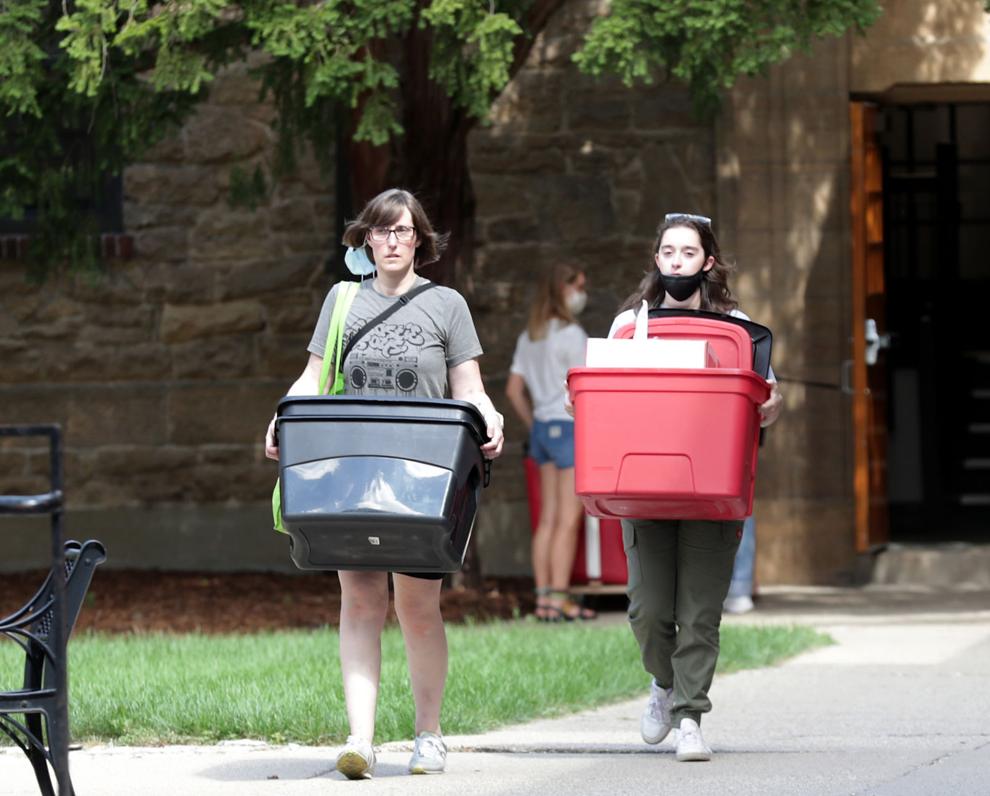 Others settling into their new spaces are weighing how to broach the delicate subject of vaccination status with their roommates.
One of Ogg Hall's newest residents, freshman Audrey Braun, is living in a triple with two roommates. One of them told Braun that her parents were against her getting vaccinated, but she recently received a first dose. The other roommate offered a vague response when Braun, who is fully vaccinated, asked if she had gotten the shot.
"It's awkward to ask, and I don't know if I will try again, but I really would like to know," Braun said.
Still, on the whole, Braun is excited about the year ahead, especially after being robbed of so many traditional high school events.
"I'm ready for things to kick in," she said. "Ready for the college experience."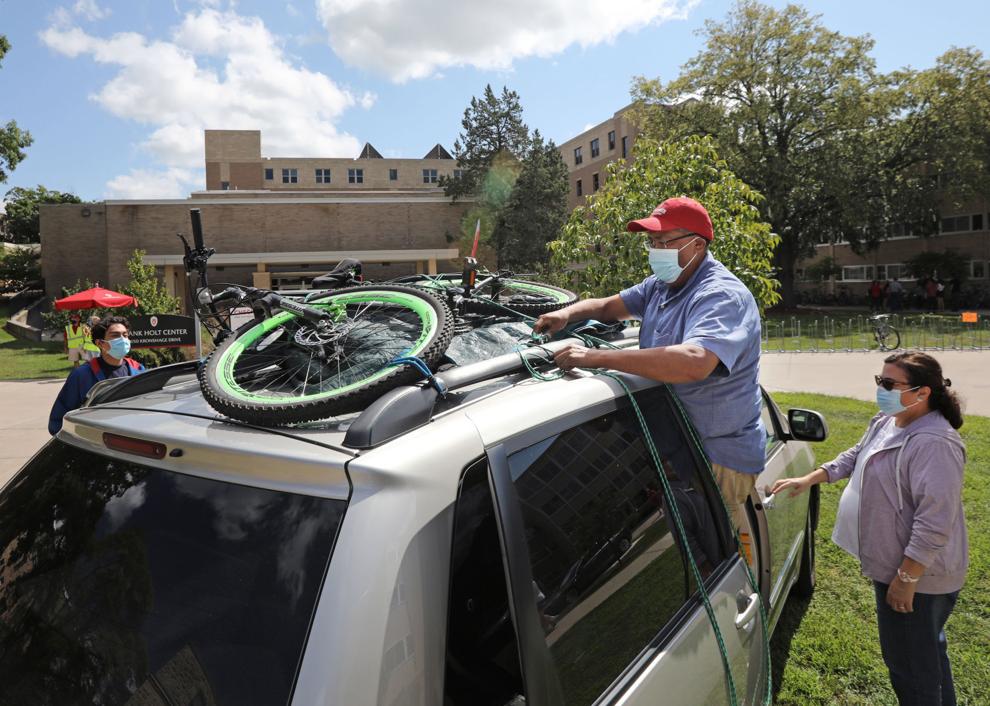 Sophomore restart
For Hall and nearly 900 other returning students choosing to live in the dorms, the 2021-22 school year represents a reset.
Hall, 19, said she was told last year to keep her dorm door closed, shutting out COVID-19 but also potential friends who might have been more likely to casually pop their heads into her room had it been open.
"I didn't really get that on-campus experience," she said in explaining why she's giving the dorms another go this year.
Now fully vaccinated, Forbeck is eager to step into a classroom for the first time since March 2020. He hopes to talk with his professors face to face about a few different academic majors he's considering. He wants to hike Picnic Point and explore the lakes.
The roommate Forbeck was initially assigned to live with as a freshman already agreed to show him around campus.
"I'm going to be part of the community finally," he said. "I'm looking forward to finding my place here."
State Journal reporter Molly DeVore contributed to this report.
"We're still in a place of real uncertainty."

Rebecca Blank, chancellor of UW-Madison